How Does the Ring Return Policy Work?
Ring might be a leading company in home security equipment, but does its return policy bring similar peace of mind? In this article, we will explain all you need to know about the Ring return policy and tell you
The Ring Return Policy in Brief
You can return any items ordered from Ring's website for free, regardless of the reason for the return, as long as you do it within 30 days of the delivery date. Bear in mind that this doesn't apply to purchases made on third-party marketplaces, such as:
If you buy a Ring product from a third-party seller, you have to check their return policy.
Once Ring receives your product and inspects it, they will send a refund to the original payment method in 7–10 business days.
What Happens if Your Order Is Missing Some Parts?
Before filing a return request for a product with missing parts, make sure that the item is not shipped in multiple parcels.
You can check your delivery updates by finding the shipping details sent with the confirmation email. Keep in mind that Ring usually needs one day to update your tracking information.
What Happens if You Don't Receive an Order That's Marked as Delivered?
If you haven't received your purchase despite being notified that it's been delivered, make sure the package is not misplaced or received by someone else. Contact customer service for assistance if you still can't find the parcel after a thorough inspection to ask for an exchange or a refund.
The Ring Return Policy—A Step-by-Step Guide to Returning Items
You can return your items to Ring via mail. You won't receive a shipping label with purchase—you have to download and print it yourself. There are two ways to do this based on your product's category and order number:
If your order number starts with 001, print your label from this portal
For order numbers starting with 004, call customer support at 1-800-656-1918
The shipping label will come with the instructions for a return and the appropriate address.
After you print the shipping label, you can mail your items back to Ring by following these steps:
Wrap the goods according to your shipping label's instructions
Place them inside their original packaging
Attach the shipping label to the box
Mail the parcel
Once you've completed this process, you can track the return status. There are two ways to do this, depending on whether or not you have a Ring account.
Tracking the Return Status With a Ring Account
If you have registered a Ring account, you can track the status of your return by doing the following:
Log in to your account
Verify the account using the code sent via your email or text message
Check your Order History from the dashboard
Tracking the Return Status Without a Ring Account
Don't have a Ring account? Don't worry—do the following:
Check your confirmation email
Find the View Your Order link
You will be taken to a page where you can monitor the return progress.
Is the Ring Return Policy Cumbersome To Navigate? Use DoNotPay To File a Return Request in No Time!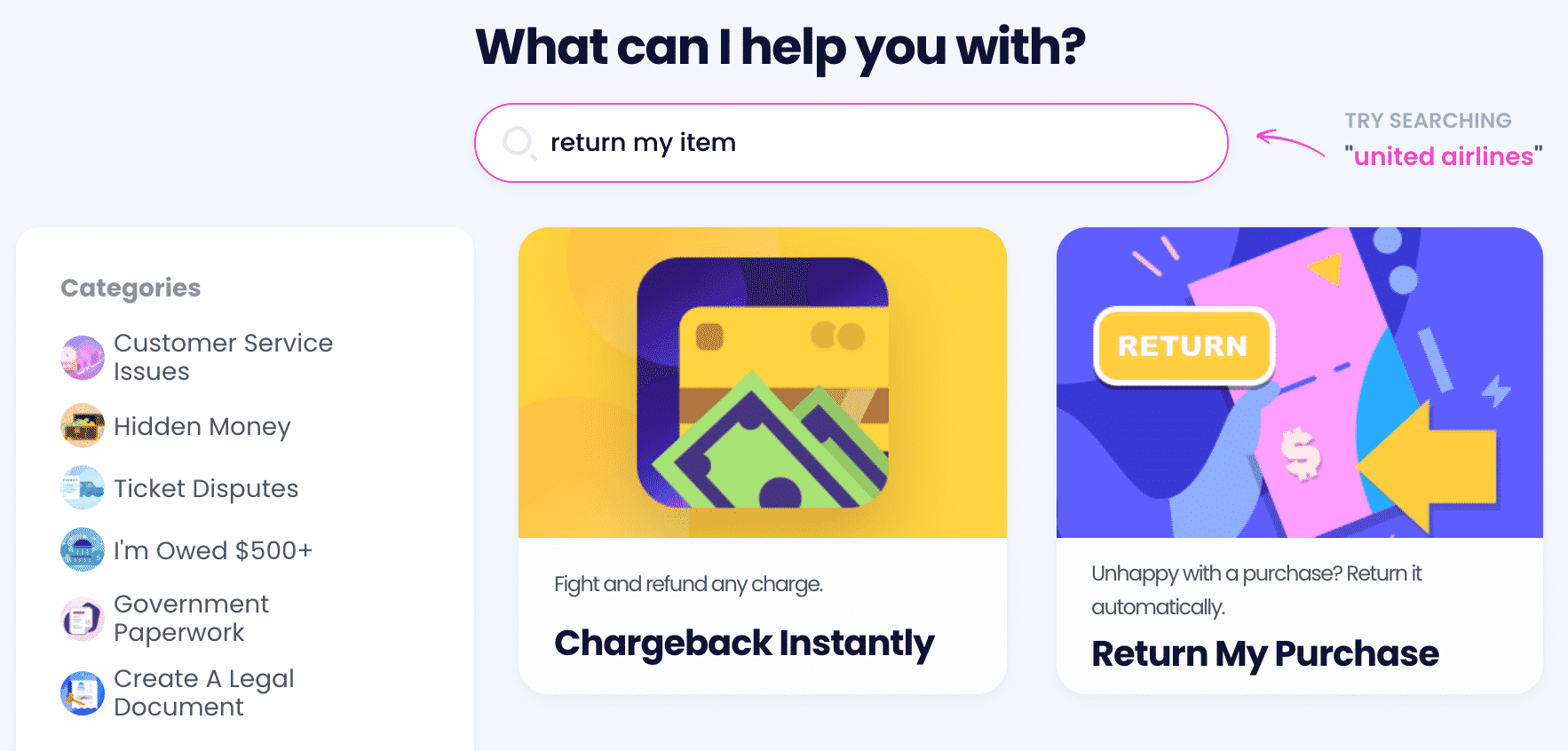 Sending a return request to Ring can be a tedious process. Are you looking for a more convenient solution? Consider registering for DoNotPay!
With our Return My Purchase product, you can automatically draft and send a return request letter to any company, including Ring. Here's how to use it:
from your preferred browser
Locate the Return My Purchase feature
Provide a few details about your order
Sign and submit the form
The letter will explain the reasons for your return and provide all the necessary info. We will even include a deadline for request processing that Ring must respect. You will also get a free shipping label you can use when mailing the item.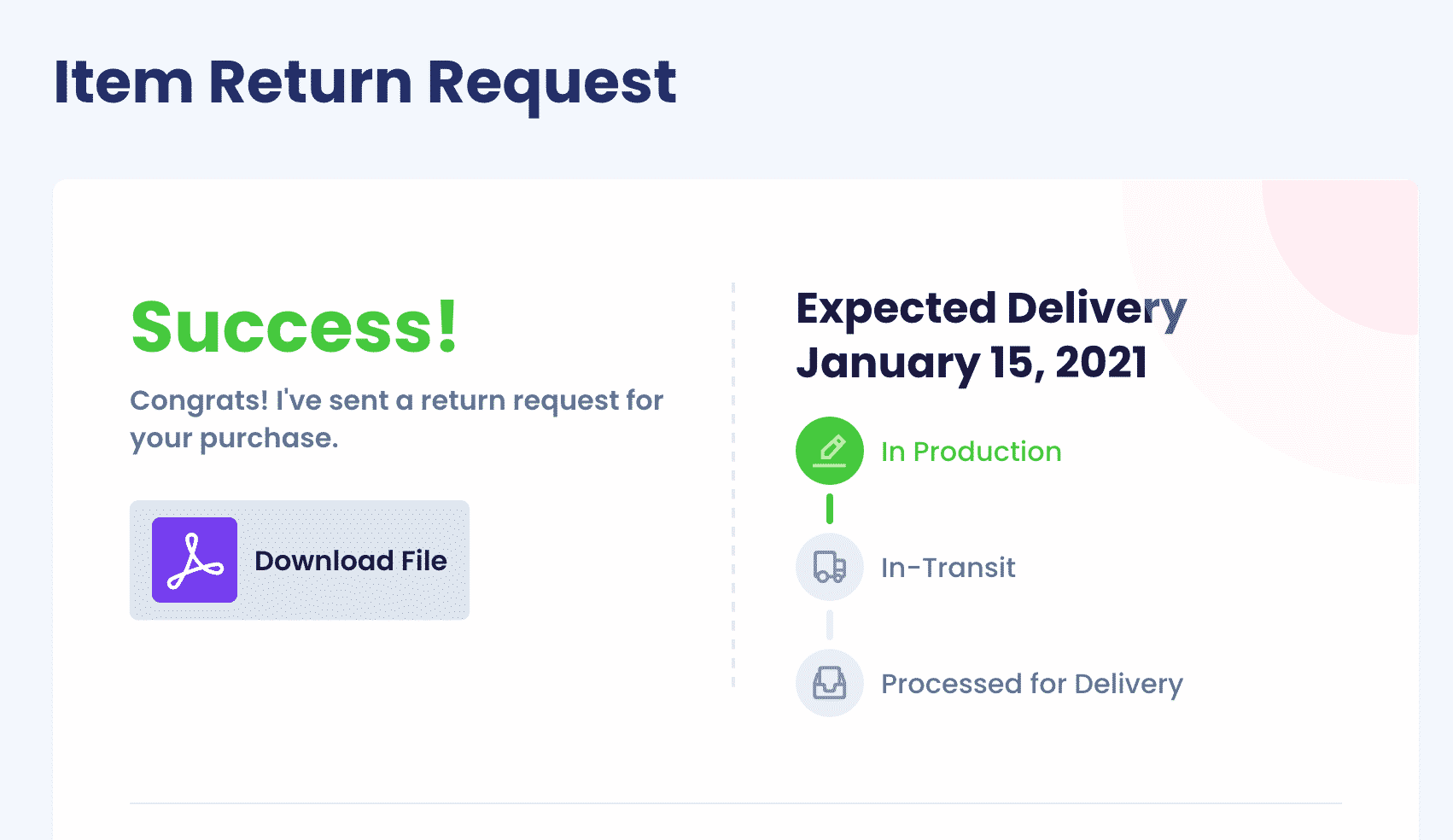 Eligible for a Refund, but Ring Refuses To Pay? Send a Refund Request With DoNotPay!
There have been many complaints about Ring not answering refund demands in a timely manner. If this happens to you, DoNotPay has a feature that can help you file a refund request without hassle. Below are the steps you should follow:
Find the Chargeback Instantly feature
Select Get Protected
Provide a few details
Click on Sign and Submit
Our app will send a personalized refund letter to the merchant on your behalf in a blink of an eye.
Has Ring Wronged You? DoNotPay Can Help You Handle a Small Claims Court Lawsuit!
You can take the matter to small claims court if Ring refuses to issue a refund even though you deserve it. If the costly fee of hiring a lawyer intimidates you, you can put those worries to rest—DoNotPay can assist in a variety of lawsuit-related tasks, such as:
Completing all court forms
Gathering the important documents
Filing a complaint
Drafting a script containing the strongest argumentation to use in court
Can DoNotPay Help With Sending Return Requests to Other Retailers?
Our app can assist in filing return requests with various companies, including:
Wasted Your Money on a Non-Returnable Purchase? There Are Other Methods To Earn It!
Don't feel down if the item you got isn't returnable—DoNotPay has many more tricks up its sleeve that will help you earn some money!
From helping you enter sweepstakes, decrease your property taxes, and lower your utility bills to assisting you in earning off email or text spammers and robocalls, waiving your college application fees, submitting a college financial aid appeal letter, and getting a refund from any company or airline, we can do it all!
DoNotPay Is Always at Your Disposal
Our app's mission is to take everyday admin and legal tasks off your plate so you don't have to waste any of your precious time. If you want to appeal your parking tickets, draw up a legal document, get any agreement notarized, get a tourist visa, keep a sex offender at bay, mail anything without waiting in line, or get in touch with a loved one in prison, DoNotPay will resolve any of these with ease.
Too busy to track your memberships? You don't need to worry about canceling your free trial on time before it turns into a paid subscription if you use our virtual credit card.
With DoNotPay, you can tackle any otherwise annoying chore stress-free.