Not Happy With Those Sneakers? Learn All About the Reebok Return Policy!
Did you spend more than $100 on an underwhelming Reebok purchase? It's time to learn about the Reebok return policy! Initiating a return can be a long, frustrating process—but you don't have to go through it alone.
Whether you want to return sneakers, track pants, or a backpack, , and we will take care of the process for you!
Getting Familiar With the Reebok Return Policy
The Reebok return policy allows returns for items bought online and in store. You can send back an unwanted item within 30 days of the purchase date, as long as it is:
Unused
Not personalized
Accompanied by original tags
Footwear must still be in its original packaging to be considered eligible for a return.
When it comes to returning products, Reebok offers you two choices:
Getting a refund
Exchanging a product—but only for the same product in a different size.
Face covers and personalized items are not eligible for an exchange, and in most cases, you cannot return them at all.
After making a request, your exchange will be held for no more than ten days. If you send the unwanted item after this period, it will be processed as a typical return—you will receive a refund to your original payment method.
Can You Return Items Bought on Sale?
If you are unhappy with an item you bought on clearance, you will not be able to return it—the Reebok return policy does not accommodate products marked as final sale.
When you buy a product on a discount promotion—such as Buy One, Get One 50% Off—the item will be either exchanged or refunded in the amount paid on the date of purchase.
Reebok Returns Policy—Learn How To Return Unwanted Reebok Items
If your Reebok item is eligible for a return, you can initiate the process in several ways. These are your options:
| Can I Initiate a Reebok Return Via | Yes/No |
| --- | --- |
| DoNotPay | Yes |
| Website | Yes |
| Email | No |
| Phone | No |
| In person | Yes |
Returning Reebok Products via Mail
Items bought online and in a store can be returned to Reebok via mail. Before you begin the process, you have to acquire a FedEx return label through the company's website. To get your order ready for shipment, follow these steps to initiate a mail return:
Sign in to your Reebok Unlocked account
Go to Order History
Choose the product you want to return
Click the Return Item button
Select your unwanted products
Provide the reason for the return
Click Confirm
Once you receive your return label, it is only valid for seven days. You can choose to print it and stick it over the delivery label of your item's original box. If you don't have a printer, Reebok allows you to save the FedEx QR code or return label on a mobile device and present it when sending your package.
If you are returning more than one item, make sure to package them separately with their own corresponding labels.
The last step is to drop your package at a FedEx location. The refund will be issued to your original form of payment within 14 days of sending your shipment via FedEx.
Reebok Return Policy—Returning Items in Person
If you prefer to handle your return in person, head to any Reebok store near you. Reebok staff will accept products purchased online or at any of their retail stores. Make sure to print out a confirmation email for your online purchase—if you don't, you may not receive a full refund. For any items bought at the Reebok store, you need to bring a receipt. If you have misplaced the receipt, you will be given in-store credit.
If a Reebok employee placed an in-store order for you with a tablet and sent those items to your home, they must be returned to Reebok via mail.
Return Your Unwanted Reebok Products With DoNotPay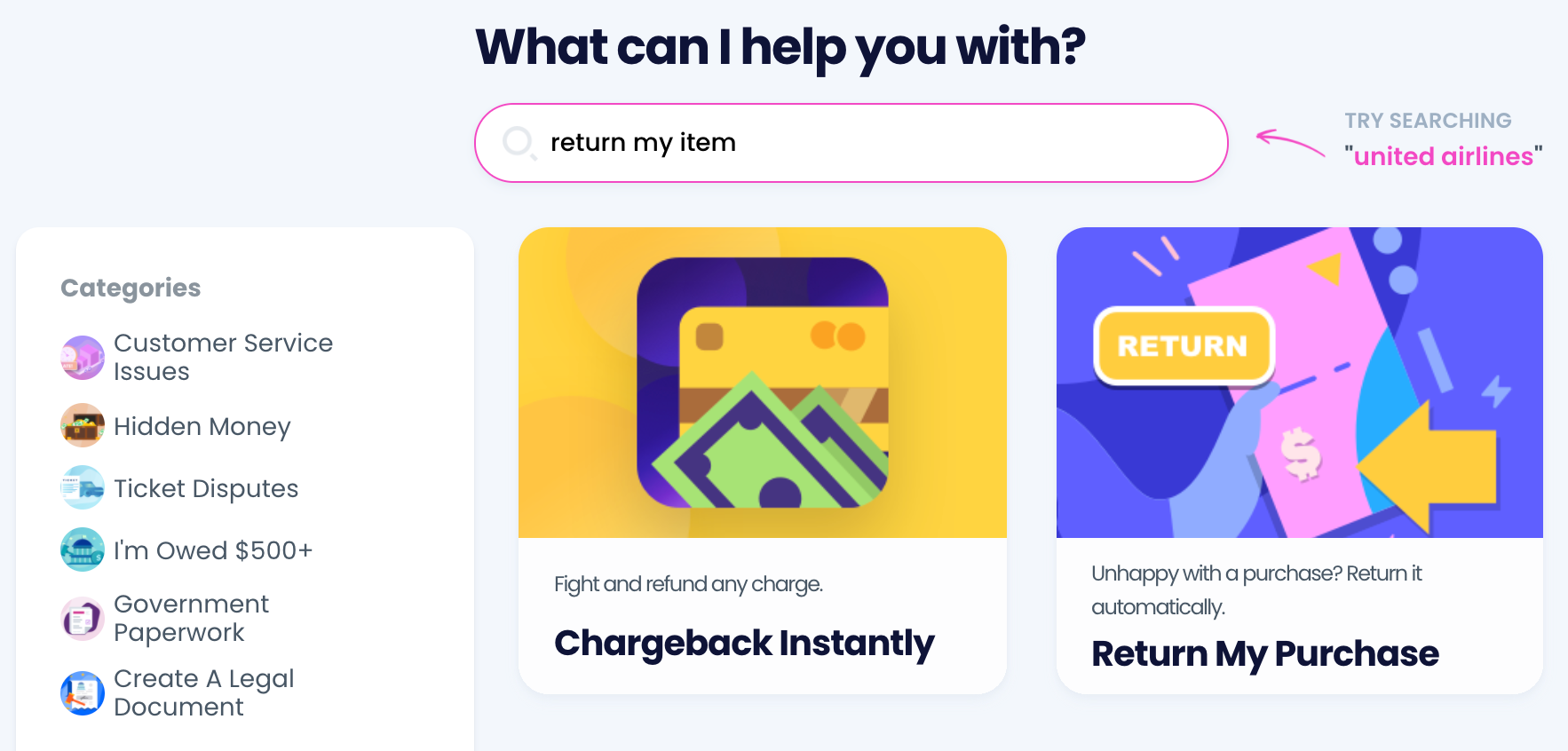 If you don't have the patience to visit a Reebok location in person, you can still send your unwanted items back. Our Return My Purchase tool will help you leave the inconveniences behind and get your money back in record time! Curious about how it works? and follow these easy steps:
Click on the Return My Purchase tool
Provide relevant information about your purchase
Click Submit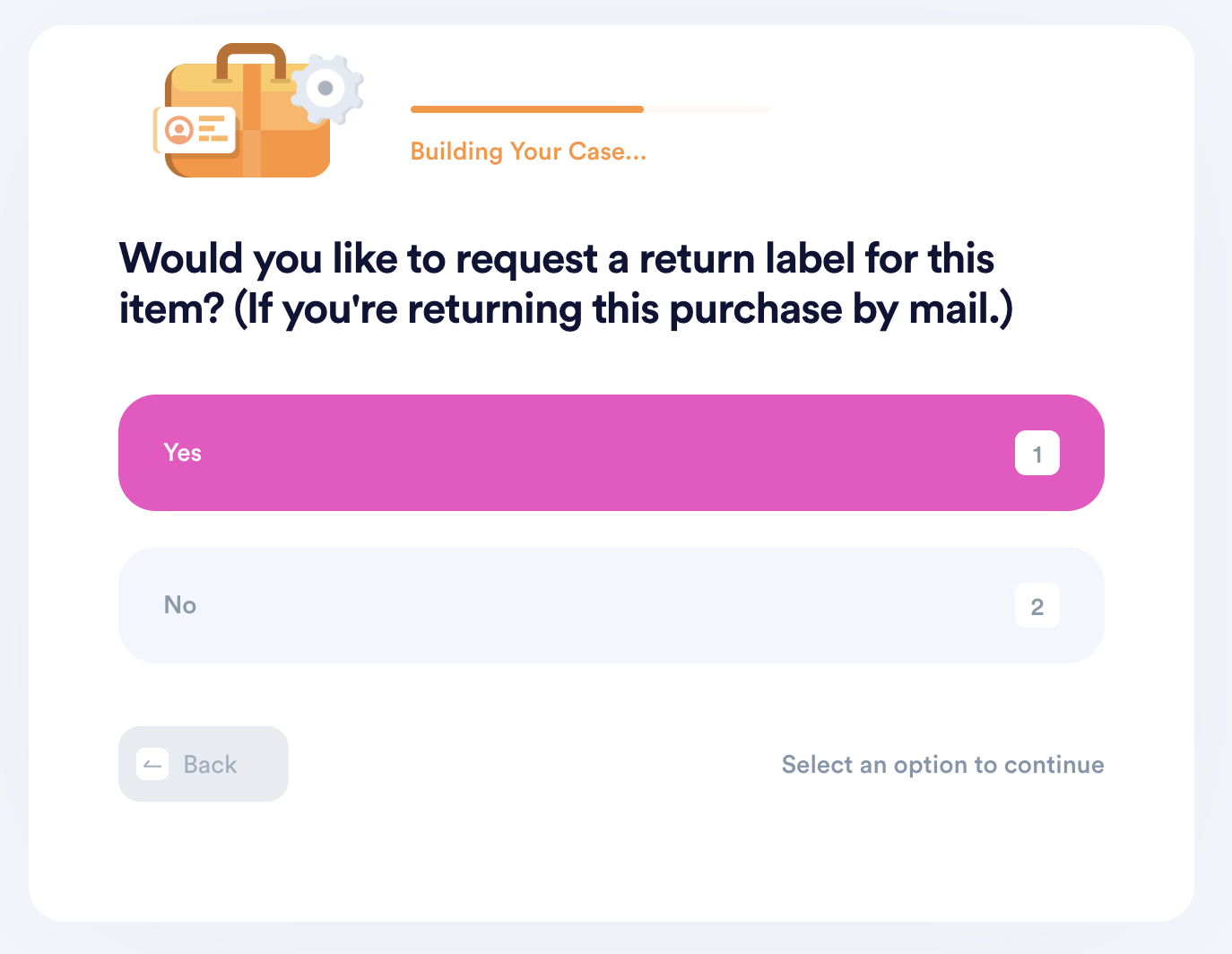 Once you submit the request, we will send a personalized return request letter to Reebok, including a stern deadline to make sure you get a timely response.
DoNotPay can help you with the return process for many of your favorite companies. Return your unwanted items worry-free to brands, such as:
Has Your Return Request Been Declined? You Don't Have To Settle
With DoNotPay by your side, you can rest assured that you'll get what's rightfully yours. We'll draw up a refund request letter in your stead and send it to the company in question. If it refuses to cooperate, our app will help you take it to small claims court.
We'll fill out all the necessary court forms, generate any legal document you need, get it notarized remotely, and fax it to any recipient of your choice. You're not alone in your fight for justice!
If you're dealing with anyone else who's difficult—be it a creepy stalker, neighbor, coworker, or email or text spammer—you can count on us to safeguard you.
Looking for Any Other Type of Assistance?
The best part of subscribing to DoNotPay for a low monthly fee is that you get access to all of its products. You can use them to: