Reasons To Homeschool Your Child—DoNotPay Explains the Benefits of Teaching at Home
Homeschooling has been the subject of many debates for a long time. While some parents believe it's a perfect solution for their children, others hesitate to embark on that journey for various reasons.
If you are confused by opposing opinions and cannot figure out if this method is acceptable for your kid, DoNotPay can help! In this article, we share the crucial reasons to homeschool your child and take control of their education. You will learn when and why parents usually opt for home-based education and what effect the change of the regular learning routine can have on homeschooled students.
Homeschooling in Brief
By starting homeschool, you are taking your child out from the public or private school in your district and taking over the role of their teacher or learning coordinator. It means that:
You will be fully responsible for your child's future educational progress
Most curricular activities will take place at home or other desired locations, except the group available activities offered by local public schools
The classes must be organized according to the pre-purchased program or the curriculum you created
You can choose to teach your child yourself or hire another person with the necessary skills and experience
The school authorities in your district must be aware that you are withdrawing your kid from the institution, whether it happens at the beginning or in the middle of the school year
You must comb through local laws and inform yourself about the current homeschool requirements in your state
Your child must complete the same number of school days per year—or school hours per day—as their peers in regular schools
The upcoming homeschooling expenses will be your responsibility
Why Do Parents Decide To Homeschool Their Children?
In most cases, people decide to start homeschooling once their children's ability to learn in traditional schools is compromised. These situations include but aren't limited to:
Other special needs, such as autism
Toxic and hostile school environment
Strict travel schedules of young athletes
Inability to attend school during relocation to another state or continent
Miscommunication with other children that results in dangerous situations, such as bullying
Dissatisfying education quality within standard public school programs
What Are the Top Reasons for Homeschooling My Child?
What's so great about homeschooling? Why do so many people choose to give up their full-time jobs and become stay-at-home homeschooling parents? You can find the list of reasons in the following table:
Reasons
Details
Academic

It's possible to learn, read, or test students' knowledge anytime and anywhere
Children can have an acceptable learning pace
Available subjects aren't limited to the ones provided by regular schools. Students can dig deeper and find exciting extracurricular activities that may count as parts of mandatory subject curriculums
No homework—students do all planned school activities within their regular hours of instruction
Students don't learn only to achieve good grades but to master their skills and explore their interests
There's a variety of learning styles and materials parents or teachers can implement in children's daily routines

Social/Emotional

There's less peer pressure
Kids with special needs or learning disabilities get customized school programs that are much easier to handle than the regular ones
Students spend more time with their parents or siblings and strengthen family bonds
Parents can help their kids develop exceptional learning techniques and habits
Children can express their opinion and be themselves without being ridiculed or bullied
Parents can solve children's behavior problems right away and limit negative influences

Other

Children's nutritional needs are met more easily
Even when kids are sick, they can take up some activities—such as watching documentaries
Students can participate in fun school activities even when traveling
I Decided To Homeschool My Child—Where Do I Begin?
Once you are positive that homeschooling is the right choice for you and your kid, it's time to take the first step towards implementing your new educational routine. Here's how:
Send a letter of intent to homeschool to the superintendent of your school district. It should contain personal details, info about your child, and a description of the planned homeschool program. You can write it yourself or to generate one in minutes
Learn about homeschooling every day. Search for additional info and use various resources, including:

Books
Podcasts
Magazines
Video materials
Audio materials
Homeschool blogs and websites
You can also get in touch with local homeschool organizations and get valuable advice from other homeschooling parents
Too Busy To Draft a Notice of Intent? Get It From DoNotPay
Does composing a letter of intent to homeschool seem too complicated with all other administrative tasks related to home-based education? We hear you—no one enjoys bureaucratic hassle. The notice of intent must contain precise information, and even tiny mistakes can cause problems with school authorities. It's best to entrust the creation of your document to DoNotPay and let us draft it in less than five minutes!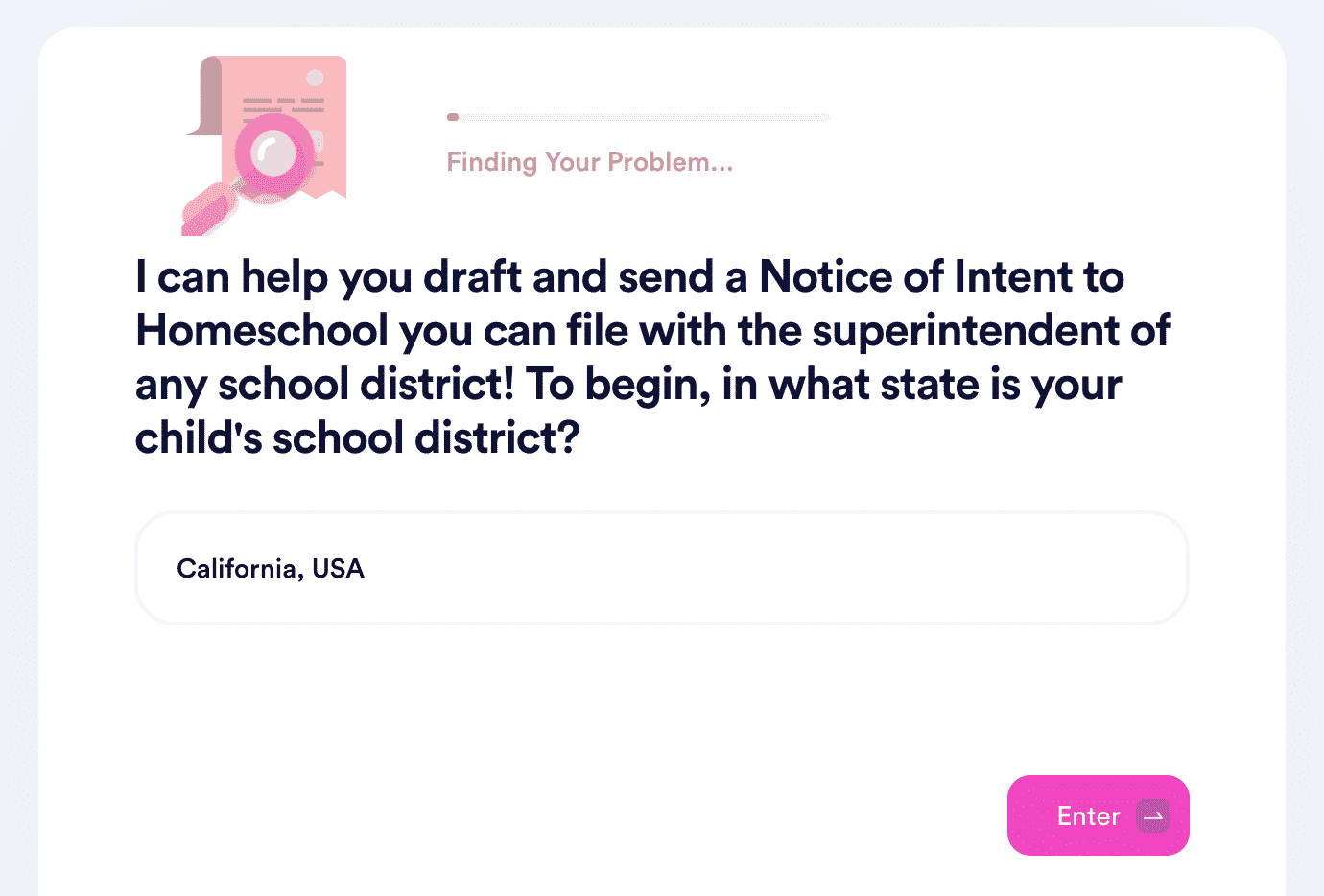 Here's how:
Go to Notice of Intent to Homeschool
Choose your school district
Complete a simple questionnaire about your family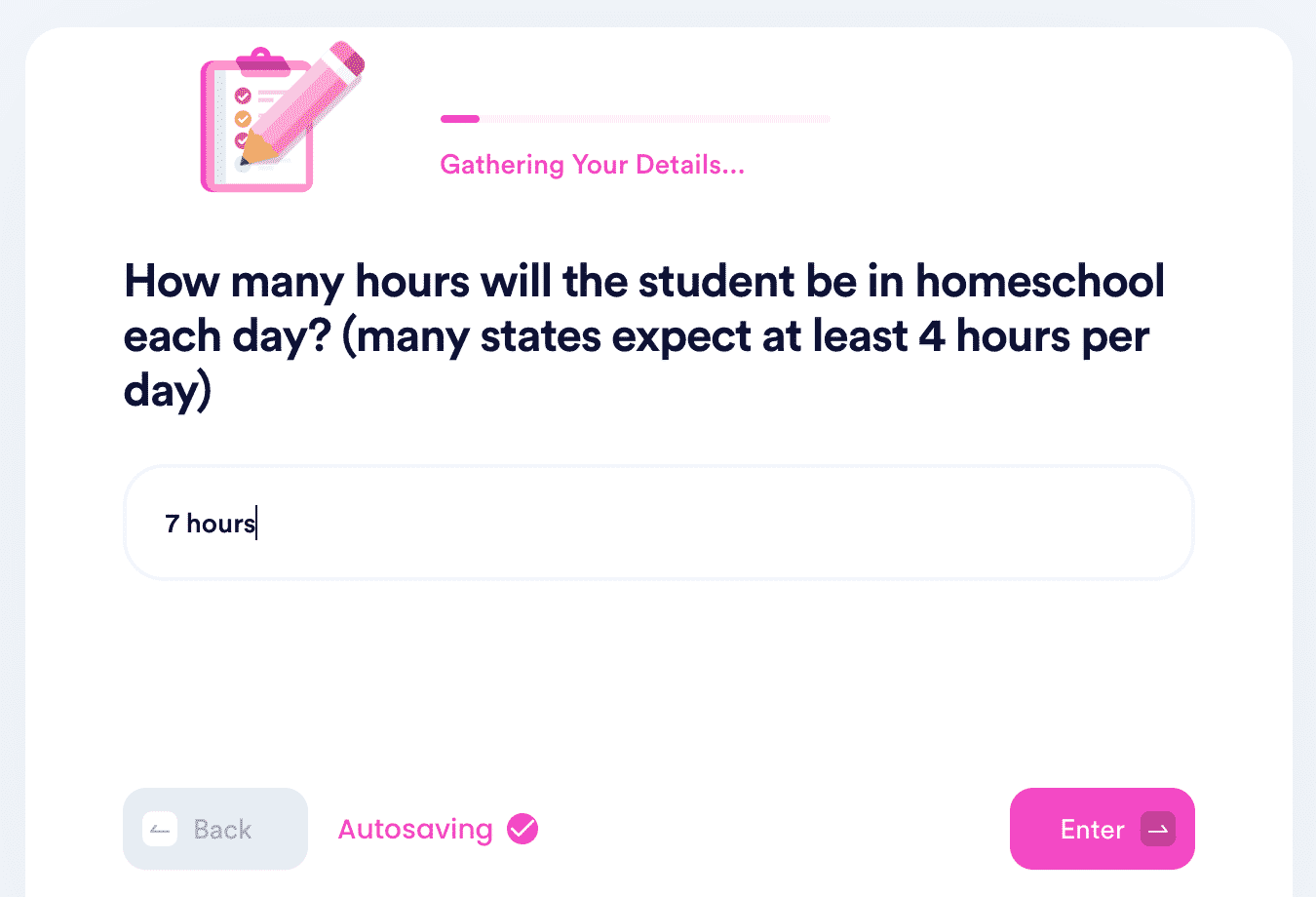 As soon as we get more details from you, we will generate your notice and forward it to the correct address. You can also print and submit the document yourself.
That's not all—our app can schedule a meeting with a remote notary and help you get your letter notarized with zero fuss!
Don't Let Admin or Legal Issues Wear You Down—Hand Them Over to DoNotPay
Do you believe you may have some missing assets? Use DoNotPay's nifty product before the government claims them! Have you ever wanted to enter sweepstakes without purchasing anything? Our app will sign you up for them quickly! Trying to figure out how to reduce your property taxes or utility bills? DoNotPay can show you the way. Want to avoid getting charged for free trials that never fail to auto-renew into paid subscriptions? We'll help you cancel them before they expire.
Anything else you may need? Check out how our app can:
Check Out Our Other Robust Products
It doesn't stop there—DoNotPay can help you send a defamation demand letter, create passport photos, get gift card cash back, get any document notarized, request access to public records, claim insurance and warranty, request a college application fee waiver, appeal parking tickets, and much more.
Sign up now to get access to any of our products for one low monthly fee!