The Rack Room Shoes Return Policy Explained
Do the shoes you ordered not fit, or did you change your mind? Whatever is the reason, you would probably like to initiate a return process. Return policies on companies' websites tend to be incomprehensible to the extent that makes you give up on returning the item, and the Rack Room Shoes return policy is not an exception. DoNotPay can help you make sense of it and show you how to make the return a smooth-sailing experience once you .
All About the Rack Room Shoes Return Policy
The Rack Room Shoes' return window is 60 days from the date of purchase. You can return an item either via mail or to one of the stores. Worn merchandise does not qualify for a refund or an exchange. You cannot return items bought in person to the online store. What you need to provide for a refund is:
Original packaging
Shipping invoice
Box
Receipt
If you lost your receipt, the company offers an exchange or Rack Room Shoes gift card for the current selling price. If you would like to make a return or exchange, you can request a Return Material Authorization (RMA) by calling 1-800-306-9309.
How To Return a Rack Room Shoes Product
There aren't too many options to initiate a return—you can do it in the following ways:
| Can You Initiate a Return Request Via | Yes/No |
| --- | --- |
| DoNotPay | Yes |
| Website | No |
| Phone | No |
| Mail | Yes |
| Email | No |
| Letter | No |
| In person | Yes |
Mail Returns
If you opt for returning the product via mail, you should address the package to the company's Returns Processing Center:
Rack Room Shoes
Attention: Returns Processing - 9110
8310 Technology Drive
Charlotte, NC 28262
Here's what you need to do before sending your purchase back:
Find the Return Form section on the shipping invoice and fill it out
Enter one of the reason codes next to the product you are returning
Fill out the Special Instructions section if you are returning a purchase paid via gift card
Place the item and the completed invoice in the original packaging
The company refunds mail returns to the original form of payment. It takes up to ten business days for the return to be processed and 3–10 business days for the credit to reflect. Cash-on-delivery packages are not accepted. The company recommends customers use a traceable shipping method.
You can return your online purchases via mail as well.
Exchanges are not possible via mail—you will have to return your item and place a new order for the desired one.
In-Store Returns
You must bring the original packaging, box, and receipt, based on the general Rack Room Shoes return policy. If you lost your receipt, the store will offer you a gift card or an exchange. In-store returns are also refunded to the original form of payment.
When you are returning either of the two items from a Buy One Get One sale, the discount is subtracted from the refund total. The discount is retained if you are exchanging a product in store.
You will receive a refund in the original form of payment. For credit cards, refunds will appear after 1–2 billing cycles. The company refunds purchases paid with a check by cash after seven business days.
Items bought in store cannot be returned to the online store.
Request a Return in a Flash Using DoNotPay
Does all of the above seem like too much bother? Do you want to avoid going back and forth with Rack Room Shoes customer care representatives? DoNotPay can expedite the process! All you need to do is:
using any web browser
Search for the Return My Purchase feature
Answer several questions about your purchase
Include photos if necessary
Submit the request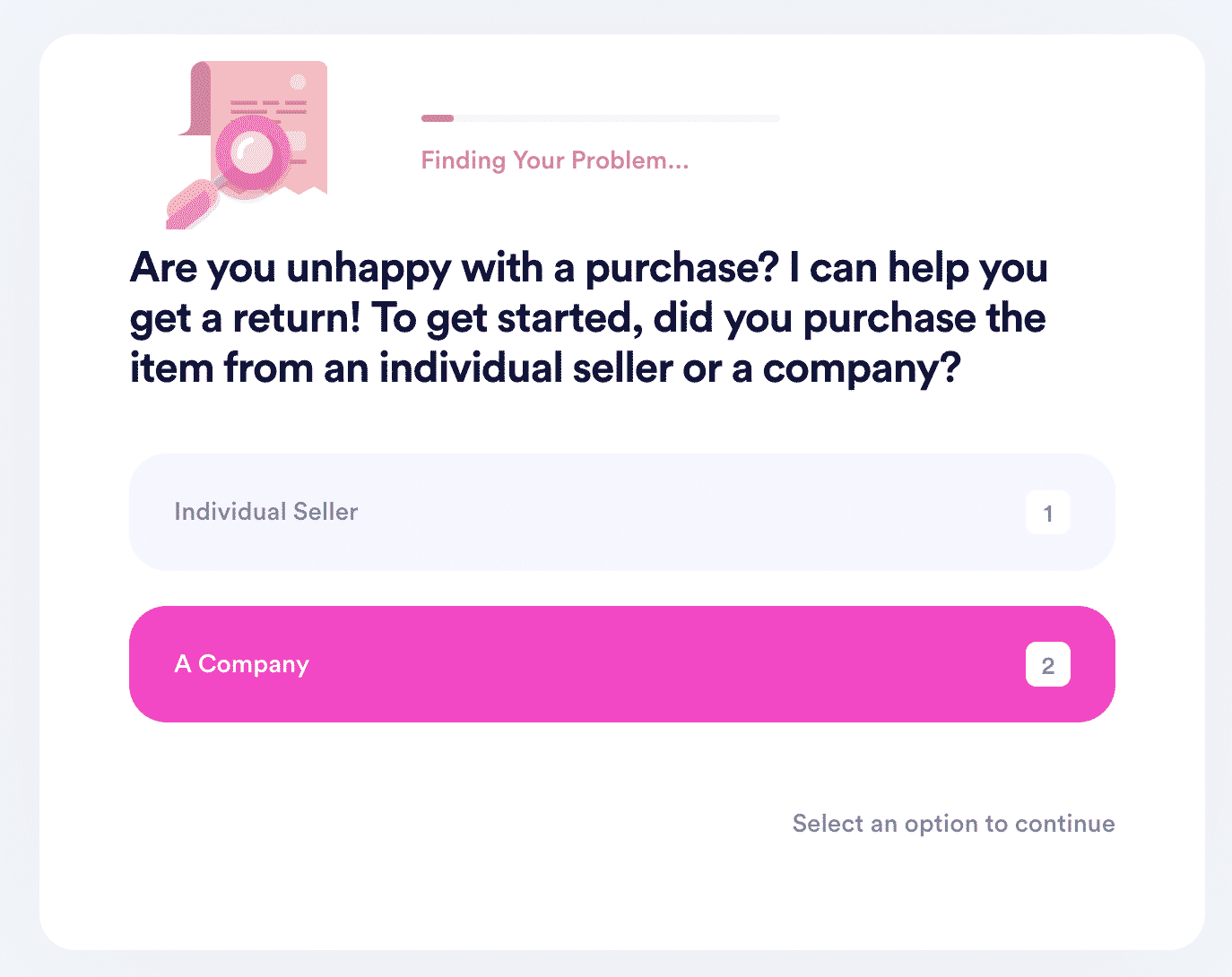 DoNotPay will send a custom return request letter to the company and provide you with a free return label to use when shipping your product back. To ensure your request is not left unnoticed, we will provide the company with whichever deadline you choose. We will be clear on the fault's nature and explain whether you expect a refund or an exchange.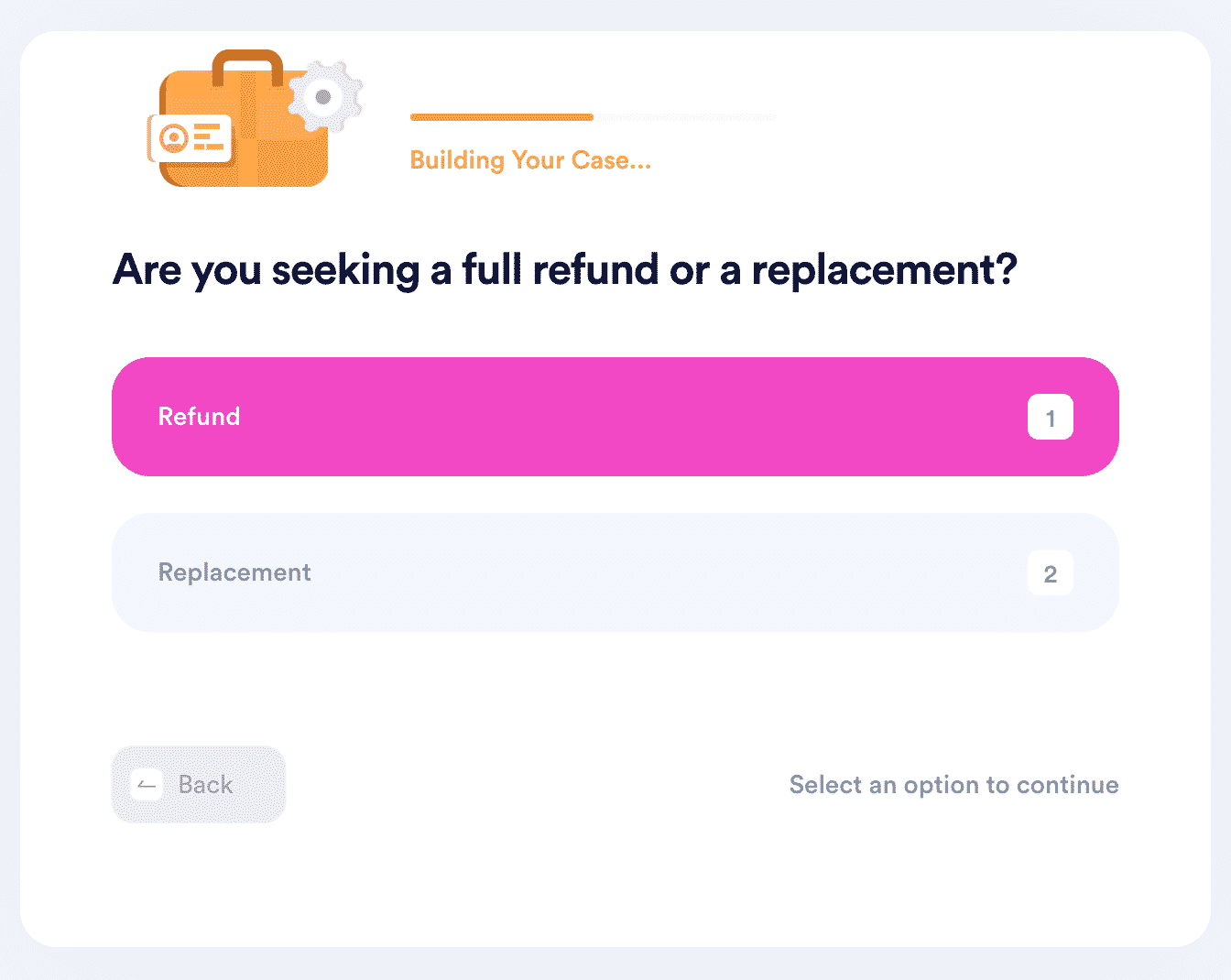 Explore Other Companies We Can Help You With
DoNotPay has a knowledge base in which you can find return policies of other renowned companies, such as:
When Will You Get Your Money Back?
You will have to wait for up to two billing cycles for the credit to appear on your card. In case you paid for the product using a check, the cash refund will take up to seven business days.
Item Returns and Other Annoying Tasks Take but a Minute With DoNotPay
Looking into resolving other tedious bureaucratic tasks with the help of our app? Check out a fraction of our product range that can assist you with:
Drawing up power of attorney documents
Don't Stop There—See How We Can Help You Even Further
You can count on our app's assistance if you need to cancel any subscription, demand a refund from a company or airline, get help with utility bills, reduce your property taxes, get a tourist visa, appeal banned accounts, contact embassies, or get cash back on gift cards.
Think you have some missing money? Claim it before the government does it in your stead! Need help preparing for a government test? Skim through our guides! Want to schedule a DMV appointment in a snap? We'll do it for you! Have any other obstacles? We'll get rid of them in the blink of an eye.