An All-Inclusive Guide to the BevMo! Return Policy
Your excitement about your BevMo! purchase can turn into disappointment quickly if you receive the wrong product or the right but non-consumable product! Sending back beverages, especially alcoholic ones, can also be a hassle. Can it even be done? Consult our guide and find out all you need to know about the BevMo! return policy!
You can also use DoNotPay to send products back to BevMo! and many more retailers in less than five minutes!
What You Need To Know About the BevMo! Return Policy
Before we dive into the BevMo! return policy, it's important to know that the sale and purchase of all alcoholic beverages must comply with the respective state laws.
BevMo! also does not accept returns for all items. You can only return a product if it is:
Spoiled
Contaminated
Not consumable
BevMo! only accepts returns if they are made within seven days of delivery. Returns due to overpurchase are not accepted.
Understanding the BevMo! Delivery and Return Process
BevMo! orders placed online can be received in one of the following ways:
Pick up the items you ordered at a BevMo! store near you
You can have the products delivered to you from a store for a non-refundable fee in case of returns—$9.99 for orders that don't include a keg and $50 for items that do
You can have your order shipped to you
If you are planning to have your order shipped, here's what you should keep in mind:
| Product | Can Be Shipped To |
| --- | --- |
| Wine and other products | California, Arizona, Alaska, Missouri, New Hampshire, New Mexico, Nebraska, Nevada, Oregon, Wyoming, and Washington |
| Beers and spirits | California, Arizona, and Washington |
Due to different state legislation on the sale of alcoholic beverages, BevMo! does not ship all products to all states, and returns across state lines are generally not possible.
How To Return Products to BevMo! on Your Own
BevMo! is pretty strict when it comes to its delivery and return policies. The company insists that all returns be made in compliance with California, Arizona, and/or Washington laws.
Shipping Your Returns
If you want to return items to BevMo! via a shipping carrier, you have to call the customer service representatives and request a return/exchange. Here's how you can reach them:
Call the customer service team at 1-877-77BEVMO
Provide your information to the representative who picks up your call and request a refund or an exchange
Follow the provided instructions to return the products
Customer support is available from 8 a.m. to 5 p.m. PST Monday through Friday. As an alternative, you can dial 925-609-6000 for a full list of BevMo! departments.
Those who wish to skip phone calls can send an email to CustomerService@bevmo.com or use the Contact Us form on the company's website.
In-Store Returns
If you would rather return your items to a store, follow these steps:
Head over to a store near you
Find the Product Return Desk
Show them your purchase receipt
Have the item inspected and return it
BevMo! requires all customers to be over 21 years of age. You will have to prove you are not underage if you want to buy, return, or exchange products, so make sure to bring an ID.
In case you lost your receipt, you can contact the customer support team and receive another proof of purchase. Make sure to prepare the following information before you call:
Purchase date
Total amount
Store location
Your ClubBev! account number
Phone number used for the purchase
If you ordered an item online but did not pick it up, you'll have to contact the store directly and follow their policies to cancel your order or exchange an item.
Start Your Easy and Hassle-Free Return With DoNotPay
Initiating a return with BevMo! can be tedious—the seven-day return policy also doesn't help. If you're looking for an easier and more hassle-free experience, DoNotPay might just be the solution you need!
Here's what you need to do to initiate a return request with DoNotPay:
Sign up for a DoNotPay account
Locate the Item Return Request product and answer a few questions
Click Submit
DoNotPay will create and send a custom return request letter to BevMo!, specifying a deadline to speed up the process. The letter will detail out your reason for returning the product as well. We will also get you a free shipping label so that you don't have to pay extra to send your products back!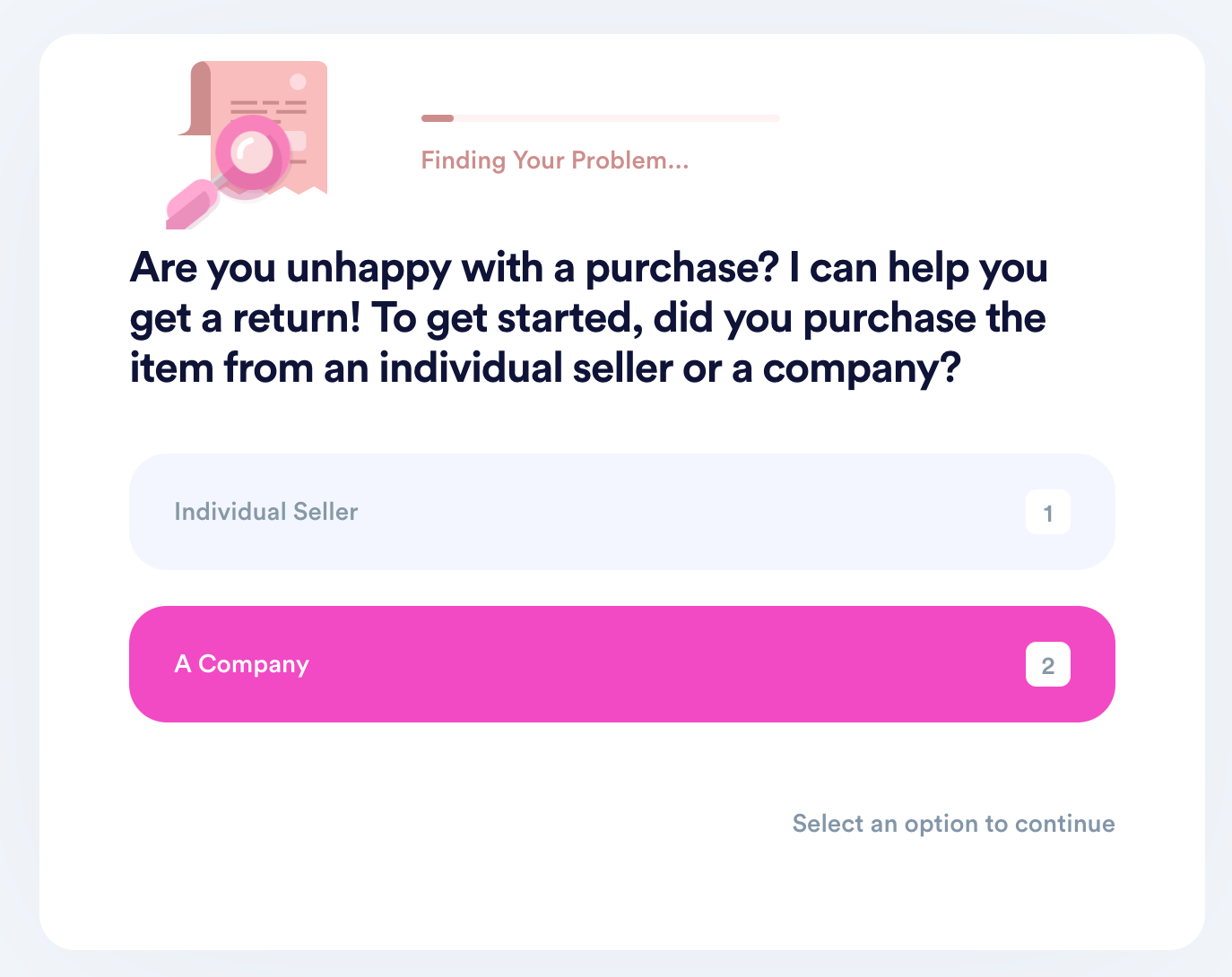 Is BevMo! Refusing To Give You a Refund? Demand One With DoNotPay!
If you are facing glitches in the refund process with BevMo!, we can send in a refund request on your behalf! Follow these steps to request a refund with DoNotPay:
Open the app and find the Chargeback Instantly option
Click on Get Protected and have a chat with our bot
Choose Sign and Submit
All Returns Are Easier With DoNotPay
Looking to return items to other retailers? We have an easy solution that can help you finish these daunting chores the easy way!
Check out some of the companies you can send a return request to using DoNotPay:

DoNotPay Is a Master at Getting What's Rightfully Yours
Are you dealing with a company that refuses to approve your return? Once we submit a refund request in your stead, we can also prepare all the paperwork you need to sue the merchant in small claims court and win your case.
Need a legal document for the lawsuit? Draw it up with our handy tool. Want to get any document notarized and fax it to someone? We have products that can do that for you as well.
Has an airline rescheduled your flight, or is your package damaged or missing? Demand compensation with DoNotPay!
Do you believe that you may have some unclaimed assets? Count on us to find and get them for you.
It Doesn't End There!
Use DoNotPay whenever you need to tackle any sort of mundane task. If you're sick of wasting your time in long phone queues or the ones at the DMV, we'll help you skip them. Do you want to apply for a college fee waiver or clinical trial? Are you looking to enter a sweepstake or get a passport photo or a tourist visa? We'll do it all in your stead!
If you want to send a letter of warning to a persistent harasser or loud neighbor or want to get compensation for victims of crime, workplace discrimination, or robocalls, let us know and we'll tackle the issue momentarily.