Old Navy Return Policy for COVID-19 Demystified!
With more than 1,100 stores across the United States and hundreds of products shipped around the country every day, it makes sense that Old Navy has a well-established protocol for returning unwanted items.
The Old Navy return policy for COVID-19 was created to keep shoppers safe while continuing to provide access to Old Navy products.
Are you wondering what to do with unwanted Old Navy items during the in-store shopping restrictions imposed as a result of COVID-19? Check out our article for answers!
If you want a straightforward and effortless solution, sign up for DoNotPay to complete an Old Navy return without a hitch!
What You Should Know About the Old Navy Return Policy During COVID
The biggest change for consumers during the COVID lockdown was the inability to shop in-store. While shopping online remained an option, some customers who purchased items before the stores closed were left with no way of returning their goods.
In-store shopping and return options depend on your city and state COVID policies.
The Old Navy COVID-19 protocol states that you can return an item in one of two ways—online or in person (depending on where you live).
Both methods involve a few restrictions for returns in general and under the new COVID-19 protocol, including that:
To be eligible for a return, a product must be:

Unworn
Unwashed
Returned with valid proof of purchase
Proof of purchase may be a shipping confirmation email or the credit card used for purchase.
Some Old Navy products are not eligible for a return, no matter their condition—this includes items such as:
Other Old Navy products have to be returned in a specific condition—for example:
Sunglasses—can be returned with original receipt, case, and tags unless defective
Swimsuits—must have tags and hygienic liner intact
How To Return a Product to Old Navy During COVID-19
One of the most confusing details about returning an item during the COVID-19 pandemic is how to initiate the process. Unlike online-only retailers, you can return merchandise to Old Navy in one of the following ways:
| Can I initiate an Old Navy Return Via: | Yes/No |
| --- | --- |
| DoNotPay | Yes |
| Phone | No |
| In person | Yes (If stores are open in your area) |
| Mail | Yes |
| Online | Yes |
An In-Store Return Explained
The Old Navy COVID return policy allows you to return an item to the nearest local store that's open. You can return a product purchased both in person and online this way.
Keep in mind that you may need to wear a face mask to enter the store, depending on your city's current COVID-19 safety protocols. Be sure to check online or call before you visit the shop.
If your local Old Navy store is not open, you can return an online order by mail. If you purchased your item in-store, you must wait until they reopen to return the merchandise.
You have to complete the following steps when returning a purchase in-store:
Find the nearest store via the Old Navy store locator
Ensure items are in original packaging with tags on
Bring the items to the store together with the original receipt, shipping confirmation email (printed or on a mobile device), or credit card used for the purchase
Return an Item Online
To return an Old Navy item online, follow these steps:
Visit the Old Navy Returns page
Enter your email address and order number
Create your shipping label
Put the products you wish to return in a shipping box with your packing slip
Attach your shipping label to the box
Ship the product via a shipping company
You will be sent a notification of receipt via email once the company receives the shipment. Be sure to check your spam if you don't see the email.
It may take Old Navy up to 30 days to process credits on returns due to COVID-19 safety protocols.
Skip the Return Drama and Try DoNotPay!
Sick of dealing with the complicated Old Navy COVID-19 return policy but have items that you need to return? Use DoNotPay to avoid stress and have your return request processed quickly and easily.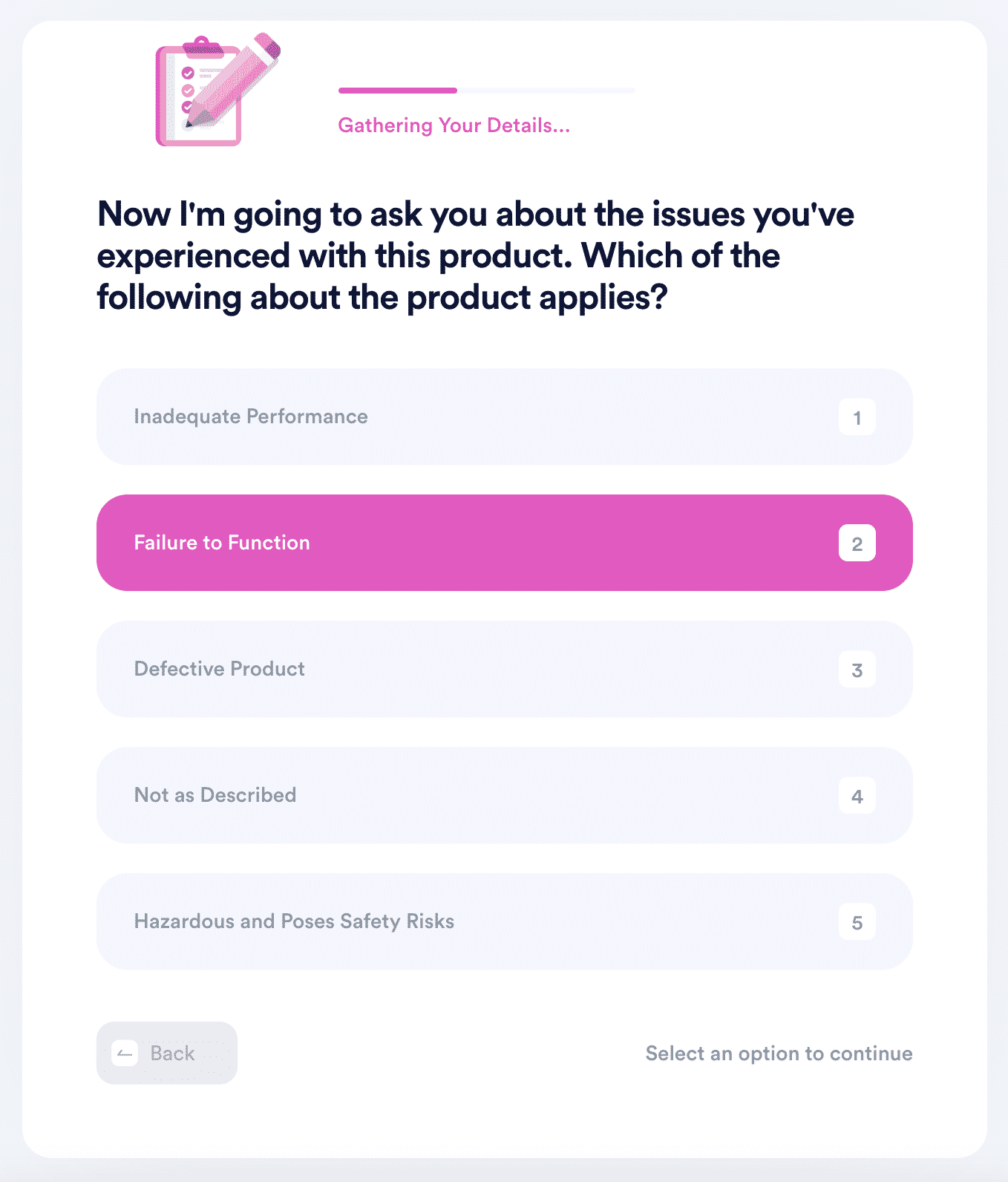 To process an Old Navy return with DoNotPay's help, follow these steps:
Find our Return My Purchase product
Describe your reasons for returning the item (include photos of your purchase, if necessary)
Submit your request
Once you complete the steps, DoNotPay creates a personalized return request letter and sends it to Old Navy on your behalf. The letter includes a deadline for your request to be processed, ensuring a timely response from the company.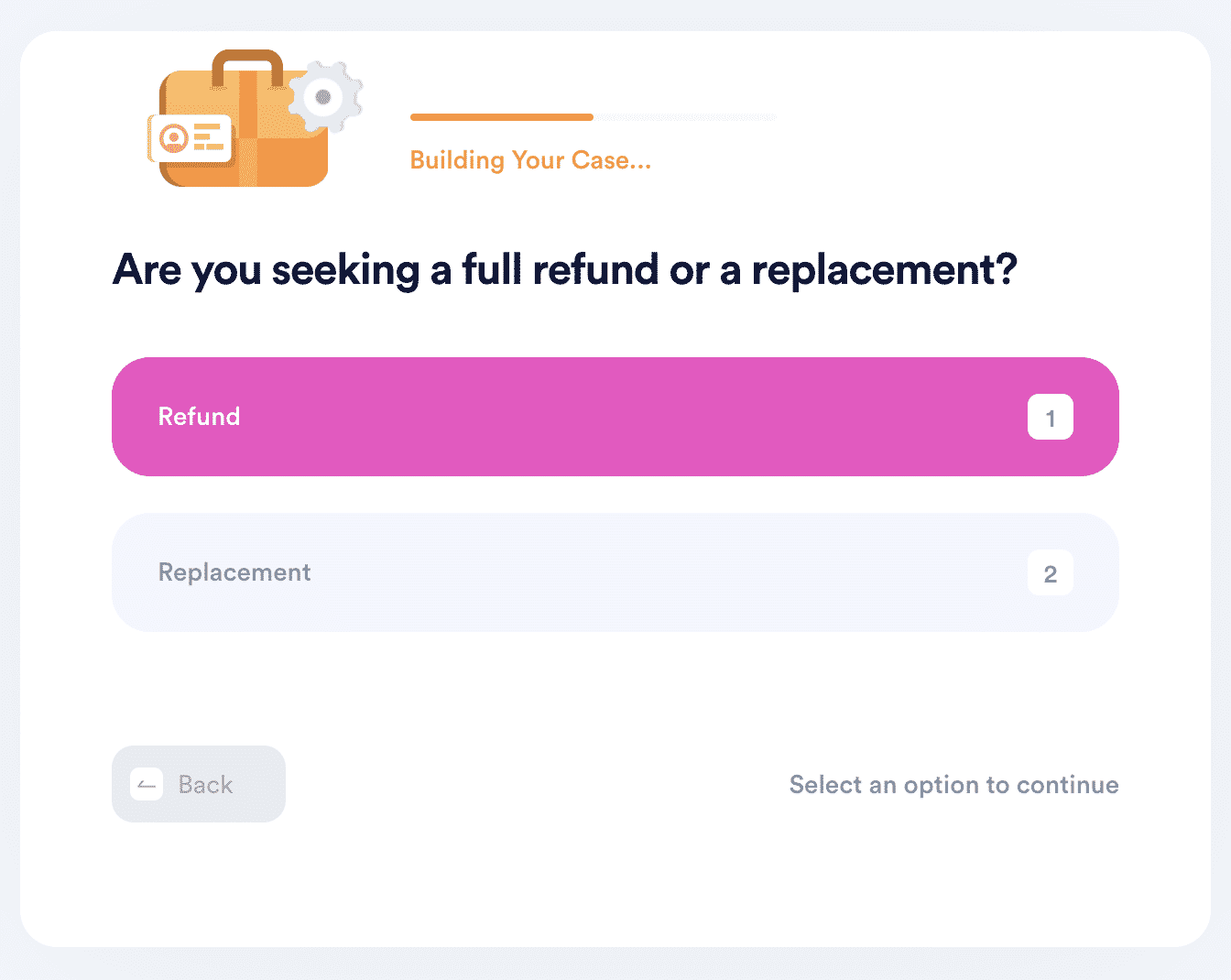 Interested in knowing the return policies of other companies? Check out more articles from our learning center and return any product without complications to:
Item Returns and Other Annoying Tasks Take but a Minute With DoNotPay
Looking into resolving other tedious bureaucratic tasks with the help of our app? Check out a fraction of our product range that can assist you with:
Don't Stop There—See How We Can Help You Even Further
You can count on our app's assistance if you need to cancel any subscription, demand a refund from a company or airline, get help with utility bills, reduce your property taxes, get a tourist visa, appeal banned accounts, contact embassies, or get cash back on gift cards.
Think you have some missing money? Claim it before the government does it in your stead! Need help preparing for a government test? Skim through our guides! Want to schedule a DMV appointment in a snap? We'll do it for you! Have any other obstacles? We'll get rid of them in the blink of an eye.