Booking an Appointment With a Notary in Temecula Explained
Even though it's crucial for numerous legal processes, getting a notary's signature is often a lengthy and exhausting task. When looking for notary services in the cities in California, you should be familiar with available options and choose the most convenient one.
Finding a notary in Temecula shouldn't be trouble for you! We help you skip bureaucratic procedures and paperwork by booking a meeting with a reliable online notary. Check out our tips and breeze through the notarization procedure with DoNotPay!
What Documents Can Notaries Public in California Notarize?
As authorized officers, notaries in Temecula, Fresno, Oakland, Sacramento, and other places in California can notarize various documents, including:
Trusts

Deeds

Loan documents
What Types of Notary Services Can You Find in Temecula?
When it comes to notaries public, California offers four options to its residents:
Standard notaries

are usually employed in larger companies or institutions or have their own business. You can find them in:

Hotels

Credit unions

Insurance companies

Money transfer offices

AAA

,

UPS

, and

Amscot

facilities

Colleges, libraries, and universities

Law and accountant firms and offices

Local

banks

, including

Citibank

,

Wells Fargo

,

Bank of America

, and

Huntington Bank

Mobile notaries

are the most convenient solution if you are unable to visit a notary's office or you don't have any in your vicinity. They travel to agreed-upon addresses and perform notarial acts on site.

Their services may cost more

than those of the regular notaries because of travel expenses

Electronic notaries

validate digital signatures on electronic versions of documents. Even though no paperwork is required, you must be physically present during the notarization

Online (remote) notaries

use audiovisual technology to communicate with clients and notarize their documents. They can validate your signature by placing a digital stamp on your document and signing it electronically
What Does Notarization in Temecula Include?
A notary has numerous responsibilities during the notarization procedure. They must:
Confirm your identity by asking you to provide a government-issued identification document. It can be a valid:

ID

Passport

Driver's license

Inmate, military, or employee identification card

Ensure you are of sound mind and sober at the moment of signing

Confirm that you are aware of the contents of the document

Check whether you are signing the document voluntarily

Revise your document and make sure there are no missing pages or blank spaces

Provide their signature and stamp the document

Complete a notary journal entry with:

Type of notarial act

The client's signature

Date and time of signing

The fees charged for the notarial act in question
What Are the Costs of Having Your Documents Notarized in Temecula?
Section 8211 of the Government Code regulates the maximum notary fees in California. Depending on their preferences, the officers can set their rates following those limitations or not charge their clients at all. You can see the maximum amounts they can charge for notarial acts in the table below:
Notarial Act

Fee

Executing jurats

$15.00

Administering oaths and affirmations

$15.00

Taking

acknowledgments

$15.00 per signature

Certifying copies of powers of attorney and immigration forms

$15.00

Providing deposition services

$30.00 for all services related to taking a deposition

$7.00 per witness for administering an oath

$7.00 per certificate to the deposition
The Government Code doesn't allow the notaries in Temecula to charge their clients for:
Verifying circulator's affidavits

Notarizing nomination documents

Validating signatures on:

Affidavits, vouchers, or applications related to the pension securing

Voting materials and ballot identification envelopes

Notarizing U.S. military veterans' documents related to:

Pension

Insurance

Allotment

Allowance

Compensation

Other benefits they are entitled to
DoNotPay Takes Remote Notarization to a Higher Level
If remote notarization is the most suitable option for you, lose no time in searching for an online notary by yourself. Thanks to DoNotPay, they are at your fingertips—just a few clicks away!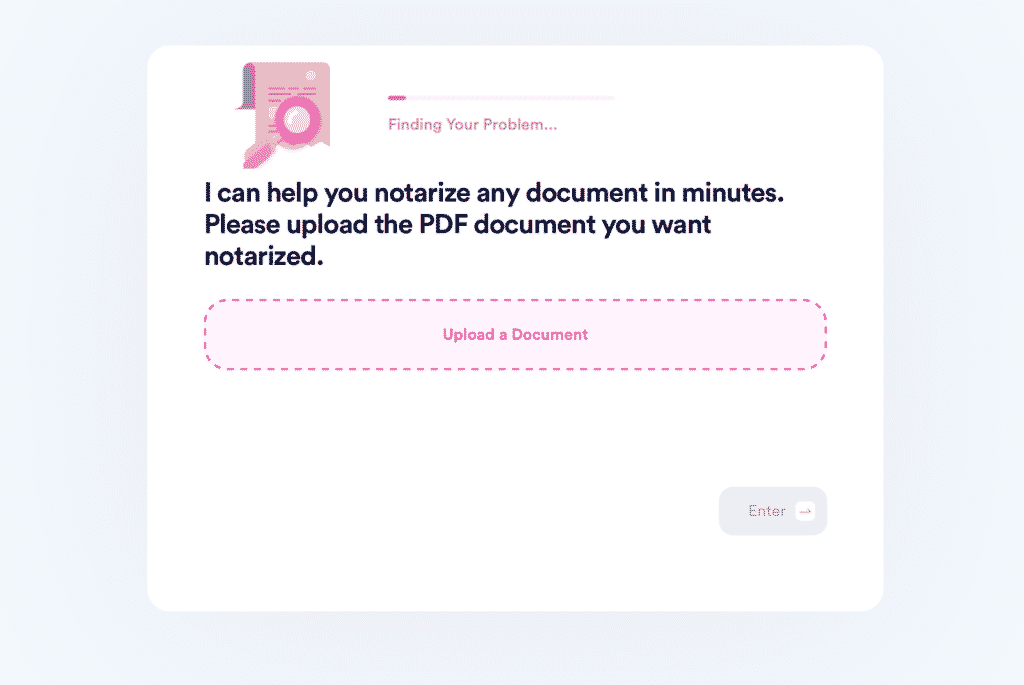 Adapting to the busy schedules of local notaries remains in the past. With our app, you can pick the preferred time and date for an appointment and get in touch with officers that work 24 hours a day!
Here's how to do it:
and open the app

Go to the

Notarize Any Document

section

Attach a digital version of your document

Enter your email address
You will receive a link that will take you to a timetable with a notary's available time slots. All that remains is to choose the one that works best for you!
Let DoNotPay Compose Top-Tier Legal Documents for You
Notary services aren't the only perk we offer! If you aren't happy with your drafting skills, DoNotPay can draw up contracts and other legal documents in your stead. and gain access to the best customizable templates you can turn into a:
Promissory Note

Residential Lease Agreement

LLC Operating Rules Document

Non-Disclosure Agreement

General Business Contract

Estoppel Certificate

Independent Contractor Agreement

Child Care Authorization Form

Quitclaim Deed

Bill of Sale

Intent To Purchase Real Estate

Non-Compete Agreement

Custody Agreement

General Affidavit

Prenuptial Agreement
Learn About DoNotPay's Awesome Products!
DoNotPay is a multifunctional app that can solve numerous everyday challenges swiftly.
You can use our app to protect your work from copyright violations, schedule your driving exam or any other appointment with the DMV, reduce your property taxes in a few steps, and similar.
We have created many useful products to help our users take care of their issues through the same app. With us, you can:
DoNotPay Connects You With Your Loved Ones
Sending letters to inmates can be difficult since you have to follow certain rules to a T to avoid having your letter rejected. The situation is even more complicated if you don't know where your incarcerated loved one serves time. DoNotPay's app can help you locate prisoners and correspond with them without worrying whether you're breaking any rules.
Do you want to send a letter, but you don't feel like heading over to a post office? By using our mailing service, you can mail as many letters as you want from the comfort of your home. With DoNotPay, you can also send online faxes in under five minutes!
Email and text spam is something that everyone experiences at least once in their lives. DoNotPay has a solution for that too. Access your DoNotPay account and count on us to help you block spam and get compensation by reporting pesky robocalls.