DoNotPay Can Tell You How To Avoid Going to a
Notary in Chico, CA
Finding a reliable notary in Chico, CA, is a dull task, and going to the notary's office is time-consuming. If you want to avoid getting documents notarized in person, you should turn to DoNotPay for help.
Why Should You Avoid In-Person Notarization in Chico, CA?
Standard in-person notarization is not a good idea, no matter what state or city you live in. The problem with it is that the standard notarization process is outdated and inconvenient. If you go to a notary in Chico, CA, you will:
Have to find a reliable notary on your own

Spend money on transportation

Risk getting stuck in traffic

Have to find time during a busy workweek to make it to the appointment

Endanger your health by interacting with other people and risk catching

COVID-19

Need to take more than one trip potentially and endure the ordeal twice 
If standard notarization is out of the game, what other options are you left with?
Alternative Notarization Options in Chico, CA
Besides traditional in-person notarization, the State of California allows two other methods:
Out-of-state remote notarization
Mobile Notarization in Chico, CA
Mobile notarization works in a similar fashion to standard notarization. It still happens in person, but the notary is the one traveling. The meeting place can be a house, office, prison, or a hospital. 
It is more convenient to manage your time when dealing with mobile notaries compared to the standard option, but the problem with mobile notarization is the high price of notary services they come with. The signer needs to pay for the notary's travel expenses and potential after-hours services. These fees can fall anywhere between $50 and $500.
Out-of-State Remote Notarization in Chico, CA
Many states started allowing notaries to perform notarial acts online in 2020 because of the COVID-19 pandemic, but California was not among them. The Golden State offers its citizens another solution—out-of-state remote notarization. 
This option allows individuals in California to find online notaries from other states to notarize their documents. There are currently 28 states that permit online notarization, and some of them are:
What Are the Online Notarization Requirements?
If you want to sail through online notarization, you'll need to have a few items to make it possible. The list is not long, and you probably already own everything:
A laptop that works properly (make sure to have a web camera for the video call)

Stable internet connection to avoid any interruptions

The document that you want to get notarized

An ID or an approved document as proof of identification
If the document requires you to have a witness as well, that person should be in the room during the meeting. You only need to find a reliable online notary to start the procedure. DoNotPay can help you with this part!
DoNotPay Finds Online Notaries Fast and Easily
If you don't want to go through the process of looking for online notaries in other states alone, you don't have to—DoNotPay will handle the task in your stead. You only need to follow four simple steps:
Sign up for DoNotPay

in any web browser you like

Choose our

Notarize Any Document

product

Upload the document you need to get notarized

Type in the email address you use in the provided field
DoNotPay will send you an email with a link to confirm the appointment with the notary. You can choose a date and time that suits your schedule. Online notaries we work with are available 24/7, any day of the year.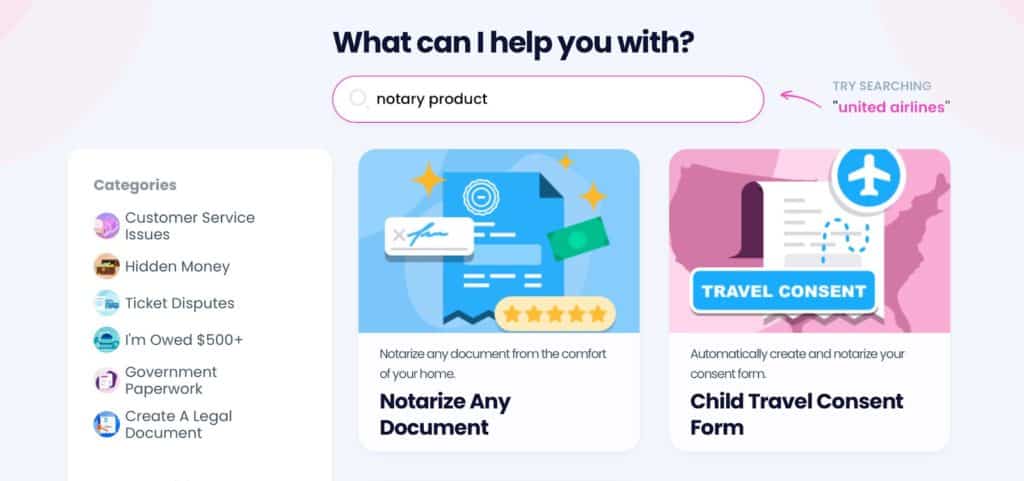 Create Legal Documents Easily With DoNotPay's Help
DoNotPay can help you with another task closely connected to the notarization process—making legal documents. You can draw up numerous agreements and contracts by using our app. Here are some of your options:
What Documents Should You Get Notarized?
Notarizing documents is not always necessary, but it can add legal weight to your paperwork. Take a look at the table below to see what documents need a notary's signature:
Documents That Should Be Notarized
Documents That Might Need To Get Notarized (Depending on the State)

Trusts

Business contracts

Employment contracts

Consent forms

Real estate deeds

Loan documents
Do You Have More Questions About Notarization?
DoNotPay has all the info that you might need about document notarization. Find an answer to these questions:
Use DoNotPay's Features to Your Advantage!
DoNotPay offers a myriad of helpful services you can use to resolve your everyday hurdles. 
Do you need help paying bills or finding and claiming missing money? Are you interested in applying for clinical trials in your area? We can help you solve these and many more issues in no time!
Here are some other problems you can handle effortlessly with our help:
Hiring a Lawyer Can Cost a Small Fortune—Rely on DoNotPay Instead
If you're on a tight budget and can't pay a lawyer to help you create legal documents, file a claim in small claims court, or handle stalking and harassment, DoNotPay has a solution for you. 
Our app will help you create various documents, including child travel consent forms and complaint letters for a problematic neighbor. 
Are you a victim of a crime and need help applying for reimbursement of your crime-related expenses? You can sign up for DoNotPay and allow us to handle your crime victims compensation on your behalf.
DoNotPay can also connect you with an online notary and enable you to get your documents notarized from the comfort of your home.