Make the Nebraska Furniture Mart Return Policy Work in Your Favor
You bought a couch at Nebraska Furniture Mart thinking it would go perfectly with your decor—but it doesn't. Are you trying to understand the Nebraska Furniture Mart return policy to find out what your options are? With the help of DoNotPay, you can file a return request quickly and get your money back.
Nebraska Furniture Mart Return Policy Explained
Depending on the type of product you have bought, the conditions in which you can return it vary. If you feel NFM's items don't look good in your home, you can return them to the store nearest to your location. Most products are returnable if they are:
Unopened
Unused
Without visible physical damage either to the packaging or the item itself
Returned with a receipt
NFM return policy has various return deadlines for different products:
14 days—computers, tablets, and cellphones
30 days—furniture, floors, and most electronics and appliances
120 days—mattresses
Products That Are Exceptions to This Rule
NFM sells various items, and some have different return policies, as follows:
Product
Deadline and Eligibility Criteria
Restocking Fee
Electric bicycles

Return window: 30 days and/or 50-mile maximum odometer reading
Eligibility criteria: in a near-new condition

15% of the product's price if not returned in a near-new condition
Phones

Return window: 14 days
Eligibility criteria: in a like-new condition, returned without unauthorized software that negates the return policy

15% restocking fee applies to all returns
Computers

Return window: 14 days
Eligibility criteria: in a like-new condition
Refund options: exchange, refund, or store credit

No restocking fee
Fitness equipment

Return window: 14 days
Eligibility criteria: in original packaging and with a receipt
Refund options: refund or store credit

No restocking fee
Camera, lens, and drone purchases

Return window: 14 days
Eligibility criteria: in a like-new condition

15% restocking
Special order merchandise
You can cancel or return special order items
NFM will deduct a minimum of 25% for the fee
The following items are non–refundable:
Cut yardage
Pillows
Futon covers
Mattresses pads
Returning Products Without a Receipt
If you have misplaced your receipt, you can still return the product to the store, but you will receive a store credit only.
You can return the product to the store where you originally bought it from, or you can contact the store and have them pick up the item.
What Happens When You Return a Product?
Nebraska Furniture Mart offers three types of refunds, each matching your original payment method:
Bank account—the amount you have paid will be refunded to your bank card
Cash—if you return your item to the store, you can get a cash refund of up to $500
Check—you will receive the check via mail 14 days after the original purchase
Use DoNotPay To Return a Nebraska Furniture Mart Product in a Heartbeat
The NFM return policy can be confusing, and you may end up not being able to return an item because you didn't understand the procedure well enough. The company doesn't provide much info about the return process, which means that you might have to waste hours contacting their customer support or visiting various stores. That's why you should rely on DoNotPay's Return My Purchase tool to create a professional return request letter in no time.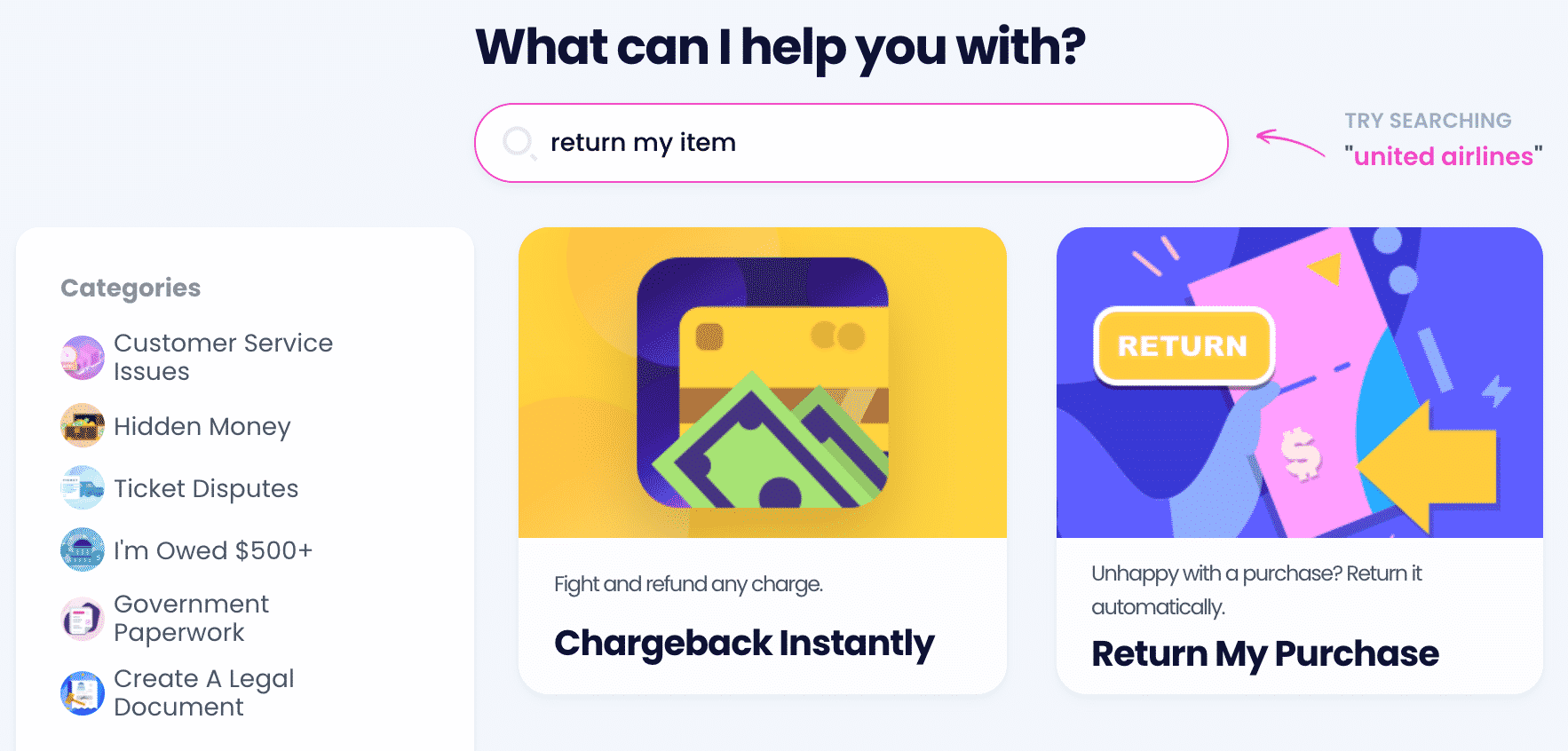 To start the return process with our help, you should:
Provide info about the company and product
Add photos if possible
Click Submit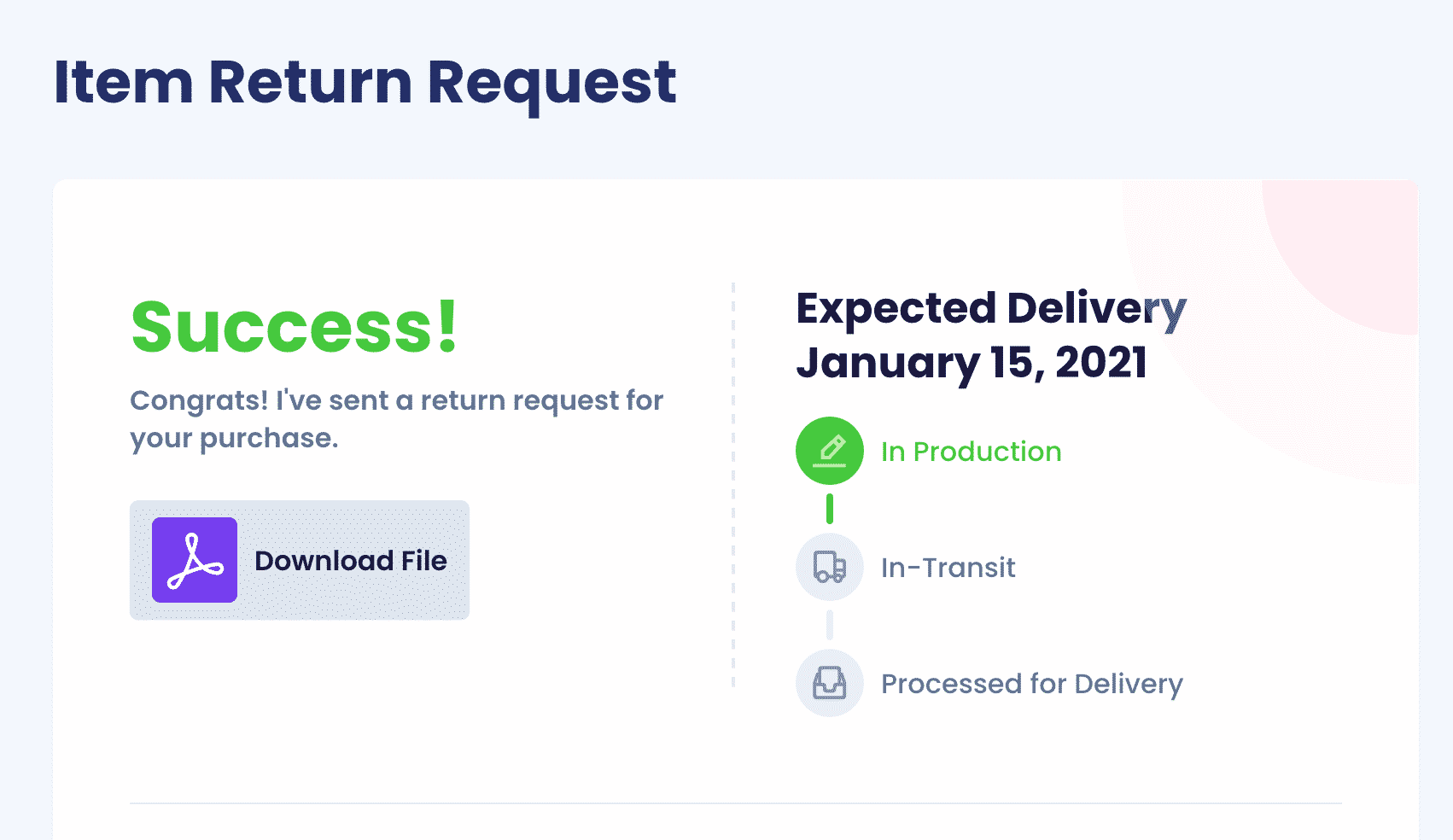 If you want to get familiar with the return policies of other major retailers, you can do so by consulting our guides from the table below:
Is the Situation With the Merchant Getting Messy? Take Them to Small Claims Court!
If you feel like the merchant has wronged you, our AI-driven app recognized by the ABA Brown Award will help you sue them in small claims court! You don't need to worry about filling out lengthy court forms or collecting evidence for your case—we'll step in and do it for you!
You can use DoNotPay to generate any legal document you may need for the lawsuit, add legal weight to it through online notarization, and fax it to the court—all in a matter of mere minutes.
Facing any other legal issues? Check out how our app can assist you in:
We Can Help in Many Other Ways!
No matter what kind of assistance you need DoNotPay to provide, you can rely on it to solve any admin or legal issues you may have.
You can use our app to jump the phone queue when contacting any support team, skip the line at the DMV, get cash back on gift cards, create a valid passport photo, appeal any banned account, file an insurance or warranty claim, and get in touch with a loved one in prison in a snap.