Learn More About the NAPA Return Policy and Get Your Money Back Fast
Bought a part at NAPA Auto Parts that is not a good fit for your car, and now you're afraid you're stuck with it? Not with DoNotPay! Our guide will tell you all about the NAPA return policy and assist you in in a timely and hassle-free manner.
NAPA Return Policy—What You Need To Know
You can return an item bought at NAPA Auto Parts if it is:
In original packaging and condition
A used core in the packaging of a new one
Received damaged or defective
Received by mistake
The following items cannot be returned:
Giveaway items
Gift cards
Books and shop manuals
Items bought on clearance
Personalized items
Personal safety products
Electrical test equipment
NAPA Auto Parts "Buy Online, Pickup in Store" Return Policy
NAPA Auto Parts return policy states that you must return items:
Within 30 days of purchase
With an original purchase receipt
In person to a NAPA store near you
To find the store near you, use the company's Store Locator.
NAPA Auto Parts Return Policy for Online Purchases
If you want to return a product that has been delivered to your home, follow these steps:
Contact support center
Receive a Return Goods Authorization number (RGA)
Receive a free shipping label
Send the item via UPS
To ensure proper shipping, billing, and tracking, you need to pack the item securely, preferably in the package it arrived in, and the package must contain two labels:
The RGA shipping label
The UPS shipping label
What Happens When You Return Your Item?
When the store receives the item, they will evaluate it, and you will get store credit for the amount you paid plus taxes in the following 15 days. Note that NAPA Auto Parts will not refund initial shipping fees.
What Happens if You Want To Exchange the Item?
If you bought the wrong part and want to exchange it for a different one, you can do that within 30 days of your purchase, provided that you have a receipt. You can:
Exchange the item in person in a NAPA Auto Parts store
Send the item back via UPS
Returning Used Cores and What To Look Out For
You are eligible for core credit if you have paid a core charge and return the previous core unit. You can return used cores at any time as long as the replacement components are:
Purchased at NAPA Auto Parts
Returned in the box that came with the new product
Brought with a copy of your original purchase receipt
Brought to the original NAPA Auto Parts location
Before returning your core, be sure to:
Drain all fluids (excluding batteries)
Seal it in a plastic bag to avoid leaks
Place it in the box of the replacement component you bought from NAPA Auto Parts
Get DoNotPay's Help When Returning NAPA Auto Parts Items
The NAPA Auto Parts' return procedure might be too difficult and time-consuming, but DoNotPay can assist you. You can start the return process in minutes with our Return My Purchase tool.
We'll create and send a unique request letter to NAPA Auto Parts informing them of your dissatisfaction with the purchase. We'll also establish a response deadline to help speed things up.
To start your return, follow these four easy steps:
Choose our Return My Purchase product
Provide relevant information and attach photos if needed
Submit your request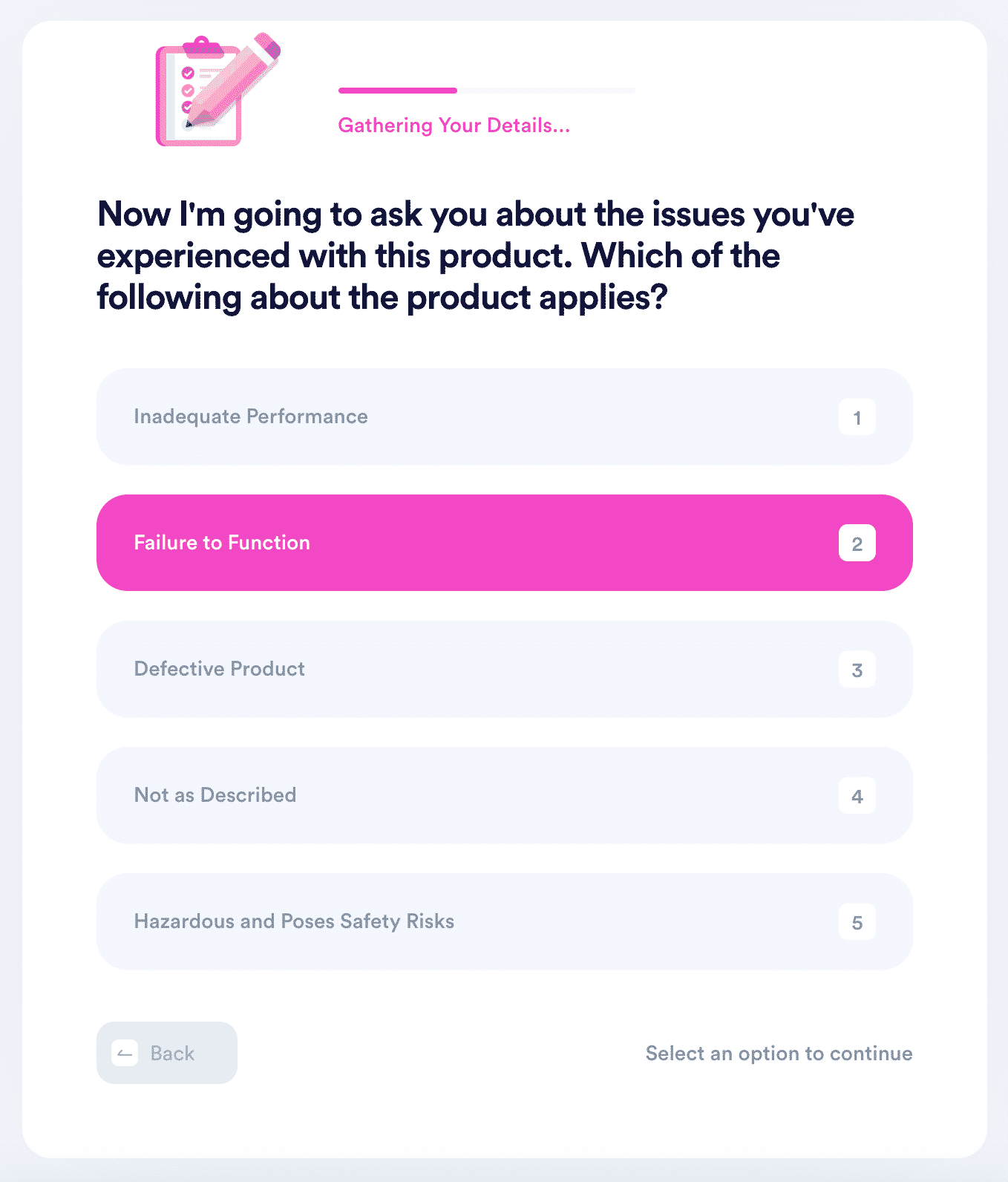 If you want to speed up the return procedures with other companies, have a look at some of our useful guides:
Is the Situation With the Merchant Getting Messy? Take Them to Small Claims Court!
If you feel like the merchant has wronged you, our AI-driven app recognized by the ABA Brown Award will help you sue them in small claims court! You don't need to worry about filling out lengthy court forms or collecting evidence for your case—we'll step in and do it for you!
You can use DoNotPay to generate any legal document you may need for the lawsuit, add legal weight to it through online notarization, and fax it to the court—all in a matter of mere minutes.
Facing any other legal issues? Check out how our app can assist you in:
We Can Help in Many Other Ways!
No matter what kind of assistance you need DoNotPay to provide, you can rely on it to solve any admin or legal issues you may have.
You can use our app to jump the phone queue when contacting any support team, skip the line at the DMV, get cash back on gift cards, create a valid passport photo, appeal any banned account, file an insurance or warranty claim, and get in touch with a loved one in prison in a snap.