How To Return an App: The App Store Return Policy Explained
Did you spend money on an app only to find it disappointing? If you want to know how to return an app to the App Store but are unsure of where to start, you've come to the right place! This article will explain the App Store return policy in detail and tell you how to file return requests with other companies fast.
The App Store Return Policy in a Nutshell
Apple's App Store return policy can't be considered customer-oriented. While you can ask for an App Store refund, there's no guarantee Apple will grant it. The decision to refund app purchases is at the company's discretion. Your App Store return request may not even be evaluated by a human reviewer.
If you still want to request a refund, do so within 90 days of downloading the app in question. This policy extends to all Apple services, including App Store and iTunes Store purchases.
The App Store return policy must not be used as a way to get free trials, or Apple will flag your request as abuse. You need a valid reason to return an App Store purchase, such as:
Buying an app by mistake
Purchasing an app that doesn't work properly
Paying for an app but getting nothing
Depending on the individual return policy of each app, you might be taken to the company's official website to complete additional steps.
Keep in mind that in-app purchases and other consumable content are considered final sales.
If you still have a pending charge, you can't request a refund until you clear it off. Wait until the payment information is updated to send a refund request.
When and How Will You Receive a Refund?
Once you send the request, Apple may take around two days to evaluate it and issue a refund. The team might reach out to you for further explanation (if necessary).
For purchases paid with an Apple Card, it can take extra 48 hours for Apple to approve and return your credit.
All refunds will be sent to the original source of payment. You can monitor your refund status on the Apple support page.
If you don't receive the money after a month, consider contacting your debit or credit card issuer.
How To Return an App—A Step-by-Step Guide
You can send a return request to Apple in a few ways, as follows:
Through the website
Via email
How To Send a Return Request to the App Store Through Apple's Website
Here's how you can request a refund through Apple's official website:
Sign in to your Apple account
Select I'd like to
Click on Request a refund
Choose the reason for your return
Select the app in question, and click on Submit
How To Send a Return Request to the App Store via Email
You can also send a return request by reporting a problem through your email receipt. Below are the steps to do so:
Launch the Mail app or your preferred email client from the Home screen
Locate the message that contains "Your receipt from Apple"
Click on the receipt of the order you wish to refund
Select Report a Problem (this will redirect you to Apple's problem report page)
Enter your Apple credentials
Click on Choose Problem and select your issue(s) from the menu
Follow the instructions to submit the report or get in touch with the app developer
Need Help Sending Return Requests to Other Companies? Rely on DoNotPay!
Returning an item to any company can be frustrating and time-consuming, especially if the return policy of the company in question is confusing. Tired of spending hours trying to decipher complicated return policies and sending return requests that go unanswered? DoNotPay can help!
You can file return requests with various retailers in a few clicks using DoNotPay's Return My Purchase feature. This is what you need to do:
Find our Return My Purchase product
Answer a few questions
Sign the letter with your electronic signature and submit it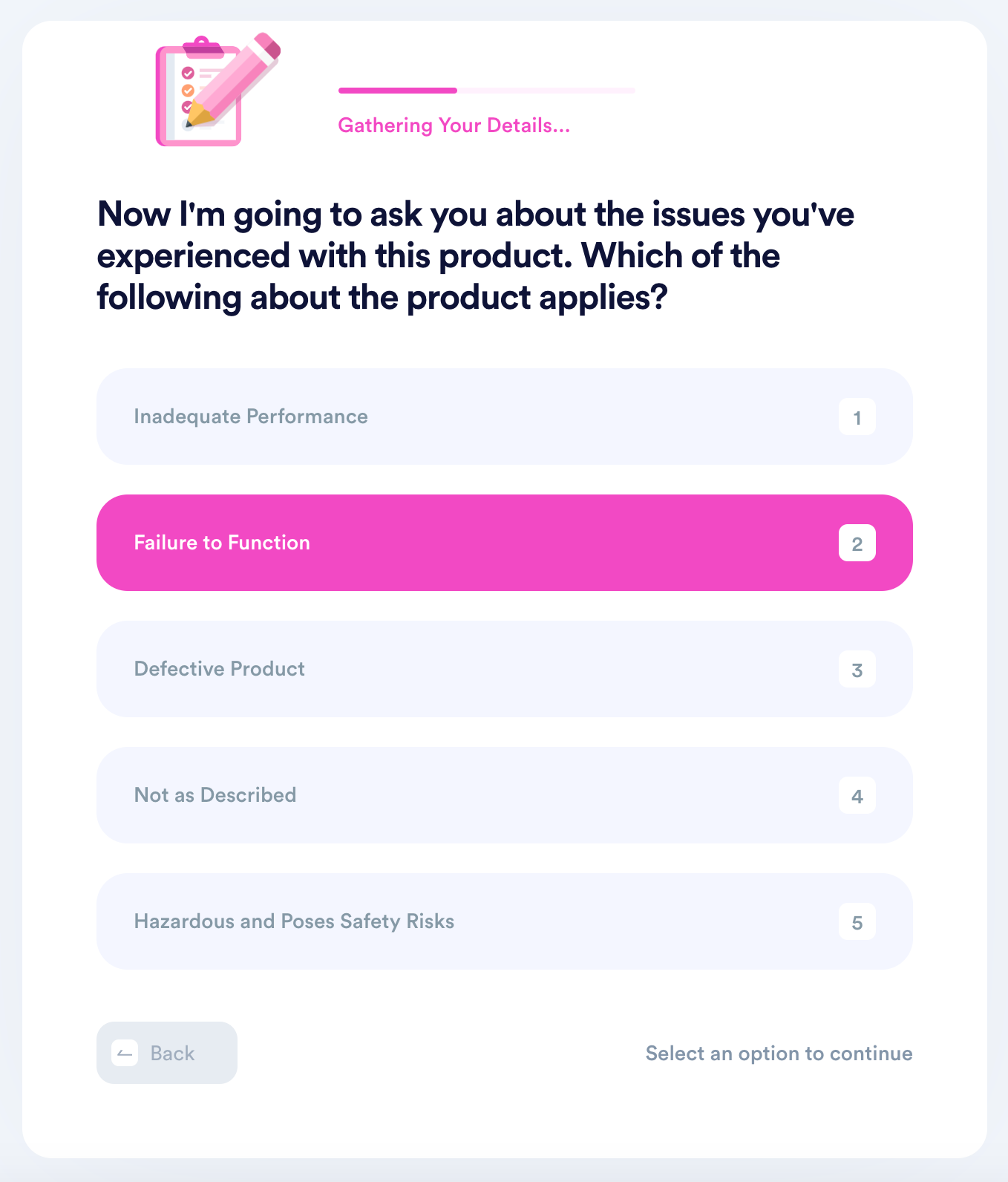 You will get a personalized return request letter within minutes, with a shipping label you can use to return items free of charge.
Our app's Return My Purchase product can send return request letters to many well-known companies, including:
Having Issues With Companies? Sue Them in Small Claims Court With DoNotPay's Help!
Were you denied a refund you deserved, or have you been wronged in any other way? You can take the matter to small claims court hassle-free. No need to worry about spending money on a lawyer—DoNotPay can assist you with various tasks, such as:
Drafting a demand letter
Completing court forms
Gathering all the necessary paperwork
Filing your complaint
Preparing a script with the strongest arguments to use in court
DoNotPay Offers More Than Swift Returns
Our AI-driven app has a plethora of products that can help you save time and money. Once you sign up for DoNotPay, you will be able to:
Check Out Our Full Product Range
There's so much more to DoNotPay than filing return requests. With our app, you can cancel any membership, sign up for a free trial risk-free, get a virtual credit card, sign up for a clinical trial, map sex offenders in your area, and demand a refund from any airline.
If you want to reduce your property taxes, get help paying your bills, enter raffles and sweepstakes, find your unclaimed funds, or prepare for a government test, DoNotPay is the only solution you need!
Sign up today to access all of our products!