Virginia Tech Scholarships Explained
If the educational costs at Virginia Tech make your dream feel impossible, you'll be happy to know there are lots of scholarships and grants available to you. You can take advantage of the opportunities offered by Virginia Tech, federal and Virginia state governments, and other scholarship providers.
This guide will present an easy-to-follow overview of available Virginia Tech scholarships and show you how to find the best funding opportunities within a minute.
Types of Virginia Tech Scholarships
The following are the types of scholarships offered for Virginia Polytechnic Institute and State University:
Academic scholarships
Transfer scholarships
Athletic scholarships
Presidential Scholarships Program
General scholarships
Military scholarships
Honors College scholarships
International scholarships
Academic Scholarships
Virginia Tech academic scholarships are merit- and need-based. To qualify, you must have good grades and demonstrate financial need, which is assessed using the FAFSA. In the event that your financial situation changes, the award can be canceled or adjusted. These programs are offered by various VT colleges and departments.
Transfer Scholarships
Students who want to transfer from a Virginia community college to Virginia Tech can benefit from the VT VCCS Transfer Achievement Scholarship. This program covers tuition and the required fees. The eligibility requirements for the Virginia Tech transfer scholarships are:
Have a GPA of minimum 3.0 in the community college associate degree program
Complete the transfer admission application Ut Prosim essays
Pursue your first bachelor's degree
Prove financial need by filing the FAFSA
Athletic Scholarships
Virginia Tech athletic scholarships are given to students based on their athletic skills and academic achievements. Students don't need the FAFSA for athletic programs, but athletes who require a different scholarship should file the FAFSA. To be considered for these scholarships, you must be recommended by the athletic department.
Virginia Tech Presidential Scholarships Initiative
This is a Virginia Tech merit scholarship for high school seniors. The program awards a maximum of 85 students every year and covers tuition, fees, room, and board. To be eligible for this program, you need to:
Reside in Virginia
Graduate from a high school in Virginia
Be eligible for the Pell Grant
Have a good academic record
File the FAFSA by March 1st
Have leadership potential
To apply for this scholarship, all you need to do is complete the FAFSA. First-generation students usually have an advantage.
General Scholarships
The eligibility requirements and prize amounts vary for the general scholarships. Some of the eligibility requirements for the Virginia Tech general scholarship program include:
Location of high school attended
State of residence
Financial need
Minimum GPA of 3.0
Military Scholarships
If you are interested in military scholarships at Virginia Tech, you may check any of the following:
Virginia Tech Corps of Cadets
Highty-Tighties
Air Force (AFROTC)
Army ROTC
Naval ROTC
Honors College Scholarships
The Honors College scholarships are awarded to freshmen and returning students. Prospective students get recruitment scholarships, while enrolled students get merit and national scholarships.
Honors College Scholarship
Examples
Virginia Tech merit scholarships

Honor Enrichment Grant
Odyssey Fellowships
Frank N. Cowan Scholarship
Glen Salmon Scholarship for Multidisciplinary Studies
Leslie Sherman Scholarship
The Skelton Honors Scholarship
The Paul and Lynne Knox Study Abroad Scholarship

National scholarships

Astronaut Scholarship
Goldwater Scholarship
Marshall Scholarship
Fulbright U.S Student Grant
Truman Scholarship

Recruitment scholarships

Stamps Scholarships
Townsend-Crews Scholarships
Calhoun Scholarships
Pamplin Scholars Program
McNamara Scholarships
International Scholarships
These scholarships are available for students who are not eligible to complete the FAFSA. Here is an example of international student scholarships you can apply for:
Global Education Office (GEO) Spring and Winter Scholarship
How To Find Outside Scholarships
Outside scholarships are awarded by different organizations. Here are some tips to help you find the best programs:
Get in touch with your high school guidance counselor
Visit the financial aid office of your current or prospective school or check the financial aid section of the university's website
Check with local organizations and foundations, such as NGOs, religious institutions, community service programs, etc.
Search online using words that describe your demographic profile, such as scholarships for women, veterans, moms, or transgender students
Combining different approaches can be exhausting and time-consuming. Save time and use DoNotPay. In a few minutes, you will have a list of all the Virginia Tech scholarships you are eligible for. and begin applying right away!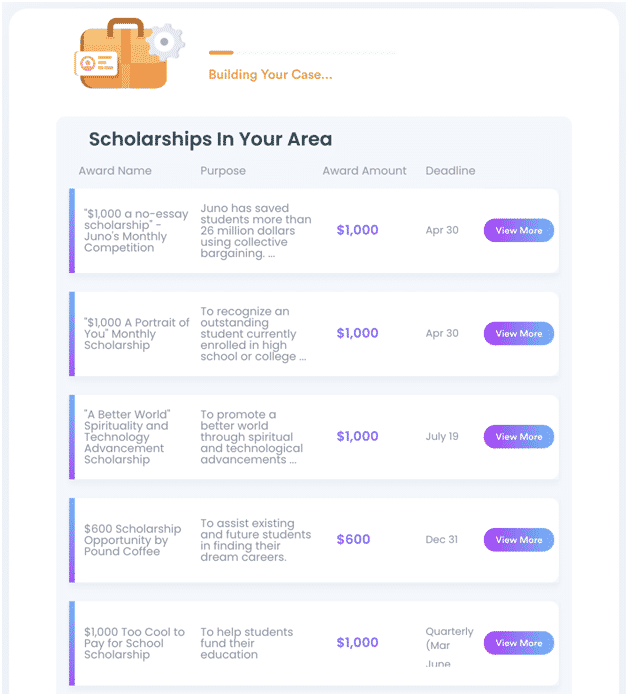 Virginia Tech Scholarship Application Process
The different types of scholarships at Virginia Tech have different application requirements. Be sure to visit the specific scholarship program page and verify the application procedure. The major criteria used for Virginia Tech scholarships is the FAFSA, so make sure to submit your application as soon as possible.
To apply for Virginia Tech scholarships, follow these steps:
Visit the Virginia Tech central application system
Enter the name of the scholarship program in the search bar
Click the scholarship name
Read the program details and proceed with the application if you have everything that is required
To apply for outside scholarships, you may also be required to submit the following:
Find and Apply for Scholarships With DoNotPay
The scholarship search process is difficult if you don't know where to look. Besides getting a list of college or graduate school scholarships, you need to check your eligibility for each program.
DoNotPay will do all that for you in less than five minutes. All you need to do is:
and log in
Go to Apply for Scholarships
Answer a couple of questions
Once you finish answering the questions, DoNotPay will give you a complete list of all the scholarships that you are eligible for—no more headaches and wasting time! Our app can also send your applications for no-essay scholarships automatically.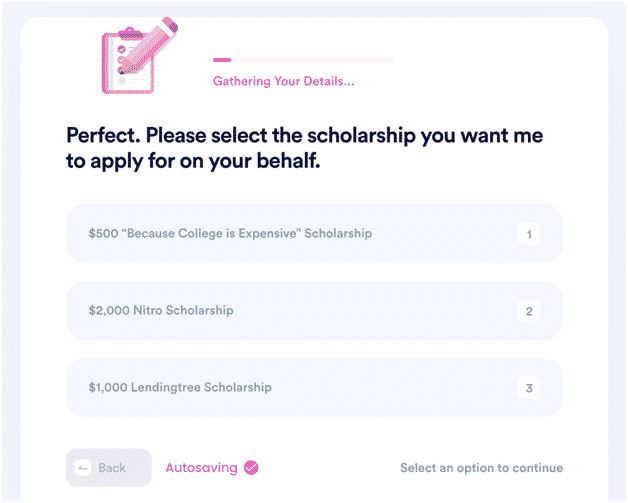 Explore DoNotPay's Product Range
Are you looking for additional assistance from our app? We're happy to inform you that DoNotPay provides you with a number of useful tools that you can use to complete mundane tasks in the blink of an eye! Sign up for our app and let us help you get:
DoNotPay Resolves Your Financial Issues in a Few Taps
You don't have to struggle to figure out how to resolve financial problems yourself when you have our app at your disposal. In only a few clicks, you'll be able to discover any unclaimed money under your name, submit insurance and warranty claims, or request compensation for delayed flights.
But that is not all! Lowering your utility bills, appealing parking tickets, or canceling memberships and subscriptions is also something you can do in no time and with minimum effort if you use DoNotPay! Work smarter, not harder!