Understanding How Harvard Scholarship Programs Work
Harvard makes a promise that no student admitted at the institution can drop out due to schooling expenses. This Ivy League school covers 100% of students' expenses during their undergraduate studies. If you'd like to know how to secure a Harvard scholarship, read this guide to learn how the programs work.
The Basics of Harvard University Scholarships
Harvard University scholarships can be categorized as follows:
Need-based scholarships
Federal and state grants
Restricted graduate scholarships
International graduate students scholarships
Need-Based Scholarships
Harvard University offers need-based scholarships to help students who face financial hardship cover their education-related expenses. Students who receive this financial aid must reapply every year.
The school determines the amount students can receive on a case-by-case basis. Here's what the process looks like:
The school considers parents' contribution and determines the award amount a student should receive according to that
Any student employment remuneration or outside scholarships are deducted from the award amount
The remaining expenses are covered by a Harvard need-based scholarship
The financial aid package for each academic year is influenced by the changes in a student's financial situation and external awards they received.
Federal and State Grants
Students who are U.S. citizens or permanent residents can be eligible for the following federal and state grants:
| Grant Name | Who Is It For? |
| --- | --- |
| Federal Pell Grant | Awarded to students who qualify for federal grants after filing the FAFSA |
| Supplemental Educational Opportunity Grant (SEOG) | You must be eligible for the Pell Grant to receive this grant |
| Gilbert Grant | The grant is available to Massachusetts residents |
These grants are awarded by the federal and state governments and administered by Havard's financial aid office. Students must demonstrate financial need by completing the FAFSA form to apply.
Restricted Graduate Scholarships
Harvard offers restricted scholarships funded by alumni and individual donors to support particular types of grad students. The eligibility criteria for these scholarships include:
Ancestry or name
Birthplace, residency, or citizenship
Schools the applicant has attended
To secure a restricted scholarship, you must be nominated by the Havard school you are enrolled in. You can find an opportunity that matches your profile and ask the financial aid office for consideration. If selected, you might be required to submit paperwork that confirms your eligibility for the award.
International Graduate Students Scholarships
Harvard offers a number of scholarships for international students who attend professional and graduate schools. These programs are offered based on the country of origin. You should check the programs available in your country, read the details, and apply according to the guidelines.
Outside Scholarships and Grants
Harvard students can also receive scholarships from organizations outside of the University, but any award received must be reported to the school. These awards can replace Havard's need-based scholarships.
How To Find Harvard Scholarships
The administration of most Harvard scholarships is usually done by the financial aid offices at each Harvard school. You should begin your scholarship search by contacting the financial aid office in your respective school to discuss the available opportunities and application process.
If you wish to find outside scholarships, you can do so by:
Checking with civic organizations in your area
Browsing through the National Merit Scholarship Program website
Searching online, using the terms that describe your demographic profile, such as women, high school seniors, college students, veterans, Asians, Native Americans, Muslims, Christians, etc.
Contacting your guidance counselor
Asking your religious institution
Visiting local foundations and organizations
For a more streamlined and faster search process, use DoNotPay. Our app will give you a list of all the scholarships that match your profile in less than five minutes. now and start applying for scholarships in no time.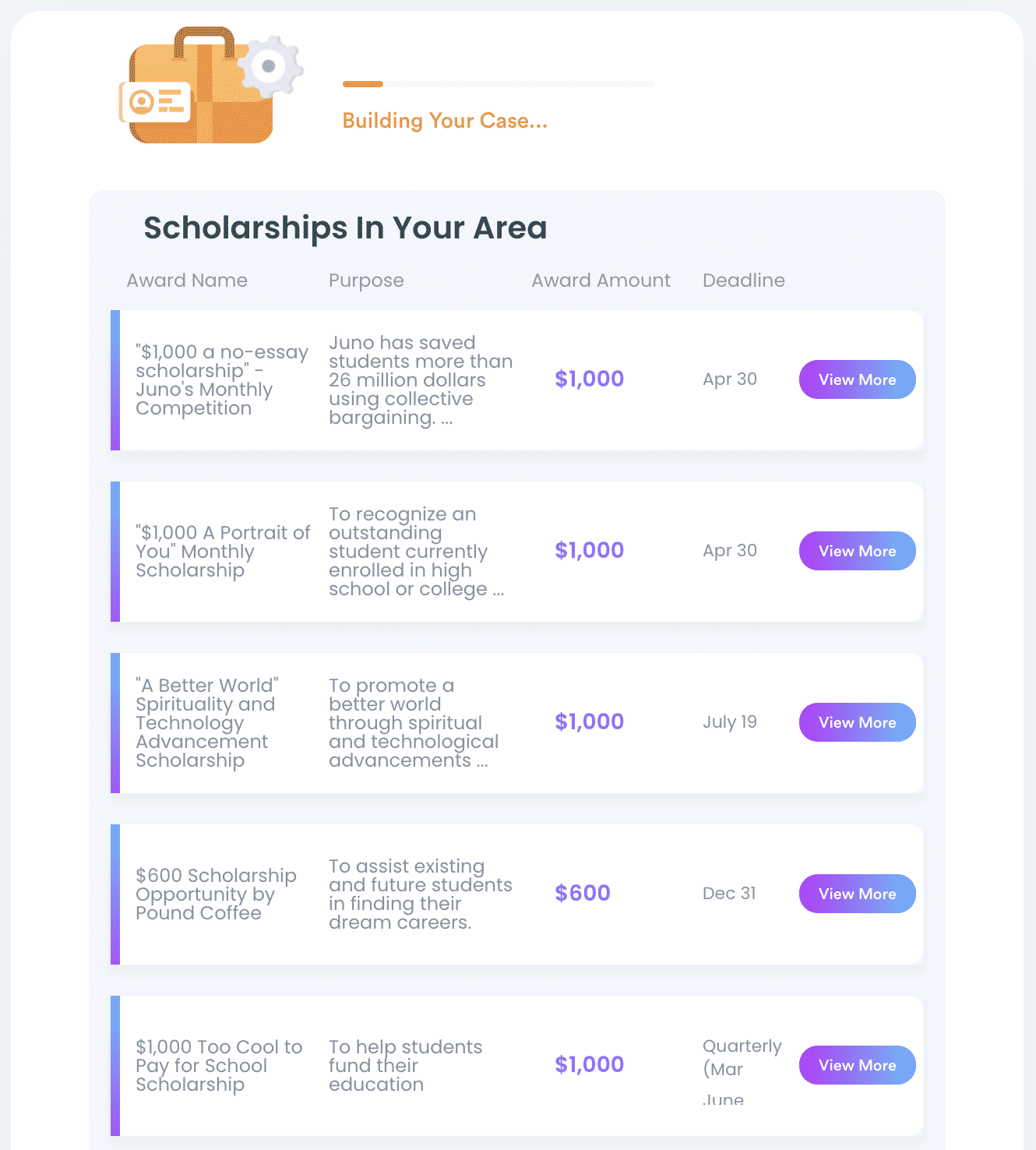 How To Apply for a Scholarship for Harvard
The financial aid application process is the same for all Harvard students. Although you can apply for financial aid at any year of study, prospective students are advised to apply when submitting admission applications. Applying for financial aid does not affect the admission decision.
Here's the application process for Harvard scholarships:
Get in touch with the financial aid office of the Harvard school you will be attending
Apply for financial aid by following your school's guidelines
For outside scholarships, you may be required to submit cover letters, essays, personal statements, and recommendation letters.
The Easiest and Fastest Way To Find and Apply for Scholarships
Finding scholarships is tiresome and time-consuming, but there is a solution. DoNotPay will curate a personalized list of scholarships and grants for you to help you make your search as easy and quick as possible. You will never worry about a missed opportunity again. To use our app, follow these steps:
Pick our Apply for Scholarships product
Answer a couple of questions about your education level and academic interests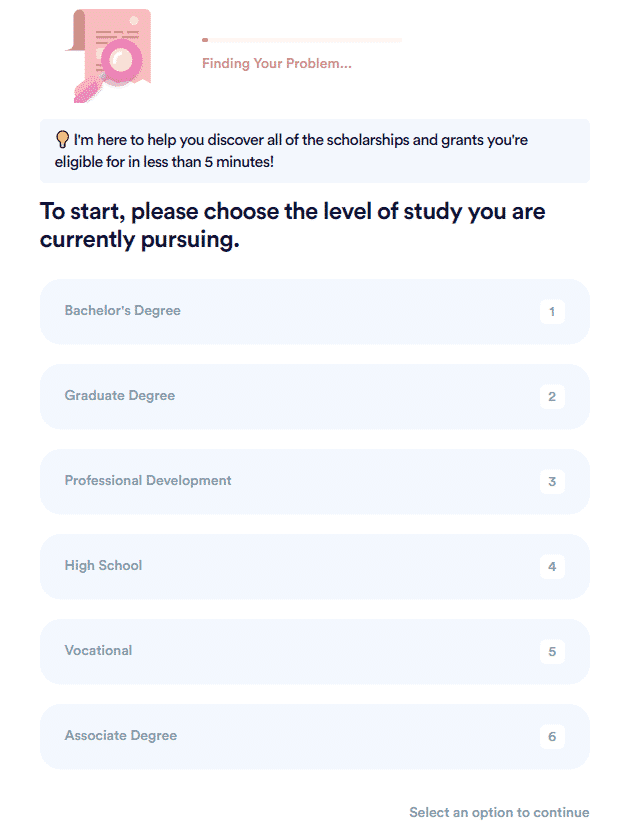 We will use the information you provide to generate a comprehensive list of all the scholarships you can apply for. You can also choose to have our app send your applications for any no-essay scholarship automatically.
Explore DoNotPay's Product Range
Are you looking for additional assistance from our app? We're happy to inform you that DoNotPay provides you with a number of useful tools that you can use to complete mundane tasks in the blink of an eye! Sign up for our app and let us help you get:
DoNotPay Resolves Your Financial Issues in a Few Taps
You don't have to struggle to figure out how to resolve financial problems yourself when you have our app at your disposal. In only a few clicks, you'll be able to discover any unclaimed money under your name, submit insurance and warranty claims, or request compensation for delayed flights.
But that is not all! Lowering your utility bills, appealing parking tickets, or canceling memberships and subscriptions is also something you can do in no time and with minimum effort if you use DoNotPay! Work smarter, not harder!