Johns Hopkins Scholarships—Where To Find Them and How To Apply
Tuition fees at Johns Hopkins University can reach over $70,000, and actual costs go even higher when you add up other expenses like application fees.
Only a small number of students can afford those prices. Others usually have to go into debt they need to repay after they graduate or hope to secure financial aid.
In this article, we'll talk about Johns Hopkins scholarships and grants and explain how you can get one.
Types of Johns Hopkins Scholarships
Johns Hopkins University scholarships and grants are nonrepayable gifts that help students afford an education at JHU. Financial aid programs usually come from one of the following sources:
Federal and state governments
Johns Hopkins institutional funds
Companies
Private donors
Apart from the source, scholarships—and other financial benefits—also differ based on their type, as follows:
Need-based
Merit-based
Private scholarships
Tuition benefits
Bear in mind that tuition benefits and private scholarships are also either merit- or need-based programs, but the JHU financial aid office lists them as separate types.
Need-Based Johns Hopkins Scholarships
Need-based programs are dedicated to students who have proven financial inability to pay tuition on their own by filling out the Free Application for Federal Student Aid (FAFSA) form. The majority of JHU scholarships are need-based ones.
To qualify for this type of scholarship, students have to prove that their Estimated Family Contribution (EFC) doesn't exceed a certain amount that varies depending on the program they're applying for. The awards can range from as little as $657 (Federal Pell Grant) to as much as covering the full cost of attendance.
Some need-based scholarships also focus on specific groups of students, although these distinctions are more common for merit-based programs.
For instance, to qualify for the Baltimore Scholars Program, students have to be U.S. citizens or permanent residents who have resided in Baltimore and attended Baltimore City Public Schools for three consecutive years. This award varies depending on the EFC:
| Family's Yearly Income | Award |
| --- | --- |
| $80,000 or less | The full cost of attendance |
| $80,000–$150,000 | 10% of family income |
| Above $150,000 | Not eligible for the scholarship |
Another example is JHU's International Scholarship program, which focuses on international students who show both merit and need.
Johns Hopkins Merit Scholarships
Merit scholarships are for college students already enrolled at JHU who show a certain level of academic excellence and personal achievement. Scholarship providers offer awards to students of all levels of study—undergraduates, graduates, and doctoral degree students.
Merit-based programs require students to show academic excellence by having:
Aside from the academic requirements, various programs offer help only to a certain group of students, such as:
Private Scholarships
Private awards are programs that come from companies and private donors. They represent additional support to state- or university-backed financial aid so that students can afford the self-help portion of the tuition payment.
Some scholarships are available for high school seniors looking to enroll at JHU. Bear in mind that you can apply for university scholarships even if you have private aid to your name, but they will deduct the private funds from your award amount.
Tuition Benefits
Tuition benefits represent direct grants and waivers designed to reduce or remove tuition fees for specific students based on their background:
Some examples of these waivers include the Maryland Army National Guard State Tuition Waiver (STW) and State Tuition Assistance Reimbursement (STAR) Programs.
Finding Johns Hopkins Scholarships
The most difficult part in securing any scholarship is the first step—knowing where to find it. The problem is that the research process you have to go through is a time-consuming affair, and you usually have to spend weeks and months reading through scholarship descriptions and requirements.
If you're at the beginning stage of your research and don't know where to start, here are a few tips: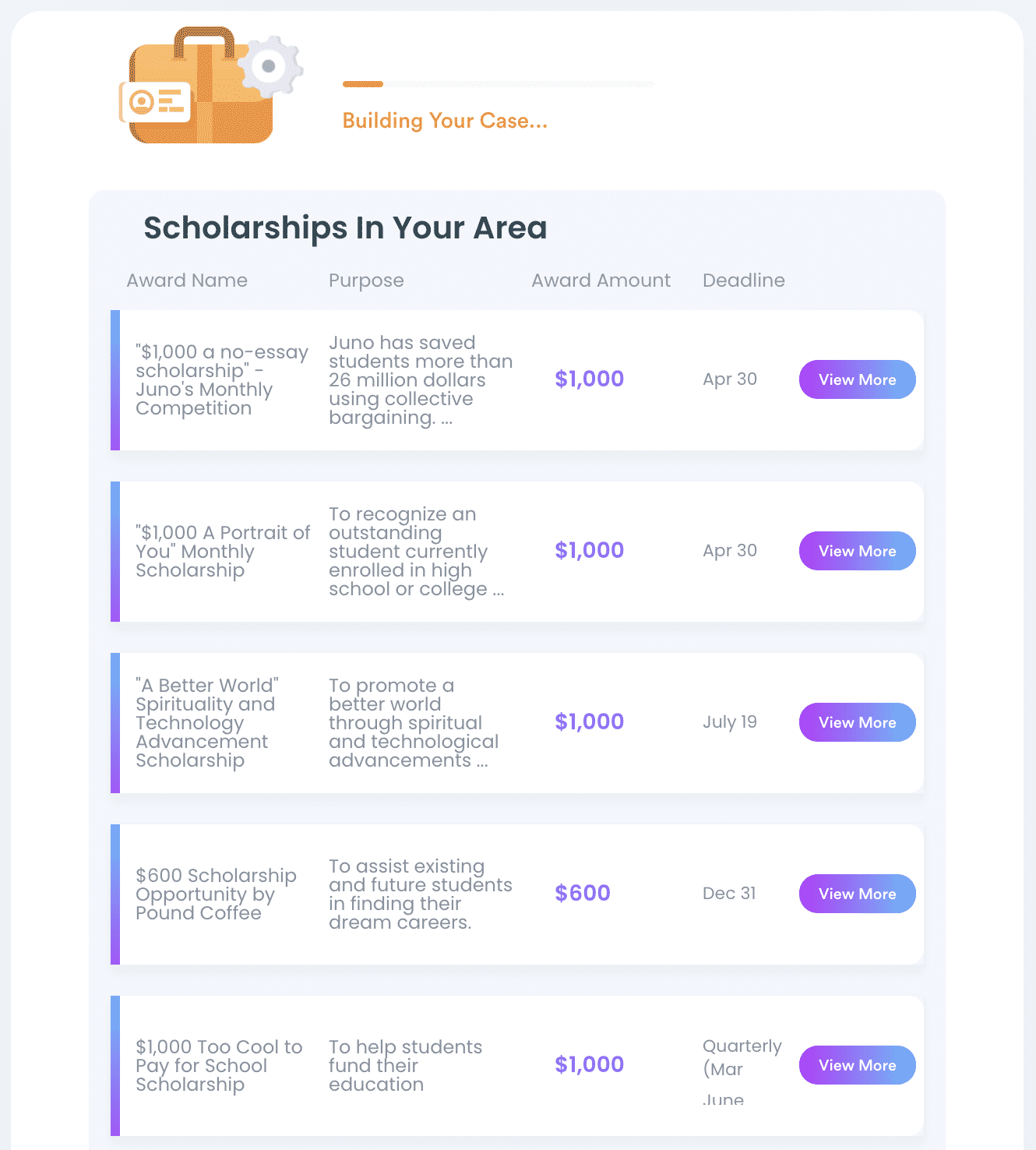 Applying for Johns Hopkins Scholarships
The way you apply will depend on the individual program you're interested in. In general, all need-based scholarships require you to fill out the FAFSA form or create a College Scholarship Service (CSS) profile.
Merit-based programs are more demanding, and they will ask of you to hand in various documents, including:
How To Use DoNotPay To Find and Apply for Johns Hopkins Scholarships
To get the most financial aid possible, you need to apply to a large number of programs for which you're eligible. The problem with this strategy is that it's difficult to find the right scholarships—especially private ones. With DoNotPay, you can find all those scholarships in one place within minutes.
All you have to do is:
Select the Apply for Scholarships feature
Answer a few questions
You will see all available awards with all the necessary information you need to apply. If the list contains no-essay scholarships, you can instruct us to apply for them on your behalf, so you don't have to go through the application process yourself.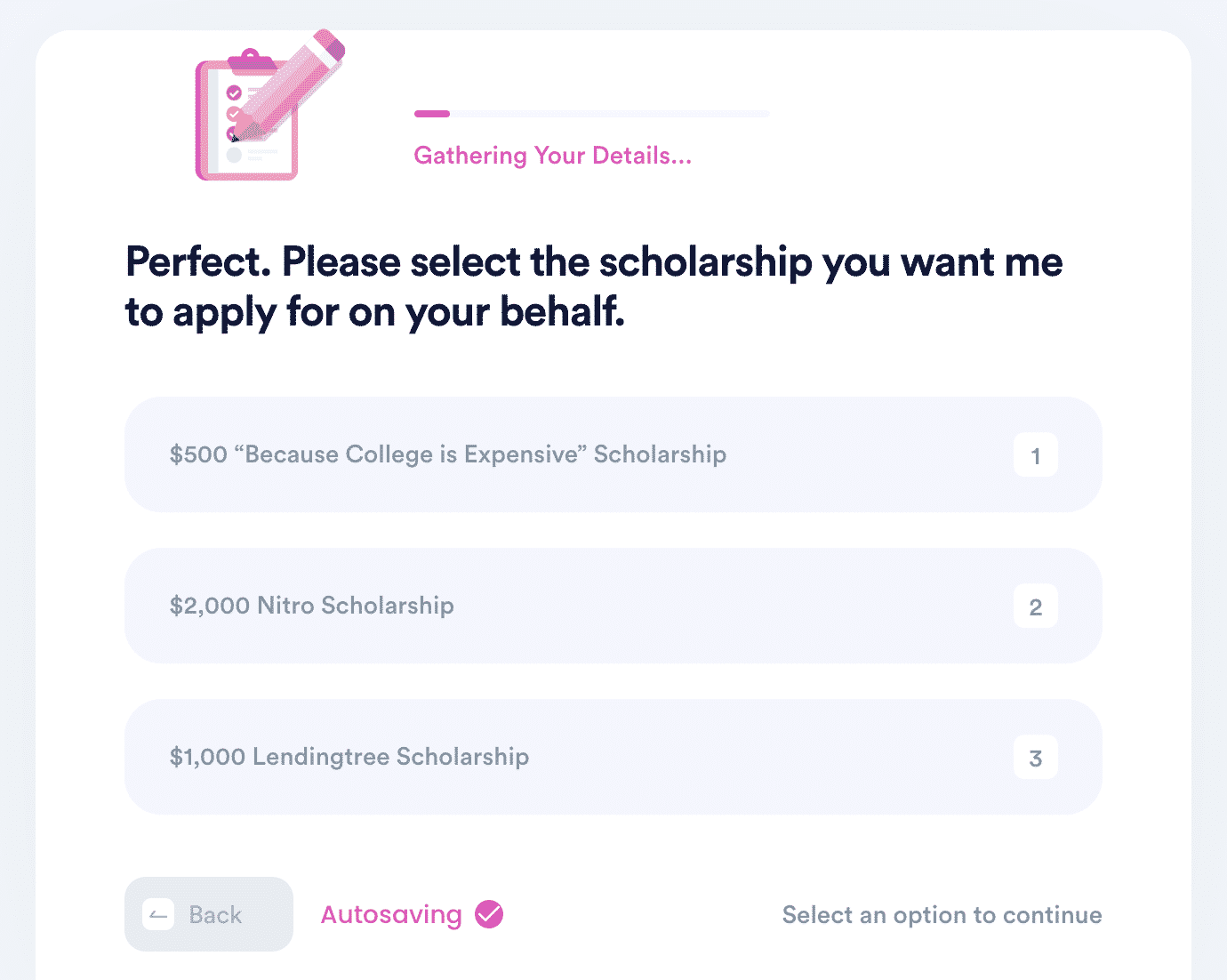 Administrative Issues? We Don't Know Them!
Forget about getting frustrated and overwhelmed by the administrative tasks waiting for you to complete them! With DoNotPay's numerous tools, you can easily resolve such tasks in a heartbeat! All you need to do is sign up for our app, and you'll be able to:
Use DoNotPay To Protect Yourself at All Times
Are pesky robocalls and email spammers working your last nerve? Don't despair—we are happy to help you get rid of them! In a few clicks, you can also stop text spam and avoid the incessant phone buzzing!
You can use our app to protect your privacy by creating burner phone numbers and virtual credit cards. That way, you don't have to disclose personal info when subscribing to online services.
In case you're looking for a way to keep yourself safe from stalkers or work discrimination, we'll help you report the case and walk you through the entire process!
Protecting your work from copyright violation and asking for violent crime compensation in your stead is also something DoNotPay can do!