How To Keep Houston Sexual Offenders at Bay
Houston has more sex offenders per inhabitant than almost any other area in Texas. Bearing this in mind, protecting yourself and your family becomes a priority.
DoNotPay is here to help you maintain a safe distance from registered Houston sexual offenders—forewarned is forearmed!
How Many Houston, Texas, Sex Offenders Are There?
Houston lists over 7,400 registered sex offenders in the Houston area. This equates to one offender for every 310 city residents, which is a higher proportion than in almost any other part of the state.
Of the crimes committed by these offenders, a large number were rapes, as evidenced by the 1,249 rape cases reported in 2019.
Houston has a higher-than-average general crime rate compared to the rest of Texas, but these stats mean that living in Houston could put you at disproportionate risk from sex offenders.
How Are Sex Offenders Classified in Houston?
Texas sex offenders are categorized according to the severity of their crime. The categories are as follows:
Crime Category
Explanation
Tier I
Tier I sex crimes do not involve violence or penetration and can include:

Possession of illegal porn
Acts of public indecency
Unsolicited or non-consensual sexual contact with an adult

Tier II
Crimes categorized as tier II can include:

Sexual acts with minors aged 13 to 16
Distribution or production of illegal porn
Enticement of a minor

Tier III
The most serious sex offenses are categorized tier III and involve violence, penetration, or sexual acts with a prepubescent minor. Typical level III crimes include:

Rape
Aggravated sexual assault
Kidnapping with sexual intent
Sexual acts with minors aged under 12
In Texas, sex criminals are subject to a further assessment upon completing their custodial sentence.
This assessment classifies the risk they may pose to the general public on release and consists of three further levels:
Low risk—with a low likelihood of reoffending
Medium risk—with a possibility of recidivism
High risk—with a high risk of reoffense
Houston's assessment of their risk level is used to determine how they should be dealt with once they are released into community supervision.
What Happens to Houston Sex Offenders Once They Are Released?
After completing their custodial sentence and being released, Houston sex offenders—in common with similar offenders throughout Texas—have to place themselves on the Texas sex offender registry.
The sex offender registry in Texas contains the following information about convicted sex criminals:
Name
Physical description
Recent photo
Address
Date of birth
Details of the crime committed
Under the terms of the 1996 Megan's Law, this data is accessible to the public. Law enforcement authorities collect more detailed information on each offender, but Texas law does not allow this to be placed in the public domain.
Based on their assessed risk profile, Houston sex offenders must remain on the register and keep their details updated for the following periods:
| | |
| --- | --- |
| Risk Assessment Level | Time on Registry |
| Low risk | 10 years |
| Medium risk | Between 10 and 25 years |
| High risk | Until death |
The registry allows authorities in Houston to accurately map the whereabouts of all the sex offenders in the area.
What Impact Does Registration Have on Sex Offenders in Houston, Texas?
Registered sex offenders in Houston must submit to several restrictions for as long as they remain on the registry.
The most powerful sanctions revolve around:
Internet use
Residency
Houston sex offenders are not allowed to live within 500 feet of any place where children congregate. This can include:
Schools and childcare facilities
Children's clinics
Playgrounds
Sports facilities
School bus stops
Employment
Convicted sex criminals may not perform any job that brings them into contact with children. This rule is enforced regardless of whether their original crime involved minors.
Travel
Travel outside Harris County is subject to permission being granted by local law enforcement. Criminals usually need to apply for a permit at least 21 days before they intend to travel and have to register at their destination within five days of arrival.
Internet Use
Offenders may face limitations on their use of social media, and the highest-risk criminals may face a blanket ban on internet use.
How Can You Keep Yourself Safe From Houston Sex Offenders?
Knowledge is power—keeping a safe distance between your family and Houston sex offenders means you have to know where they are.
Thankfully, you can search the Texas sex offender registry to find sex offenders in your neighborhood. Typing in your address will show you the details of any offender living within a radius that you can stipulate.
Unregistered sex offenders are a different matter, though—they are much more difficult to trace, and you will need to get a name and search the national registry if you suspect someone in your area.
DoNotPay has a way to make your search painless and effective. We can search your area or look for the whereabouts of a specific person for you—we can even send you weekly updates to make sure you don't miss any changes!
DoNotPay Keeps Your Space Sacrosanct in the Space City!

DoNotPay is committed to keeping you and your family safe from sex criminals in Texas or any other state!
To help you in this, we have developed a tool to search for:
Registered offenders in your neighborhood
Specific sex criminals anywhere in the country
You can find out how safe your area is in a flash and even choose to get weekly updates so you don't miss any changes.
Using our Sex Offender Search feature is quick and easy—here's what you have to do:
Sign up with DoNotPay in your web browser
Click on our Sex Offender Search feature
Type in the name of the offender or your address, and set the search parameters
Your results will be with you in an instant, and we will keep you in the loop every week if you opt for our weekly report service.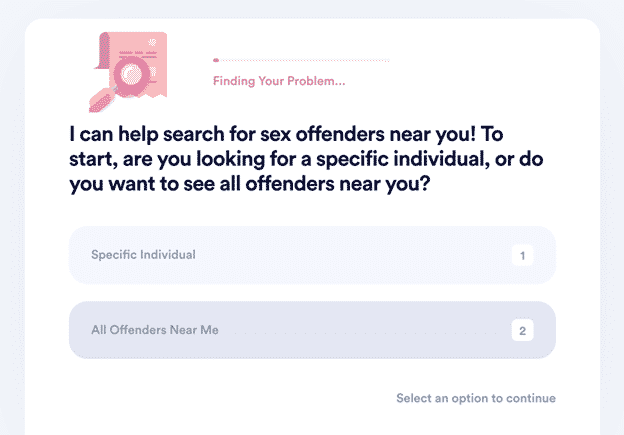 DoNotPay Has More Info To Keep You Safe
DoNotPay has a wealth of information on other counties and municipalities in Texas, such as:
If you're looking for facts on sex offender registries in other states, look no further than DoNotPay:
DoNotPay Makes Administrative Hurdles a Piece of Cake
If you ever needed to deal with an administrative task, such as drafting a valid legal document or paying property taxes, you know that it's a struggle. The good news is—it doesn't have to be!
With a bit of assistance, you can draft a POA document and learn how to reduce your property taxes in a jiffy!
DoNotPay will also show you how to tackle any of the following tasks like a pro:
We Offer More Helpful Tools!
Helping you deal with bureaucratic hurdles isn't everything we got in store for you! DoNotPay boasts various other nifty tools that you can use to deal with everyday tasks. You can: