The San Antonio Sex Offender Menace—Keep Your Eyes Open With DoNotPay
It's alarming how the number of child pornography cases and related arrests have escalated in San Antonio, Texas, in the past few years.
Going by a 2018 report, San Antonio has one sex offender for every 396 residents—with many convicted offenders living undetected in the densely populated suburbs.
DoNotPay has developed a Sex Offender Search tool that gives you a factual list of all the sex offenders holed up in your San Antonio neighborhood. Don't take chances with your loved ones' safety— to get lifesaving automated alerts on your phone!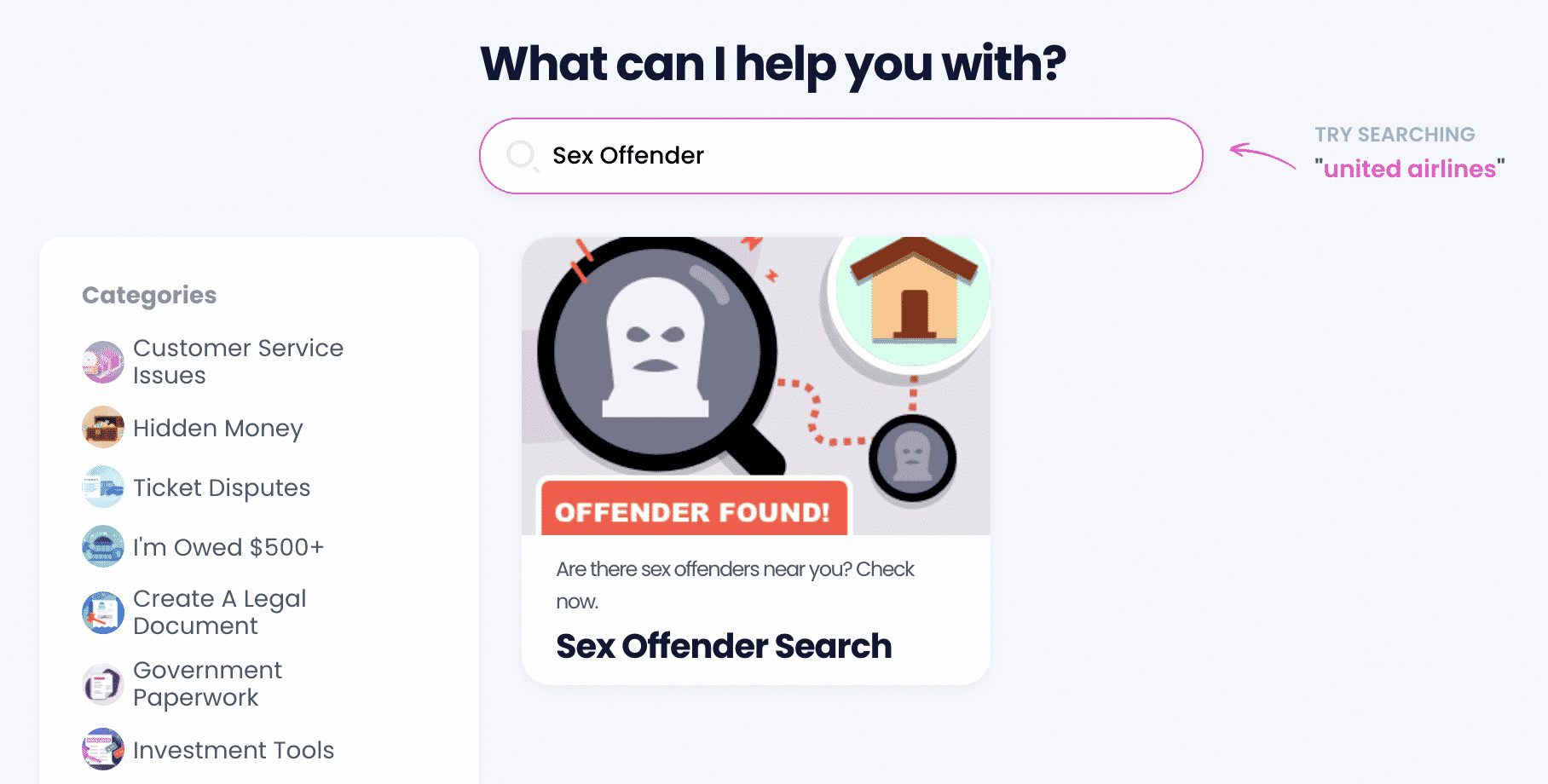 Sex Offenders in San Antonio TX—How To Search the Public Registry
San Antonio—which belongs to Bexar County—does not maintain a public sex offender registry on its own. Currently, the city's sex offender database is maintained on the Texas Public Sex Offender Registry.
With over 97,000 entries, the Texas Registry is overloaded with the largest number of sex offenders in the U.S., and this heavily ruins your city-focused search experience.
We have summarized the only three existing search parameters in the Registry:
Search Parameter
Details
Map Address

This will let you look for mapped sex offenders by address
The search result will lead you to a map—you can zoom in on a San Antonio address to spot the location markers on active offenders
The process is elaborate and won't give you the actual details of the offenders

Registrant Name

Use this if you already know an offender's first and last name
The results may include records of partial matches

Institute of Higher Education

This will give you a list of sex offenders on the campus of certain educational institutions
Most entries on this list are juvenile sex offenders
The limited and disorganized search parameters make it painfully hard for you to extract anything of value from the Registry. The search results that do show up may be packed with thousands of records with no labeling for predatory or high-risk offenders.
San Antonio Sex Offenders Map and Database—Are They Reliable?
The Texas Department of Public safety—which maintains the Registry—makes the following disclaimers about their database:
The search displays on the Registry may not always be accurate
Update delays may cause confusion over the status of unregistered sex offenders
Location updates may be inconsistent due to outlaw offenders or issues with the mapping software
San Antonio, Bexar County, Sex Offenders—Duration of Registration
Not all sexually motivated crimes in San Antonio require registration. As per Texas sex offender laws, the registration applicability and duration are determined by the type of crime.
This table lists out the types of sex crimes under each registration scenario:
Registration Duration—Lifetime
Registration Duration—Ten Years
No Registration

Continuous sexual abuse of a child
Facilitating child pornography
Sexual or aggravated sexual assault
Trafficking a victim with sexual intent
Prohibited sexual conduct
Any act that involves sexual performance by a child
Burglary with planned sexual crimes

Indecency with a child
Kidnapping or unlawful imprisonment—when the victim is under 17 years of age
Conspiracy or attempt to commit a sexual offense
Promoting prostitution

Repeated violations

of indecent exposure
Soliciting a minor online

First violation of indecent exposure
Obscenity
Lewd photography or videography
Registered Sex Offenders San Antonio—Restrictions Explained
Being aware of San Antonio's sexual offender registration laws will help you keep an eye out for sneaky, non-compliant offenders in your area.
Refer to this table to understand the restrictions imposed on registered sex offenders in San Antonio:
Restriction Type
Rules
Residential restrictions

Offenders with a minor victim cannot live within 500 feet of a child safety zone—like schools, parks, and daycare centers
Other residential restrictions can be mandated during the supervision period

Travel restrictions

Some offenders may be restricted from traveling
All offenders must seek permission before traveling to another state

Employment restrictions

San Antonio offenders can be denied employment in child safety zones
They may be disqualified from obtaining certain professional licenses

Other restrictions
Certain sex offenders may not be allowed:

Contact with minors
Voting rights
Firearm ownership
Participation in community events, like Halloween
San Antonio Registered Sex Offenders—Consequences of Non-Compliance
Failure to register on time or skipping compliance with any of the registry laws will be tagged as a felony offense in San Antonio.
A non-compliant sex offender may face:
Jail or prison time between six months and 20 years
Up to $10,000 in fines
Additional period of registration
DoNotPay's Alerts Can Tip You Off on Any Sex Offender in San Antonio
Megan's Law orchestrated the public viewing of state sex offender registries, but the quality of these registries remains highly debated. From slow and unproductive search modes to a puzzling user interface—there's nothing convenient about spending hours digging through public registries.
DoNotPay's Sex Offender Search is powered by an AI, which makes the whole process seamless and fail-proof. We get rid of all the variables and bring you constructive search results within a couple of seconds.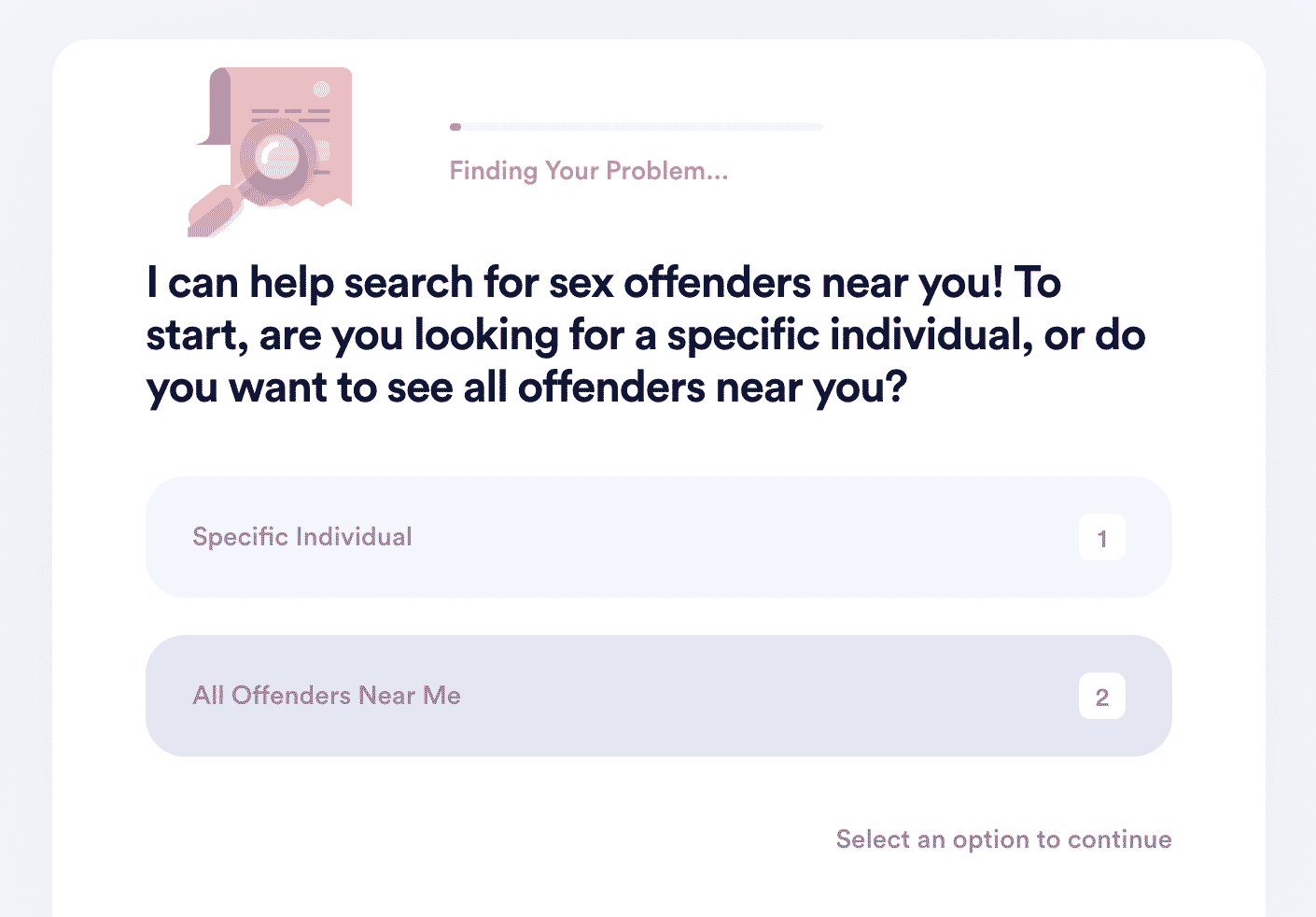 The prized safety of your loved ones is just a few taps away:
and click on Sex Offender Search
Select your report type—a single offender search or a comprehensive list of all offenders in your area
Set a proximity radius for the search
Opt for the weekly scan if you need routine updates
The app will automatically generate a report based on the latest details from the source registry. Our weekly automated scan for your address will keep you updated on all crucial changes within your search perimeter.
With DoNotPay, safety and stability are a way of life!
Need Legal Assistance? DoNotPay Got You Covered!
Forget about getting a migraine every time there is an administrative task to handle. DoNotPay makes it easy and stress-free to deal with any bureaucratic issue that comes your way.
Not only can we assist you in drafting a legal document and getting it notarized, but we also help you:
Reduce your property taxes
Finishing Your Daily Errands Has Never Been Easier!
Looking for help with running errands? You don't have to spend hours trying to make a DMV appointment or contacting a customer service rep! Completing your day-to-day tasks stops being a burden once DoNotPay gets involved.
There is no shortage of errands we'll help you run for a small subscription fee, including:
Sign up for DoNotPay and avoid spending hours on simple daily tasks that can be done in a jiffy!