NYS Scholarships for Academic Excellence — Everything You Should Know
New York State awards several thousand scholarships and grants to high school seniors who must be top students in their high school in achievements and conduct. NYS Scholarships for Academic Excellence (SAE) are worth up to $1.500 per student and are awarded annually.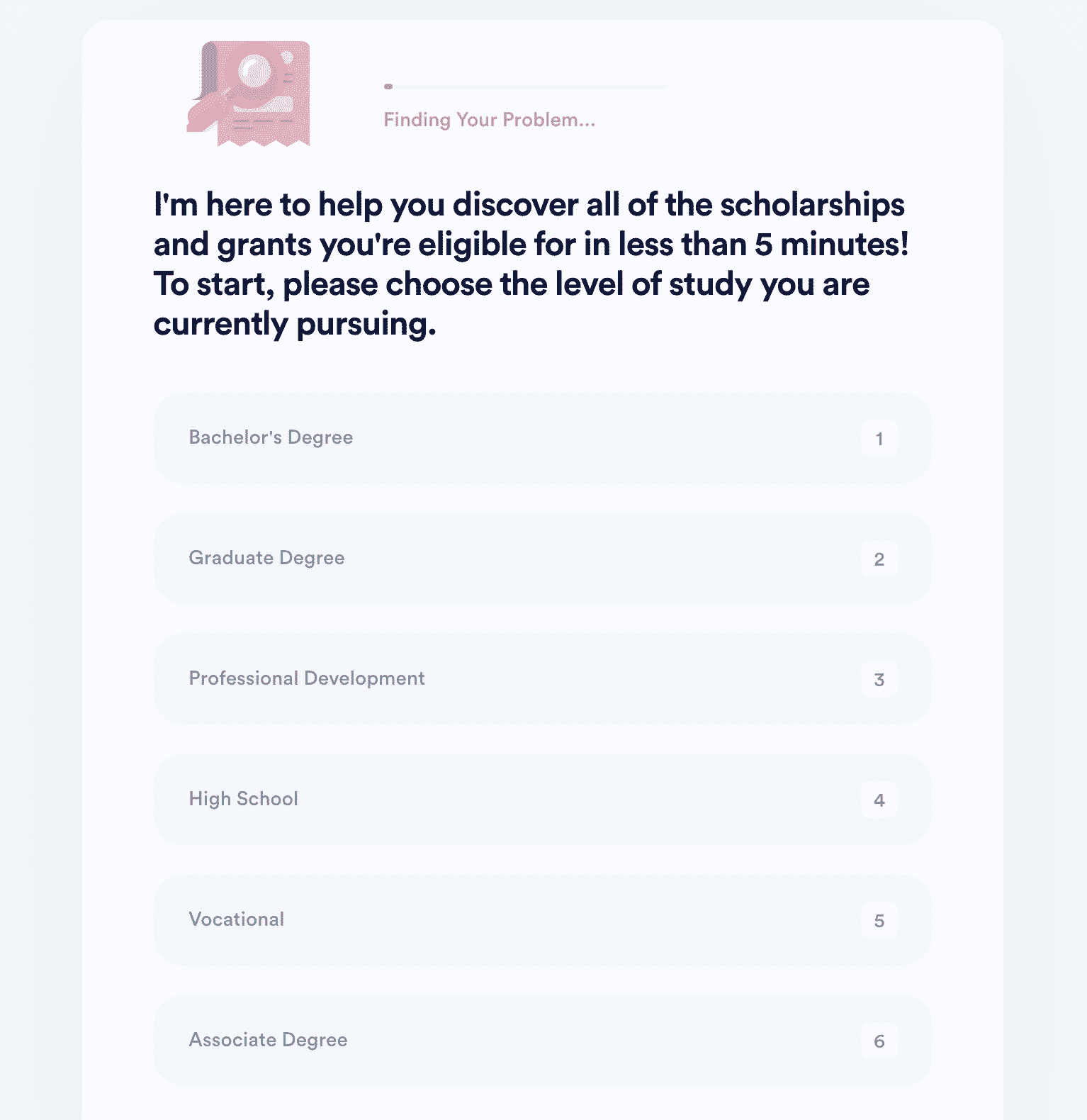 If you don't qualify for this grant, there are many others you may be eligible for. Use DoNotPay to find them quickly and avoid wasting time on online research, especially because many opportunities come with various limitations—such as availability for women only, middle schoolers, or other specific student categories.
What Are NYS Scholarships for Academic Excellence Eligibility Requirements?
Nominees for New York State Scholarships for Academic Excellence must fulfill strict requirements to apply for the scholarship, and these are:
They have to be New York State residents or qualifying non-residents and study full time
Candidates must have graduated from a New York State high school and matriculated in an approved undergraduate program of study in an NYS post-secondary educational institution
Applicants must be in good academic standing
Nominee must not be late with any federal or state loan or repayment
Candidates that haven't attended a New York State high school cannot apply for the NYS Scholarship for Academic Excellence.
How To Apply for an NYS Scholarship for Academic Excellence
Consult with your high school guidance counselor to learn if you are eligible for a New York State Scholarship for Academic Excellence. Note that only high school officials can submit the Nomination Summary and individual application forms on behalf of candidates, not the applicants themselves.
What Else Do I Need To Know About New York State Scholarships for Academic Excellence?
Some other facts you should know about this scholarship before applying relate to:
Award amount
Duration
Notification procedure
Revocation
Award Amount
New York State awards 8.000 scholarships to exemplary high school graduates. Of these:
2.000 grants are worth $1.500 and awarded to top scholars in their respective high schools
6.000 scholarships are worth $500 and are given to outstanding graduates
How much money recipients will receive depends on their grades, specifically Regents exams. Awarded candidates may also enjoy other non-loan types of financial aid.
Scholarship Duration
If granted, you must use the scholarship within seven years, starting with the first academic year for which the payment was awarded. During this period, you are entitled to:
Financial aid for up to four years if you study full time
No more than five years of financial aid if you enrolled in a bachelor degree program that normally takes five years to complete
Notification Procedure
If your high school officials nominate you for a New York State Scholarship for Academic Excellence, you will receive a notification from the State Education Department. After that, you must apply at the Higher Education Services Corporation (HESC) respecting the predetermined deadline to receive an awarded payment and complete the Free Application for Federal Student Aid (FAFSA).
Revocation
If you enroll in a program of study at an out-of-state institution, you cannot receive this particular scholarship. The revocation is in effect even if you subsequently enroll in a program of an NYS institution.
Search for Scholarships and Other Awards With DoNotPay
NYS SAE are tough to win, but you shouldn't get discouraged if you don't qualify for this prestigious award. While financial aid opportunities are on offer by private foundations and state institutions, note that googling for those is a strenuous process since you will have to check out various sources.
You should be aware that information on websites listing scholarships and other financial aid awards tends to be incomplete. As a result, you will have to check each of them to verify your eligibility because some of them may require letters of recommendation or relate to international students.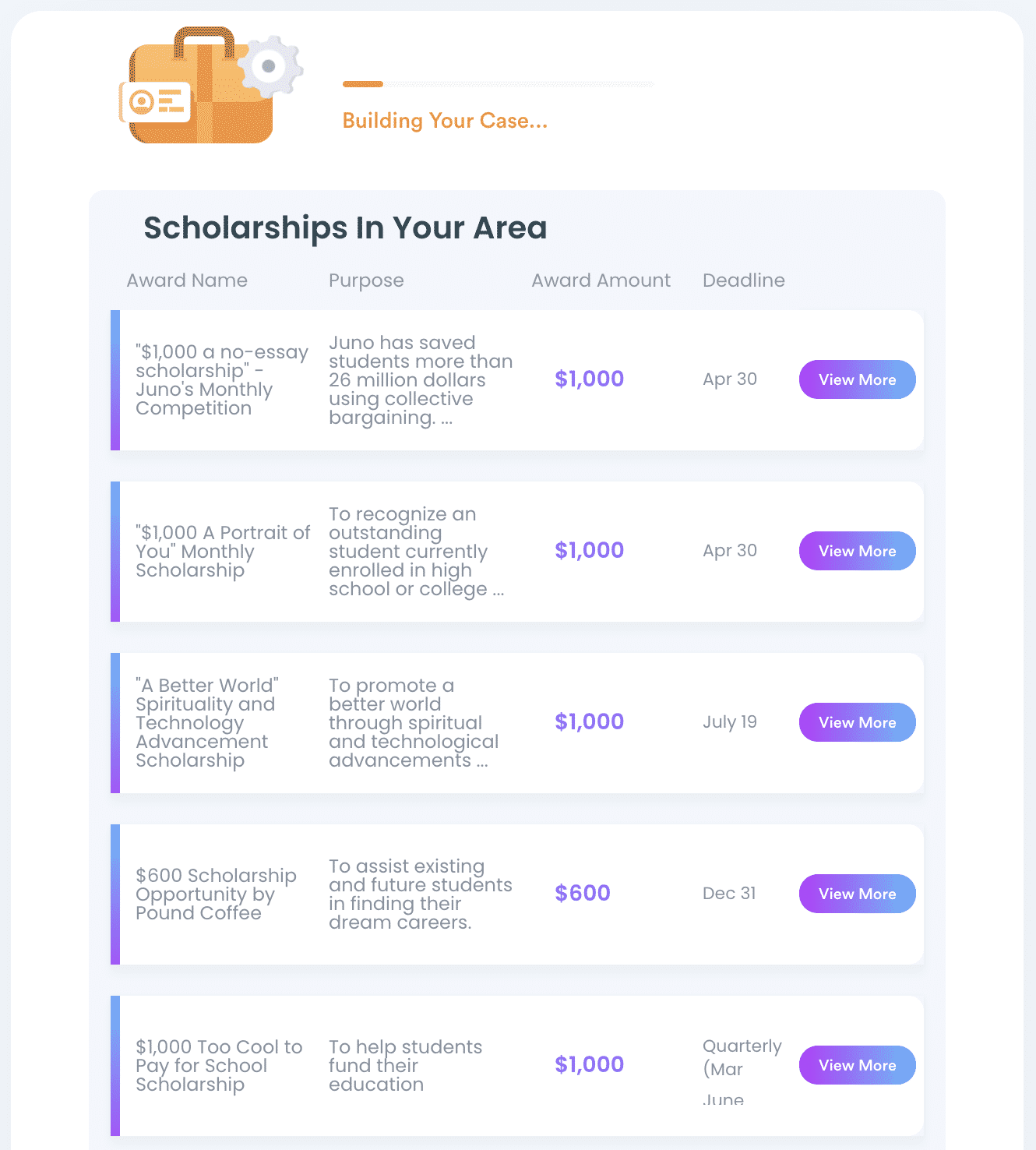 Instead of browsing web pages to find scholarships you qualify for, take a personalized service provided by DoNotPay. With us, you won't have to worry if you missed an opportunity. As a result, you can focus on applying and, thus, improving your chances to win financial support for your future education.
Refer to the following table to learn the advantages DoNotPay offers compared to searching for scholarships online:
Scholarship Research Method
What You Should Count On
DoNotPay

You receive personalized results based on your interests and background
The process lasts several minutes

Googling

Searching the web lasts for hours, even days
You cannot know if you shortlisted all available opportunities
You will need to complete a short questionnaire regarding your:
Residential status
Educational interests
Level of study (high school or college student, for instance)
Grades
Special qualifications (if you are a veteran, for example)
We can even separate essay from no-essay scholarships and apply on your behalf for the latter.
To enjoy our convenient service, take the following steps:
Log in to DoNotPay and select Scholarships
Choose the Apply for Scholarships option
Pick the level of study
Complete the questionnaire
Save Time With DoNotPay
DoNotPay is not done helping you! We offer you assistance in completing a variety of tasks quickly and efficiently, such as:
Canceling Subscriptions Has Never Been Easier!
If you keep getting charged a monthly subscription fee even though you no longer want to use a certain service, don't let your money go to waste! Some companies tend to renew your subscription automatically, but that doesn't mean you have to put up with it—use our app to terminate your membership or subscription in a few clicks!
Do you want to sign up for free trials and create a virtual credit card or a burner phone number to protect your sensitive info? Once you subscribe to DoNotPay, we will walk you through the process of doing all of the above in no time!
You can also count on our assistance if you need to get rid of spam or robocalls.