What You Need To Know About a Scholarship for a High ACT Score
Taking the ACT is an important milestone for every high school senior. If you've received your results and you are more than happy with your achievement, you have a chance to get a scholarship for a high ACT score.
Getting admitted into a school of your choice isn't the only benefit of doing well on the test. Your hard work can pay off as you can receive financial aid that doesn't need to be repaid.
You can get thousands of dollars for your education expenses if you apply for the right ACT scholarships. Where to find them? DoNotPay knows!
Use our guide to discover:
What the best programs for high-achieving students are
Where to find scholarships
How to secure more aid
What ACT Score Is Needed for Scholarships?
Unlike SAT—with its maximum score of 1600—ACT has a smaller scoring range. If you don't make any mistakes, you can get 36 on the test. A good score that can turn you into an eligible candidate for gift aid is 30 or above.
You don't need to aim for this number to get an ACT scholarship. You can qualify for lower-level ones with a 20–25 score range as well. Keep in mind that the higher your score is, the more money you can get.
Available Scholarships for High ACT Score
Whether you've already got your results or you are still waiting, look into some of the college scholarship programs based on your score. Here are the categories you can revise:
Scholarships for act scores of 21–25
Scholarships for an act score of 30
Scholarships for act scores of 32 and higher
List of Scholarships for ACT Scores of 21–25
Awards for high school students who score between 21 and 25 may not be as high, but they can be a great addition to other scholarships. You can team up merit-based aid with other programs—such as scholarships for women, veterans, cheerleaders, Christians, or minorities—and accumulate enough funds for all schooling expenses.
Check out these opportunities for students with a score of 21–25:
| Scholarship Name | Minimum ACT Score | Award |
| --- | --- | --- |
| Joshua David Gardner Memorial Scholarship | 21 | $2,000 |
| Dorrance Scholarship for First-Generation Students | 22 | $12,000 |
| Ave Maria University Michigan Homeschooled Faith Scholarship | 23 | $9,000 |
| Alfred State Academic Distinction Scholarships | 23 | $4,000 |
| ACF Kiwanis Club of Albuquerque Scholarship Program | 23 | $1,000 |
List of Scholarships for an ACT Score of 30
An ACT score of 30 is a great accomplishment. There are numerous aid programs that you can qualify for with the result of 26–30—such as:
| Scholarship Name | Minimum ACT Score | Award |
| --- | --- | --- |
| The Edmund F. Maxwell Foundation | 26 | $20,000 |
| Augustana College Presidential Scholarship | 27 | $20,000 |
| Actuarial Diversity Scholarship | 28 | $4,000 |
| Jonathan Baldwin Turner Scholarships | 29 | $2,500 |
| ACF Woodcock Family Education Scholarship Program | 30 | $40,000 |
List of Scholarships for ACT Scores of 32 and Higher
If you've scored over 32—congratulations! You can get a generous amount of gift aid that will cover your tuition cost and other expenses. Here are a few prominent merit-based scholarships you should check out:
| Scholarship Name | Minimum ACT Score | Award |
| --- | --- | --- |
| Southwestern University Brown Scholarship | 31 | $33,000 |
| Texas State University President's Honor Scholarship | 32 | $48,000 |
| The University of South Florida Presidential Award | 32 | $20,000 |
| Florida Agricultural and Mechanical University (FAMU) Distinguished Scholars program | 32 | Full cost of tuition for in- and out-of-state students |
| The University of Mississippi Merit Scholarship | 33 | Full cost of tuition |
How To Find Scholarships for High ACT Scores
Scholarship research may be tedious, but it has to be done. You can search for programs based on your score, but don't stop there. Look beyond the ACT. and surface additional aid you are eligible for.
Diversify your search by doing the following:
Ask your guidance counselor about financial aid for high ACT scores
Call or email prospective universities to check if you qualify for automatic merit scholarships
Do an internet search for programs for your specific score
Visit different organizations you resonate with and inquire about their programs
Check with the department of education in your state about academic scholarships
Want to simplify this procedure? DoNoyPay is an AI-powered app that can single out every program you can get. Let us know your score and qualifications, and we'll pull out a tailored list of scholarships and grants. You can even apply for the ones that don't demand an essay or letters of recommendation without leaving the app.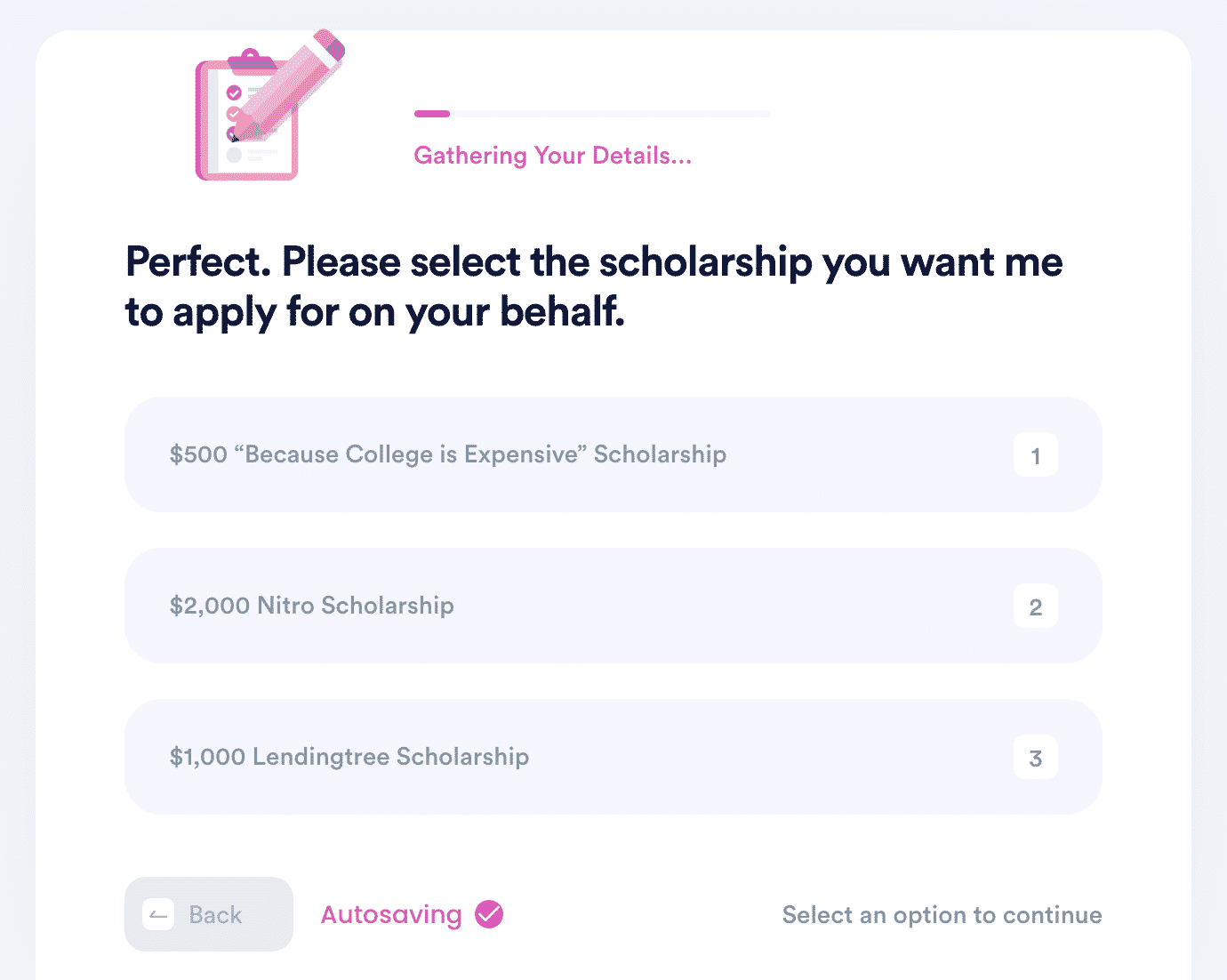 Scholarships for High SAT Scores
Colleges and universities consider both ACT and SAT scores for rewarding merit-based scholarships. If you did great on both, you should review gift aid opportunities for students with high SAT scores—including:
| Scholarship Name | Minimum SAT Score | Award |
| --- | --- | --- |
| Don and Sybil Harrington Scholarship | 1300 | $5,000 |
| DeSales University Presidential Scholarships | 1410 | $23,000 |
| Principia College Trustee Scholarship | 1420 | $25,000 |
| Point the Way Foundation Scholarship | 1500 | $5,000 |
| Oklahoma State Regents Academic Scholars Program | 1540 | $5,500 |
Get Rewarded for Your High Score With DoNotPay's Help
You've worked hard to ace that ACT, and now you should get a well-deserved award. DoNotPay is a nifty app that helps students—current, future, resident, non-resident, transfer, and international—to get free money for school.
How to secure the best scholarships? Sign up for DoNotPay, and:
Navigate to our Apply for Scholarships tool
Answer a few questions about
Review your options and select no-essay scholarship programs you wish to apply for
When you move further down the education funnel, DoNotPay will be there for you. Our app can help you secure scholarships for freshmen, sophomore, junior, senior, and graduate studies.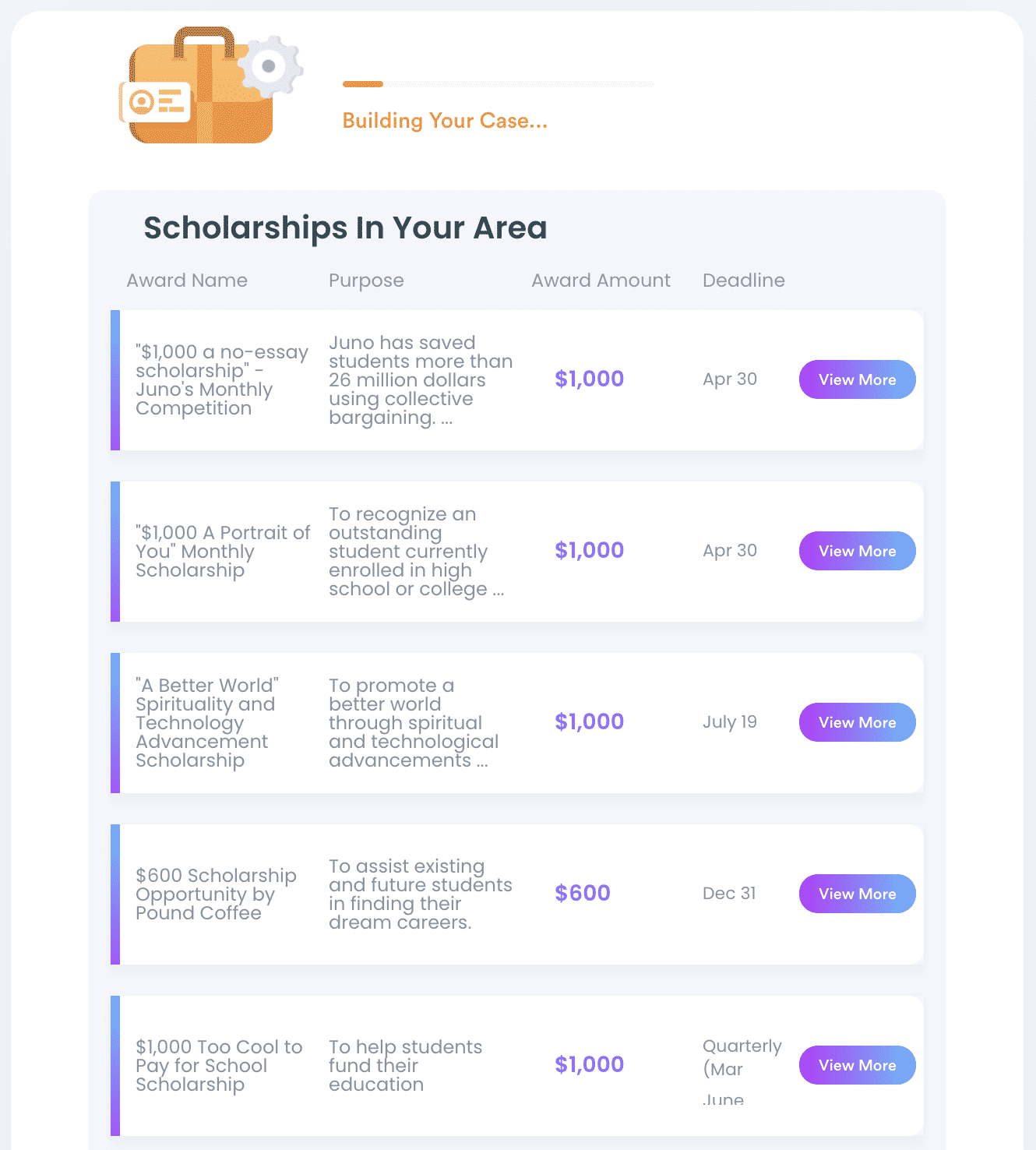 Anything Else You Need?
DoNotPay offers an exhaustive range of products and services for one low monthly fee. You can take full advantage of our offer once you resolve the issue at hand.
Our app can both save you money and help you earn it—sign up to appeal parking tickets, get assistance with utility bills, get compensation from airlines, request a refund, have your college application fees waived, find your missing money, reduce property taxes, enter any sweepstake, or send a financial aid appeal letter to any school.
We can also turn your gift card balance into cash, help you apply for scholarships, and assist you in getting compensation as a victim of crime.
There's Even More to Our Offer
The world's first robot lawyer can turn any nightmarish admin or legal procedure into a piece of cake. Look into our knowledge base to find out how to send a letter of warning to your bad neighbor, submit an anonymous complaint to your HR, fight workplace discrimination, get access to public records, deal with a stalker or harasser, put an end to robocalls, and file a complaint with any company.