Should You Bother With a Georgia Notary Search?
Since running a Georgia notary search on your own can be annoying and take too much time, DoNotPay is here to provide a faster solution. We can help you find and connect with a Georgia online notary in under five minutes and take care of your document notarization stress-free.
With us, you don't have to waste precious time on the traditional notarization procedure. Rely on DoNotPay and have your contracts notarized in minutes from the comfort of your home!
A Guide to Finding a Notary in Georgia
Georgia residents can find a notary by:
Issuing a query similar to "Georgia notary closeby" on Google

Running their ZIP code through various notary search websites, such as:

Checking if a nearby business or public institution employs notaries. Some of the places that usually offer notary services are:

and allowing us to find an available notary in a snap. An added benefit is that we work with

notaries who operate 24 hours a day

, every day of the week
Georgia Notaries' Duties Explained
Notaries in all states are authorized to witness the signing of car titles, living wills, powers of attorney, and other documents that require notarization. Georgia notaries can perform these notarial acts:
Once you show up before a notary, he or she will:
Examine your ID or verify your identity by relying on personal knowledge

Ask you if you:

Know what you're signing

Are signing the document in question voluntarily

Check your document to ensure it's complete

Witness your signature

Write a notarial certificate

Mark the document with a

notary signature

and stamp
Can a Notary Refuse To Notarize a Document?
Notaries in all states in the U.S.—including Georgia—must decline to notarize documents in these situations:
Signer refuses to show up in front of the notary or forgets to bring a valid identification document

Document is not complete or has missing pages and blank spaces

Notary notices fraudulent or suspicious behavior

Signer is intoxicated or mentally incapacitated

Document doesn't require notarization
Georgia Notary Fees
Notaries don't have to charge fees for their services, but if they choose to do so, their prices must not exceed the state's limitations. Georgia prohibits notaries from charging more than $2 for each notarial act. The prices must be displayed in a notary's office or on the website.
Administrative fees aren't controlled by the state. Notaries in GA can determine their own prices for travel, postage, and other service-related costs. The only condition is that they let the clients know how much they'll need to pay for the notary services before scheduling an appointment.
Notarization Methods in Georgia
The traditional process that requires you to find a notary, schedule a meeting, and appear in his or her office isn't the only way to notarize documents in GA. You can also:
Book a meeting with a

mobile notary

Have your documents notarized online
Consult the table below for a brief description of both notarization methods:
Notarization Option

Explanation

Mobile notarization

Officials who notarize documents by going from one location to another are called mobile or traveling notaries. Scheduling a meeting with a traveling notary is convenient as he or she will come to any place that works for you, but this method is usually expensive

Online notarization

Because of the

COVID-19 pandemic

, the State of Georgia allows notaries to perform online notarization. There's a good chance that this notarization method

will stay permanent if House Bill 334 passes

. This means that you no longer need to spend hours on the standard notarization process or spend a small fortune on a mobile notary. Online notarization is the best option for document notarization to this day. It's quick, simple, and more affordable than hiring a mobile notary
DoNotPay Is the Fastest Way To Connect With an Online Notary in GA
Searching for an online notary in Georgia, Colorado, Maryland, Oklahoma, Pennsylvania, or any other state doesn't have to be difficult. DoNotPay's handy product will help you find and set up an appointment with a notary in a few simple steps:
Open our

Notarize Any Document

product

Upload your document

Type in your email address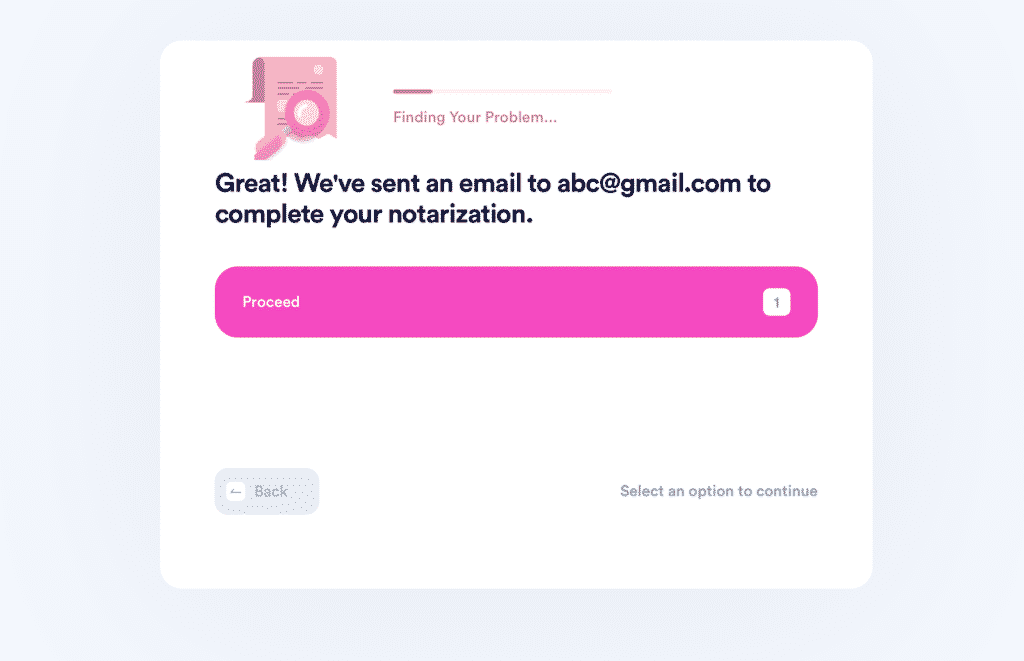 DoNotPay will send you an email right away. In the email, you will get a link that you should click to book an appointment with a remote notary. During your video-call meeting, the notary will verify your identity, perform the notarial act, and witness the signing of the document.
If you're not sure how to create a legal document before getting it notarized, we can help with that too! Our Legal Document feature enables you to write a prenup, lease agreement, non-disclosure contract, or any other document in minutes. Once you create the document, you can get it notarized by relying on the same AI assistant.
DoNotPay Has the Most Convenient Solution to Most of Your Problems
Whether you want to cancel subscriptions, request refunds for services, purchased items, or late delivery, or enjoy free trials without being charged, DoNotPay has a product for you.
We strive to help you users solve their issues as quickly and effortlessly as possible. With us, you can enter various raffles and sweepstakes, claim warranties or insurance, report copyright infringement, and reduce your property taxes in less than five minutes.
Protect Your Privacy With DoNotPay
Protecting your privacy can be challenging nowadays since most platforms require your phone number and email address upon registration. DoNotPay is here to ensure your personal info stays as secure as possible. Choose our Burner Phone product to register for services without phone verification or our virtual credit card if you want to use a randomly generated email address and payment details.
By using a fake phone number and email address, you can also avoid receiving annoying spam emails, text messages, and shady robocalls. DoNotPay can even make correspondence with inmates safer. If you don't feel comfortable sharing your address with an inmate, DoNotPay can receive the letters for you, scan them, and forward them to you risk-free.