Make Money off Robocalls—DoNotPay Will Help You Turn Robocalls Into Cash
Problem with robocalls in America has exacerbated, and lots of people are looking for a way to reduce the number of calls they are receiving. Their primary concern is protecting personal and financial information from robocall scams. According to YouMail, 59 billion robocalls were made in 2019, and a huge number of people lost their savings after trusting the scammers with their financial details. 
Lots of American citizens started seeing the light at the end of the tunnel when an anti-robocall bill was introduced into the law. The new law, also known as TRACED Act, aims at protecting people from scammers, especially the citizens who put their number on the National Do Not Call Registry. The introduction of the new law has reduced the number of illegal calls, but it still hasn't managed to stop robocalls entirely.  
We are going to present to you some tricks that can help you reduce the number of these calls on your own and make money off scam calls. DoNotPay has a solution that will help you with both!
Understanding Robocalls and How They Work

Robocalls are automated phone calls that deliver a pre-recorded message. The advances in technology have enabled robocallers to make mass calls and reach a large number of people in a short time. Telemarketers use robocalls because they are cheap, and the whole undertaking is not difficult to set up. 
Lots of companies have started using robocalls illegally. Their primary goal is to make the story believable, only to steal the target's information and money as quickly as possible.
If you are wondering how scammers get a hold of so many numbers, there is really not much to it. They will either try to get lead lists from a legitimate broker or turn to shady operators if the first option fails.
The process of their operation involves several steps. Scammers will usually:
Come up with a story you can fall for

Record the message they want to deliver 

Acquire phone numbers of their targets

Use the software to send the message to as many numbers possible

Wait for you to call back 
If you dial them back, they will probably spin a yarn about some product or whatever they have cooked up, only to get you interested enough to give them information from your credit card.  
How can You Fight Against Persistent Robocalls?
How can citizens go against people running the scams? There are two ways in which you can put up resistance to unsolicited phone calls.
Make robocalls stop

Make money off robocalls and stop them at the same time
We are going to go through each process step by step, so you can choose the one that suits you the most.
How to Make Robocalls Stop?
You have several options before you, and they will be most effective if combined. 
First things first, put your number in the Do Not Call registry. If robocallers still keep calling you, check if your number is on the Do Not Call list to verify that you have completed the process successfully. There are three ways to do it:
Dial 1-888-382-1222

Verify your registration online

Call TeleTypewriter 1-866-290-4236
Once you put your number on the list, the registration never expires.
Even though your phone number is in the database of the Federal Trade Commission (FTC), some agencies will be legally permitted to contact you. Some of them are:
Political parties

Charities

Institutions that have your permission to call

IRS
You can find all the exceptions here.
The second step in protecting yourself from scammers is to use your phone's in-built features. Android devices have options to either block one number or all unknown calls, whereas iOS devices offer to block one number or silence all unknown numbers. 
The third option is to install a call-blocking app on your phone. These apps offer many useful options, such as:
Blocking numbers based on geographic area

Transfering the unknown call to your voicemail
By installing these apps, you will most likely need to grant access to your contact list. Make sure to check the app's privacy policy first.
Robocall-blocking app

Pricing 

Free trial version for seven days

$3.99/month

$1.99/month

Free for VoIP landlines

Basic service is for free

$2.99 per month for Truecaller Premium

$14.99 per year for Truecaller Premium

Basic service is for free

$2.99 per month for Hiya Premium

$14.99 per year for Hiya Premium
How to Make Money off Robocalls and Stop Them at the Same Time
Have you ever wished to get back at the scammers who are plaguing you with robocalls every single day?
Scammers know that they are making illegal phone calls, so they will go to great lengths to hide their identities. Spoofing phone numbers is their great advantage as it is impossible to sue them if you can't provide their phone numbers. 
Is there a way around it? Can you sue these annoying fraudsters and get into their pockets for a change?
The answer to this is yes! The new law now enables you to sue scammers for a significant sum of money! It is illegal to make a business call using an autodialer, without the written permission of the customer. If they make a call without permission, they owe you up to $500. If your phone number is in the Do Not Call registry, fraudsters are obliged to indemnify the customer for the inconvenience and pay $1500.
Not only can you earn some money and get your revenge, but you can also make the persistent phone calls stop. To fight back, you need to find out where those scam calls originate from, and now we are going to show you how to do it with DoNotPay!
How to Make Money on Robocalls With DoNotPay

Believe it or not, there is a way you can make a profit on robocalls and get your long-awaited robocall revenge. DoNotPay offers you a new feature that will help you make some money out of your misery. 
Robo Revenge is an option that we created to help you get the justice you deserve. It is helping thousands of consumers across the country collect cash penalties from robocallers. This is a unique chance for you to fight back against these scammers, and it takes only 48h to complete the process. You can finish everything in just a few steps, and we are going to handle the hard part of the work for you. 
Log on DoNotPay

via the

web browser

Click on Robo Revenge option

Select the

Create Your Card

option, which will generate a

free virtual credit card

with no funds on it

When you receive a robocall, provide them with information from your

virtual credit card

When the fraudsters try to charge you, DoNotPay gains access to their data

You can use the data to sue the robocallers or reach an out-of-court settlement
How Can Robo Revenge Help You Get Cash Back from Robocalls
If scammers try to steal your money or identity, we will be there to catch them in the act! What you need to know is that the virtual card is not tied to your bank account, although the scammer perceives it as the real one.
According to the FCC guide to robocalls, you should also put your number on the National Do Not Call list. If you do, the charges you raise later against the robocallers can be more fruitful.
When the fraudsters try to steal money off your account, we can access their name and location. We will prepare the documents for you that you can use to file a robocall lawsuit against the fraudster. DoNotPay also provides an option to send a demand letter for compensation to the perpetrators.
It is illegal for these callers to ask for your information over the phone, let alone charge you. If your number is in the Do Not Call database, fraudsters aren't allowed to call you without obtaining your written permission. 
These are all reasons enough for you to sue robocall scammers for up to $3,000 and finally get your sweet revenge. It is important to emphasize that you can only sue the scammers who are making a call from the U.S. territory.
Can Kids Make Money off Robocall?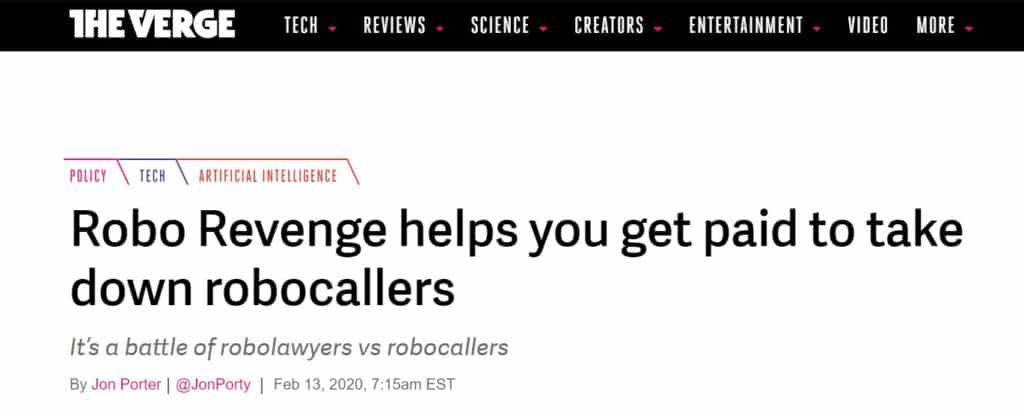 You might be surprised to hear that a 16-year-old boy is making thousands of dollars by actively fighting against the robocallers. Jackson Gosnell made over $20000 in eight months, only by threatening the agencies that robocalled him! 
By the end of 2019, 25 out of 26 companies agreed for an out-of-court settlement. According to Jackson, anyone can earn money by going after the scammers, and he finds it rather easy. 
So, how does he do it? His process of catching scammers in the act consists of several steps:
Jackson answers the phone and acts interested in the offer

He asks for a callback number

He googles the number they gave him

In 90% of the time, he finds which company the number belongs to on the Internet, and uses the information to threaten scammers with a lawsuit
Telemarketers know that they are violating the Telephone Consumer Protection Act by calling without your consent, so they usually opt for a settlement.
While other people wish never to answer another robocall again, Jackson wants them to keep coming! 
The danger that lies in Jackson's way of dealing with these scam calls is that he needs to start a conversation with the operator. You might think there is nothing to worry about if he doesn't reveal any of his personal or financial details, but the scammers can have a backup plan up their sleeves. They could be recording your conversation and they can use your voice—especially the word yes—to authorize fraudulent charges. 
With DoNotPay, you aren't risking a thing! If you opt for seeking your sweet Robo Revenge, these fraudsters have no way of obtaining your info. DoNotPay is your greatest chance of reaching an out-of-court settlement or filing and winning a lawsuit. 
Are All Robocalls Illegal?
Not all robocalls are illegal, which is the main reason it is impossible to eradicate them. Some calls should be answered because they can be of great use to you, but how can you differentiate between the legal and illegal robocalls?
You can expect to receive a legal robocall from:
Internal Revenue Service

(IRS) to remind you of deadlines or changes in the policy

Government agencies delivering a message from political candidates

Charity organizations reaching out for donations

Institutions providing official information (schools, pharmacies)
These calls can't be made between 8 a.m. or after 9 p.m. Most of them need to have your written permission to reach out to you. The organizations and agencies from the list above will call you only to pass the information and will not ask you for any personal or financial information over the phone. 
Any company that is trying to sell you something is considered illegal unless they have a written permission to do so. Scammers will usually ask for:
Personal and financial details

Some payment

Immediate response
How to Recognize Robocall Scammers?
Scammers are masters of deception, and even though you think that there's nothing they can say to make you believe them, they can catch you off guard.
In the table below, you will find some of the most frequent robocall scams.
Most Common Robocall Scams

How They Try to Trick You

Credit card services

Robocallers will present themselves as bank representatives who need to check some suspicious activity on your card

. Scammers will ask you to call them back. Once you do, they will ask for your credit card number to verify that they are speaking to the right person.  

In some other cases, they will try to convince you that they can lower your bills or interest rates. You will be asked to pay a fee for the service which in most cases you can do on your own, for free. 

Do not give any card details over the phone, or you can end up with lots of credit card issues.

IRS

Fraudsters are well aware that lots of people are behind with paying their bills

, and they don't hesitate to take advantage of it. In this case, the robocall message will be recorded by an alleged IRS representative who wants you to run to your wallet and pay the taxes by a wire transfer or your debit card. Scammers try to create panic and get you to make a mistake in a hurry. 

Prize scams

Telemarketing representatives who are thrilled to inform you have won a trip, an electronic gadget, or a large sum of money are typical scammers.

They will ask you to pay a fee

to get the whole process started, and you will never hear from them again. 
How Should You Respond to Robocalls?
To protect your personal information, you need to be careful with how you answer these scam calls. The best you can do is follow these guidelines:
Don't speak.

The scammers can record the conversation and use your voice for authorizing fraudulent charges

Refrain from pressing any keys.

Even if the message says they will take you off their list, pressing any key can only lead to more of these calls

Don't call them back.

If they leave you a phone number to call to, you should know it's a scam call. If you dial back and reach the operator, they can start recording the conversation

Don't give them any personal or financial information.

Banks or IRS will never ask for these details over the phone. Agencies that have legal permission to call you will always respect your privacy and will use robocalls only to convey the message
What Else Can DoNotPay Assist You With?
If you thought that Robo Revenge is the only option DoNotPay offers—you were wrong! Our app can assist you with numerous problems. We can help you with: 
Disputing your traffic tickets

Fighting speeding tickets
Our app is available on any web browser