Does a Bill of Sale Have To Be Notarized in Alabama? We've Got the Deets!
If you've closed a sale and you're preparing a bill of sale, you might wonder whether you need to get it notarized. Does a bill of sale need to be notarized in Alabama? This article will answer your question and show you how notarizing works in Alabama and why DoNotPay is the most cost-effective and convenient option to —check it out!
Is It Necessary To Notarize a Bill of Sale?
Both the buyer and the seller need to sign a bill of sale. Most states don't require a bill of sale to be notarized, apart from:
Montana

Nebraska

Louisiana

Maryland

West Virginia

New Hampshire
In Alabama, it's not necessary to notarize a bill of sale, but some counties may ask you to. Typically, you can either:
Notarize it

Have two witnesses
A bill of sale is most often used when buying or selling a car, but it's also prominent in the purchase of furniture, jewelry, and electronics. In case you purchased a car, besides a bill of sale, you'll need a title of transfer that is also recommended to be notarized.
Types of Alabama Notaries
There are different types of notaries you can opt for in Alabama, including:
Regular notaries

Mobile notaries

Electronic notaries

Remote online notaries
Notaries
Notaries usually work in an office and perform in-person notary service. You need to schedule an appointment and bring your document and your ID with you.
Mobile Notaries
Mobile notaries, as the name suggests, visit their clients to notarize documents. While their service is more convenient, it's usually more expensive since they can charge for travel costs as well.
Electronic Notaries
Electronic notaries notarize documents in person, but the document is in digital form.
Remote Online Notaries
Remote online notaries can notarize online during a video call with the signer. This is by far the most convenient way of notarization for the client.
Can I Notarize a Document Online in Alabama?
In 2020, Alabama implemented remote online notarization due to the COVID-19 pandemic. Notaries who are also licensed attorneys or operating under the supervision of licensed attorneys can be online notaries. Online notarization can be done through a video-conferencing platform. Much like during in-person notarization, the notary must:
Identify the signer

Check the document and determine what type of notarization is needed

Ensure the document doesn't have blank spaces or missing pages

Verify the signer is signing the document or entering into an agreement willingly

Determine you are of sound mind

Witness the signing of the document

Add a

signature

and a seal
The main difference between an in-person and an online notarization is that online notarization is recorded. If it isn't recorded, the notary should take screenshots of the document and the signer's ID.
Where Can I Find a Notary in Alabama?
Finding a notary can be overbearing because you either have to scour the internet or visit certain facilities that may or may not have a notary available. Opting for DoNotPay will save you from looking for a notary on your own!
In case you still want to do it alone, you can check the following places, virtual and otherwise, to locate a notary in Alabama:
Websites
Public Places

AAA

stores

Public libraries

Courthouses

Accountant offices

Real estate agents

Insurance agents

Credit unions

Hotels

Banks

, such as

Wells Fargo

and

Bank of America

Law offices

Office supply stores

Police departments

Money transfer stores

Tax preparation firms
How Much Do Alabama Notaries Charge?
Alabama notaries can charge up to $5 for jurats, acknowledgments, and verbal oaths and affirmations. Aside from the notary fee, mobile notaries can charge extra for travel and administrative expenses. Online notarization costs can go up to $25.
Notarize a Bill of Sale With DoNotPay's Help!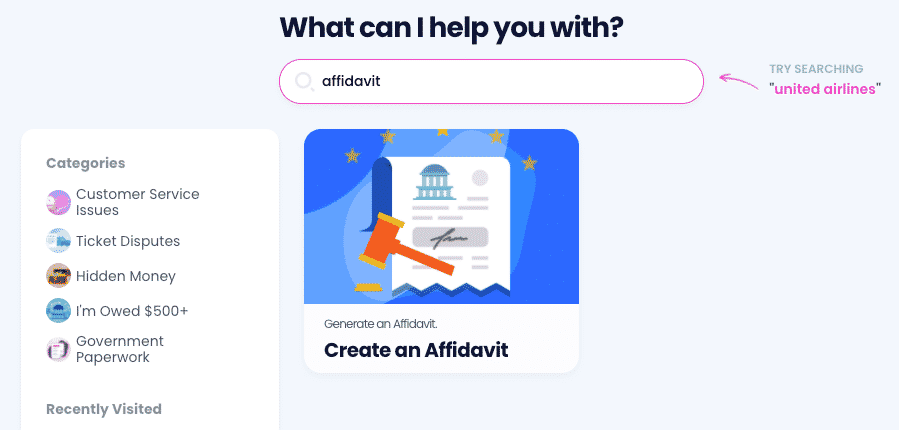 If you decide to notarize your bill of sale, DoNotPay is the way to go! Booking an appointment with a remote notary using our app is both easy and cheap.
Here's how it works:
Choose our

Notarize Any Document

feature

Upload your bill of sale,

affidavit

, or any other document

Type in your email address

Click on the link you receive via email
Once you follow the link we send you, you can set up your appointment!
Use DoNotPay To Draft a Bill of Sale and Other Legal Documents
In case you haven't drawn up your bill of sale yet or you need to create another one, we've got your back! DoNotPay's Standardized Legal Documents feature makes it possible to get a customized bill of sale and many other legal documents within minutes!
Any More Notary Questions? We've Got the Answers!
Hop on over to our learning center, and you'll find answers to any of your other notary-related questions, such as:
Fighting Administration Is Easier With DoNotPay
Bureaucracy is a disease of the modern world, and we finally have a cure. Thanks to artificial intelligence, DoNotPay knows how to handle numerous rules and regulations and make your life so much easier.
Our bots ask you a few questions, gather the necessary info, and off they go! Filing warranty and insurance claims, requesting property tax reductions, getting access to public records, or claiming unclaimed funds under your name—you can deal with these bothersome tasks from the comfort of your home and within minutes!
If you need to get in touch with customer service representatives to ask for refunds or contact airline companies regarding compensation, our platform will make the process painless and care-free.
Don't hesitate to put our app into service if you need to contest parking tickets or avoid long lines at your local DMV!
How Else Can We Help?
Not only does DoNotPay handle bureaucracy, but it also saves you money in the process. Whether you're looking for the best learning materials for government tests or planning to comb through and cancel streaming subscriptions you don't use, DoNotPay can give a helping hand.
Our platform grows every day and comes with user-friendly features that will help you manage unpaid bills, stop copyright violation, or solve problems with credit cards faster than ever!