Use Your iPhone Longer With an iPhone Extended Warranty
Apple's iPhones come with a one-year Apple warranty, which covers hardware failures and manufacturing defects. If this warranty period is not enough for you, Apple also offers extended warranties called AppleCare+ and AppleCare+ with Theft and Loss.
If you have an iPhone, like an iPhone 6 Plus, an Apple extended warranty is an option you should consider to have peace of mind after purchasing your phone. If the need arises, we can help you claim your iPhone extended warranty in no time!
What Does Extended Apple Warranty Cover?
AppleCare+ warranty starts on the date of the purchase. You can buy it when purchasing your new iPhone or within 60 days of your iPhone purchase. The extended warranty provides up to two years of coverage for iPhones.
An iPhone extended warranty includes:
Hardware failures

Up to two incidents of accidental damage every 12 months

Express replacement service

Priority access to Apple support via chat or phone

Two incidents of theft or loss (available with AppleCare+ with Theft and Loss)
Each incident is subject to a service fee, which you can see below:
| | |
| --- | --- |
| Incidents covered | Price |
| Screen damage | $29 |
| Any other accidental damage | $99 |
| Theft or loss | $149 |
What Is the Extended Apple Warranty Price?
Apple's iPhones are mostly made from glass, and if you are not careful, they can break easily. This liability comes with a hefty price unless you have an AppleCare+ warranty. The extended Apple warranty has a different price depending on your iPhone model.
Here you can see the prices for each model:
| | | |
| --- | --- | --- |
| Covered Device | Monthly Plan Cost | Fixed-Term Plan Cost |
| iPhone SE | $3.99 | $79 |
| iPhone 8,7 | $5.99 | $129 |
| iPhone 12 mini, 12, 11, XR, 8 Plus, 7 Plus | $7.99 | $149 |
| iPhone 12 Pro, 12 Pro Max, 11 Pro, 11 Pro Max, XS, XS Max | $9.99 | $199 |
How To Prolong an Applecare Extended Warranty
If you already have an AppleCare+ plan that is about to expire, you can extend your coverage. When you buy an extended Apple iPhone coverage, you can pay it monthly or upfront for 24 months.
To check when your coverage expires, you have two options:
Go to

mysupport.apple.com

, sign in with your Apple ID, and choose your device

Go to Settings > General > About on your iPhone and click the name of your AppleCare plan
Monthly AppleCare+ Payment
A drawback of paying your warranty monthly is that you cannot switch to a plan that is paid upfront. Your plan coverage lasts for 24 months and continues until you cancel it.
Full AppleCare+ Payment
In the U.S., if you pay for your extended warranty upfront, you cannot pay upfront again after the 24 months have passed. You can only repurchase your coverage on a monthly basis. This monthly plan automatically renews until you cancel it.
How To Claim an iPhone Extended Warranty
You can obtain your AppleCare+ warranty in two ways:
How To Claim an iPhone Extended Warranty via Phone
If you need assistance to claim your warranty, iPhone offers a way to claim your Apple extended warranty via phone.
Here's how to do it:
Call

800–275–2273

Explain your issue to customer service

Receive further instructions
How To Claim an iPhone Extended Warranty Online
You can claim your Apple extended warranty on the company's website.
Here is how you can do it:
Visit the

Apple Support page

Click on

iPhone

Tap on the problem you have with your phone

Choose the service option that is most convenient for you

Follow further instructions
File Your iPhone Extended Warranty Faster With DoNotPay
DoNotPay can help you claim your iPhone extended warranty in a few steps. Filing a warranty claim for an Apple Watch, Airpods, and Apple cases is also not a hassle for us.
When you decide to claim a warranty by yourself, you can lose a lot of time and patience, especially if the claiming process is complicated. DoNotPay can help you claim any warranty you need, including a home warranty and car warranty. We even have an option to claim extended warranties for used cars.
To claim an iPhone extended warranty with DoNotPay, do this:
Open DoNotPay in your

Select the

Claim Warranty

feature

Choose

Warranty on a Purchased Product

Type in the required information about your product

Click

Submit
After you submit the request, we will compose a warranty claim letter and send it to Apple. They will contact you shortly to schedule a repair.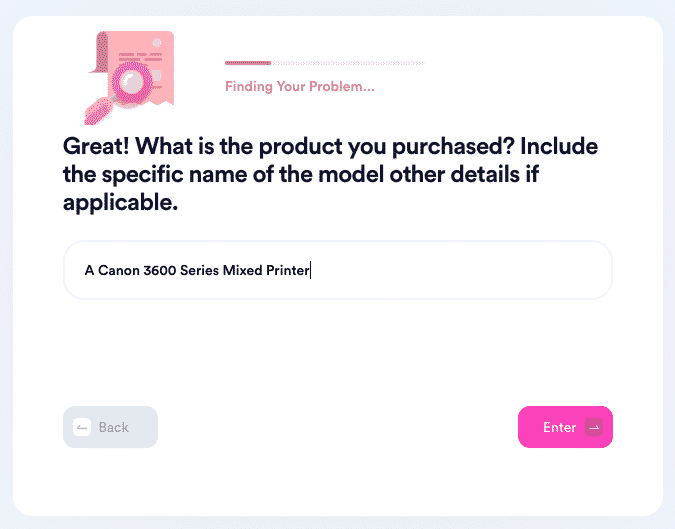 What To Do if Your Extended Warranty Claim Is Rejected?
It is a common problem to have your warranty claim rejected. If you usually give up because overcoming this obstacle seems like a waste of time, you are wasting your money! DoNotPay can help you accelerate the appeal procedure!
To appeal a rejected warranty claim, follow these steps:
Open DoNotPay in your

Select

Claim Warranty

feature

Choose

Appeal a Denied Warranty Claim

Provide the necessary details about your original warranty claim and the company
We will create an appeal letter and send it to Apple for you. You can expect to hear from their customer service regarding your case.
Besides appealing a rejected warranty claim, we can offer you our home warranty reviews and a list of the best home warranties in America. If your dealer refuses to cancel your extended warranty, we can be of service and solve the problem for you.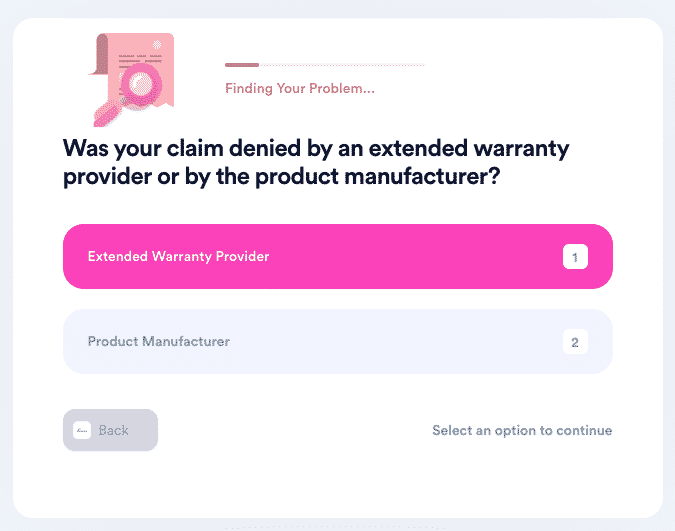 DoNotPay Is the Champion of Customer Advocacy
If you've never experienced an issue with a purchased item, you should consider yourself extremely lucky. When shopping goes wrong, you usually have to brace yourself for unpleasant and annoying exchanges with customer support centers.
DoNotPay is here to make exercising your consumer rights easy. Long holds when calling customer service reps and incessant marketing spam emails can stay in the past. We will help you avoid irritating text messages from online retailers by teaching you how to bypass phone verification when signing up.
Ask for refunds, claim warranties, fix credit card issues, or sue retailers in small claims court—these are just some of the services our platform provides.
With DoNotPay, you can start free trials for new services risk-free. If you want to get out existing subscriptions, canceling them has never been easier!
Wait, There's More!
Our full portfolio includes features as diverse as contacting inmates and requesting college application fee waivers for students from low-income families.
If you have a problem with bureaucracy, the chances are DoNotPay knows how to fix it with your minimal involvement.
Leave the grunt work and unnecessary expenses behind. We will help you pass various government tests with flying colors, find unclaimed money in all states, or get out of parking tickets before you know it!