A Cuyahoga County Notary at Any Time of the Day or Night
Finding a suitable notary and getting your documents notarized does not have to be complicated. You do not need to employ a traditional Cuyahoga County notary as this type of notary service can be time-consuming and is becoming obsolete.
This article offers valuable specifics, and DoNotPay provides a practical online notarization service you can use 24/7.
What Notarial Acts Can a Cuyahoga County Notary Perform?
A Cuyahoga County notary can perform the following notarial acts:
Execute jurats

Administer oaths and affirmations

Take:

Proof of execution

Acknowledgment of instruments

Attest signatures on various

legal documents

, including:
At the end of the performed notarial act, a notary needs to:
Complete a notary certificate

Mark the document with the notary

signature

and stamp
What Activities Should You Expect During Notarization?
To prepare well for your upcoming meeting with a Cuyahoga County notary, you should know that a notary public will take the following steps during the notary service:
A Notary Public Will
Further Information

Require you to appear in person

You need to meet with a notary:

Physically, i.e., face to face for:

Regular, in-office notary service

Electronic notarization

Mobile notary service

Virtually, i.e., on-screen for remote online notarization

Check your identity

Notaries have to confirm your identity by checking your current photo ID document, such as your:

Driver's license

ID

Passport

Inspect your document

A notary will review the document to check whether it is complete, i.e., the document has no:

Blank spaces

Missing pages

Determine the facts

A notary public will:

Check whether you are signing the document of:

Witness you signing the document

If you have signed the document before the appointment, a notary may:

Ask you to acknowledge that your signature is on the document

Sign the document again next to the previous signature

Ask you to reschedule the appointment and provide the document without the signature

Charge the

notary fees

You should inquire about the notary fees before setting up an appointment to avoid any surprises

Complete the notarization

To finalize the notarization process, a notary will complete and sign the

notary acknowledgment
Where To Search for a Cuyahoga County Notary
If you want to go through the whole process on your own, you need to start by pinpointing a notary public. We suggest that you:
Search for a notary online

Visit or contact some organizations around you
Cuyahoga County Notary Online Search
To find a notary, you can browse through some of the following websites:
You should set the parameters on these platforms to get a list of available notaries' contact details. Some of the websites also provide reviews, which can help you make up your mind.
A Cuyahoga County Notary Might Be Near You
Some institutions and businesses employ notaries public and might even offer a free notary service for their customers.
To know where to look, we provide a list of some organizations and companies that you can visit:
Cuyahoga County Notary Services
You can select the way you want to get your documents notarized. To know what your options are, here is a list:
Notarization Type

Information

Traditional notarization

For this type of notary service, you will have to meet with a notary in his or her office. Keep in mind that you should first schedule an appointment. This notary service is often lengthy since you need to:

Find a notary's contact information

Get in touch with him or her

Ask about the notary fees

Book an appointment

Gather the required documents

Head to the notary's office at the agreed time

E-notarization

This notary service is the same as the traditional one aside from one aspect—the documents need to be in electronic (and not paper) form

Mobile notarization

Mobile notaries can meet with you at a suitable location. You can choose to have your documents notarized at:

Your apartment

Restaurant

Cafe

Jail

Airport

Hospital

Your office

You should inform yourself about the notary cost as these notaries charge for their travel fees, so you can end up paying a hefty sum

Remote online notarization

Online notaries

perform notary services remotely via a live audio-video call
to have your documents notarized using remote online notarization without having to worry about:
Finding a notary since we will connect you with one quickly

Your location as you can access our notary services from any corner of the USA

Your health in

pandemic times

because you are not meeting a notary face to face
Connect With DoNotPay's Online Notaries in Three Steps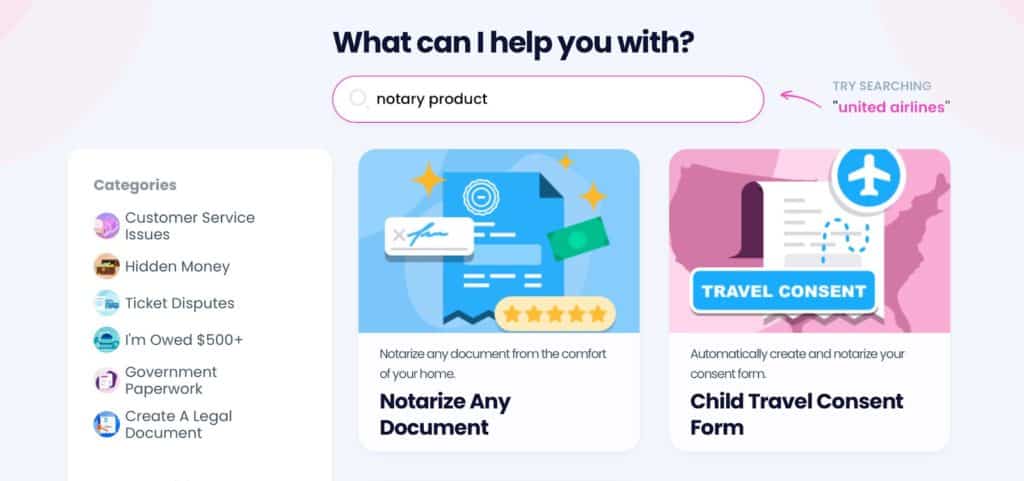 To get your documents notarized stress-free, and complete these simple steps:
Go for the

Notarize Any Document

product

Upload the document you want to get notarized

Provide your email address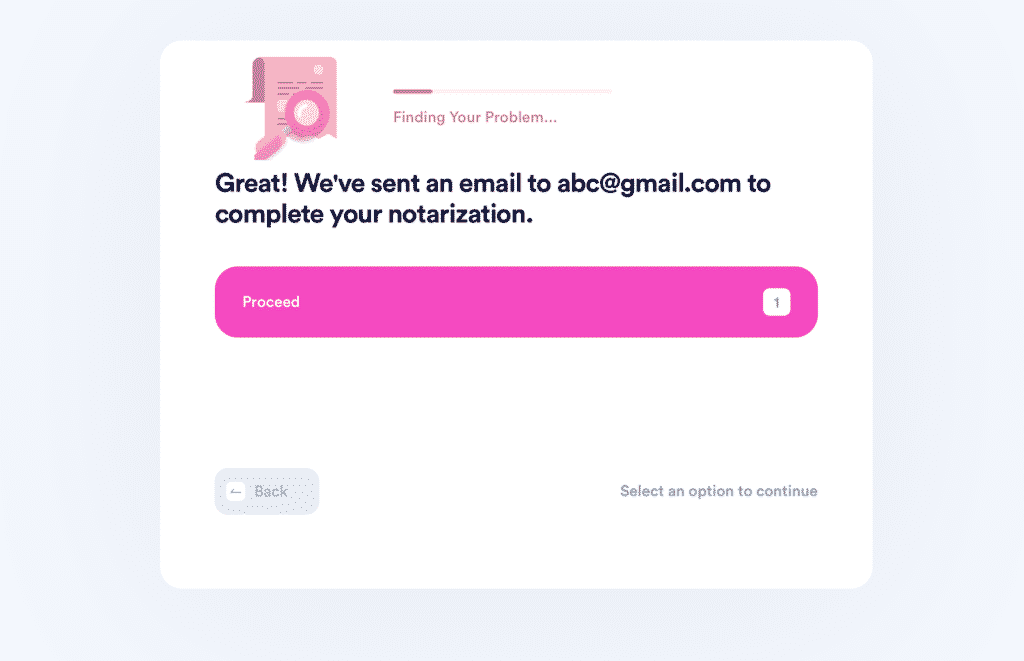 Click on the link we have emailed you to:
Go straight to a notary's schedule

Choose a suitable time for your appointment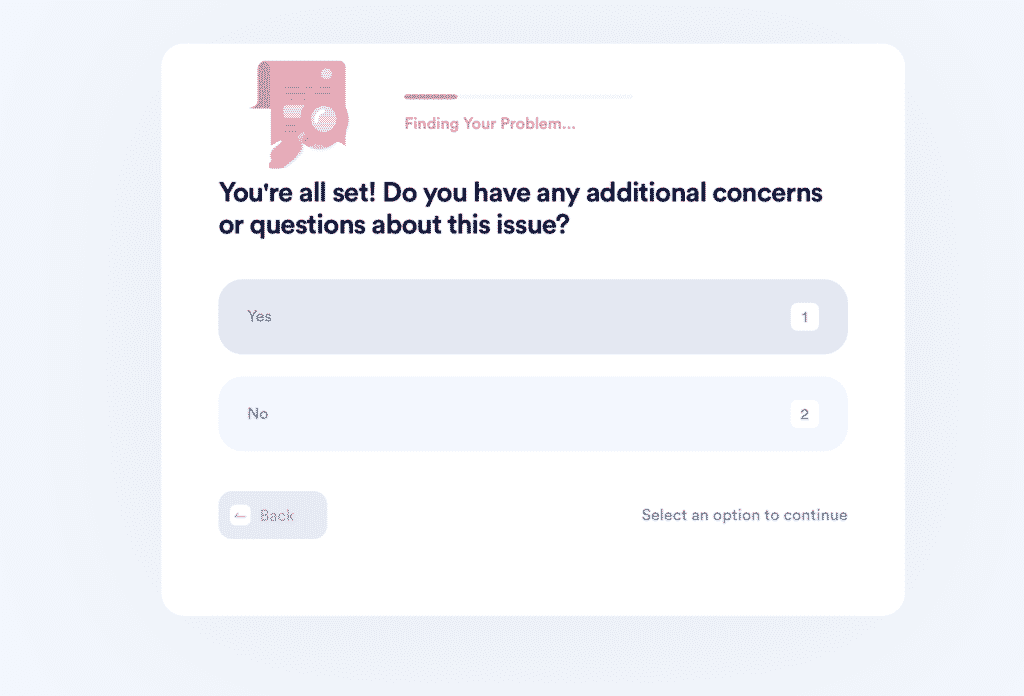 Facing Financial Issues? DoNotPay Can Take the Burden Off Your Shoulders
If you need to count pennies at the end of each month, DoNotPay is here to help you get a payment extension and pay your bills worry-free.
Prospective students who struggle to cover their university-related costs can also rely on DoNotPay to request a college application fee waiver.
Do you think that your property taxes are too high? Use our app to reduce your property tax bill as effortlessly as possible.
Get Rid of Spammers For Good!
Are spam texts and emails cluttering your inbox? DoNotPay has a few products you could benefit from! Rely on us and get rid of spam in less than two minutes. If shady robocalls are testing your patience, you can block them with our help and request robocall compensation right away.
To avoid providing your real phone number when signing up for online services, you should choose our Burner Phone feature and use the number we provide.
What Else Can DoNotPay Assist You With?
DoNotPay boasts many useful products that help millions of Americans handle their everyday hurdles in minutes.
With us, you can prepare for any government test for a low monthly fee, send online faxes in the blink of an eye, and request cash back for your gift cards stress-free.
Do you have a friend or relative who's serving time? Use our mailing service to send letters to inmates with no hassle.
Learn how to fight workplace discrimination and confront a neighbor who's giving you headaches all through the same app!
Log in to DoNotPay and solve any administrative issue—including setting up an appointment with the DMV and filing an insurance claim—by following a few simple steps.