How To Get an Ohio Notary Acknowledgement Fast and Easy
Getting an Ohio notary acknowledgment doesn't have to be a tedious task like it used to be before. You can forget all about the outdated methods of notarization as there are way easier options.
Whether you need a notarized affidavit or a will, DoNotPay will help you get any document notarized in a couple of clicks and turn the notarization process into a breeze. We'll tell you all about remote notary services and how to get an Ohio notary acknowledgment with ease using DoNotPay!
The Old-Fashioned Way of Getting an Ohio Notary Acknowledgement
An acknowledgment is a statement with which the signers prove to a notary that they have signed a particular document willingly. The traditional way of getting an acknowledgment requires you to follow some tedious steps:
Find an available

notary

Schedule an in-person appointment

Appear in front of the notary

Show your ID and answer a few questions regarding the document

Sign the acknowledgment in front of the notary if you haven't done so beforehand

Acknowledge that you're familiar with the document and the contents of it and that you've signed it of your own free will
During every notarial act, every notary must:
Check the signer's ID or other identification

Establish that the signer is signing the document willingly and isn't under any influence

Make sure that the signer is of sound mind

Witness the singing

Complete a notary certificate containing the date, location,

notary signature

, and official seal
Unlike jurats—verifications for signers to swear the truthfulness of the contents of a document—acknowledgments don't need to be signed in front of a notary and can be signed in advance.
Where To Get a Notary Acknowledgement in Ohio?
To get an acknowledgment in Ohio, you'll first have to find an available notary using the official State of Ohio government website or the following websites:
A simpler alternative is to use DoNotPay and skip the search for a notary altogether. Our app will set up an appointment for you in minutes. All you'll have to do is pick a time for your meeting with an online notary from your state or any other.
Different Ways You Can Get a Notary Acknowledgement in Ohio
There are other ways to get your documents notarized in Ohio besides the traditional, in-person method. If you don't want to waste time on finding an available office-based notary and scheduling an appointment, you can check these options out:
Notarization Type

Details

Mobile notarization

You can get a notary to come to your preferred location and perform the notarization.

Mobile notaries

can charge you extra for travel fees and their time, so keep in mind that this option can be

pricey

Electronic notarization

Electronic notaries

can notarize your electronic documents but require you to be in the same room as them at the time of signing. The document is to be signed digitally, and e-notaries must use a digital notary signature and seal

Remote online notarization

Remote notarization is the most convenient way you can get your documents notarized—you won't have to leave the comfort of your home
Prices of Notary Services in Ohio
The state of Ohio has allowed notaries to charge up to $5 for in-person notarization acts. They can charge you for travel or administrative fees that both of you have agreed on. Other types of notarization acts can cost you more, for example:
In-person electronic notarization can cost you up to $10

Remote online notarization can go for $25
Remote Online Notarization With DoNotPay
In case you want to avoid spending big bucks and wasting time on the search for an in-person notary, use DoNotPay! Our app's handy Notarize Any Document product will set you up for an appointment with an online notary in no time!
Here's why you should use DoNotPay to get your documents notarized online:
Security

—During the online notarization, notaries will use advanced technology that can help them detect any forgery and suspicious activity

Simplicity

—Setting up an appointment with an online notary will take only a couple of minutes of your time, and the notarization is just as quick

Safety

—You won't be exposing yourself to

COVID-19

as the notarization won't take place in-person
DoNotPay's Notarization Product Is Simple Yet Effective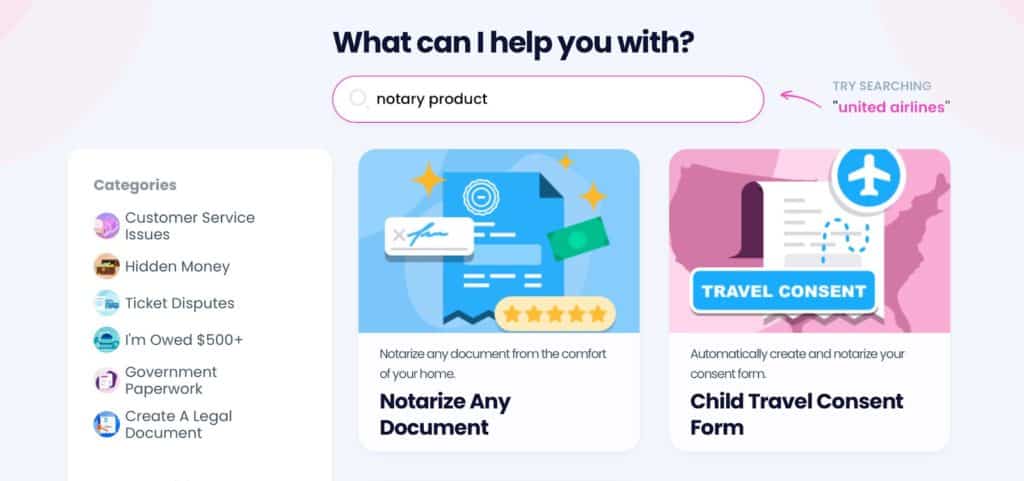 To get your documents notarized online with DoNotPay, you'll only have to follow a few steps:
Find our

Notarize Any Document

product

Upload the document that you need to get notarized

Enter your email address

Follow the link we send you via email and schedule an online appointment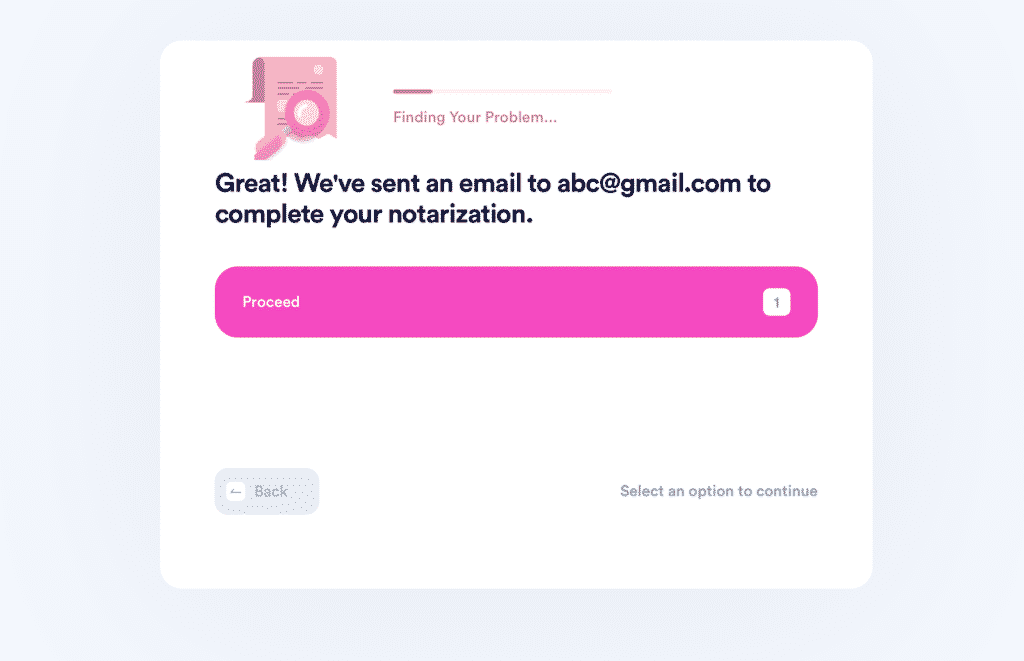 In case you need to get a notary acknowledgment outside Ohio, don't worry because DoNotPay can help you in any state in the U.S., including:
Creating Legal Documents Is a No-Brainer With DoNotPay
Among our vast arsenal of neat products that help you with legal issues, we also offer the Standardized Legal Documents product. DoNotPay can create various legal documents that you can then fax and get notarized through the same app.
To generate a legal document with DoNotPay, follow these steps:
Type in the name of your desired document

Personalize it by answering a few questions
Some of the documents we can help you create include:
Child Custody

Child Care Authorization Form

Independent Contractor Agreement

Promissory Note

Non-Disclosure Agreement

Prenuptial Agreement

Bill of Sale

General Business Contract

Quitclaim Deed

General Affidavit

LLC Operating Rules Document

Non-Compete Agreement

Estoppel Certificate

Intent To Purchase Real Estate

Residential Lease Agreement
DoNotPay Can Help You Solve Pesky Issues Stress-Free
Dealing with everyday issues can become overwhelming, especially if they include bureaucracy. DoNotPay can help you handle numerous problems in a few minutes. With us, you can schedule your DMV appointments, get documents notarized remotely, and create various legal documents—including child travel consent statements and demand letters for neighbor complaints—in a snap.
Do you need help paying your bills, disputing parking tickets, or getting cash back for your gift cards? Once you register for DoNotPay, you'll be able to manage all of these and many more issues in no time.
What Else Can You Use Our App For?
Besides helping you handle tedious administrative hurdles, DoNotPay can do much more for you! You can use DoNotPay to:
With us, you can send online faxes or mail letters from the comfort of your home. Do you have friends or family members who are serving time? We can help you connect with inmates in a flash by enabling you to locate them and send them letters.