The Ultimate Tips on How To Check the Carmike Gift Card Balance
Do you still have a used Carmike Cinemas gift card lying forgotten at the bottom of your drawer? Don't let it go to waste or get turned into unclaimed money. In most cases, these cards still have some unused credit that can come in handy.
If you want to get informed about the best way to check your Carmike gift card balance and use the remaining amount wisely, you are in the right place. Follow our instructions to get an effortless gift card cash out in under five minutes using DoNotPay!
How Do the Carmike Cinemas Gift Cards Work?
In December 2016, all Carmike Cinemas locations were acquired by AMC Theatres. The customers who still own Carmike gift cards can redeem them at the desired AMC branches, including:
Standard AMC
AMC Classic
AMC Dine-In
The company can't replace lost, stolen, or damaged gift cards unless you provide valid proof of purchase. If you bring the original receipt, you can get an AMC Theatres gift card of the same value since no new Carmike cards can be issued.
How To Check the Carmike Gift Card Credit Amount With DoNotPay
Looking for an easy way to get informed about the current Carmike gift card value? There's no better way to do it than using DoNotPay!
Don't waste your time typing in your card details or traveling to a nearby AMC location. We can call the company in your stead and get info on the exact redeemable gift card amount! All you should do is:
Select the Check Gift Card Balance service
Provide us with the photos of the back and the front side of your gift card
Leave your email address so that we can contact you once we get an update
Other Methods for Getting a Carmike Gift Card Balance Update
The company doesn't have an online balance checker for Carmike Cinemas gift cards. To inquire about the current remaining amount, you must contact AMC Theatres in one of the two following ways:
Method
How To Contact AMC
Via Phone
To make a phone balance query, do the following:

Call (855) 241-6678
Inform the operator that you need an update on your gift card credit amount
Disclose the required information
Let the agent see the available sum in the system

In person
In-person balance checks require visiting the nearest AMC location. You should bring the gift card with you and ask the available staff member to scan it or check your card details via an appropriate software
Is It Possible To Return the Carmike Gift Card for Cash?
If you don't want to visit AMC Theatres anymore, you may feel like a few bucks left on your card would serve a better purpose as cash.
Like most retailers, this company doesn't cash out the returned gift cards unless you don't live in one of the states that have established cash back policies. At these locations, you can request reimbursement for any card whose remaining balance doesn't exceed the state-specific threshold.
You can see the list of the places with favorable cash back laws and the maximum gift card credit amounts that can be turned into cash:
Amount Limit
Locations
$1.00
$3.00
$5.00

Missouri
Washington
New Jersey
Colorado
Massachusetts
Maine
Oregon
Puerto Rico

$10.00
Cash Out Any Gift Card With Minimal Effort Using DoNotPay
Not only do you have to live at one of the 12 locations that accept cash back requests, but you also need to get in touch with the company to reclaim your money. This can be challenging, as the customer care agents aren't always familiar with local laws and may not know how to address the issue properly.
To help you avoid the complications, we created the Gift Card Cash Back feature that demands a gift card cashout on your behalf! There is even more amazing news—we can do it even if your state doesn't have consumer-friendly laws!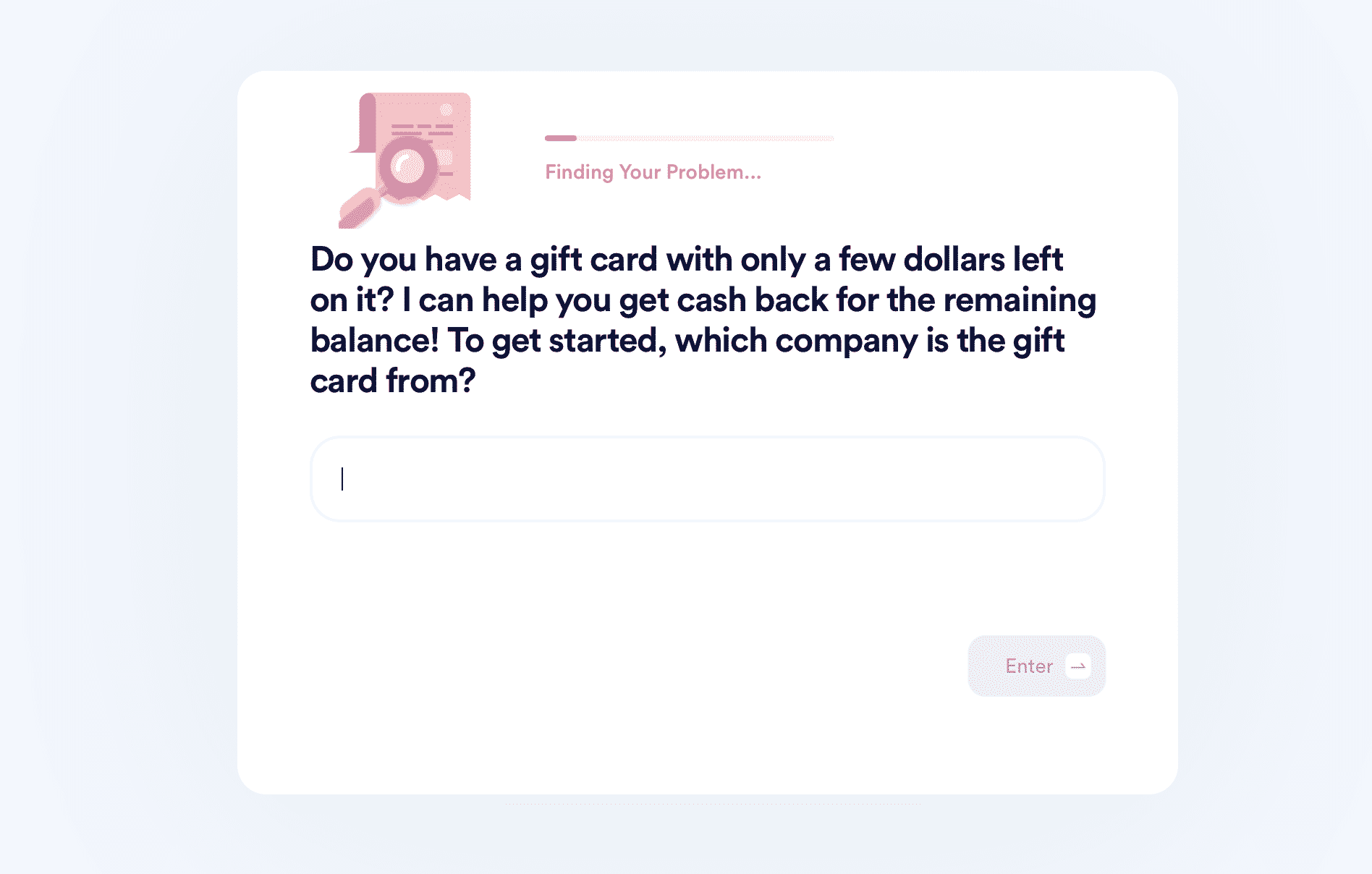 Here are the steps you should follow to use the feature in your favor:
Look for the Gift Card Cash Back option
Complete a short questionnaire about your gift card
Our app will do the rest! We will generate a customized cash back request and make sure it reaches the company in record time.
In the absence of a positive cash back policy in your state, we will find the merchant's division in one of the states that have favorable gift card laws. Your demand will automatically be submitted there, and you will get the cash within 14 working days from the request date!
What Other Gift Card Issues Can DoNotPay Help You Solve?
Visit our knowledge base and get informed about:
Requesting gift card reimbursement from various companies, including:
Only the Sky Is the Limit for DoNotPay
DoNotPay has an insane number of features that keeps growing. Our platform can help you:
Say Goodbye to Spam Mail With DoNotPay
DoNotPay has designed a feature that will put a stop to the flood of junk and spam mail into your inbox! We can help you join a class action against a spammer or take any person or company that's wronged you to small claims court!
Need a virtual credit card number or a fake phone number to protect yourself from scammers? We've got you covered! We can help you fight text spam or even assist you in sending mail without any chance of error.
Our users' safety is our number one concern, so we've developed a feature that will protect you from cyber stalking or harassment!