The Easiest Way to Convert Your Apple Gift Card to Cash Instantly
Gift cards aren't bad, but they can't compete with hard cash. Apple gift cards can get you anything from the wide range of Apple products, yet they can't pay your bills or a nice meal. What if we told you that you can turn an Apple gift card into cash and use it as you please?
DoNotPay has the tools for checking any gift card balance, and if there's money left on the card, we can send a formal request to the company demanding your money back!
What Can You Do With an Apple Gift Card?
Every company wants you to spend money in their stores, whether it's Apple, Xbox, or Dell. They all issue gift cards and won't normally exchange them for cash unless required by law, and Apple is no different.
Their gift cards can get you any software or products available in Apple web and retail stores:
iPhones, iPads, and iPods
Mac computers
Apple TVs
iTunes software
The way Apple gift cards work is simple—you need to activate the gift card with a 16-digit code on the back of the card using your device and then use the balance for shopping. These cards can be reloaded and used multiple times.
How To Check the Remaining Apple Gift Card Balance
Most people forget about their gift card after the first use, and it's hard to guess the remaining balance. If you need to check whether you have any cash left on your Apple gift card, you can do it by:
Contacting Apple customer support by phone
Asking customer support online
Checking on the official website
Using DoNotPay's Check Gift Card Balance feature
Call Apple Customer Support
If you have a question regarding an Apple gift card, you can call the customer support line at 1-800-275-2273. Say "gift cards" when asked about your issue, and a customer service representative will tell you your card balance.
Contact Apple's Customer Support Online
You can contact Apple via online chat and ask about your gift card balance. Scroll to the bottom of the page and click on Chat. You'll have to wait about two minutes for an Apple representative to reply.
If you prefer sending an email message to the support service, you can do so by following the instructions:
Open the Apple Online Chat page
Click on Email
Enter your details and explain that you want to check the balance
Hit Continue
You'll get a reply via email within 48 hours.
Check Your Balance via the Website
Apple has a dedicated page for gift card balance checking that you can use the following way:
Open the Balance Checking page
Sign in with your Apple ID and password
Enter your gift card number, and the page should display your balance straight away
Check How Much Cash Your Apple Gift Card Has Using DoNotPay
Are Apple's methods for checking your gift card balance too slow? Why not use DoNotPay to check your Apple gift card balance in a minute? All you need to do is:
Click on the Check Gift Card Balance product
Upload some photos of your gift card and enter your email address
DoNotPay can even help you get some free gift cards or check the balance on many other popular brand cards, such as:
How To Turn Your Apple Gift Card Into Cash
You can use several methods to turn your used gift card into cash either in person or online:
| | |
| --- | --- |
| Turn an Apple Gift Card Into Cash Online | Exchange Your Apple Gift Card for Cash in Person |
| Sell it online—many websites buy and sell gift cards. Note that they don't pay the full price of the remaining balance on your card. The rates go up to 80% at best | Return it to an Apple store—many companies refuse gift card returns. Certain states have laws that allow gift card cash backs, and Apple has to comply with the law |
| Exchange it online—You can also exchange gift cards online using the same gift card trade websites, but use caution as not all of them are trustworthy | Sell it at a gift card kiosk—gift card kiosks can be found in many locations across the U.S. Their rates aren't much better than those of online websites, but they are safer to use. You can sell your card instantly at one of the kiosks |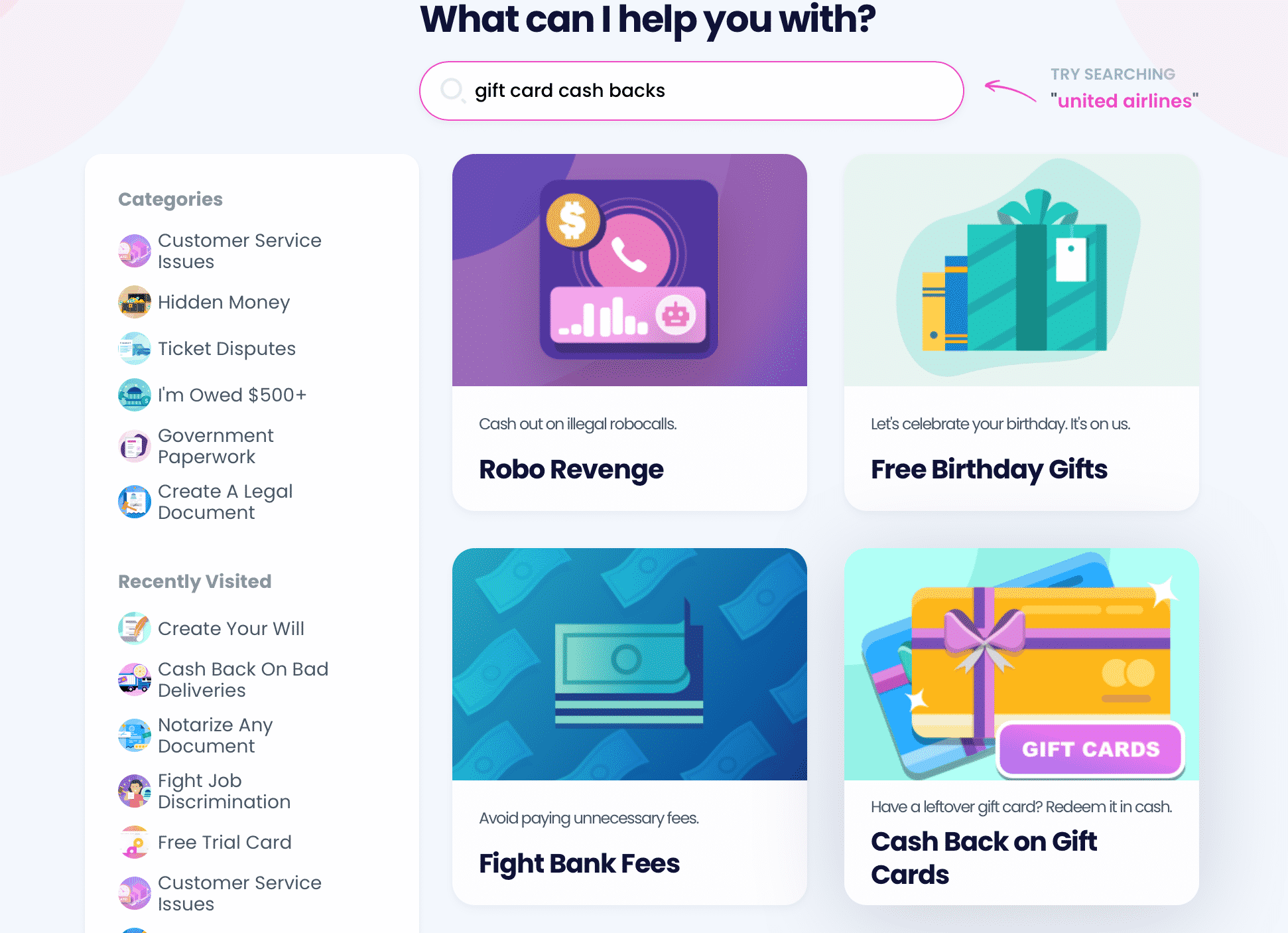 DoNotPay Can Help You Convert Your Apple Gift Card to Cash
Using DoNotPay is the best way to get your money back from an Apple gift card. We will send your request to one of the company locations in states that allow cash back on gift cards, and they will send you the money back within 14 business days.
All you need to do is follow the instructions:
Select our Gift Card Cash Back product
Enter the details about the card (e.g., when it was purchased, how much money is left on it, and what the original balance was)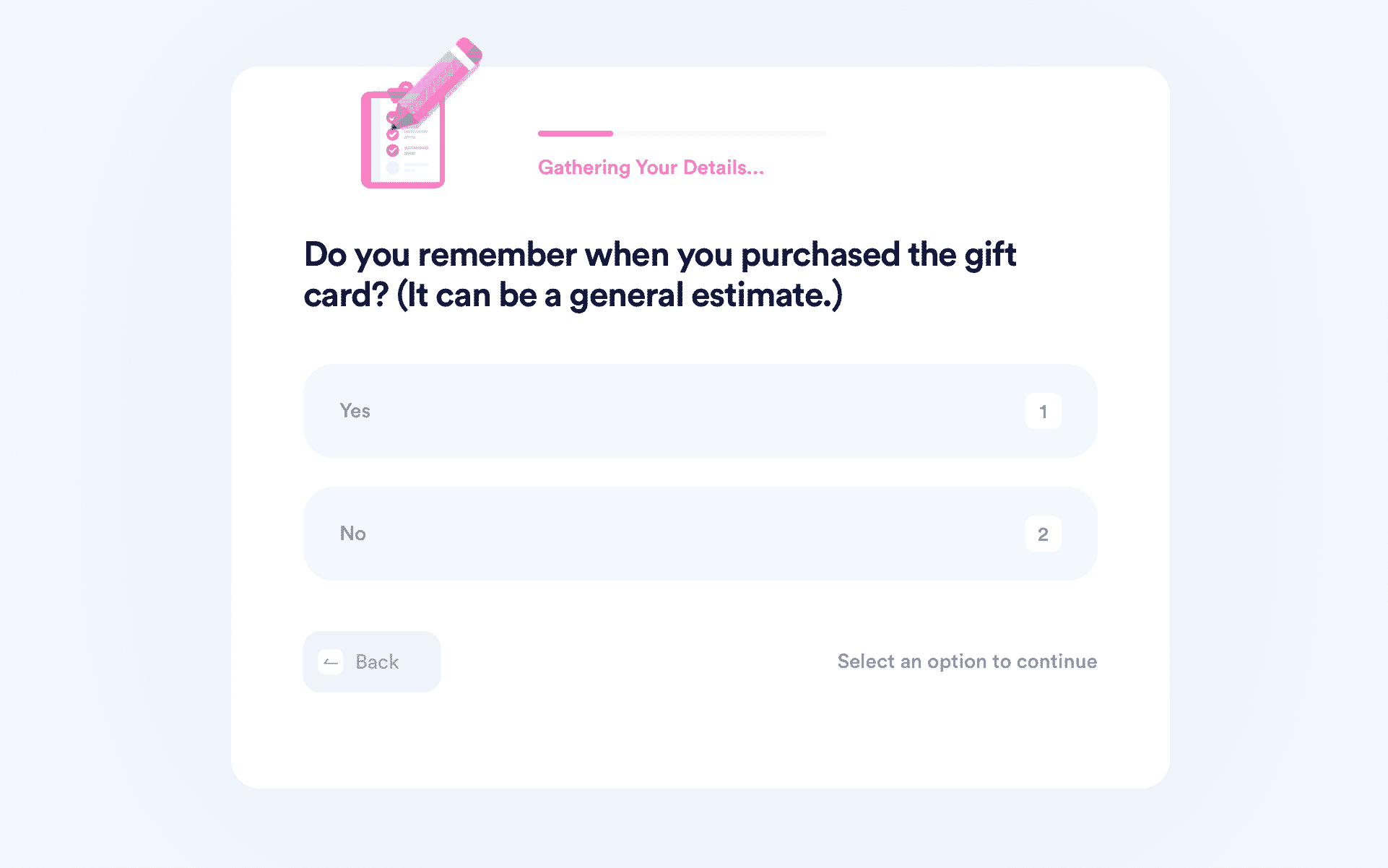 Need Anything Else? Rely on DoNotPay!
DoNotPay is the world's first robot lawyer that's here to deliver no matter the type of assistance you need. Are you frustrated by greedy companies? So are we—that's why we created a plethora of products that will help you fight money-hungry corporations:
Got charged auto-renewal fees once your free trial ended? No more! Our nifty Virtual Credit Card product will prevent this from happening ever again. Here's how it works:
You sign up for a free trial using our virtual credit card
It gets accepted on the free trial page
The service realizes there are no funds on the virtual credit card once the trial is over
The service cancels the trial in your stead, and you don't get charged
Earn Money Along the Way!
Our AI-driven app doesn't only help you fight corporate attitudes, but it also finds ways for you to earn some money. Whether it's by assisting you in applying for clinical trials, finding unclaimed money, getting you free raffle tickets, waiving your college application fees, getting you robocall compensation, or reducing your property taxes, DoNotPay will deliver.
If you're dealing with text or email spam or with real-life stalkers and harassers, you can count on DoNotPay to get rid of and help you earn off them!