Methods That Can Help You Check Your Goodwill Gift Card Balance
If you have already used your Goodwill gift card and want to see the amount left, the safest path is to inquire about it via suitable channels. The problem arises when the available instructions become too hard to follow since their nature varies from office to office.
In this article, we share some tips on how to check your Goodwill gift card balance without losing your patience. We will also help you use the remaining funds wisely by turning them into cash in three undemanding steps!
How Do Goodwill Gift Cards Work?
It's important to note that Goodwill doesn't offer centralized or universal gift cards. Each state with active branches has its specific type of cards and separate terms and conditions. The available denominations also depend on the particular area this organization covers. They usually range from $5.00 to $250.00.
When it comes to redeeming, the cards can usually be purchased and redeemed at any nearby Goodwill location. Some branches, such as the one in Central and Southern Indiana, don't allow customers to use them when making online purchases. This is why it's necessary to contact the specific office in your vicinity and ask about the propositions. You can also check out the website of the specific Goodwill branch and search for a more detailed explanation.
In most cases, if you lose or damage your gift card, the organization can't replace it. For this reason, you should treat it as you would treat cash—with great care. While in some states, such as Nebraska, Goodwill gift cards last for three years, they don't have an expiration date in others.
The cards can be used as the only payment method or combined with other payment assets, such as:
Visa
Discover
American Express
MasterCard
DoNotPay Offers the Easiest Way To Check Your Card Balance
Do you want to avoid waiting for the company's response or following a bunch of confusing steps when checking your gift card credit? DoNotPay has a solution!
We will make your balance inquiry a smooth-sailing experience by getting in touch with Goodwill in your name. Here's what you need to do:
Search for the Check Gift Card Balance option
Provide us with the photos showing both sides of the gift card
Leave your email address in the required field
Our app will detect the necessary card details and have them checked quickly! Once we get an answer from the company, we'll let you know by emailing you.
Other Methods for Checking a Used Goodwill Gift Card
Other ways to check the balance of your partially used Goodwill gift card involve finding a suitable communication method with the local branch. Here are some options you should consider:
| | |
| --- | --- |
| Method | Explanation |
| Seeing the remaining funds via an online checking tool | If a specific Goodwill division offers gift cards, it usually has a built-in balance check tool on its official website. All you should do is enter the gift card details—the ID number and the PIN code—and you will get an update. The bad news is that you must put some effort into finding the division's website in the sea of other Goodwill web pages |
| Phoning the company | Official websites of local Goodwill departments usually have a Contact Us section where you can find the customer service phone number. Dial it and ask the representative to run a check on your gift card details. Note that you may spend some time on hold if the lines are too busy |
| Using other contact methods | The Contact Us page also provides other ways to get in touch with the company, such as an email or the live chat option. Pick the most appropriate one and send your query. The problem arises if you don't get a response as fast as you'd expect |
| Visiting a nearby Goodwill location | Go to the nearest retail location and have your card checked by the shop assistant. Stores have specific price checkers and software that can show the remaining balance. The bad news? You may need to travel to the store if there aren't any in your neighborhood |
What Can You Do With a Few Bucks on Your Old Goodwill Gift Card?
Here are some ideas in case you don't know how to use the leftover balance:
Check if your local gift card laws propose a positive cash back policy and return the card for cash—11 U.S. states and Puerto Rico have laws that oblige retailers to accept gift cards back and reimburse users for them. Each location has a determined cash back threshold that mustn't be exceeded—it's from $5.00 to $10.00 in most states
Use the remaining money from your free or paid gift card the next time you visit a Goodwill store—A few dollars can make a huge difference when purchasing certain goods
Sell or exchange your gift card for cash or another card from a different company—You can usually do it online or at specific places in the city
Donate the card to a charity or a non-government organization
Give the card to a friend or a family member if they need it
Are You on a Tight Budget? Cash Out Your Gift Card With DoNotPay!
Skip the hassle and cash out the entire remaining credit from any gift card with DoNotPay! We created a tool that runs the necessary checks to confirm that your state has a gift card cash back policy. Once it's done and verified, we generate a special cash back request and send it on your behalf, letting the company know that you want to claim the leftover funds!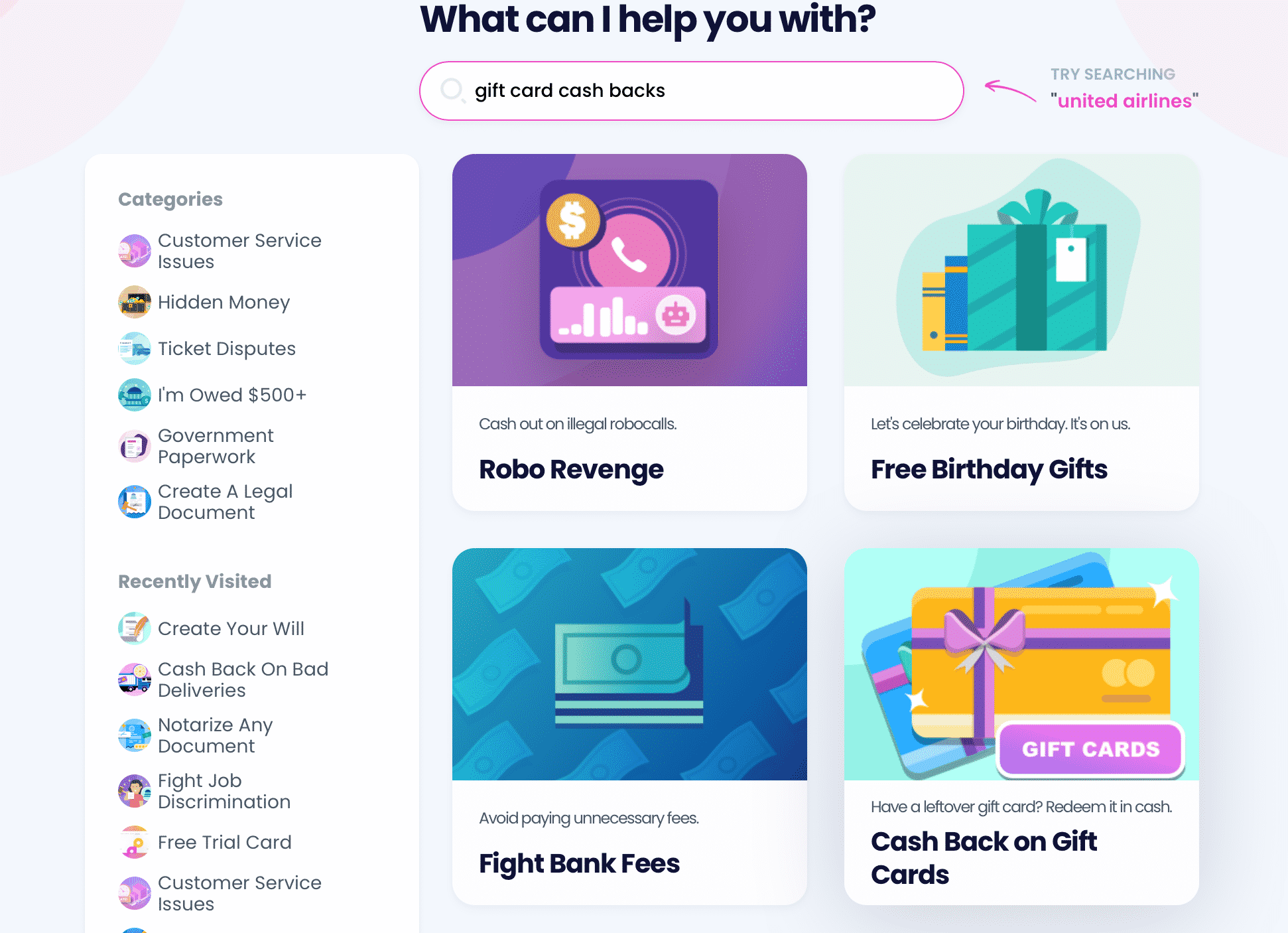 To use this tool, follow the steps below:
Look for the Gift Card Cash Back feature
Leave a few essential pieces of information about your gift card
Even if the location where you live doesn't permit cashing out, we will make sure to direct your demand to the company's branch in one of the states that accept it! You can use this procedure to claim the unused gift card money from any company, including: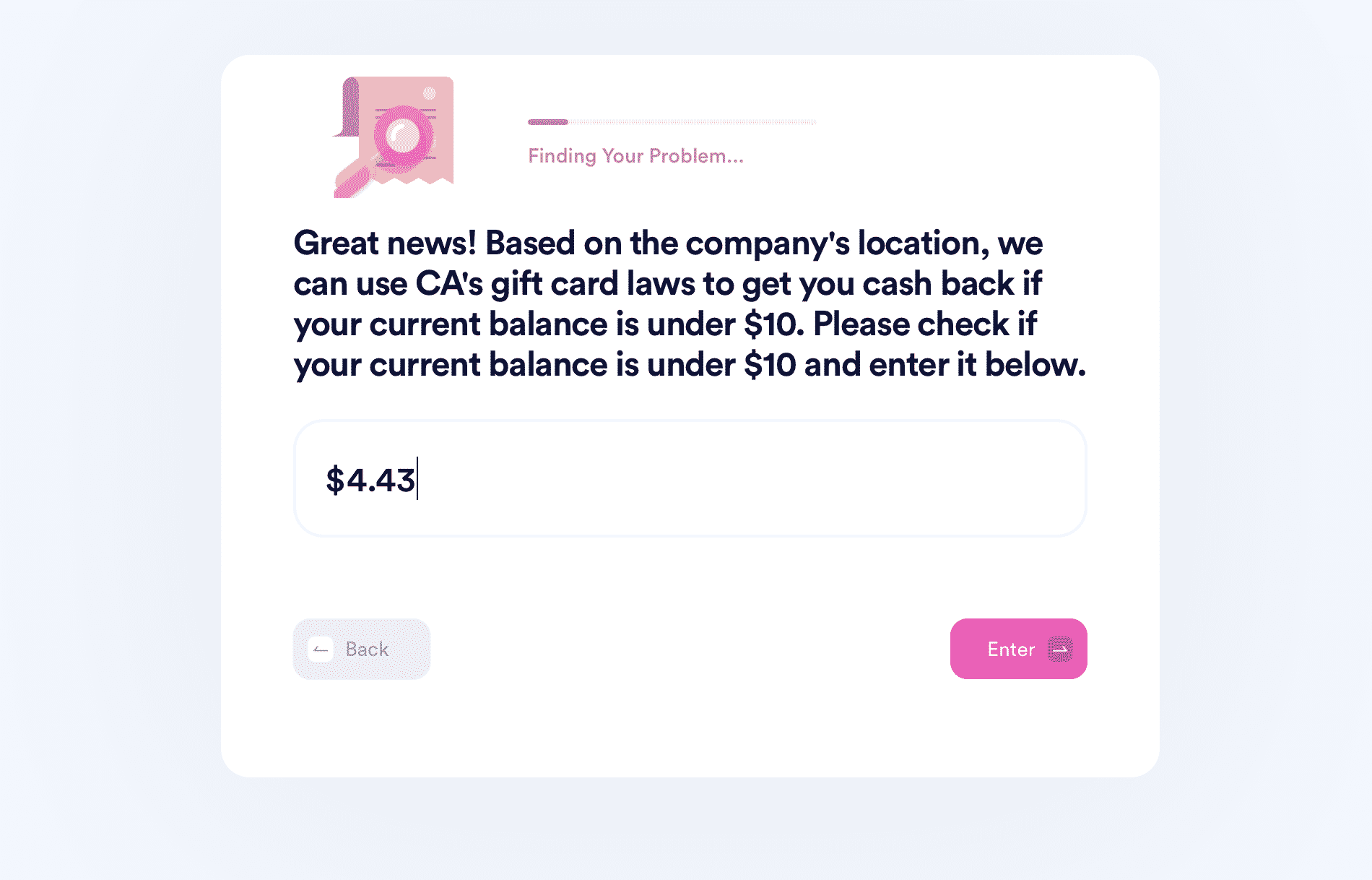 Is Bureaucracy Giving You a Headache? DoNotPay Can Help!
Bureaucracy is a big part of our lives that we can't escape. We understand the struggle over at DoNotPay—that's why we've created various features that can help you out! The world's first robot-lawyer app can assist you with:
DoNotPay's Arsenal of Features Doesn't Stop Growing
DoNotPay's number of handy features keeps growing by the day. Our platform can help you with various issues ranging from filing insurance claims to finding clinical trials. Want to save money on unused subscriptions? DoNotPay has got your back! We can help you cancel them and fight any subscription spam email that you get. Your AI assistant can also get you free raffle tickets or find any missing money in no time!
With DoNotPay, you'll have access to countless features that grow in numbers by the day! You'll be able to block robocalls, deal with tedious neighbors, and much more!