Perform a sweetFrog Gift Card Balance Check Without a Hitch
Your used gift cards from sweetFrog don't have to collect dust because there's a way to redeem them for cash. If you don't know how much money you have on your gift card, we can tell you how to perform a sweetFrog gift card balance check in two steps. DoNotPay will also help you get your cash back with zero to no effort!
How To Perform a sweetFrog Gift Card Balance Check
You can check your sweetFrog gift card balance in three ways:
Online
Over the phone
In person
Consult the table below to see which steps to complete:
Online
Over the Phone
In Person

Visit the sweetFrog website
Click on Check Balance
Type in your 16-digit gift card number
Enter your email
Confirm you're not a robot
Tap on Check Balance

Call 1-804-893-3151
Ask the customer support agent to check your balance
Provide your gift card number

Go to the store locator page
Select one of the locations from the map or type in your city, state, or ZIP code
Head over to the store
Ask the cashier to check your balance
Check Your sweetFrog Gift Card Balance in a Flash With DoNotPay
If you don't want to bother checking your gift card balance by yourself, we have good news—DoNotPay can do it for you! If you , we'll check the balance on your behalf in two simple steps. Your only tasks are to:
Snap a photo of your gift card
Upload the photo to DoNotPay
Our platform will contact sweetFrog to check your remaining balance, and as soon as we know the exact amount, we'll let you know.
What To Do With the Remaining Funds on Your sweetFrog Gift Card
After you check your balance, you'll probably want to know what you can do with the leftover money on your gift card. We've come up with some options:
Spend the rest of the money—If the amount on your gift card is substantial, maybe you'll want to treat yourself to some sweet frozen yogurt. You can spend the rest of your funds in the closest sweetFrog store and avoid having your gift card go to waste
Sell the gift card—You can sell your gift card by:

Visiting a gift card reselling website
Going to a gift card exchange store or a kiosk
A downside to this approach is that you probably won't be able to get the full value of your gift card because most websites, stores, and kiosks charge a small gift card exchange fee
Give your gift card as a present—If you have a friend or a family member that has a sweet tooth, you can consider giving them your gift card as a present, provided that there are enough funds for one or multiple purchases
Exchange the gift card for a different one—Many online platforms and forums facilitate gift card exchange. If you don't like your sweetFrog gift card, you can trade it for another card that you will use. All you need to do is type in the amount of money you have left on your sweetFrog gift card, and you'll get an offer of other companies' gift cards that have the same balance
Can You Get Money Back From Your sweetFrog Gift Card?
Officially, sweetFrog doesn't allow redemption of gift cards for money unless required by law. The good news is that the law might be on your side.
In some places, companies must grant gift card cash back to their customers if the gift card balance doesn't exceed a predetermined amount. These locations are:
Colorado
California
Connecticut
Maine
Massachusetts
Montana
New Jersey
Oregon
Puerto Rico
Rhode Island
Vermont
Washington
If you live in one of these places, you will get your money back—you only need to submit your cash back request. Typically, the process of filing a cash back request is complicated, but DoNotPay is here to provide a solution.
How To Get Your sweetFrog Gift Card Cash Back Using DoNotPay
With DoNotPay, you can file your cash back request with sweetFrog in a matter of minutes, even if you don't live in a cash back state. We'll turn your gift card into cash by finding a sweetFrog office in one of the locations with a cash back policy and filing the request with them. You should get your money within 14 business days.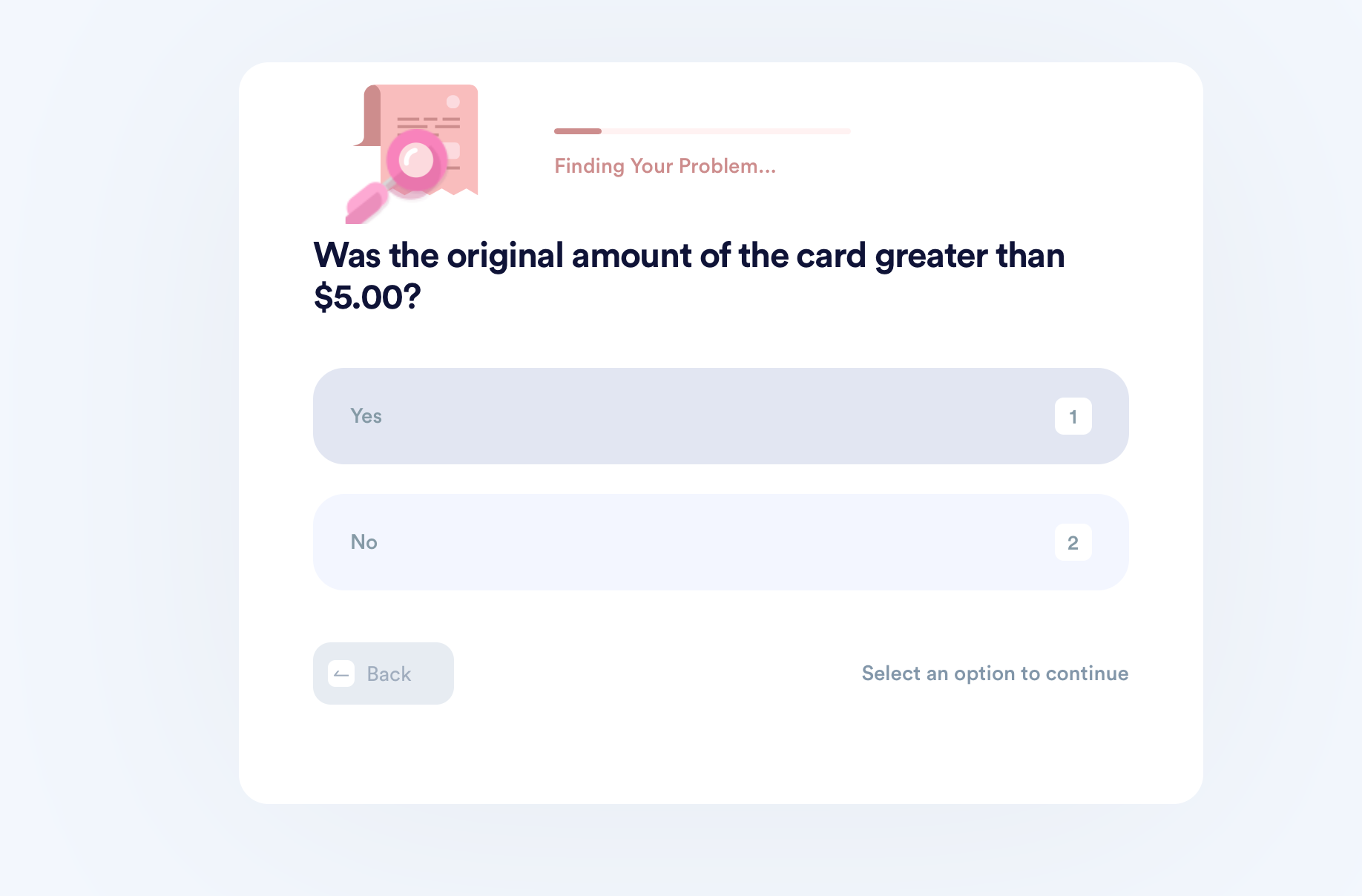 To request your sweetFrog gift card cash back, and do the following:
Find our Gift Card Cash Back product
Provide all the necessary information to our chatbot, such as:

Company's name
Your gift card balance
Gift card number
Your email

Press Sign and Submit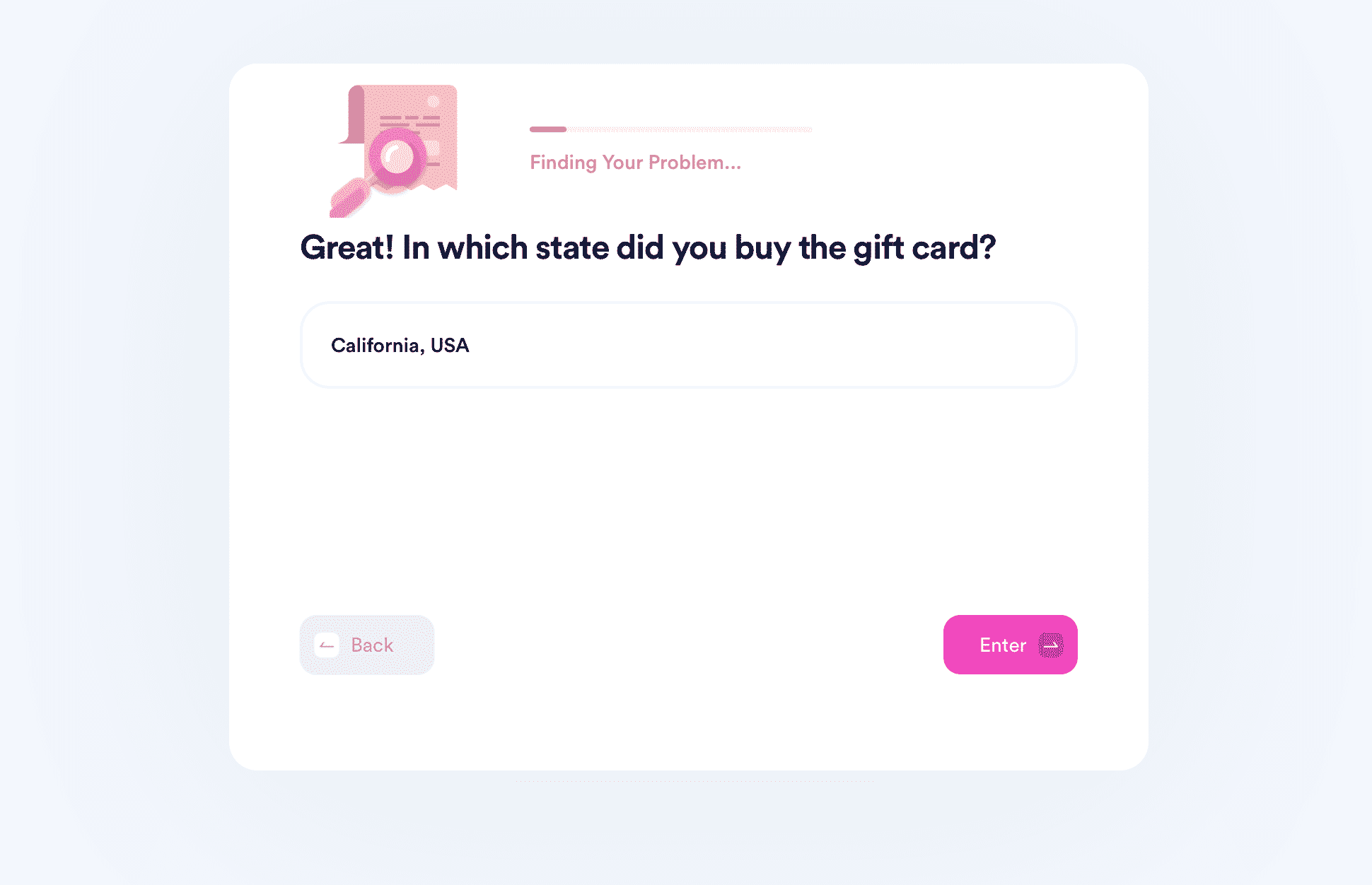 Our platform can help you with other gift-card-related matters. We will provide information on:
Checking the balance on any other gift card, including:
Shop Online on Your Terms
Have you ever had to deal with complaints about lost, late, or damaged parcels? Is reaching customer service over the phone always a pain? Don't you wish there was an easier way to request refunds and chargebacks for bad purchases?
Shopping can easily turn into a nightmare, but DoNotPay will take away some of that stress. We can help you with all of these issues and more!
If you need to file warranty claims for any kind of product, our AI bots will make the process painless. Those who like to try out new services will fall in love with our virtual credit cards and foolproof methods of signing up for free trials without risking charges.
When you get sick of your subscriptions, cancel them with DoNotPay. Also, don't throw away your used gift cards with a few bucks left—we can help you get your cash back.
DoNotPay Protects Your Interests
There are already so many ways you can use DoNotPay to improve your daily life, but we keep developing more and more features that will make our subscribers even happier.
On our platform, you can find useful resources to:
Lower your property taxes

Create legal documents without paying lawyers