Need Some Gambling Money? Get Cash for Gift Cards in Las Vegas!
One of the fastest ways to get paid without effort is to get cash back from used gift cards. Remember to check your remaining balance first. The amounts can add up quite a bit if you have multiple gift cards lying around. You can take cash for gift cards in Las Vegas using various methods, which we will explain in our guide. DoNotPay has a quick way of getting your unspent money back— to claim what's rightfully yours!
What You Need To Know About Gift Cards
A gift card can be used to buy certain products and services. There are many types of gift cards, but the most common ones are:
Online, digital, or e-gift cards
Plastic or physical gift cards
Some cards can be reloaded, while others can only be used once to their fixed value. People often use a gift card to buy something that costs less than the total amount on the gift card, so a few dollars remain unspent. Amounts as low as that can't buy anything in the store, but you may be able to get that money back.
Check the Remaining Balance on Your Gift Cards
Before getting your cash for gift cards in Nevada, or any other state for that matter, you should check the remaining balance of the cards. Gift cards usually don't expire, so the ones you have could've been used months or even years ago, but they're still valid.
You can check the remaining gift card balance:
In person—visit the store where you got your gift card
By phone—call the official customer support line
On the internet—only use the company's website as third-party sites may scam you
If you have enough balance remaining on the gift card to treat yourself to something from the store in question, go for it. For amounts of $10 or less, it's best to cash a gift card.
How To Exchange Gift Cards for Cash in Las Vegas
You can opt for the following methods to :
| | |
| --- | --- |
| Ways To Get Cash for Gift Cards | Brief Explanation |
| Returning a gift card to the original store | Some vendors allow you to bring a gift card back for cash, but they are rare. Note that Nevada isn't one of the states that allow cash back for gift cards |
| Using a gift card kiosk | Gift card kiosks can be found in various malls and grocery stores. They offer a cash amount for gift cards, which you can accept or decline, but note the amounts are rather low |
| Exchanging gift cards | You can swap gift cards online via various websites or online marketplaces. This way, if you can't get cash back on your gift card, you can trade it, get a different one, and return it to the store for cash. Note that the online exchange services typically don't give you a card with the exact total value—it's usually less |
| Selling gift cards online | Online merchants buy and sell gift cards. The amount they give depends on the gift card's balance and popularity. Beware of scammers as there are many of them |
DoNotPay Has the Fastest Way To Get Your Cash Back From Gift Cards!
Are you tired of getting bad gift card deals online or driving to a kiosk or store just to get pennies on the dollar? DoNotPay can get you all of the remaining money back with our Gift Card Cash Back feature.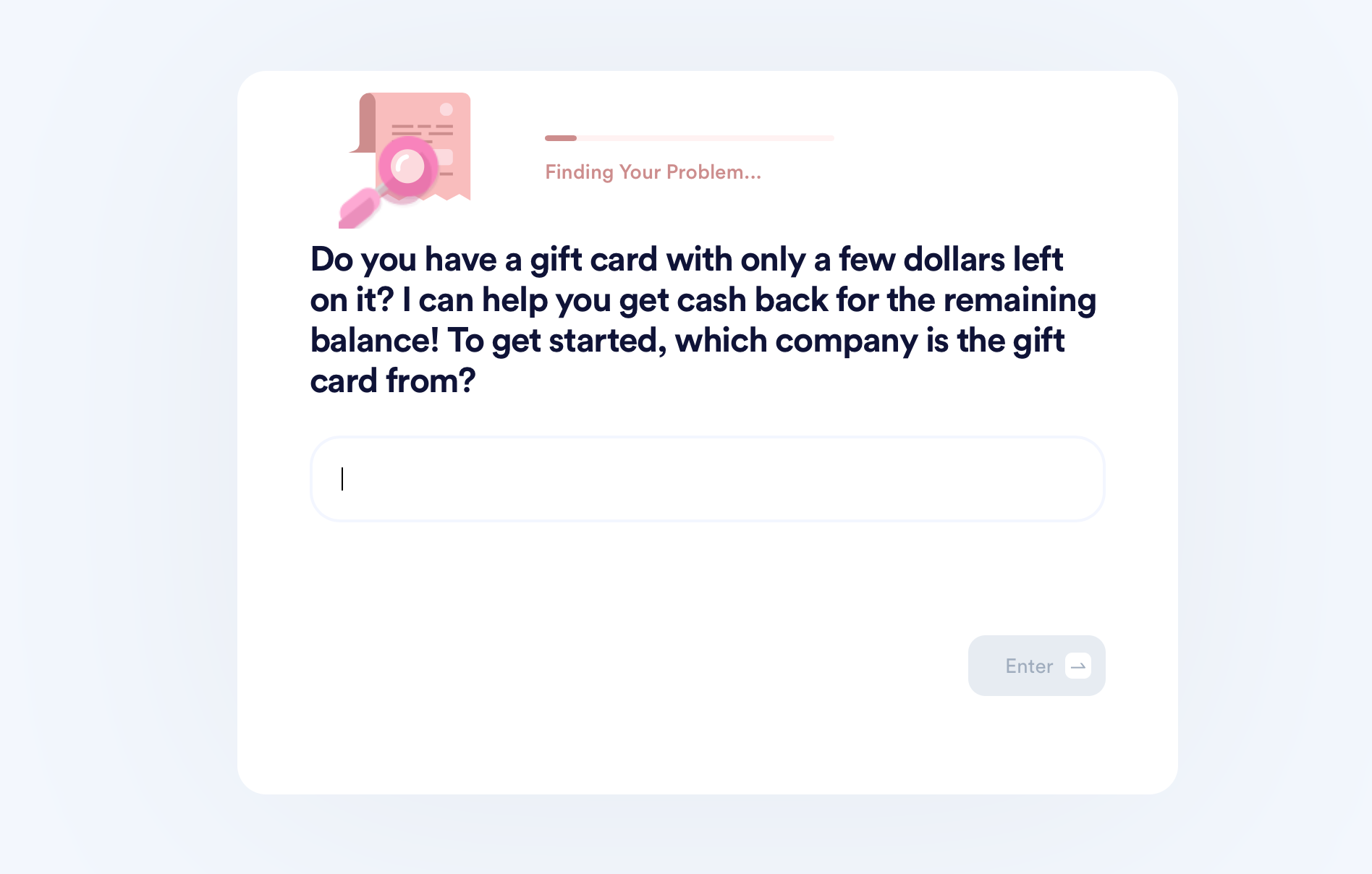 It only takes three steps to get cash using this method. Here's how to go about it:
Select the Gift Card Cash Back product
Enter all the details about your gift card—the balance, vendor, and card number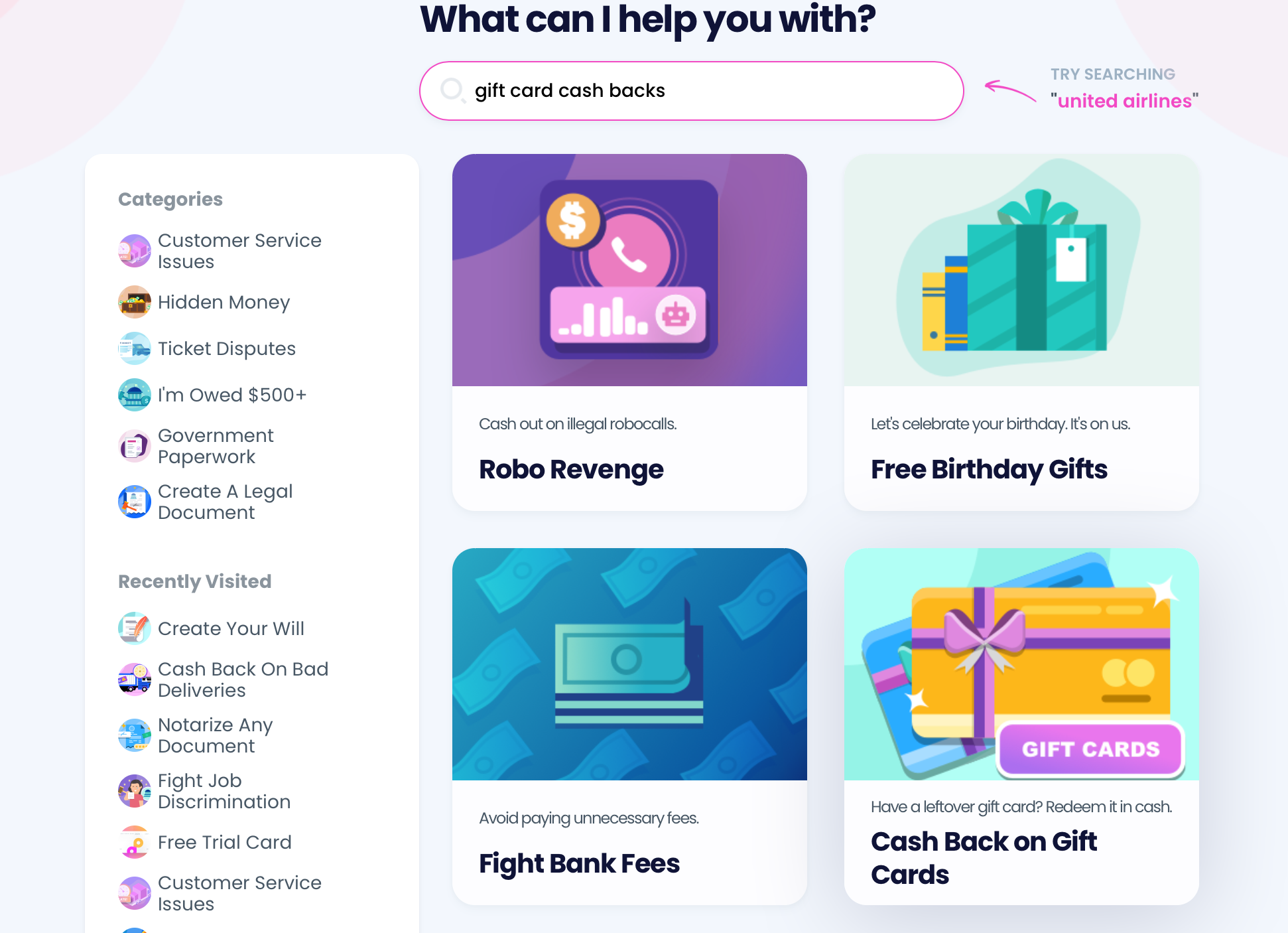 Your request will be sent to the vendor's nearest location for processing, and you'll get your money back by mail within 14 business days. It doesn't matter if you're in Las Vegas or any other city in the U.S. because we will send the request to a store located in one of the 11 states that allow cash back or Puerto Rico. Those 11 states include:
California
Maine
Connecticut
Washington
Colorado
Massachusetts
Oregon
Rhode Island
Montana
Vermont
New Jersey
DoNotPay Is Not Done Helping You With Gift Cards!
DoNotPay has many gift card guides. For example, we can teach you how to get free gift cards and how to check the remaining balance on any other gift card. Our guides cover a plethora of companies. Check out some of them in the table below:
DoNotPay Can Help You Solve Pesky Issues Stress-Free
Dealing with everyday issues can become overwhelming, especially if they include bureaucracy. DoNotPay can help you handle numerous problems in a few minutes. With us, you can schedule your DMV appointments, get documents notarized remotely, and create various legal documents—including child travel consent statements and demand letters for neighbor complaints—in a snap.
Do you need help paying your bills, disputing parking tickets, or getting cash back for your gift cards? Once you register for DoNotPay, you'll be able to manage all of these and many more issues in no time.
What Else Can You Use Our App For?
Besides helping you handle tedious administrative hurdles, DoNotPay can do much more for you! You can use DoNotPay to:
With us, you can send online faxes or mail letters from the comfort of your home. Do you have friends or family members who are serving time? We can help you connect with inmates in a flash by enabling you to locate them and send them letters.