Build.com Return Policy Explained—How To Return Unwanted Items With Ease
When you spend more than $3,000 on a new refrigerator from Build with Ferguson (Build.com)—and it doesn't work—you may want to familiarize yourself with their return policy.
Whether you are unsatisfied with your new kitchen sink, light fixture, or bathtub, can be your saving grace. In minutes, our guide will walk you through every step of the Build.com return policy and help you get your money back in no time!
An Overview of the Build With Ferguson Return Policy
In general, Build with Ferguson is only able to process returns for items purchased either directly from their website or from one of their affiliate partners. The Build.com return policy specifies that returns must be initiated within 180 days from the date of purchase.
The items you want to return must be:
In a resalable condition
With all their pieces intact
Unworn—no scratches or defects
In their original packaging and manufacturer's box with no writing or labels
Brought at full price—not bought on clearance or during liquidation or closeout
Exceptions to the Build.com Return Policy
There is a number of products outlined within the Build with Ferguson return policy that does not follow the rules for general or defective returns—these include:
Furniture
Appliances
Tile and flooring
Gasoline-powered items that have been filled with gas—not returnable due to restrictions put on shipping hazardous materials
How To Initiate a Return Online
If your item is eligible for a return, you can begin the process by using the Return tool. Follow these steps to initiate a return online:
Click on Find My Order
Log in or sign in as a guest
Choose the item(s) you want to return
Click Setup Return
How To Send Your Build With Ferguson Item via Mail
Once you initiate your return, Build with Ferguson will send you an email with a Return Goods Authorization (RGA) number.
If you decide to ship your package via UPS, print the return label they provided—so that the company can keep track of your return—and attach it to the box.
You can drop off your return at a nearby UPS location.
When Should You Expect Your Refund?
Build with Ferguson will process your request in approximately five to seven business days once the item has been received and inspected.
If you initiate a return for your unwanted or damaged shipments and freight claims within two business days, your refund will be issued as soon as possible.
If you don't receive your refund, allow 5–10 business days before contacting customer service.
How To Get in Touch With Build With Ferguson Customer Service
If you have any questions or concerns, you can reach out to one of the Build with Ferguson customer support teams for assistance. Give them a call between 5:00 a.m. and 6:00 p.m. PST on weekdays and from 6:00 a.m. to 4:00 p.m. PST at one of the following numbers:
Customer service (for general inquiries): (800) 375-3403
Appliance specialist team: (855) 394-7243
Flooring and tile specialist team: (855) 484-3293
Return Unwanted Build with Ferguson Products With DoNotPay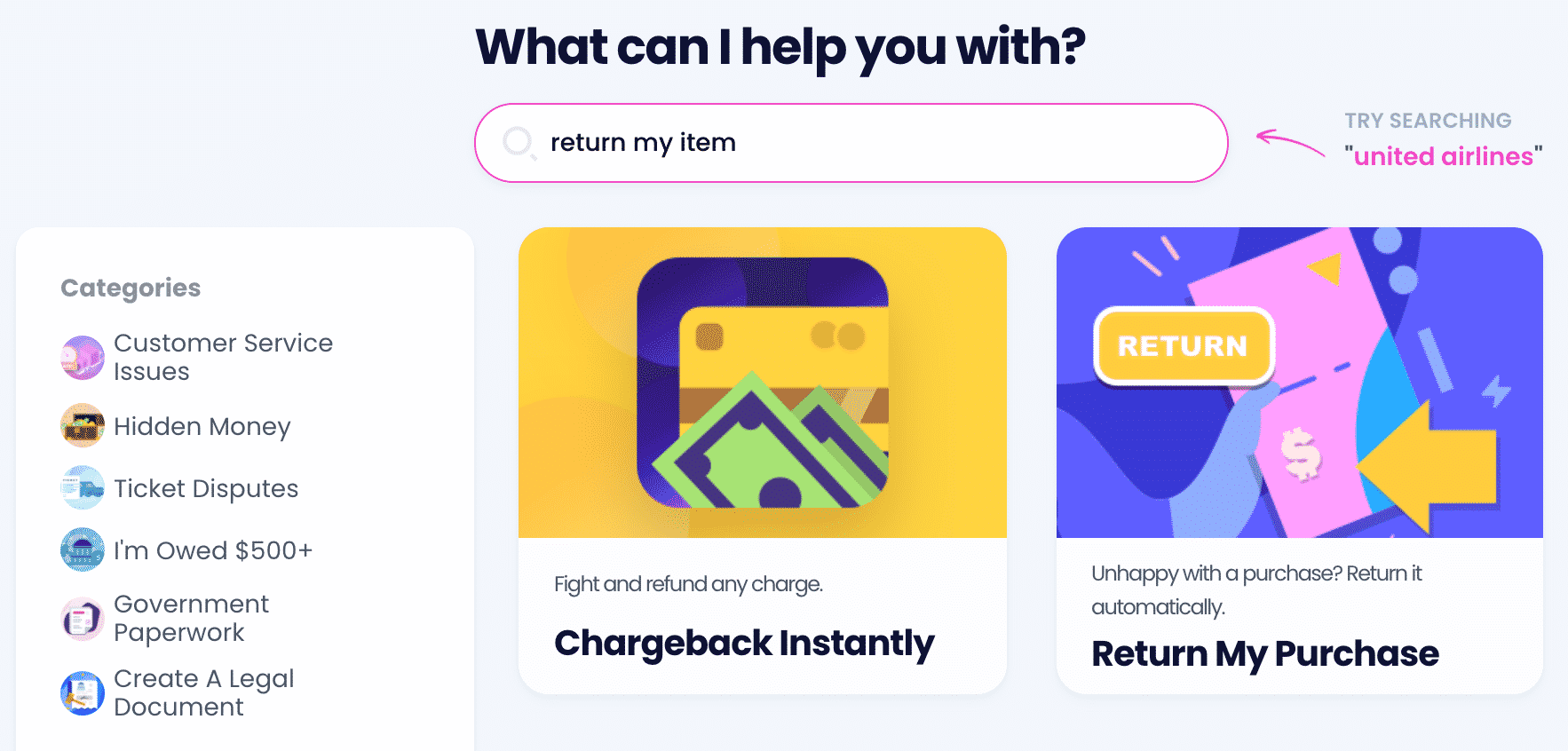 If you don't have the time or patience to read through the Build.com return policy, you can still get a refund for your unwanted items. DoNotPay has taken the hassle out of the return process with our user-friendly Return My Purchase tool!
Our AI-powered app will speed up the return process by drafting and sending a personalized return request letter to Build with Ferguson, letting them know that you are unsatisfied with your purchase.
To initiate a return with DoNotPay, all you need to do is:
Type Return My Purchase into the search bar
Answer a few questions about the item(s) you want to return
Click Submit
DoNotPay will take over from there and get you a response from the company in no time!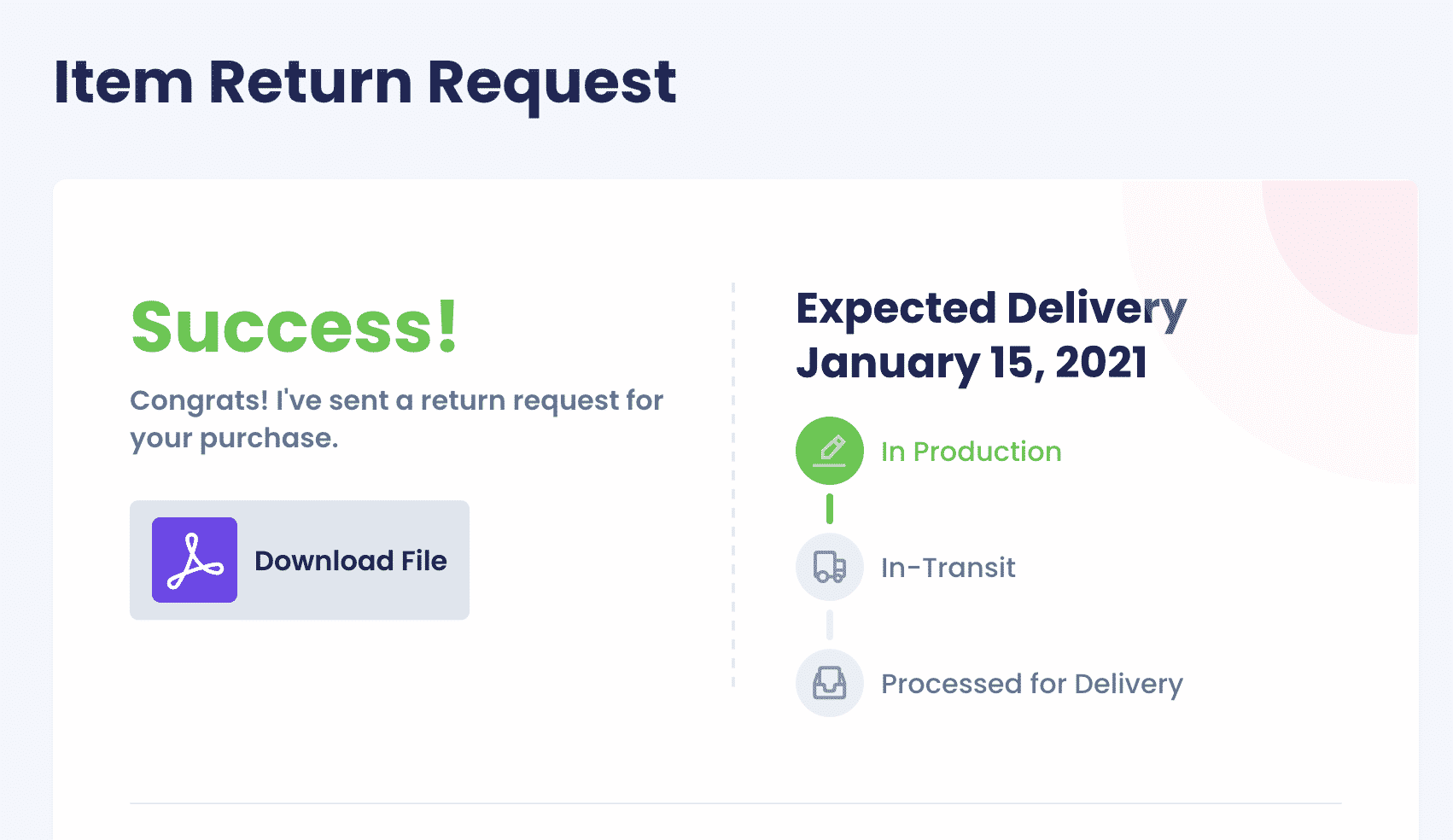 Need help simplifying the return process for another company? Check out some of our other comprehensive guides:
Has Build With Ferguson Wronged You? Sue Them in Small Claims Court With DoNotPay's Help!
DoNotPay has been recognized by the American Bar Association for helping users claim what is rightfully theirs in small claims court.
Don't let Build with Ferguson get away with taking advantage of you—DoNotPay can give you the support you are looking for! We can help you with:
Drafting a demand letter—You will get a document tailored to your case. You can deliver this letter to the company to try to settle the issue outside of court
Generating and completing court forms—We will deliver a set of legal documents that your local small claims court demands
Serving Build with Ferguson—You will get guidelines on the best way to present the company with court forms
Writing a script for your court appearance—Our app will create a document encompassing everything you need to say when presenting your case, as well as a list of evidence
Wasted Your Money on a Non-Returnable Purchase? There Are Other Methods To Earn It!
Don't feel down if the item you got isn't returnable—DoNotPay has many more tricks up its sleeve that will help you earn some money!
From helping you enter sweepstakes, decrease your property taxes, and lower your utility bills to assisting you in earning off email or text spammers and robocalls, waiving your college application fees, submitting a college financial aid appeal letter, and getting a refund from any company or airline, we can do it all!
DoNotPay Is Always at Your Disposal
Our app's mission is to take everyday admin and legal tasks off your plate so you don't have to waste any of your precious time. If you want to appeal your parking tickets, draw up a legal document, get any agreement notarized, get a tourist visa, keep a sex offender at bay, mail anything without waiting in line, or get in touch with a loved one in prison, DoNotPay will resolve any of these with ease.
Too busy to track your memberships? You don't need to worry about canceling your free trial on time before it turns into a paid subscription if you use our virtual credit card.
With DoNotPay, you can tackle any otherwise annoying chore stress-free.