Wish Return Policy Unravelled
Do you wish you didn't purchase that item from Wish? Are you looking to return your product, but the Wish return policy is confusing you? Don't worry, and let DoNotPay show you the easy way to return your item without a headache. Even better—DoNotPay can help you return the item hassle-free so that you don't waste time and energy on it.
The Gist of the Wish Return Policy
If you want to return an item to Wish, you have 30 days from the delivery date to do so. This applies even if the item was delivered to you late.
You are eligible for a refund if you received a wrong, damaged, or defective item, but you may have to provide photographic proof and return the item.
There are some restrictions in the Wish return policy that you should be aware of:
If you order perishable items, you will not be able to receive a refund or return them
Items with seals that have been broken, such as health and beauty products or electronic media, are not eligible for returns
If you order household supplies, such as cleaning products, you cannot return them
You will not be able to return sex toys
Returns of some items are handled according to the policies of their merchants
You may be responsible for the shipping charges when returning an item
You should consider the additional rules for items that were bought using the Pickup Now and Ship to Store methods:
If you buy an item from any of the Pickup Now operators, you should know that they do not handle returns. You will need to get in touch with customer support to return the item
If you don't pick up the item within 14 days, your order will be canceled, and you will be charged a restocking fee as well as any applicable charges
You have 30 days from when the item was picked up to return it
If the item was delivered to the store on time and you didn't pick it up, you will be charged a restocking fee. The shipping charges will not be refunded
How Long Does It Take To Process a Refund Based on the Wish Return Policy?
The processing time for refunds depends on whether you need to return the item or not, as explained in the table below:
| | |
| --- | --- |
| Return Required? | Refund Terms |
| No | Processed up to 48 hours after the request for the refund is made |
| Yes | Processed after the item is received and confirmed to be in good condition |
Refunds will be credited to the original payment method and may take up to 14 days.
How To Return Items Bought Online or via the App
To initiate the return process to Wish, you need to contact customer support via the app or web. If you're using the app, here's what you need to do:
Open the app menu
Hit Order History
Select the item that you would like to return
Hit Need help with this item?
Click on the Contact Support button at the bottom of the screen
Follow the prompts
If you're not used to mobile apps and prefer using your web browser, here are the steps:
Enter your login information
Select Order History
Click on the item you would like to return and select Item Details
Hit Contact Support at the bottom of the page
Follow the prompts
Wish Provided Me With a Shipping Label—Now What?
In case Wish provides you with a shipping label to return the item, this is what you need to do:
Print the shipping label
Pack the item carefully and affix the shipping label
Drop off the package at your nearest post office
If you are returning multiple items, you need a shipping label for each and should pack them separately.
Easy Breezy Returns With DoNotPay
The Wish return policy is complicated, with a lot of restrictions and unclear instructions. You have already paid—why bother with long exchanges with customer support if the purchased item didn't live up to your expectations? To protect your consumer rights and your time, you can use DoNotPay to return your item to Wish. The process is simple:
Open DoNotPay in your web browser and sign up
Select Item Return Request
Answer the chatbot's questions about the date, location, and method of purchase
Include photos of the item, verify your information, and submit the request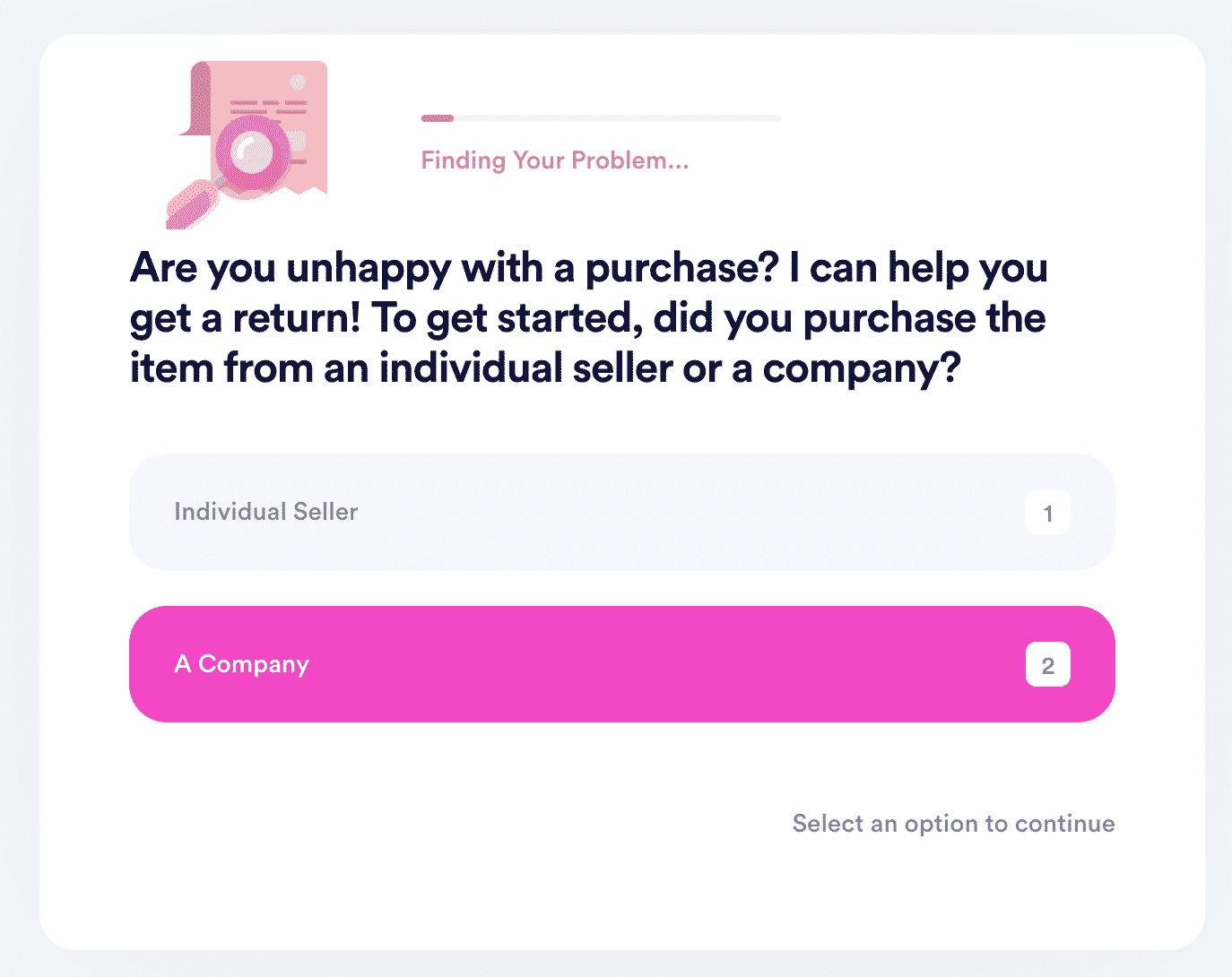 Based on your input, DoNotPay will create a return letter and mail it to Wish automatically, indicating the deadline for processing your request. Our app will also generate a shipping label, so you don't need to pay additional charges.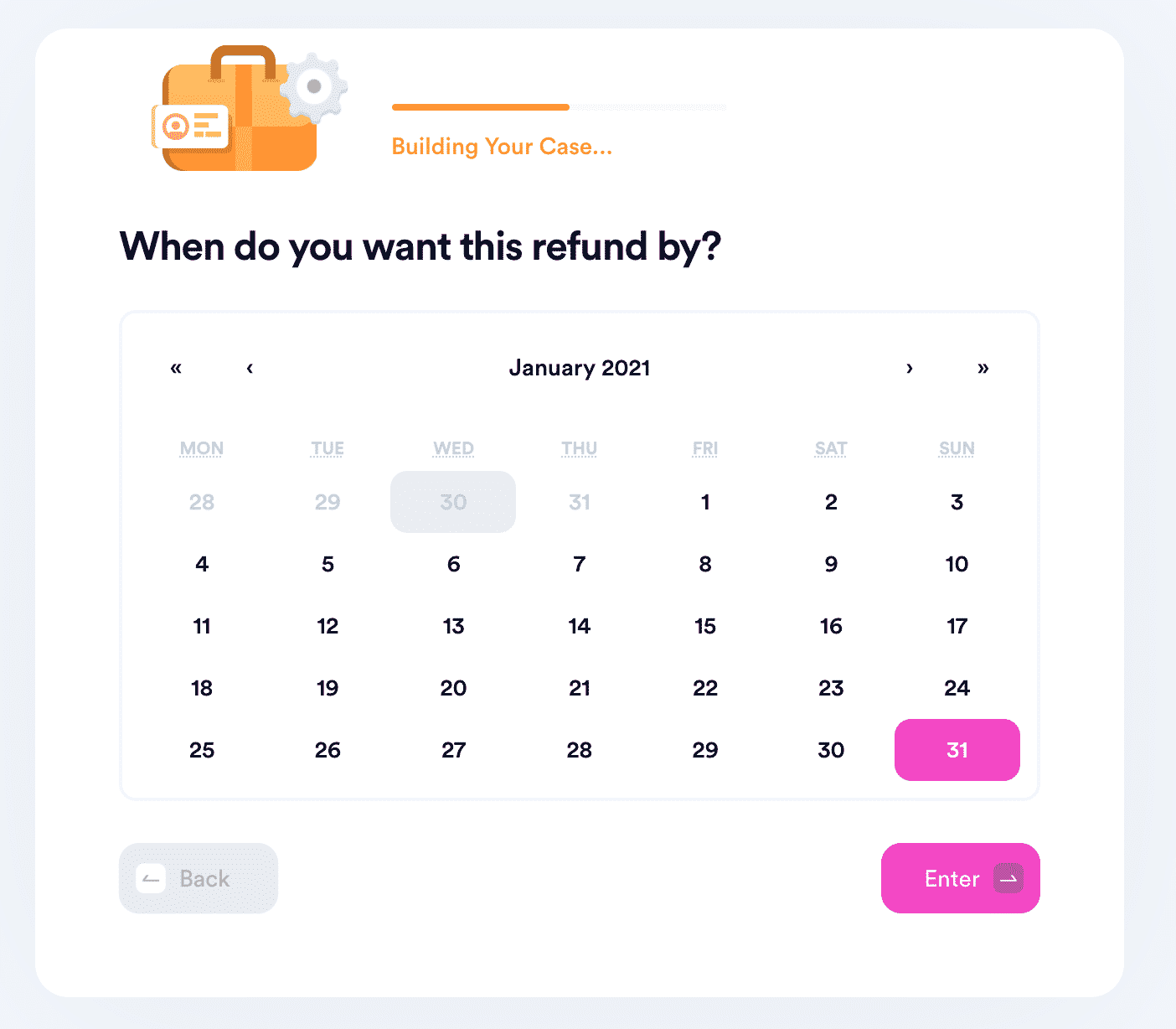 DoNotPay can help with returning items to other companies, including:
Is Wish Being Too Difficult? Sue Them!
If you are unsatisfied with how Wish handled your return case, DoNotPay can help. You can use our app to sue any company that doesn't respect your consumer rights in small claims court.
DoNotPay can save you from the stress of finding a lawyer, paying exorbitant legal fees, and filling out paperwork. Filing your official complaint, gathering the necessary documents, and preparing for a court appearance are now straightforward tasks, thanks to DoNotPay.
Want To Save Money and Avoid Bad Purchases? Look No Further!
Aside from helping you send a return request to any company, DoNotPay can also assist you in getting a refund in a flash! We can also help you request a refund for any late, missing, or damaged delivery.
Do you want to stop wasting your money on useless services? Our app can help you cancel them and provide you with a virtual credit card that terminates free trials before companies get to charge you!
If you want to discover some forgotten assets you may have, we can help you find them in just a couple of minutes. With DoNotPay, you can both save money and earn it!
Once you sign up, you can report text and email spammers, annoying robocalls, and real-life stalkers and harassers and earn off them. We can also help you sue any company or individual in small claims court if you feel like they did you dirty.
Getting Rid of Bureaucratic Procedures Has Never Been Easier
The process of composing a return request letter is tiring, which is why you should turn to DoNotPay for help. Our app will assist you if you want to avoid similar bureaucratic hassles, such as:
Sign up for DoNotPay to utilize all of our nifty products!