Best Buy Burner Phones: To Buy or Not To Buy?
Aside from spies and criminals, regular people purchase burner phones, too. With the growing issues regarding online privacy, 80% of Americans feel worried and turn to various solutions to protect their real phone numbers. Best Buy burner phones could be your ticket to a safer online experience.
We'll give you a rundown on Best Buy burner phones and suggest other ways to evade invasions of privacy.
What
Burner Phones
at
Best Buy
Are the Best To Buy?
A burner phone used to be a cell phone you buy at a convenience store with cash, and it eventually expires or burns. Major telecommunications companies and different shops, like Best Buy, still sell burner phones, which are essentially prepaid phones.
You can purchase them without a contract, pay in cash, and leave no trace of your personal information. Some prepaid phones come with a SIM card or are locked for a specific carrier; for others, you have to buy a SIM card separately.
Check out some of the best prepaid phones available at Best Buy:
Why Is Purchasing a
Best Buy Burner Phone
a Good Idea?
A burner phone can be useful when you want to keep your number to yourself but need a backup for business, strangers, or online platforms. Here are a few benefits of having a burner phone:
The Benefits and Drawbacks of
Best Buy Temp Phones
Before you decide to spend money on a Best Buy prepaid phone, you should consider its pros and cons:
Benefits
Drawbacks

You don't have to sign a contract

It is not linked to your main phone

You can use it when traveling or posting ads

It could be expensive

The phone doesn't protect you from spam

You would have another phone to manage
How To Purchase a
Burner Phone
at
Best Buy
If you want to buy a prepaid phone at Best Buy, you can do so online:
Choose a phone you like

Click on

Add to Cart

Tap on

Buy This Device

Choose between the option to ship or pick up at the nearest store

Click on

Checkout

or

PayPal Checkout

Finish the purchase
You can always go to the store and pay in cash if you don't want to use your credit card or PayPal.
Where Else Can I Find Burner Phones?
Best Buy is not the only place that sells burner phones. You can also get them in these shops:
Alternatives to Burner Phones
Depending on your situation, a burner phone might not be the best solution. Consider other options that provide you with a fake phone number:
Option
Pros
Cons

Not buying an additional device

Having multiple phone numbers

Signing up for services with a fake number

These apps could be expensive

Many companies block them

A fake number app requires your real phone number

They don't block unwanted calls and texts but reroute them to your real number

Someone else's phone

This could be a good idea if you need a quick solution

It will work for phone verification if the number isn't already registered

You get access to a person's private number

This person will receive calls and messages meant for you

It's free and easy to use

Google Voice can give you a number in the area of your choice

It is not reliable

Most services will block the number

Google Voice needs your number to sign you up
You Don't Need a Burner Phone if You Have DoNotPay

If all you need is a temporary phone number to bypass phone verification, forget about shady apps and unnecessary devices—DoNotPay is the best way to go!
Our AI-powered technology will provide you with a reliable fake number you can use momentarily and verify your account on any website.
Follow these steps to get a number and code for your phone verification:
Visit DoNotPay in a

Find the

Burner Phone

feature

Enter the name of the service or company requesting a phone number

Hit

Create a Temporary Number

Click on

View My Text Message
This message will give you the verification code you should enter to verify your account, whether it's on Twitter, YouTube, Facebook, or another platform. After ten minutes, the number will be deactivated, and you can forget all about it.
Another benefit of DoNotPay's Burner Feature is that you can create multiple phone numbers, one after the other, without any added fees.
DoNotPay's Virtual Credit Card Keeps You Safe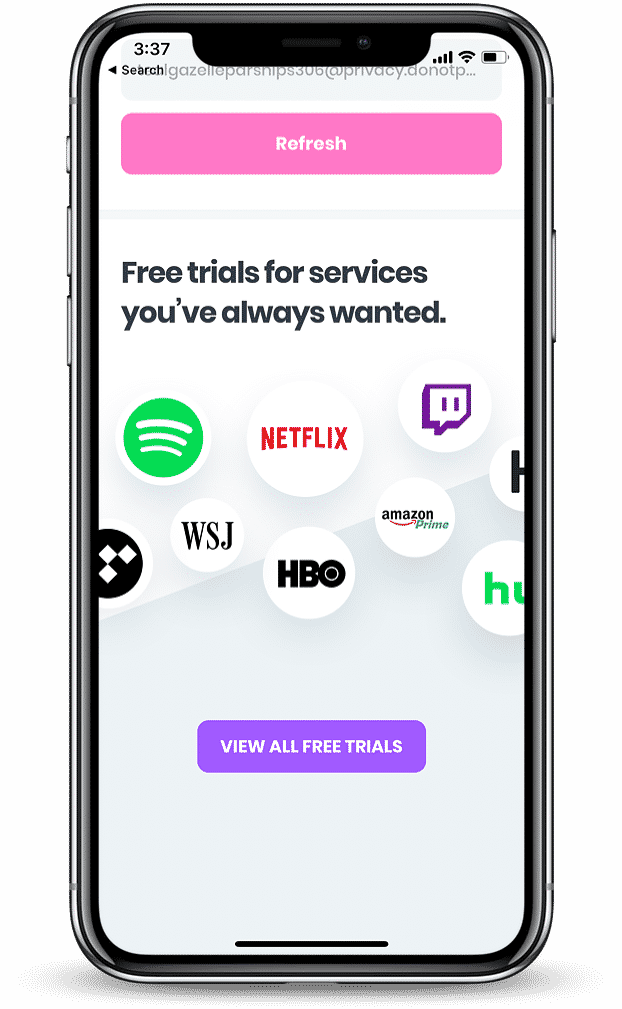 We understand how valuable it is to have the option to keep your personal data to yourself. Data protection is especially important when money is involved. Most companies offer free trials only if the users provide their credit card info.
This gives them leeway to charge you after the trial expires or you forget to cancel it. One of DoNotPay's missions is to fight this money-grabbing practice and protect consumers. How?
Our virtual credit card generator will fabricate a virtual credit card with no deposit you can use to sign up for free trials safely.
This free virtual credit card comes with a fake name and email address, so you can rest assured none of your personal details will be revealed. Once a company tries to take money off your account, it will realize this is not possible and cancel your subscription immediately.
When Best Buy Isn't the Best
DoNotPay knows the best way to deal with Best Buy. Whether you want to understand Best Buy's refund policy or unsubscribe from Best Buy emails, we are here to assist you!
Say Goodbye to Tiresome Tasks With DoNotPay

Offering Best Buy solutions and providing fake phone numbers aren't the only strings to our bow. DoNotPay's scope of expertise is versatile and is sure to help you with big and small problems alike.
If you visit DoNotPay in a , you'll access our vast knowledge base. Turn to us next time you want to:
Appeal your traffic tickets

Fight your speeding tickets