Banned From a Discord Server? Check Out This First-Rate Solution!
Did you get banned from a Discord server? In case you're having issues joining one of the servers you're a member of, this might mean that a platform administrator banned you. If you suddenly can't access your Discord account or any of your chats, it may be a sign of a banned or suspended account.
Don't worry—if you don't know how to approach this problem, DoNotPay is here to help you get unbanned.
to speed up and simplify the unbanning procedure and regain full Discord access in a split second.
Types of Discord Bans
Discord has two types of bans you can get from two different security layers:
Server ban—Users' behavior in a community on one server is regulated by server moderators. These are often people who created the community, so they have the power to either kick you out or ban you from the server. Members who are kicked out can ask to be reintroduced to the community. Banned members are IP banned and can only get unbanned from the server by submitting an appeal
Platform ban—Discord's Trust and Safety Team is in charge of assigning these bans. They make sure everyone's using the platform in accordance with the Terms of Use. Depending on the level of misconduct, they can place different level bans on accounts. You will know you've been banned from Discord if you can't access your account and you've already received a warning about problematic behavior
For Which Mistakes Can You Get Banned on Discord?
Moderators have the right to decide if you're being disruptive and deserve to be banned.
The primary rules to follow in each chat are Terms of Service, which means avoiding:
Using the platform to disseminate information that isn't in line with Community Guidelines
Mocking, ridiculing, libeling, threatening, stalking, harassing, intimidating, or abusing anyone, especially based on their race, gender, religion, nationality, sexual orientation, etc.
Being involved in fraudulent or illegal activities that are harmful to other users or the platform
Sharing files that contain viruses, worms, cancelbots, corrupted data, or any other form of malware that might cause damage to the platform's operation or other users' devices
Violating personal, intellectual, or contractual property rights of any party, including sharing the information made available through the platform and in a manner that infringes any party's copyright, trademark, or patent rights
Trying to collect other users' personal data
Using support channels and complaint buttons to make false claims and baseless reports
Developing, distributing, or informing other members of any "auto," "macro," or "cheat" software or application that violates the applicable license agreement
Exploiting any bug within a game to gain an unfair advantage or informing other users of its existence
Violating any applicable laws and regulations
Promoting or encouraging activities such as hacking or distribution of compromised accounts, counterfeit software, or various Discord cheats or hacks
There are also additional server community rules that each owner should establish and state clearly. All rules should be set with the aim of creating a safe and friendly environment where it is prohibited to display any toxic behavior, such as:
Spamming
Trolling
Deliberately bringing a server down (raiding)
Anyone breaking any of these rules can be kicked out or banned from a server.
Got IP Banned From a Discord Server?—Here's How To Appeal That Ban
Server community members who got kicked out can ask to join the same server again whenever they want. The users who are banned from a server face an IP ban, and the only way to solve this issue is to file an appeal.
Appeal filing system differs from server to server and can usually be conducted via:
Email—Look for an email address such as appeals@serverdomain.com and send your polite and detailed appeal explaining why you don't deserve the ban
Discord bot—Some servers allow you to send a direct message to the bot to create a ban appeal
Online form—The owners of smaller servers find it convenient to use an online survey form (such as Google Forms) for appeal purposes
Do you believe that the only reason behind your ban from a server was some sort of discrimination (based on race, nationality, sexual orientation, etc.)? In this case, follow these steps to send a complaint directly to Discord support to appeal this restriction:
Go to Discord's Help Center
Click Submit a request in the upper right corner of the screen
Choose Trust & Safety under What can we help you with?
Fill out the rest of the form
Click the Submit button
Note that you might have to wait for the support team's reply for some time since they are often overwhelmed with different requests and inquiries. Keep in mind that you'll need concrete proof that the discrimination occurred on the server and strong arguments to support your appeal. Another point you may want to consider is whether you truly want to go back to the server where you were discriminated against and bullied.
Don't Stay Banned From Discord Indefinitely! Rely on DoNotPay To Restore Your Access Now!
DoNotPay has a more efficient way for you to initiate an access recovery process. and use the Unban My Account feature to create and send an urgent complaint letter to Discord. This way, you can appeal your suspension or ban with no effort or time wasted.
Here's how it works:
Type in the name of the platform you're struggling with
Give us some account details:

Account ID
Email/phone number connected to it
Your physical address (so we can send a hard copy of the letter to the company)
The date when you got suspended

Describe the discrimination concerns you have and specify the state- or federal-protected class you fall under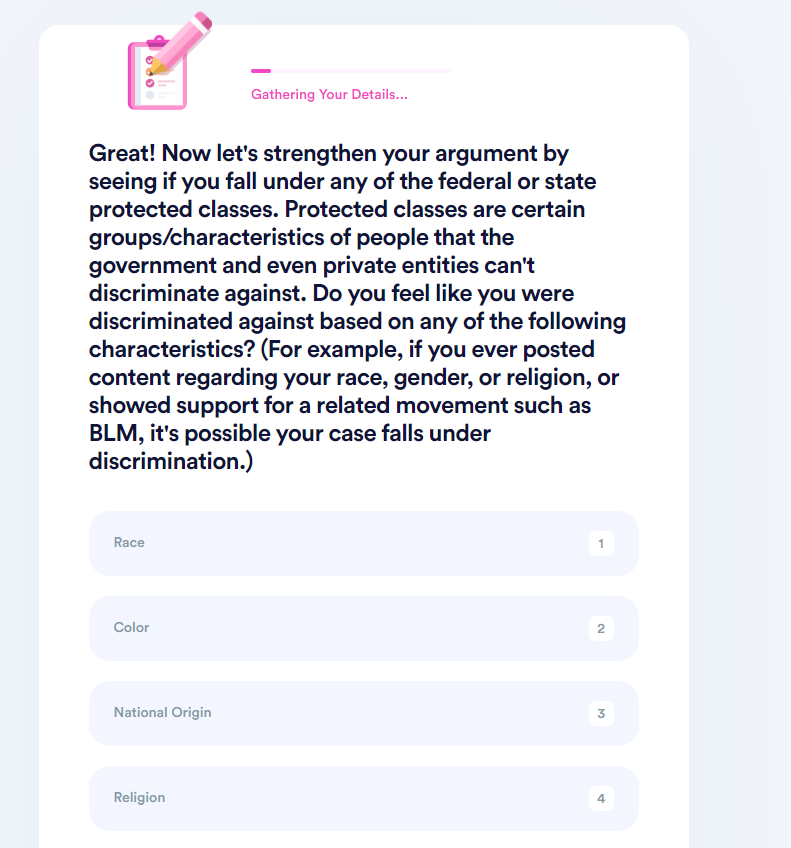 DoNotPay will use this data to create a personalized demand letter that it will send to the company, giving the support team two weeks to respond. This way, we'll drive them to see your case as a priority and conduct a fast but thorough analysis. If your discrimination concerns are based on undeniably problematic server owner/admin behavior, you will have your server access reinstated.
In addition to Discord, there are other VoIP services, such as TeamSpeak, that DoNotPay can help you with.
DoNotPay Facilitates the Unbanning Process for Numerous Different Platforms
VoIP platforms are a fraction of online services with which DoNotPay can help you. We also help you get unbanned from streaming platforms, social media, forums, and various other services.
Check out the table below for service examples:
Another DoNotPay's feature—Unban Gaming Account—is designed to assist you with login issues on gaming platforms, including:
DoNotPay Is Committed to Solving All Kinds of Problems for You
Are you lost in the sea of administrative tasks? By subscribing to DoNotPay, you gain access to many products and features that can assist you in:
Check Out What Our Robot Lawyer Can Do for You
Not too skilled at drafting contracts and agreements? Keep calm and let DoNotPay, your virtual assistant, do it for you! Our app can generate various legal documents, including divorce settlement agreements, child travel consent forms, and powers of attorney. All it takes is to click a few times or answer several quick questions—we do all the rest!
Besides providing personalized documents, DoNotPay takes over other tiresome legal tasks. These include having your documents notarized, filing lawsuits in small claims court, requesting crime victims' compensation, or submitting HR complaints.