How To Get Unbanned From TeamSpeak the Easy Way
Are you blocked from accessing a TeamSpeak server? If you cannot use TeamSpeak anymore because of the admin's decision, you can still find a way to get unbanned. We have gathered all the tips and tricks to teach you how to get unbanned from TeamSpeak in a flash.
This Is Why You Can't Access a TeamSpeak Server
You can be banned from any TeamSpeak server for various reasons. Sometimes a ban may result from violating the particular server's rules or happen by mistake even. You can confirm the details of your case by checking the ban notification you receive.
If you are unable to access a TeamSpeak server, these are the probable causes:
You were banned by the admin for going against the channel's rules, or there are personal differences between you and the admin
TeamSpeak is not available in your current region
You are using a banned IP address
TeamSpeak has a bug
How To Get Unbanned From Any TeamSpeak Server
If you want to regain your access to a TeamSpeak server, here are the ways how to do it:
Resolve the issue with the server's admin
Use a virtual private network (VPN)
Talk to the TeamSpeak support
Resolve the Issue With the Server's Admin
Most bans are issued by server administrators. In such cases, they have the right to uphold their ban decision or unban you. You can reach out to the particular server's admin and convince them to unban you. Be polite and respectful in your communication for a favorable response. If it was your mistake, be apologetic.
If it's a temporary ban, you can wait for the ban to expire.
The admin has to delete all bans with your unique ID (UID), IP address, and client name. If any of these is not removed, you won't have access to the server. In case this approach doesn't work out, you can try using a VPN.
Use a Virtual Private Network (VPN)
If you want to bypass the TeamSpeak permanent ban on your own, you need to use a VPN. Server admins usually utilize IP blocking to ban users from their servers. When you use a VPN, you get a different IP address, and that's how you bypass the TeamSpeak server ban. Be aware that some server admins use anti-VPN plugins which can detect and block you from accessing the server.
You have to carefully choose a VPN that is proven to work on TeamSpeak. To proceed with this method, use these steps:
Delete your TeamSpeak product ID online— make sure you record it somewhere in case you need it in the future
Turn on your VPN
Create a new ID on TeamSpeak and make it default—you can do that by following these steps:

Locate Settings
Go to Identities
Click Add

Connect to the server
Many users reported that this method was successful for them. You can use it if you are banned by the server admin, your IP is accidentally blocked, or you reside in a region where TeamSpeak is not available.
Talk to the TeamSpeak Support
Even if you are unbanned by the server admin, you won't have access if there is a bug on TeamSpeak's side. The best solution is to inform their support team right away. Follow these steps to contact TeamSpeak's support:
Visit the TeamSpeak website
Click on the Help button at the bottom right corner
Type anything in the search bar that pops up
Hit Enter
Click the Leave us a message button
Type your email address
Select the relevant request type
Describe the issue in detail under How can we help you
Add any relevant attachments
Click Send
TeamSpeak's support will contact you using the email address you entered when filling out the form.
How To Get Your Accounts Unbanned Using DoNotPay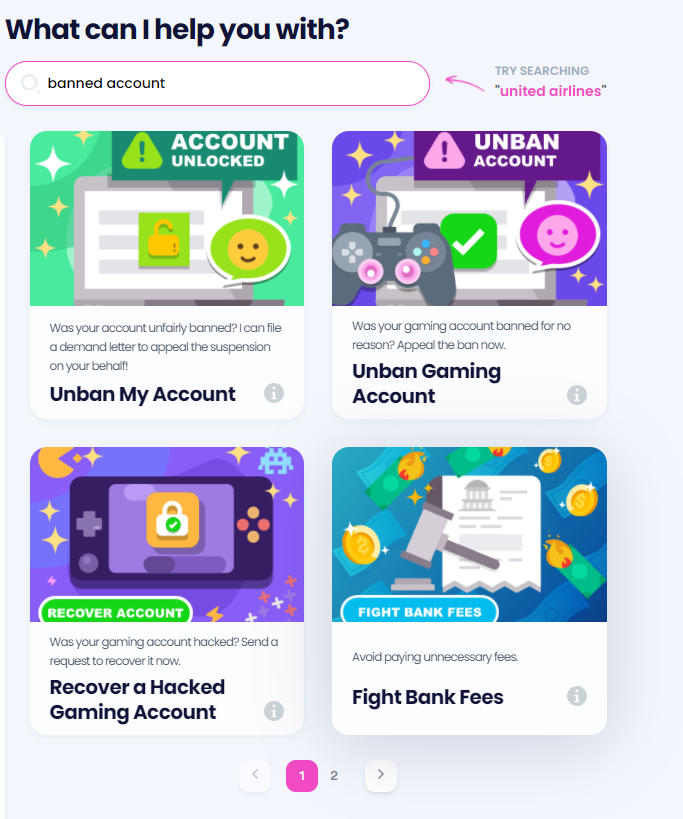 Banned or suspended accounts are a real nuisance. DoNotPay—the world's first robot lawyer app—can help you recover your account by gathering the details of your case and creating a no-nonsense appeal letter for you.
If you believe that your ban resulted from any form of discrimination—based on your color, race, sex, religion, national origin, veteran status, or disability—DoNotPay can help you tackle the issue with the company.
To use our service, follow these steps:
Find the Unban My Account tool
Answer a few basic questions about your banned or suspended account
Click Sign and Submit
Once the letter is generated, we will send it to the company right away. The company will have two weeks to look into your case and contact you with its decision. If you're struggling with bans on other VoIP platforms—for example, Discord—get the info on how to deal with this issue in our learning center!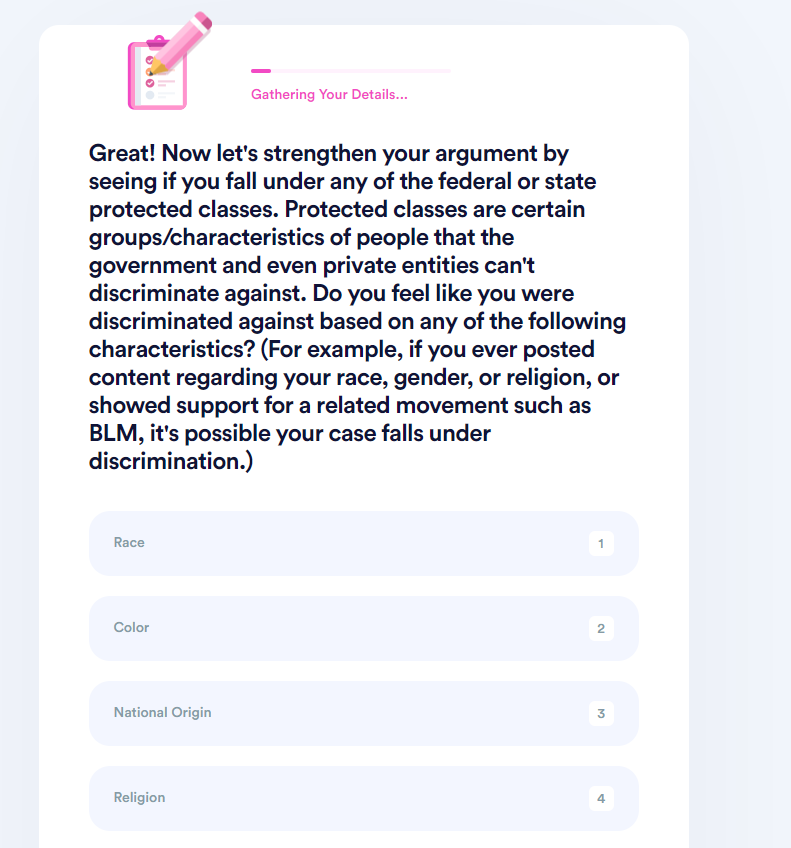 Recover Your Suspended or Banned Accounts From Any Platform
Getting unbanned or unsuspended has never been this fast and easy. Whether you are banned from social media platforms, gaming accounts, e-commerce sites, or any other platform, you can rely on DoNotPay.
Subscribe to DoNotPay and appeal any suspension or ban on the go. We recommend using our tools to appeal the original account suspension or ban decision only. If the company has responded to your initial request, sending another one probably won't change their decision.
Below are other account ban and suspension guides that you may find useful:
Our App Solves Your Legal Issues!
Do you really have to set aside astronomical amounts to pay lawyers for drafting legal documents or taking a person or business to small claims court?
The answer is no—all the cash remains in your pocket, thanks to DoNotPay! From now on, you can perform many legal tasks from home with the help of our app. It enables you to create flawless powers of attorney, divorce settlement agreements, and child travel consent forms in a snap.
That's not all—once we generate these documents for you, we also help you have them notarized via a video meeting. No need to waste your time and fuel visiting notary offices.
Check Out Other Perks DoNotPay Offers!
DoNotPay provides a wide selection of services, from creating virtual credit cards and burner phone numbers to getting refunds from companies and canceling subscriptions. Have you received an unfair parking ticket? Appeal it with our app before you know it! Are email spam and robocalls making your life a living hell? No scammer stands a chance against our efficient AI-powered tools and features!
We also work in your favor when it comes to safety. Our app offers perfect ways to prevent copyright infringement, stalking and harassment, work discrimination, sex offenses, and disputes with annoying neighbors.