At Home Return Policy in a Nutshell
Choosing where to buy home decorations and other merchandise can be tricky. These items are often fragile and can get damaged during transport. Another issue that you need to think about is whether the colors and sizes will match the rest of your home decor.
In case your purchase doesn't go well, DoNotPay is here to provide you with the details on the At Home return policy. Our app also gives you an opportunity to simplify and speed up the return process.
If you , DoNotPay will be able to help you navigate the return policies of many other companies. This long list includes home arrangement brands, such as Bed Bath & Beyond and Home Depot.
The Main Points of the At Home Return Policy
When it comes to the At Home return policy, the company website doesn't provide any clear instructions.
One of the main conditions At Home points out is that your item needs to be in the original box to be eligible for a return. It also has to be unused and unaltered.
Some additional return requirements are as follows:
For Insider Perks members:

You've got 90 days from the purchase to return a product
At Home returns without receipts are possible if you have proof of purchase on your Insider Perks account

For other buyers:

You have a 60-day window to return a product
You need proof of purchase—a receipt from a store or credit card payment confirmation receipt
The only info about the return methods concerns products delivered through the At Home delivery partner—PICKUP. These items can only be returned to a store.
At Home Return Policy—Refund and Exchange Particulars
In case you tick off all the conditions that the At Home return policy requires, you should receive a full refund for your item. If you cannot provide any type of proof of purchase, the company will offer store credit, which will correspond to the item's price at the moment of the return.
The At Home return policy states that different return rules apply to certain item groups:
Christmas-themed products returned after December 25 can only be refunded for the price valid at the moment of the return
Mattresses aren't eligible for returns or exchanges
Sales Final products can't be returned or exchanged
Return a Damaged At Home Product Without a Hitch Through DoNotPay!
Are you wondering whether your return request will be accepted? Does your experience tell you that something must go wrong and prolong the waiting period?
DoNotPay can save you all this trouble. We smoothen the whole return process and speed up the refund payout. Here's how it works:
Find Item Return Request
Respond to several questions about your item
Click Submit to send the request
The info you provide us with is detailed enough for DoNotPay to create a tailor-made return request letter.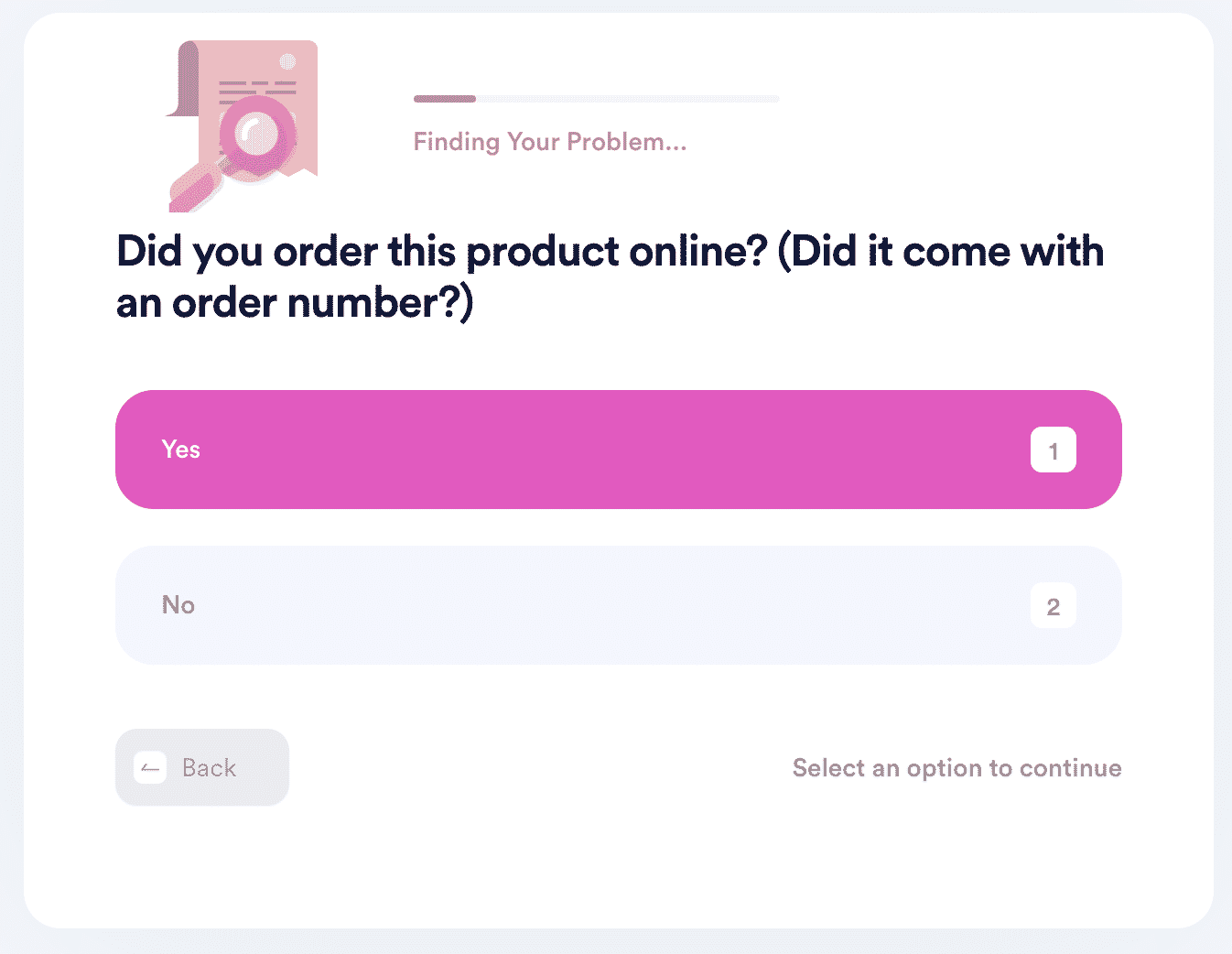 When it comes to refunds, our app allows you to set a deadline for At Home. This should speed up the processing of your return request and the payout process.
We will also provide you with a free shipping label! All you need to do is let us know that you need one.
You can also rely on our app as your digital assistant for requesting returns and refunds from many other large merchants. You can find some of them in the table below.
DoNotPay Helps You Demand a Refund for Your At Home Item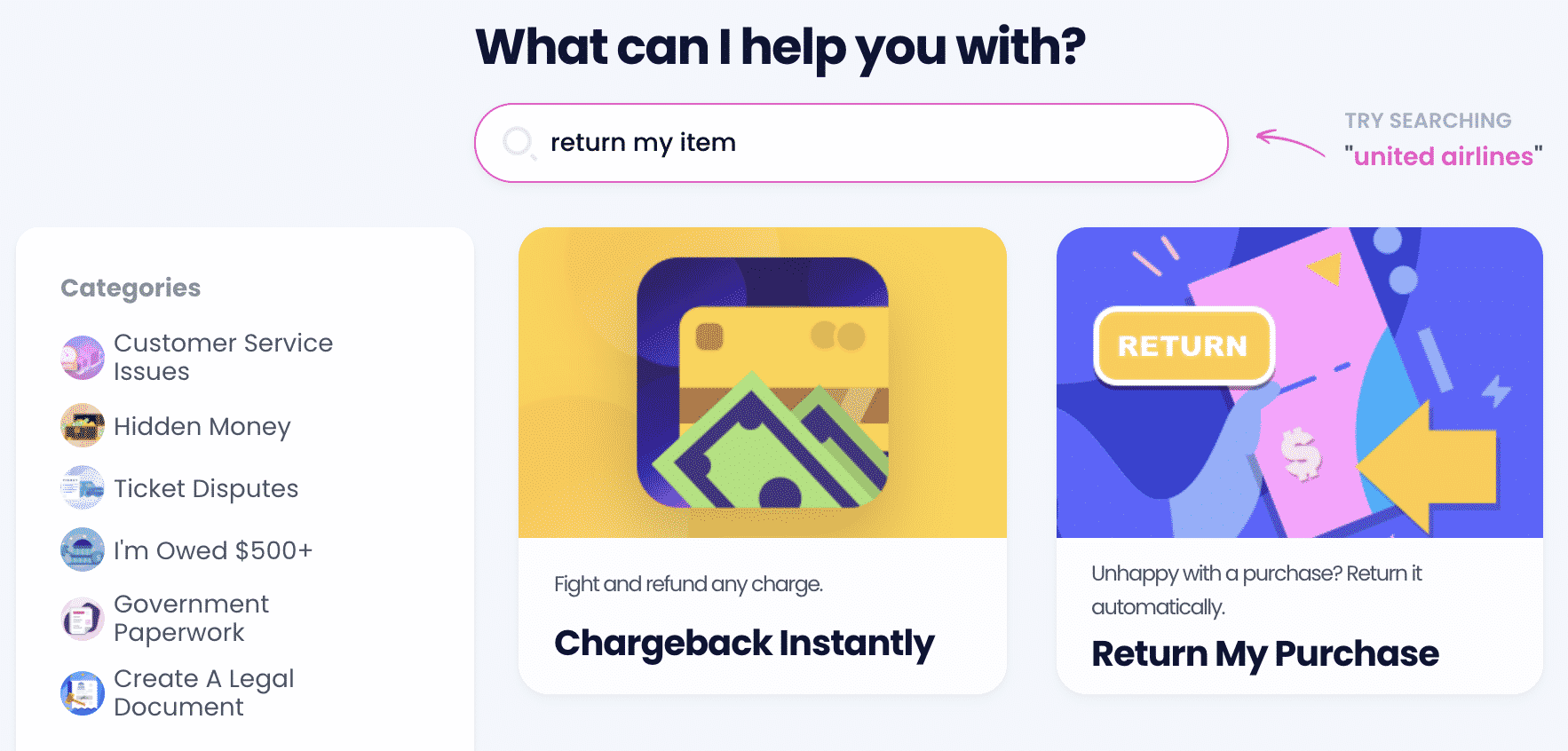 In case you wish to claim your refund from At Home in a simple way, DoNotPay is here to help. We can complete everything fast by collecting all the necessary information and sending it to At Home. Here are all the steps you need to take:
Look for the File a Chargeback option
Click on Get Protected
Answer a few of our chatbot's questions
Click on Sign and Submit
Do You Feel Tricked by At Home? Sue Them in Small Claims Court With DoNotPay's Support!
DoNotPay has many more features to offer! Besides being your personal refund assistant, it's also the world's first robot lawyer recognized by the American Bar Association. In case you feel like At Home has wronged you, our app can help you sue it in small claims court.
DoNotPay can go through the following steps in your stead:
Writing a demand letter
Filling out all court forms
Gathering the necessary paperwork
Filing your complaint
Creating a script with the most suitable argumentation you should use in court
Returned Your Faulty Item? Discover Other Nifty DoNotPay Products!
Apart from being your shortcut through returning your faulty items to merchants, our app can do so much more! From helping you request a refund, get extended warranties, file insurance claims, and find clinical trials in your vicinity to assisting you in creating legal documents, getting them notarized, and faxing them—DoNotPay can do it all.
Do you think you're eligible for a victims of crime compensation program? Our app can help you apply for it. Do you want to get revenge on persistent robocalls, report someone for stalking or harassment, or get your noisy neighbors to be quieter? We got your back!
You Don't Have To Waste Time in Endless Lines
Returning an item may require you to wait in endless lines, but if you sign up for our AI-driven app, you will be able to skip all kinds of queues! You won't have to spend ages waiting in lines at the DMV or in customer support phone queues because DoNotPay will provide an easier way to get what you need.
If you want to skip the hassle of waiting on the phone when canceling a service, requesting refunds or compensation from airlines, requesting a college fee waiver, or connecting with a loved one in prison, you can count on DoNotPay to provide easy solutions.