The Ultimate Rundown of the Zulily Return Policy
Are you regretting that late-night impulse purchase from Zulily? The online retailer doesn't make it easy for customers to send back unwanted or damaged goods. If you don't want to end up a modern-day Sisyphus, .
Our overview of the Zulily return policy and our return service will make sure you don't come away empty-handed. Find out which items are eligible for returns and what the best way to initiate the process is with our helpful guide.
The Zulily Return Policy in Short
If you're unhappy with an item you bought on Zulily, you have 30 days after receiving it to initiate the return. The Zulily return policy requires you to cover all shipping costs, including handling fees (packaging, restocking, labor, materials, etc.).
Since Zulily calculates the return fees in advance, you'll be able to factor in the full cost before you place the order. The total sum will differ depending on the number of products you wish to return:
| Number of Items | Return Fee Total |
| --- | --- |
| 1 | $4.95 |
| 2–5 | $8.95 |
| 6–10 | $17.90 |
The Zulily return policy states that customers who used PayPal for their purchases can ask for a reimbursement for the return fees. If you're eligible, PayPal will take on some of the shipping costs. For further information, consult the PayPay Return Shipping on Us program.
Following the Zulily return policy, your return request will be declined if the item is:
Damaged or altered in any way
Used or worn
Washed
Missing the original box and manufacturing tags
Not shipped with all the accessories and warranty cards
Only customers who reside in the United States can request returns, regardless of the circumstances.
How To Return a Product Bought on Zulily
You can start a return by following these steps:
Sign in to your Zulily account
Go to the My Orders page
Find the item you wish to return and click on it
Print out the shipping label
Make sure the product is packed safely and the return label is visible
Take the package to the nearest USPS drop off location
If you have misplaced your return label, you can print out a new copy:
By opening the link attached to the return email from Zulily
Via your My Orders page
You don't have to purchase a USPS box for the return shipment. You're free to use the original packaging if you deem it sturdy enough.
How To Return Damaged Zulily Products
If the item you purchased was damaged upon arrival, you should contact Zulily's customer service right away. You can do so:
Via email at: service@zulily.com
By calling this number: (877) 779-5615
Are There Any Non-Returnable Zulily Items?
Some Zulily items are entirely non-returnable and non-refundable once you remove them from the packaging. You can check whether the product you wish to order falls under that category in a few clicks:
Go to your My Orders page
Click on the item that caught your eye
Read the product details section
Here are some of the items that are considered final sale:
Swimwear
Food items
Makeup and cosmetics
Products for personal hygiene
Furniture
Certain electronic items
Lingerie and intimate apparel
Personalized items
Infant care items (e.g., nappies)
Need Help Formulating a Return Request Letter? DoNotPay Has the Answer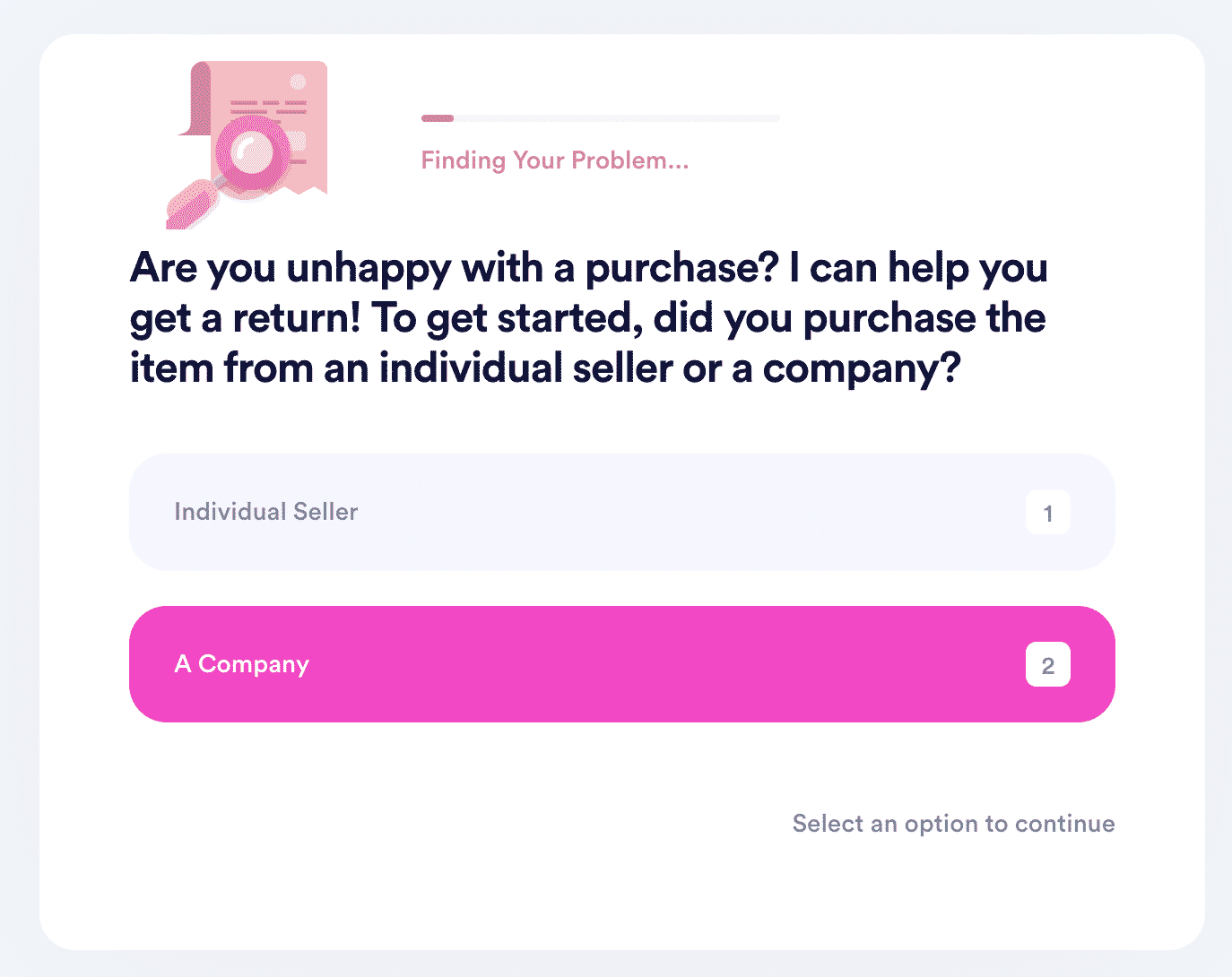 If the Zulily return policy seems overwhelming, don't throw in the towel yet. Our highly advanced, AI-operated app can act as a mediator between you and the e-commerce company.
With DoNotPay, you'll be able to formulate an incontestable return request letter and get the reimbursement you desire. The submission process is simple, thanks to the user-friendly Item Return Request feature.
Here's how to get started:
Click on the Item Return Request product
Answer a few questions and upload photos of the item if necessary
Turn in your request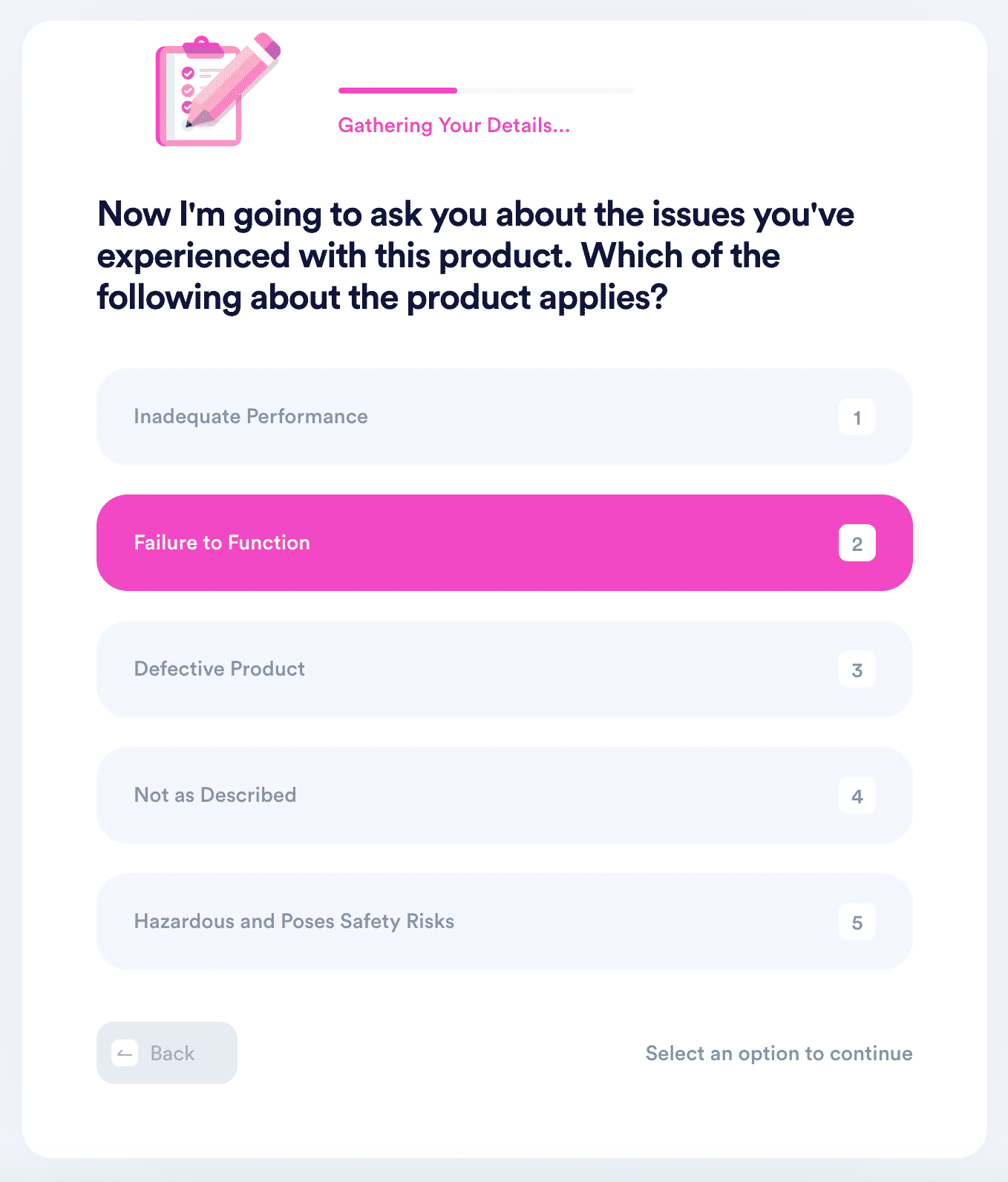 DoNotPay is designed to make the whole process as quick and painless as possible. Apart from the return request, Zulily will also receive a deadline for the assessment. Instead of dawdling, the company will have to process your letter by the specified date.
You can rely on DoNotPay to advocate for your cause when dealing with other businesses as well. Take a look at our reviews of the return and exchange procedures in the following companies:
What Is Zulily's Refund Policy?
Regardless of the original payment method, Zulily reimburses unsatisfied customers with store credit. The amount is transferred directly to your Zulily account, and you can access the balance by going to the Invites and Credits page. Every time you check out, Zulily will automatically process your remaining store credit, except during checkouts made via PayPal Express.
You are eligible for a refund if you purchased the item with a Zulily credit card. The money will be deposited into your Zulily credit card account.
For Smart-pay purchases, Zulily will continue the billing until the return shipment has arrived at their warehouse.
DoNotPay Is a Master at Getting What's Rightfully Yours
Are you dealing with a company that refuses to approve your return? Once we submit a refund request in your stead, we can also prepare all the paperwork you need to sue the merchant in small claims court and win your case.
Need a legal document for the lawsuit? Draw it up with our handy tool. Want to get any document notarized and fax it to someone? We have products that can do that for you as well.
Has an airline rescheduled your flight, or is your package damaged or missing? Demand compensation with DoNotPay!
Do you believe that you may have some unclaimed assets? Count on us to find and get them for you.
It Doesn't End There!
Use DoNotPay whenever you need to tackle any sort of mundane task. If you're sick of wasting your time in long phone queues or the ones at the DMV, we'll help you skip them. Do you want to apply for a college fee waiver or clinical trial? Are you looking to enter a sweepstake or get a passport photo or a tourist visa? We'll do it all in your stead!
If you want to send a letter of warning to a persistent harasser or loud neighbor or want to get compensation for victims of crime, workplace discrimination, or robocalls, let us know and we'll tackle the issue momentarily.