Check the CVS Gift Card Balance—Get Cash Back Easily With DoNotPay
Do you have a gift card from CVS Pharmacy that you don't use? Why leave it lying around when you can turn the remaining funds into cash in a matter of clicks?
This article explains how to check your CVS gift card balance and get your money back with DoNotPay in a snap. With the help of our app, you'll be able to redeem your used gift cards for cash without having to deal with customer service or fill out unnecessarily long forms.
CVS Gift Cards Explained
You can use CVS gift cards to purchase goods at any of the 7,800 CVS Pharmacy locations across the country. They come loaded with the following amounts:
To use a CVS gift card, you will need to enter the gift card number and its PIN during the checkout. If you don't have enough balance leftover for the purchase, you can pay the rest in cash or with a credit card.
If you lose your gift card or it gets damaged or stolen, you won't be able to get a refund.
How To Perform a CVS Gift Card Balance Check
There are three methods you can use to check your CVS gift card balance:
Online
Via phone
In person
Checking Your CVS Gift Card Balance Online
If you want to check your CVS gift card balance from the comfort of your home, go to the official website and:
Find the Pharmacy section
Scroll to the bottom of the page and click on CVS Pharmacy Gift Cards
Go to Check Balance
Enter your card number and access code
Hit Get Card History
How To Check Your CVS Gift Card Balance via Phone
Do you prefer calling CVS Pharmacy to check your gift card balance? If so, you can do it by:
Dialing 1-800-746-7287
Asking the customer service representative to check your balance
Providing them with the gift card number and PIN
Check Your CVS Gift Card Balance in Person
You can check your CVS gift card balance by going to the nearest CVS Pharmacy store near you. To find one hassle-free, use the company store locator.
Keep in mind that you will have to bring your ID because the cashier will ask you to show it along with the used gift card.
How To Use the Remaining Balance on Your CVS Gift Card
You can spend your remaining balance on various CVS Pharmacy products, such as:
Vitamins
Supplements
Makeup
Batteries and electronics
Clothing and accessories
Laundry supplies
Coffee and numerous other beverages
If you don't have enough money to make your desired purchase, you can wait for a special deal as you can't add funds to CVS Pharmacy gift cards.
Can You Turn Your CVS Gift Card Balance Into Cash?
A CVS gift card is only redeemable for CVS Pharmacy merchandise, which means that you can't get cash for yours unless it's required by state laws. Puerto Rico and 11 states in the U.S. have cash back policies, including:
Massachusetts
Montana
New Jersey
Oregon
Washington
Connecticut
Rhode Island
Vermont
California
Colorado
Maine
In case you're not located in one of these states, you can try some of the alternative methods to get your cash back or . Our Gift Card Cash Back product will help you get your money back in just a few clicks.
Alternative Methods of Getting Cash for Your CVS Gift Card
If you want to turn your gift card into cash, you have several alternative methods. Check the table below for more information:
Method
Details
Sell your gift card
List your gift card on an online marketplace or go to one of the numerous reselling websites and sell your gift card for cash quickly
Exchange your gift card
To exchange your gift card, you will have to:

Find a gift card exchange kiosk
Insert your card into the machine

Once you do that, you just have to wait for the machine to turn your gift card into cash
Note that none of the above-mentioned methods will get you the full value of your gift card, but only a percentage of it.
Use DoNotPay and Redeem Your CVS Gift Card for Cash in a Jiffy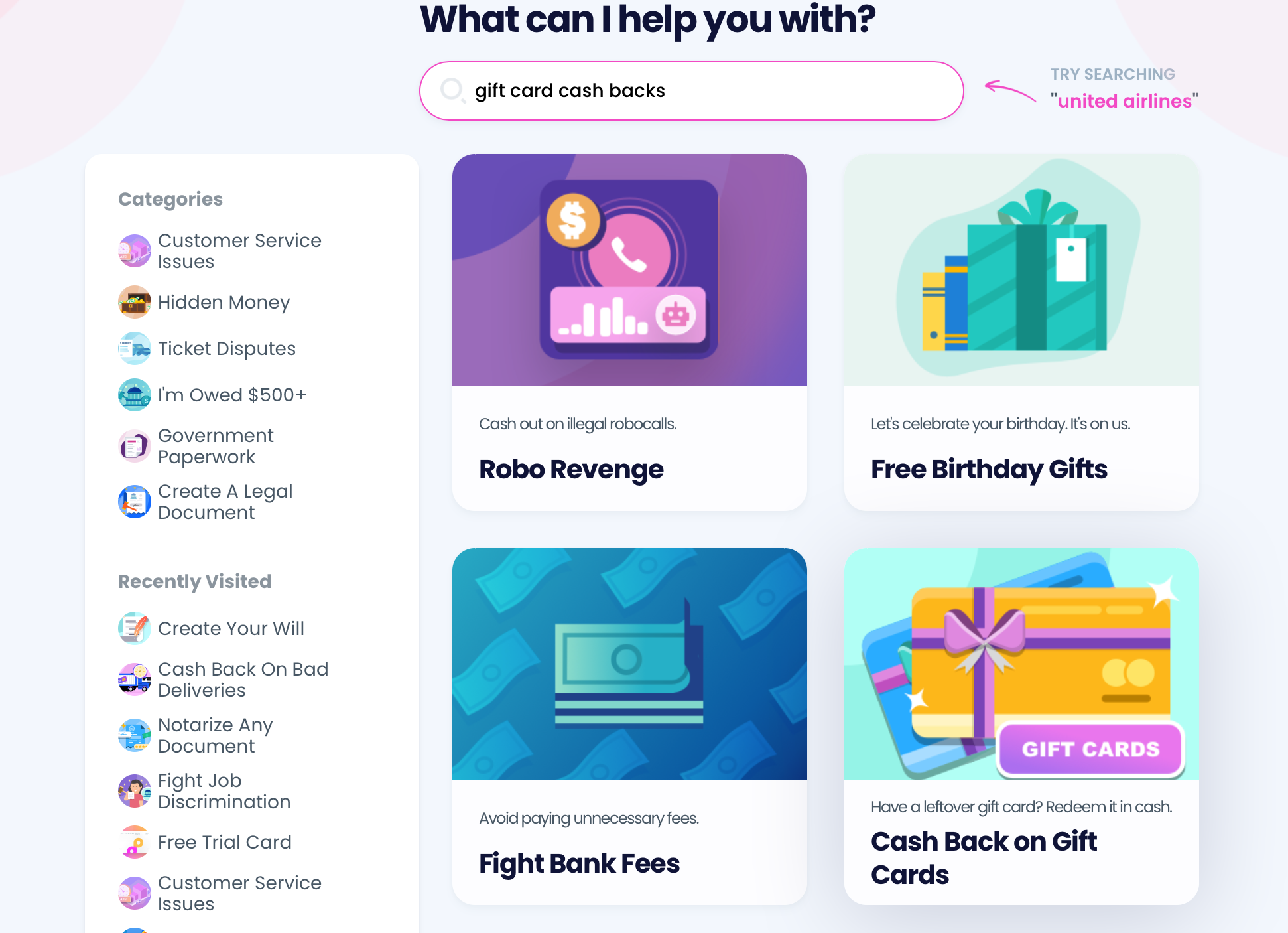 Want to get cash for your gift card without visiting fishy websites, reselling items, or finding exchange kiosks? Use DoNotPay and get your money back in no time! All you need to do is and:
Select our Gift Card Cash Back product
Input the necessary gift card information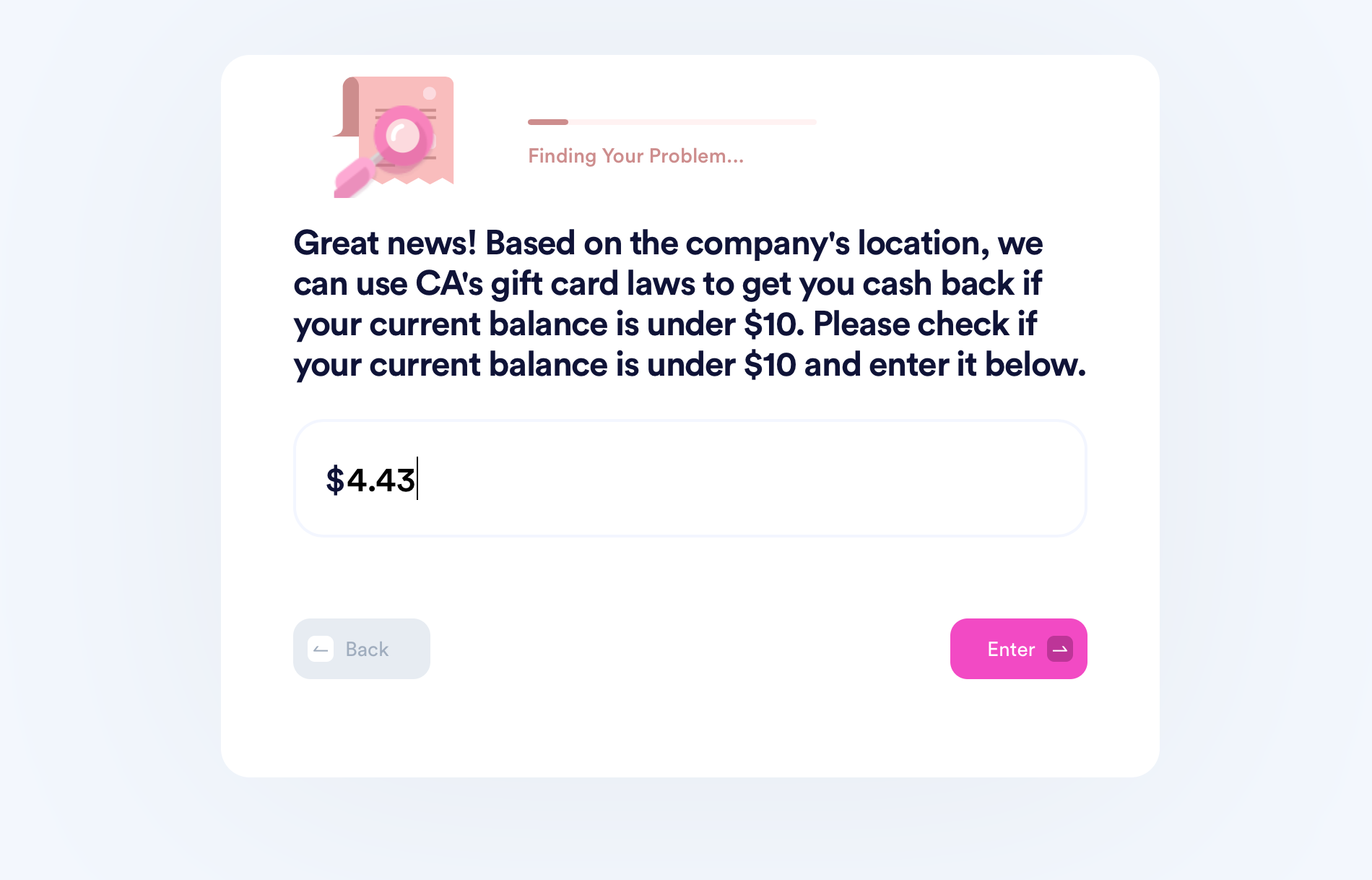 We will automatically send your request to a CVS Pharmacy office located in a cash back state. You should receive your money within 14 business days.
DoNotPay can also help by answering other gift-card-related questions, such as:
We also have articles regarding gift cards from other companies, including:
Rely on DoNotPay To Solve Your Administrative Issues
Getting your documents notarized, drawing up legal paperwork, appealing parking tickets, and similar activities usually require a lot of effort. DoNotPay offers various useful products that can help you deal with administrative problems quickly and save a lot of time. We can assist you with:
Protect Your Consumer Rights With DoNotPay
Companies complicate cancellation and refund processes intentionally, hoping that consumers wouldn't want to spend hours trying to solve the issue they're having. DoNotPay knows how important consumer rights are, and that's why we created numerous products that can help you:
Many people forget to cancel their free trials on time and end up paying for the services they don't even use. To prevent that, DoNotPay has developed a nifty virtual credit card that will allow you to enjoy free trials risk-free. Our virtual credit card will also help you avoid spam email notifications by generating a random email address that you can use when signing up for a free trial.