Gucci Return Policy—Dotting Your I's and Crossing Your T's
Gucci is a global fashion powerhouse that oozes luxury and exclusivity, as shown in its hefty price tags. One mistake while trying to return an item to this high-fashion brand could result in a significant financial loss.
The focus of this guide is to explain the Gucci return policy in detail and help you avoid any mistakes that may cost you money. reduce the possibility of mistakes so that you can initiate your return request with peace of mind.
Here's What the Gucci Return Policy States
The Gucci return policy allows both online and in-store returns. The return window for an online purchase is 30 days—ten days for beauty products or corporate gifts—from the delivery date, while the window for in-store returns is 14 days.
Online purchases can be returned via mail to the address on the prepaid shipping label or any Gucci store, but corporate gifts can only be returned via mail. Customers can return in-store purchases only to the store where the purchase was made.
To return Gucci merchandise, you must meet the following requirements:
All item(s) must be as they were at the moment of purchase—unworn, unused, and unaltered. These items must still have their original tags intact, and lingerie must still have the protection seal
Opened beauty products are not eligible for a return
Jewelry, ready-to-wear items, sunglasses, and watches must be shipped with a return tag. If the tag breaks, they are no longer returnable
Made to order and customized items cannot be returned
Returning an Online Purchase by Mail
To return items purchased online via mail, take the following steps:
Place the item(s) back in the original packaging
Print out the invoice in your shipping confirmation email and place it in the box
Note the items you are returning as well as the reason you are returning them
Paste the prepaid shipping label on the package and drop it off at the nearest FedEx location
Take note of your tracking number on the shipping label—you can use it to track your return
Gucci is not obligated to refund or compensate you if:
Your return gets lost, mishandled, or damaged before you drop it off at a FedEx location
You don't use the prepaid label provided by Gucci
If you can't find the prepaid label in your original order, you can contact Gucci's Client Advisors to sort this out:
Contact Method
Instructions
Phone
Call 877-482-2430. Service hours are Monday through Saturday, 9 a.m. to 11 p.m. EST, and Sundays from 10 a.m. to 9 p.m. EST
Live chat
To contact support using this method:

Visit the FAQ page
Click Contact Us
Select Inquiries about Gucci website or online purchases to see all options
Hit the Chat button

Chat hours are the same as for calls

WhatsApp
Send a WhatsApp message to 877-482-2430
Email
Use the Email Us button on the Contact Us page
Returning an Online Purchase to a Store
To return your online purchase to a Gucci store, you must:
Enclose your return item(s) in its original packaging
Bring a printed copy of your invoice
Gucci credits back the original method of payment, but they don't refund the original shipping charges. To find the nearest Gucci store, use the store locator tool.
Purchases made using PayPal, Amazon Pay, Affirm, and 4Gift can also be returned to a Gucci store. They will be sent to Gucci's warehouse for processing before a refund is issued.
This policy doesn't apply to Gucci outlet stores or department stores.
Gucci Return Policy—How To Return an In-Store Purchase
You can return your in-store purchase to the Gucci store you bought it from. Make sure that:
The items are in their original condition
Your return items are in the original packaging, which must be undamaged as well
You present a valid proof of purchase—preferably a receipt
How Long Does the Refund Process Take?
If you ship your item to Gucci's warehouse, your refund should be processed 7–10 days from the receipt of your return. You will get a notification via email confirming the completion of your return.
Online purchases returned to a Gucci store will be forwarded to the warehouse for processing. The date of receipt will be the day your item gets to the warehouse, not the day you brought it into the store. Upon arrival at the warehouse, your refund should be processed to your original payment method in 7–10 days.
DoNotPay Provides a Better Solution for Your Return Troubles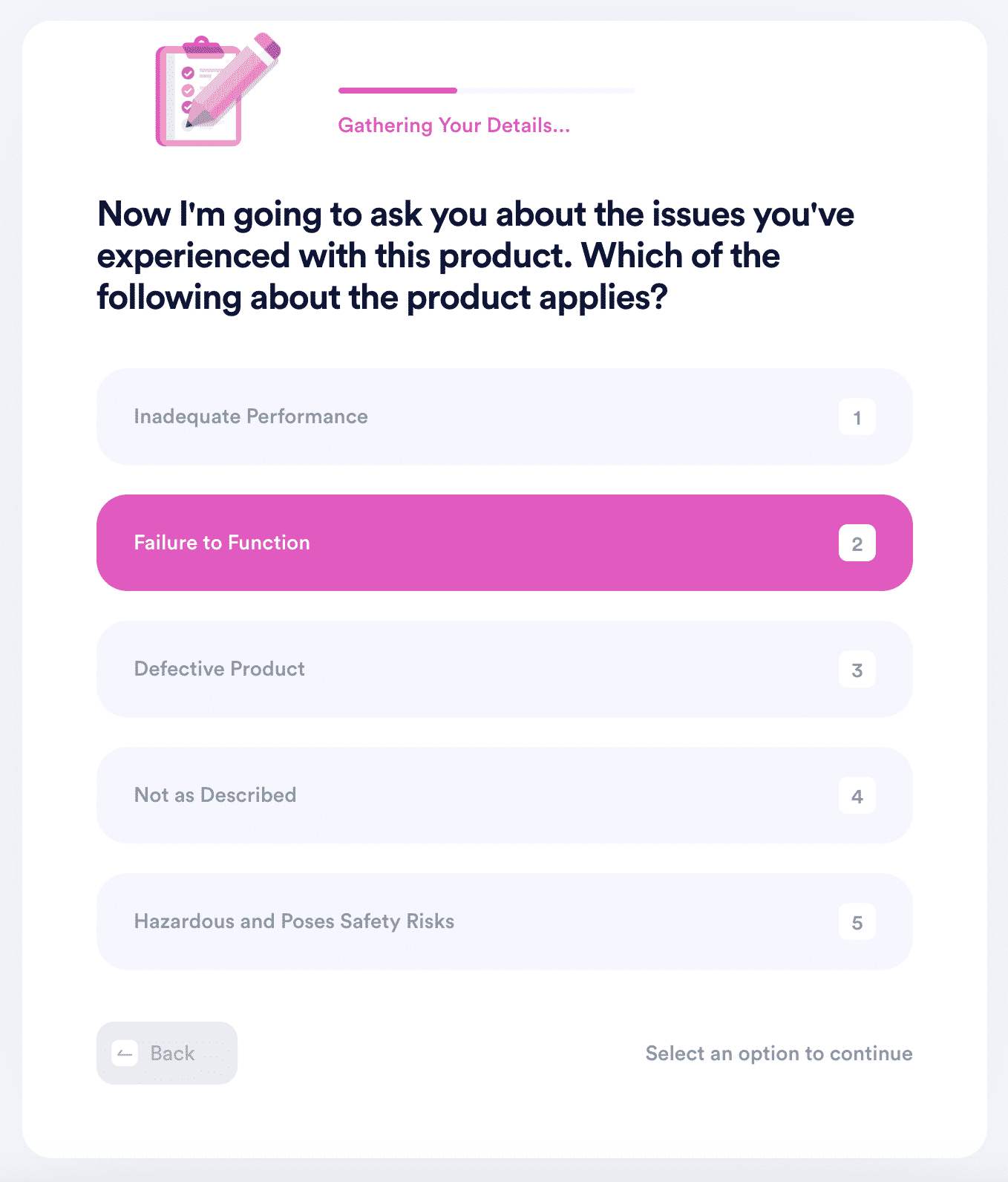 Returning disappointing items is much more complicated and much less satisfying than shopping. No one wants to spend time calling a company's customer service and waiting on the phone or exchanging numerous emails with the representatives. DoNotPay helps you avoid those dull phone calls and emails altogether and drafts a return request letter in a few minutes.
All you need to do is:
using any web browser
Find the Item Return Request product
Answer a few questions about your item(s)
Submit the request
Our powerful AI tool will craft your return request letter in minutes and send it to any merchant on your behalf. This letter will also include a deadline by which the merchant should process your return. Our service can also give you a prepaid shipping label so you can save on shipping fees.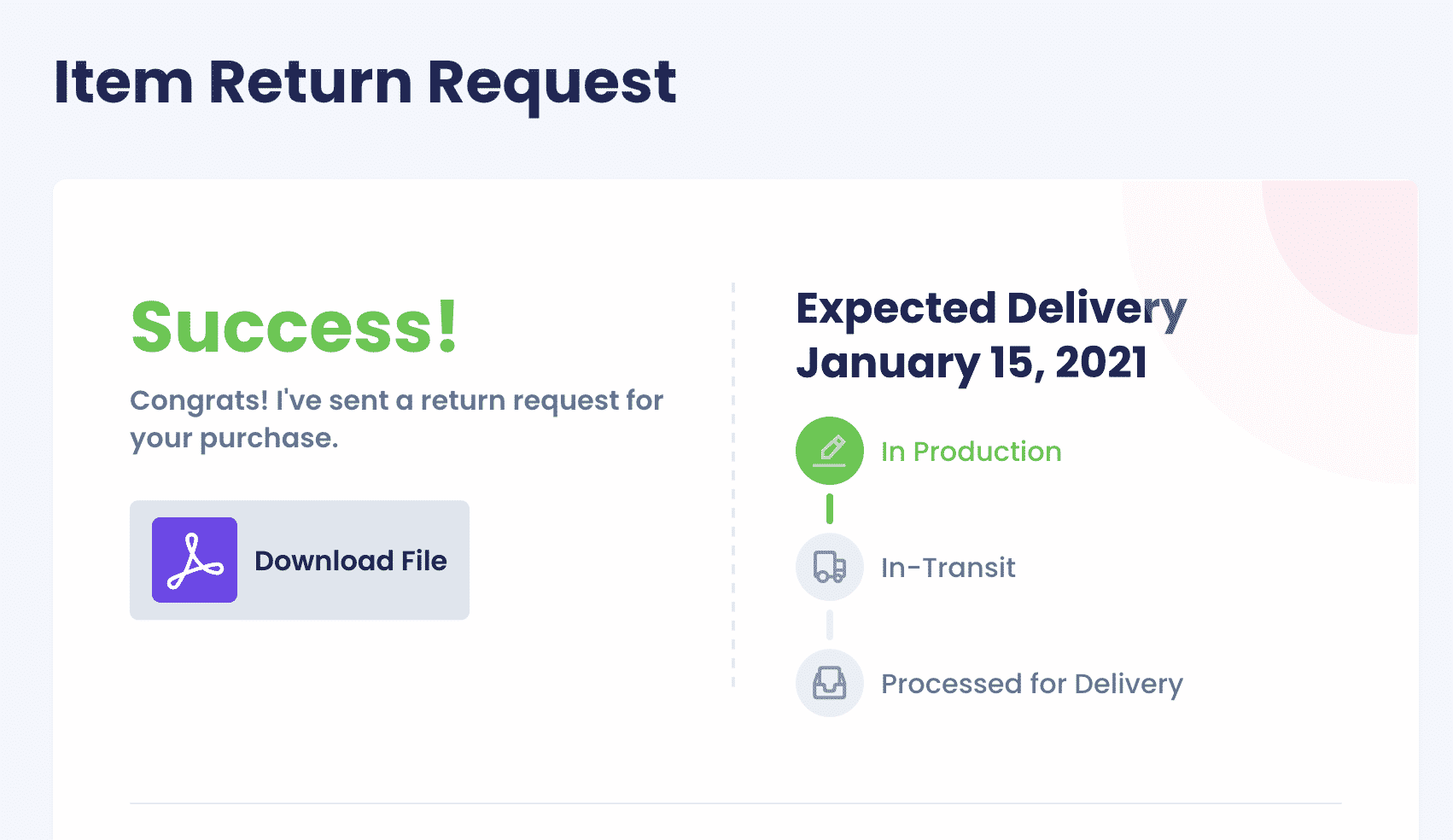 Do you want to learn about the return policies of other brands? DoNotPay has a massive collection of return policy guides for hundreds of brands and counting:
Item Returns and Other Annoying Tasks Take but a Minute With DoNotPay
Looking into resolving other tedious bureaucratic tasks with the help of our app? Check out a fraction of our product range that can assist you with:
Drawing up power of attorney documents
Don't Stop There—See How We Can Help You Even Further
You can count on our app's assistance if you need to cancel any subscription, demand a refund from a company or airline, get help with utility bills, reduce your property taxes, get a tourist visa, appeal banned accounts, contact embassies, or get cash back on gift cards.
Think you have some missing money? Claim it before the government does it in your stead! Need help preparing for a government test? Skim through our guides! Want to schedule a DMV appointment in a snap? We'll do it for you! Have any other obstacles? We'll get rid of them in the blink of an eye.