All the Info About the Princeton Application Fee in One Place
Princeton University is one of the Ivy League universities and has around 8,000 students. It was founded more than two centuries ago and is located in New Jersey.
Knowing the reputation of this school, it is no surprise the acceptance rate is only 5.5%. The amount you need to pay for the college fees in addition to tuition is also a hefty one—more than $50,000.
You should look into financial aids whenever you can, and a good way to start is with application fee waivers. The easiest way of removing application fees is DoNotPay.
What Are Application Fee Waivers and How Can They Help You?
Application fee waivers are used to remove application fees for students who can't afford to pay them. The cost of such fees is not small, and you will need to set aside hundreds of dollars if you apply for several schools.
People who experience financial hardships and cannot pay these sums have the option to request fee waivers. Schools usually set their requirements, but they mostly focus on proof that your family income is under a certain amount. Graduate students normally have the chance to apply for fee waivers if they participate in certain programs.
You are also automatically eligible for a college fee waiver if you obtained an SAT or ACT fee waiver in the past. If that is the case, you will need to notify the school, and you should be able to skip the payment step when applying.
For everyone else, there is DoNotPay as the most efficient way of obtaining fee waivers!
Waive the Princeton University Application Fee With DoNotPay
If you want to request an application fee waiver from Princeton fast, you should use DoNotPay! Your virtual assistant can handle everything regarding the necessary forms and send them to the Princeton admission office. These are the only steps you need to take:
Access DoNotPay from any

Choose the

College Application Fee Waiver

option

Choose the fee you want to avoid paying and

Princeton University

as the school you want to attend

Answer some questions about your financial status

Indicate whether you need a signature from your counselor
And that's all! You can repeat this process with any other school you are applying to as long as they allow fee waivers. DoNotPay is linked to numerous universities in the U.S. and thus makes it possible.
We can also help you request fee waivers for transfer students and enrollment deposits.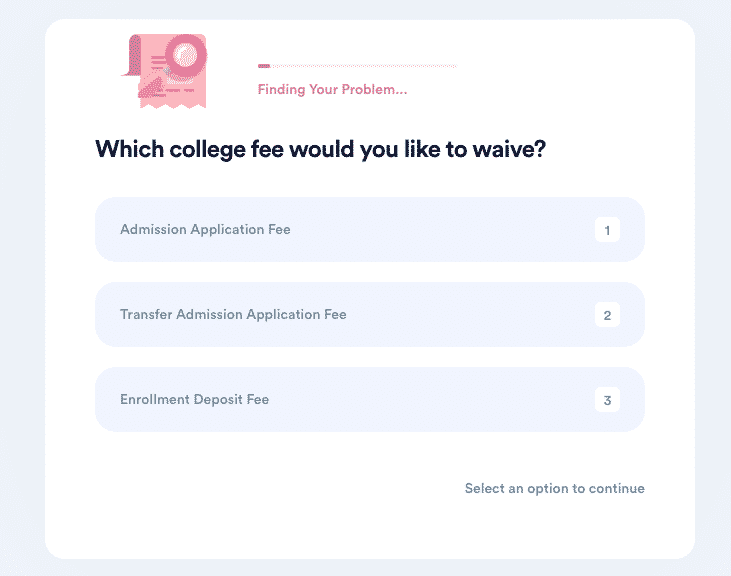 How To Request an Application Fee Waiver From Princeton on Your Own
You can request a fee waiver from Princeton in three ways:
By selecting a fee waiver option on the Princeton Supplement

Via

The Common App
The first option requires you to choose one of these fee waiver options on the Princeton Supplement:
Princeton-specific

ACT

College Board

NACAC

Realize Your College Potential

QuestBridge
In case you choose the Princeton-specific fee waiver, you won't have to get approval from your college counselor. QuestBridge Finalists need to pick the QuestBridge fee waiver.
How To Get an Application Fee Waiver From Princeton via the Common App
If you want to get a fee waiver from Princeton with the Common App, you will need to follow these steps:
Set up your

Common App account

Find and select the

Profile

tab

Select the

Common App Fee Waiver

option

Answer numerous questions

Submit your request
Requesting a fee waiver via the Common App can be time-consuming and complicated due to the number of questions you need to answer. To get your fee waived with ease, use DoNotPay!
How To Request an Application Fee Waiver From Princeton via the Coalition App
If you wish to request a fee waiver from Princeton with the Coalition App, you will have to heed these directions:
Create an account or sign in if you already have one

Navigate to and click on the

Profile

link

Name all the factors that should help you obtain a fee waiver

Select

Princeton University

as the school of your choice
Who Is Eligible for a Princeton University Fee Waiver?
Both graduate and undergraduate students may request application fee waivers from Princeton if they experience financial hardship or if they were or still are in the U.S. military.
Graduate students are also eligible for fee waivers if they are participants of certain programs.
Here's a brief overview:
Students
Program Participation
Financial Hardship

Undergraduate

U.S. Military (veterans and current participants)

Meet the eligibility guidelines set by the

USDA Food and Nutrition Service

Eligible for a certain program that helps the less-fortunate students

Orphans

Homeless individuals

Recipients of public assistance

Wards of the state

Graduate
How Much Is the Application Fee for Princeton University?
The application fee at Princeton is $70 for undergraduate students, while graduate students will need to pay $90 if they are not eligible for a fee waiver.
If Ivy League schools are the focus of your interest, we can tell you the application fees for undergraduate students at these schools as well.
If you were to apply to all the schools listed, the total amount might make you dizzy. You don't need to be left penniless! Use DoNotPay instead and waive those fees easily!
DoNotPay Handles Everyday Tasks Without Trouble
You can count on DoNotPay for help with various everyday tasks you might come across in the Garden State. If you are a driver, we can help you dispute parking tickets with ease.
In case you are trying to save some money, we can assist you with managing electric bills. Perhaps you want to cancel your subscription to The Star-Ledger? We can make the membership go away in no time.
If you or your loved ones are fighting a battle against a disease without proper standard treatment or drug, you should try looking for a solution in interventional studies. We have the scoop on all the clinical trials in New Jersey and can ensure you find the right match for your needs.
DoNotPay's capabilities are not limited solely to this state and these tasks. Our extensive database of helpful features is something you should explore to make your life easier.
Access DoNotPay from any and let us help you with:
Contesting traffic tickets

Fighting speeding tickets