How To Get a
Washington State University Application Fee
Waiver and Save Money
Washington State University is the second-largest higher education school in Washington state. It's also one of the best public research universities in the western part of America.
If you want to apply to WSU, DoNotPay will help you get a fee waiver and save hundreds of dollars in less than two minutes. 
How Much Is the
WSU Application Fee,
and Why Do I Need a Fee Waiver?
The WSU application fee is $70, which is higher than the average price of $50 that most colleges charge. 
If you, like most students, want to apply to more than one college, you're aware of the financial burden that might pose. Besides having to spend money on the college application fees, you'll also have to pay for other university-related costs, including:
Some of the most popular universities have expensive college fees, as shown in the table:
To reduce your expenses, consider getting a college application fee waiver. 
How To Get a Washington State University Application Fee Waiver
You can request to wave your WSU application fees while filling out the application. Once you get to the Payment Processing, select the Request a Fee Waiver option. The Washington State University Admission Committee will review your application, determine if you qualify for the fee waiver, and notify you about their decision.
WSU usually requests students to provide their SAT scores when applying, except for the 2021 fall and 2022 spring terms, due to the COVID-19 outbreak. If you get an SAT fee waiver, you will also have a chance to apply to WSU for free since it is one of the College Board member schools.
How To Waive Your Application Fees for Other Colleges
If you're interested in applying to other colleges, you can wave your application fees in a few ways:
Get an SAT Fee Waiver

Complete the fee waiver form provided by your preferred school

Take advantage of your legacy

Apply with the Common App

Use DoNotPay's

College Application Fee Waiver

tool
How To Request an SAT Fee Waiver
Students who get an SAT fee waiver can apply for free not only to Washington State University but also to other participating colleges. To request the fee waiver, consult your counselor because he or she should have the required fee waiver form. 
Besides enabling you to apply for free to the member schools, the SAT fee waiver also covers:
Two SATs with or without the essay

Six SAT Subject Tests to use in two days

Two reports for Question-and-Answer Service or Student Answer Service

Score reports to send to your desired colleges
How To Get a Fee Waiver From Your Desired School
You can get in touch with the school you're interested in and ask them about the fee waiver form. Some colleges will waive the fees if students apply online or visit the institution in question to get the fee waiver form, while some might have more strict requirements. Your guidance counselor can tell you what to expect from each university. 
Legacy Fee Waiver
Some colleges enable students whose parents or grandparents graduated from a certain university to apply for free to the same school. You should check if the schools you're interested in offer that option.
How To Get the Common App Fee Waiver
The Common App is another solution for students who are in a difficult financial situation and can't afford the fees. If you already want to apply to multiple colleges with the app, you can take advantage of their fee waiver feature. One of the drawbacks is that you can apply to only 900 member colleges through the Common App. 
DoNotPay Will Help You Get a
WSU Application Fee Waiver
in No Time
Requesting an application fee waiver doesn't have to be complicated. DoNotPay will help you save not only money but also a lot of time. Our tool enables students to apply for a fee waiver in under two minutes. 
With DoNotPay, you can request three types of fee waivers:
New Students Application

Transfer Student

Enrollment Deposit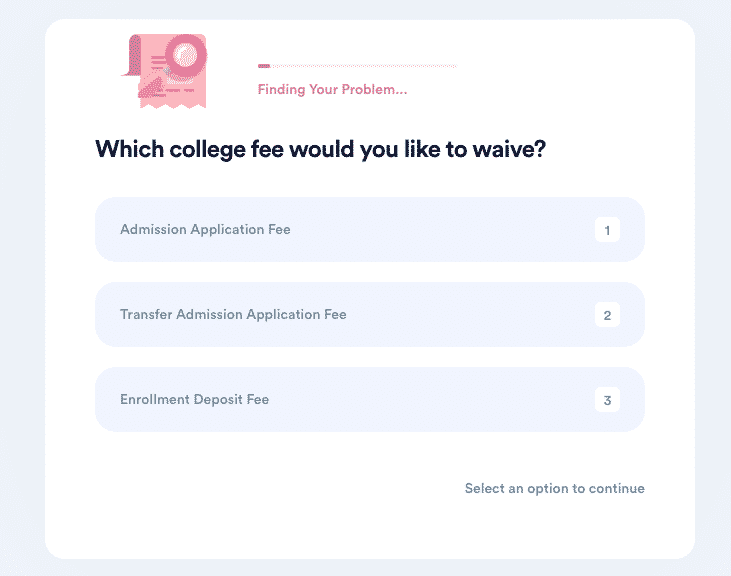 If you want to waive your college fees as quickly as possible, sign in to your DoNotPay account from a web browser, and follow these steps:
Pick our

College Application Fee Waiver

feature

Click on the fee you wish to wave

Select the school you want to apply to

Respond to our questions and tell us if you need to get your counselor's signature
Most schools require your counselor's signature, so make sure to check if the college you're interested in has the same requirement. DoNotPay will complete the form for you and send it to your guidance counselor.
If you don't need his or her signature, the fee waiver form will be emailed to the university in question so that they can determine if you're eligible.
As opposed to the Common App where you can request a fee waiver from a limited number of schools, DoNotPay can send your request to any school in the U.S., including:
College Application Fee Waiver Requirements
Washington State University doesn't specify the fee waiver requirements on the website. If you'd like to know whether you have a chance to waive your fees, you should contact the university to find out their eligibility criteria. 
Most schools grant fee waivers to students from low-income families. You'll probably need to provide tax reports as proof that you need financial aid.
Some colleges also grant merit-based fee waivers, in which case students need to have an excellent GPA score. 
If you want to get an SAT fee waiver, you need to fulfill one of the specified requirements. You should:
Be a part of the

National School Lunch Program

Live in a family that receives state, local, or federal financial aid 

Be an orphan, homeless, or live in a foster home
Rely on DoNotPay and Solve Any Issue Effortlessly
DoNotPay has got your back not only when it comes to fee waivers but also when you're dealing with other pesky issues. Have you ever subscribed to services such as Chegg, Mathway, or Study Edge to get help with your homework, but now don't know how to unsubscribe? DoNotPay can help you terminate any unused service in a matter of minutes. 
We can also ensure you take advantage of free trial periods without being charged, thanks to our handy virtual credit card and the virtual credit card generator. You will be able to enjoy Photoshop, Microsoft Project, and similar services without worrying about losing money. 
Log in to your account from a web browser, and DoNotPay will assist you in:
Contesting traffic tickets

Fighting speeding tickets