Learn How To Request a Stanford Law Fee Waiver and Save Money
Stanford Law School is one of the most prestigious U.S. schools. It gets over 4,000 applications from students from all around the U.S. and 72 other countries, but only around 180 get accepted.
When applying to Stanford Law, students need to pay an application fee, which can be a great financial burden to some. If you plan to apply to Stanford Law, learn how you can get a fee waiver.
Stanford Law Application Fee Explained
The application fee at Stanford Law is $85 dollars, and it's not refundable. You should pay the fee when submitting your application. If you want to apply to more than one program, you will have to pay the application fee for each.
Are you interested in other options for further education? Check out the application fee amounts of some other popular schools:
Why Do Students Need Application Fee Waivers?
Since it is difficult to enroll in some schools, students apply to several ones to increase their chances of enrollment. By doing so, students can end up paying hundreds of dollars in application fees.
Colleges often offer application fee waivers so that students who struggle with their finances can apply. If you want to save money on application fees, consider requesting a waiver.
Who Can Get a Stanford Law Application Fee Waiver?
To avoid paying the Stanford Law application fee, you need to prove that you are in a dire financial situation. In case you participate in the USDA Food and Nutrition Service's free or reduced-price lunch program, receive any public assistance, or live in federally subsidized public housing, you have a chance of getting the application fee waiver. Stanford Law might also consider giving you a fee waiver if you are an orphan or homeless person. Whatever financial hardship you are going through, you will need to provide documentation as evidence.
The school's Office of Admissions will judge each fee waiver request individually—you can't get a waiver automatically.
What Is Stanford Law's Tuition and Financial Aid Program?
Studying at Stanford Law involves high college fees. You will have to pay for:
Tuition—around $6,400

Books—around $1,530 a year

Room at the campus—around $30,000
Besides these expenses, you will need to spend money on food, transportation, and entertainment activities.
If you can't finance your studies at Stanford Law on your own, you can apply for the school's financial aid program. The program involves tuition fellowships, private loans, and government loans.
How Can You Request a Stanford Law Application Waiver on Your Own?
If you want to be exempt from paying the application fee for Stanford Law, you will need to send a fee waiver request to the school. You can do it by filling out the school's Application Fee Waiver form. In case you are a transfer student, use this form to request a fee waiver.
Here is the information you need to provide:
Name

LSAC account number

Personal information

Details about your finances

Parent's or guardian's personal and financial information

Parent's or guardian's signatures
You have to answer all questions in the form. Otherwise, the Admission Office will deny you a waiver.
Your request must include documents that demonstrate your financial need:
A copy of your award notice

A letter from your Financial Aid Office
These documents should state what your current budget is and what your expected resources are. If you are receiving any loans or scholarships, you should indicate it.
Once you fill out the form and gather the necessary documentation, send it to admissions@law.stanford.edu.
You can also send the documents proving you have received the fee waiver. Bear in mind that you won't automatically get an application fee waiver even if you have already got one for LSAC. You should make the fee waiver request before you submit your application.
How Long Does It Take To Get the Stanford Law Application Fee Waiver?
Stanford Law's Admission Office usually needs five to seven business days to deal with your fee waiver request. Make sure you send your request in time so that you don't miss the deadline for applications. If they approve your request, the Admission Office will send you a fee waiver code to use when filling out your application.
DoNotPay—The Most Efficient Way To Request a Stanford Law Fee Waiver
Does filling out the fee waiver form seem too difficult to handle? If yes, don't worry—DoNotPay can assist you! DoNotPay can fill out the Stanford Law application fee waiver form on your behalf. We can also send the request directly to the Admission Office.
With our app, you can make a waiver request in no time! All you need to do is:
Log in to DoNotPay in any

Select the

College Application Fee Waiver

option

Choose the fee you want to waive

Choose

Stanford Law

and reply to the questions about your financial situation

State whether you would like to obtain a counselor's signature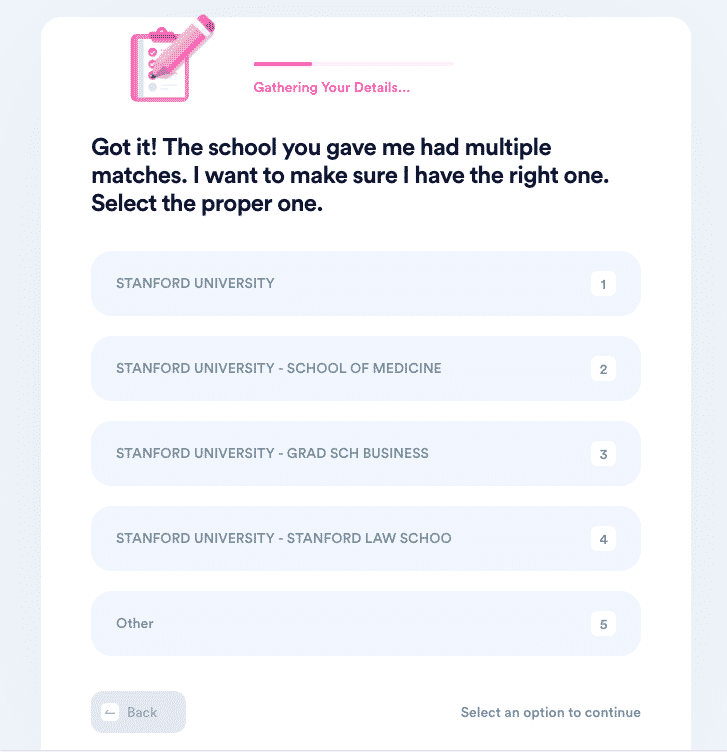 With DoNotPay, you can save your time on filling out documentation and focus on your studies.

It doesn't matter whether you are a new applicant or a transfer student—you can use DoNotPay to waive your fees either way. We can also assist you in getting an enrollment deposit fee waiver.
In case you have other colleges on your wishlist, use DoNotPay to save your money on application fees. Our extensive database allows you to request fee waivers for Duke University, Brown University, Columbia University, The City University of New York, and many others!
DoNotPay Eliminates Your Administrative Issues
If you want to know more about how to avoid fees, you can use our app to learn more about SAT, ACT, or Common App fee waivers.
Besides waiving fees, DoNotPay can help you cancel services and get refunds. If you don't use your subscriptions to Bartleby, Study Edge, or Mathway, stop wasting your money! Get our help and cancel your memberships in less than two minutes!
In case you need tools for your writing tasks but don't have money to pay for them, use our virtual credit card generator for free trials! With this card, you can sign up for Grammarly or Microsoft Word free trials without the risk of being charged when they expire.
Are you tired of bureaucracy? Get help from DoNotPay—the world's first robot lawyer! We've helped many people get rid of daunting bureaucratic issues and got the American Bar Association's Louis M. Brown Award for Legal Access.
Access DoNotPay from any and check out what tasks we can tackle for you:
Disputing traffic tickets

Fighting speeding tickets