A Step-By-Step Guide to Requesting a Columbia Law Fee Waiver
Columbia Law School is a part of Columbia University. It's one of the eight Ivy League universities and one of the most prestigious law schools in America.
If you'd like to waive Columbia Law application fees or get a fee waiver for any college in the U.S. effortlessly, DoNotPay should be your choice!
Everything You Need To Know About Columbia Law Application Fee
Columbia Law School charges $85 for the application fee. Students need to send their applications online through the Law School Admission Council (LSAC) platform.
Besides completing the application form, you also have to send the following:
Your application also needs to include:
Two recommendation letters that the recommenders should send to Columbia Law

Dean's appraisal—sent to Columbia Law School by the official university dean
Why Do I Need a Law School or College Application Fee Waiver?
College fees are pricey for both grad and undergrad students. Not everyone can spend a few hundreds of dollars on SAT, ACT, on-campus visits, multiple college application fees, and other university-related expenses.
While not all universities have an application fee, most of them charge hefty amounts. Here are the prices of the application fees for the most popular universities and law schools in the U.S.—you'll notice that universities with the highest enrollment rate are super pricey:
Since students usually apply to at least four colleges, the financial burden can be overwhelming. There's a silver lining for applicants in a bad financial situation—fee waivers. Many schools allow students to waive application fees and save a significant amount of money.
How To Waive the Columbia Law Application Fee
The process for requesting a fee waiver is different depending on whether or not you're currently enrolled in a degree-granting program at Columbia University schools.
How Can Students of One of the Degree-Granting Programs Request a Columbia Law Fee Waiver?
Students who are currently enrolled are automatically eligible to wave Columbia Law fees. You can get a fee waiver by sending a request to admissions@law.columbia.edu. You'll have to indicate the name of the university and school you're enrolled in when sending the request.
Once the Admission Committee verifies your request, they will send you a fee waiver code. You should use that code when applying to Columbia Law School. Students who have already paid the application fee won't be able to receive a refund.
Can I Get a Fee Waiver if I'm Not Enrolled in a Degree-Granting Program at Columbia University?
If you aren't enrolled in one of the degree-granting programs at Columbia University, you can still waive the application fee. Students who already received an LSAC fee waiver for their LSAT will automatically be able to apply to Columbia Law for free.
Make sure to apply at least six weeks before the LSAT registration deadline. The steps you'll need to take to request an LSAC fee waiver depend on your citizenship:
If you want to get an LSAC fee waiver, you must have one of the following:
American, Canadian, or Australian citizenship

Permanent residence in the U.S. and an Alien Registration Receipt Card

Applied for or been granted an immigration status under Deferred Action for Childhood Arrivals (DACA)

Permanent residence in Canada

Protected Person status in Canada
Waive Any College Fee With DoNotPay
DoNotPay understands the issues that application fees can cause. That's why we came up with a tool that can help you request a fee waiver in a matter of minutes. Rely on DoNotPay and apply for free to Columbia, Northwestern, or any other law school in the U.S.
We can even help first-year and transfer students waive the college application fees, regardless of the university they are interested in. With DoNotPay, you can waive different types of fees:
New Student Application

Transfer Student

Enrollment Deposit
Log in to your DoNotPay account from a , pick our College Application Fee Waiver feature, and follow these steps:
Indicate which fee you wish to waive

Select the school you want to apply to

Answer a few questions about your financial situation

Tell us if you want to get your counselor's signature and strengthen your request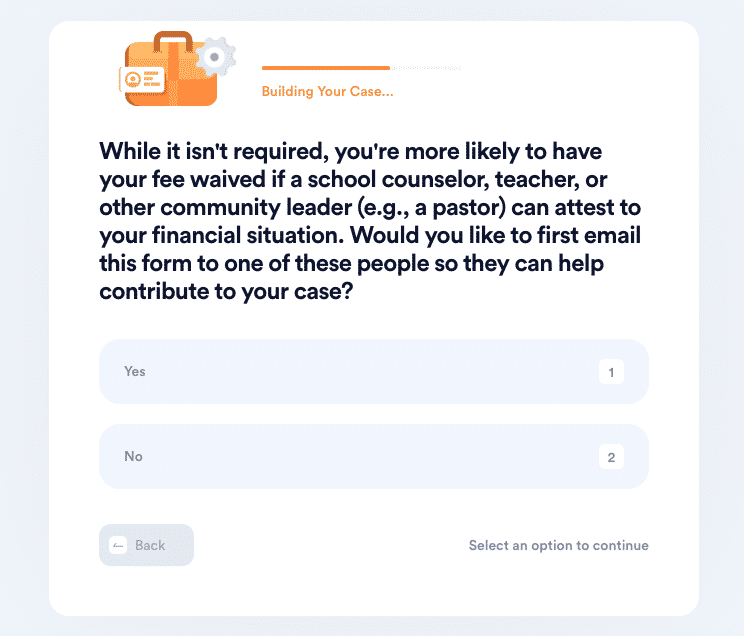 DoNotPay will fill out the form and mail it to your counselor—if you choose to obtain the signature—or the university in question.
Which Colleges Can DoNotPay Help Me With?
If you're familiar with the Common App, you know that it is one of the most popular platforms dedicated to helping students apply to multiple colleges fast and easy. While it also features a fee waiver option, you can waive fees for only 900 member schools.
DoNotPay's tool is a way better option because it can help you waive fees for any school in America, including the most popular ones, such as:
Am I Eligible To Receive a College Application Fee Waiver?
If you can prove financial need by sending a tax report or any other required document, you'll probably receive a fee waiver for any college. The safest option is to submit your application as soon as possible because many colleges grant fee waivers on a first-come, first-served basis.
Some schools will allow you to apply for free if you go there in person or apply online. Each school has different rules and requirements.
Talk to your guidance counselor a few months before the applications start, or visit the website of the university you're interested in to be prepared. You should know if you have any chances to waive college application fees, and your counselor can determine that. He or she will also tell you which documents a certain university requires so that you can prepare them on time.
Explore DoNotPay's Other Convenient Features
DoNotPay's tools cover an array of everyday issues and help you solve them as quickly as possible. You can rely on us every time you want to cancel services such as Hulu, Netflix, or Spotify. We will even help you get a refund from platforms like Skillshare or Audible. If you're tired of getting charged once your free trials expire, use our virtual credit card generator!
Once you sign in to your DoNotPay account from a , you'll be able to take advantage of all our awesome features. We will help you:
Handle traffic tickets

Appeal speeding tickets