Engage in a Bit of Cengage—How To Sign Up for Cengage Free Trial
Cengage is a multinational educational content and services platform based in the U.S. It provides content for professional, higher education, and library markets. Cengage Unlimited is the company's subscription service, which allows students to access courses and online learning content. 
Does Cengage Have a Free Trial?

Yes, you can sign up for a Cengage free trial to check out what the service has to offer. There are two different trials you can choose from:
Cengage Unlimited

Cengage Unlimited eTextbooks
Both trials last seven days and can be activated more than once. The one you choose depends on your current educational status and needs. 
If you're taking any of the online courses offered by Cengage, you can try out Cengage Unlimited and Cengage Unlimited eTextbooks. Those who are enrolled in an online homework platform can only sign up for Cengage Unlimited textbooks. It doesn't offer access to courseware such as WebAssign, SAM, or MindTap.
Take note of the exact date you signed up for a trial, as Cengage will automatically charge you for the paid version once the trial expires. 
You can sign up for the free trial multiple times. After 90 days have passed since your last trial, you'll be eligible to activate it again. Do this as many times as you please, as there's no limit to the number of trials you can start. 
What's Included in the Cengage Unlimited Free Trial?
When you sign up for a Cengage Unlimited free trial, you will be given access to all eBooks and courseware products that are part of the paid version of the service. These are some of the other key features you can use during the free trial:
Study Tools 

College Success Tips 

Career Success Tips
Some limitations apply to the trial. You can't use offline resources, like the free print textbook rentals. Partner Offers are a key part of Cengage Unlimited, but they aren't available in the free trial version. 
Third-party access codes are also unavailable. If you want to use CogLab, you'll have to enroll in the paid subscription.
What's Included in the Cengage Unlimited eTextbooks Free Trial?
Like the regular Cengage Unlimited trial, you can use any of the eBooks provided by the service, as well as Study Tools, College Success Tips, and Career Success Tips features.
The eTextbooks trial has the same limitations as the Cengage Unlimited trial, alongside a few more things worth noting. 
Once the trial is complete, you lose access to the eBooks you added to your dashboard. If you choose to renew your subscription and switch to a paid version, they won't be removed.
Does the Cengage Unlimited Free Trial Auto-Renew?
Yes, Cengage will auto-renew your subscription once the trial is over. You'll be enrolled in a paid version of Cengage Unlimited that will continue to charge you every month until you decide to cancel. 
You can opt-out of the auto-renewal at any point during the trial or the paid subscription. Here's how you do it:
Log in to your Cengage account

Go to your account by clicking on your name

Press

My Subscriptions

Uncheck the

Auto-charge to the full subscription

option
When the trial is complete, you won't be charged for the full version of the subscription. You can do this at any point before the seven-day trial expires and avoid having to pay. 
How To Sign Up for a Cengage Free Trial

Cengage requires that you connect a PayPal account or credit card to activate your free trial. You can start using the service by:
Visiting the

Cengage website

Signing in to your account

Clicking

Try for Free

on the sidebar

Selecting the subscription you want to try out

Entering your payment method and details

Submitting
After completing these steps, you can start using the seven-day trial.
How To Sign Up for Other Cengage Free Trials
After your Cengage Unlimited free trial ends, you can try out its courseware trials. You are eligible to sign up for: 
OWLv2

SAM via LMS Integrations

CengageNOWv2

MindTap
You can only start your trial after the Cengage Unlimited trial has expired. The functions of the original trial aren't available, but you can check out the courses. The trial allows you to access one day for every week of the course you choose. The limit is 14 days total. 
DoNotPay Helps You Avoid Auto-Renewals With a Free Virtual Credit Card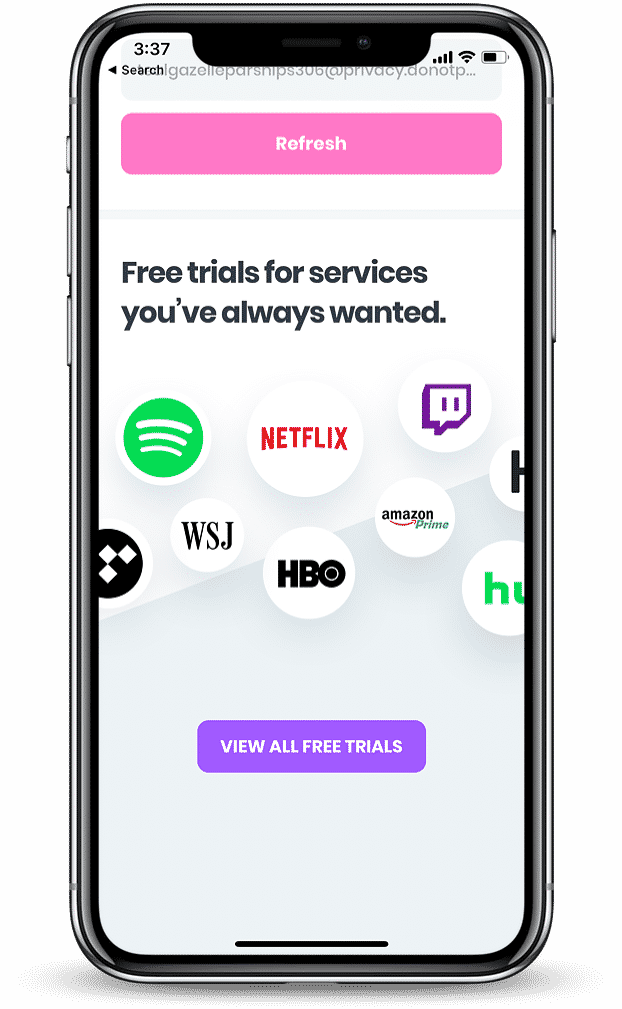 When you sign up for a free trial, you don't expect to have to pay for it. Many businesses have auto-renewals set up for their trials, which leads to customers paying for full subscriptions after the end of the trial. If you don't pay close attention to what you sign up for, you could end up footing the bill. 
DoNotPay has come up with an equally-clever counter for auto-renewals. Our free virtual credit card lets you sign up for free trials risk-free. The way it works is simple:
DoNotPay generates temporary credit card info

You sign up for free trials with the

virtual credit card

The trials run out, but there are

no funds

on the card, so the merchant can't charge you
It's a convenient solution that doesn't put your money on the line. The virtual card isn't connected to your bank account, keeping your funds safe from scams and unwanted subscriptions. 
To start using DoNotPay's virtual credit card, access our app in your web browser.
You can use the card for most free trials and avoid having to connect your real credit card. If you need the virtual card for PayPal verification, we've got you covered there as well.
How Much Does the Cengage Unlimited Full Version Cost?
If you liked the free trial version of Cengage Unlimited, you might want to switch to a paid subscription. It might be worth the perks, but you have to decide whether or not it's worth the price. Here are the different plans you can choose from and how much they cost. 
The Plans

Price

Benefits

Cengage Unlimited

$119.99—4 months of  subscription

$179.99—1 year of subscription

$239.99—2 years of subscription

Full library of 15,000+ eTextbooks

Access to course materials such as MindTap, WebAssign, and OpenNow

Cengage Unlimited eTextbooks

$69.99—4 months of subscription

Free print textbook rentals

Cengage flashcards with eight study modes
What Else Can DoNotPay Do for Me?

Setting up care-free trials is just the tip of the iceberg. Our robot lawyer app helps users with a plethora of daily tasks and challenges. 
Most people don't know the first thing about disputing parking tickets, but it's something that they might need in their day-to-day life. DoNotPay can walk you through the process and make it a piece of cake. 
Want to sue someone for harassment and file for a restraining order? We'll show you the paperwork you need to fill out and what to say while in court. 
Our app handles everything from reporting fake insurance quotes to getting a Blizzard refund.
You can start using these features after opening DoNotPay in your web browser. Once logged in, you should take a look at all the tasks we can simplify for you:
Disputing traffic tickets

Fighting speeding tickets