How To Cancel Hulu In Three Easy Steps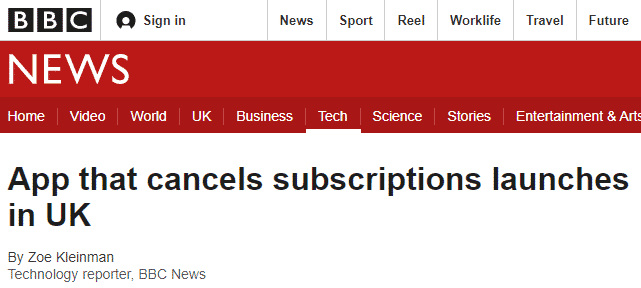 Are you using Hulu often enough to make the subscription fee worthwhile? Do you have trouble finding content on Hulu that you get excited about? If so, it's probably time to stop dishing out those subscription payments.
Although there are a few ways to cancel Hulu, the process can get a little complicated. Given that there are different cancellation methods, you'll have to follow the method that corresponds to the way you signed up.
DoNotPay is a handy app designed to help you save time and money, as well as spare you the headache by simplifying the cancelation process for dozens of services like Hulu. Access DoNotPay through any web browser.
How To Cancel Hulu
the Hard Way—On Their Website
Hulu doesn't want its users to quit, so they make the cancelation process as drawn out as possible. Feel free to scroll down to the next section to learn how to save time canceling Hulu with the DoNotPay app.
If you still want to know how to cancel a Hulu subscription the old-school (more difficult) way, follow the steps below.
Go to

hulu.com

and hit 'Login' at the top right.

Enter your credentials to gain access to your account.

Find your name at the top right corner of the screen. Click it for a drop-down menu. In the menu, click 'Account.'

Scroll down to the bottom of the 'Account' page. On the bottom left, you will see 'Cancel Your Subscription.' Click 'Cancel.'

Hulu will then give you some hoops to jump through. The first one tries to get you to sign up for their Disney bundle. Just click 'continue to cancel.'

Next, Hulu asks you if you would prefer to pause your subscription for up to twelve weeks. Again, if you're sure you're through with Hulu, click 'Continue to Cancel.'

Hulu then asks you for the reason you want to cancel. Hit any option and click 'continue to cancel.'

Hulu will then try to keep you subscribed by showing what they can offer. If you still want to cancel, just hit 'Cancel Subscription.' Congratulations, you're done!
DoNotPay can help cancel subscriptions like Hulu in just a few steps. It's much easier than the process above. Plus, it offers you a range of other valuable services all for free. Access DoNotPay through any .
How To Cancel Hulu In Seconds With DoNotPay
To cancel a Hulu subscription through the website, you'd have to spend at least 15 minutes and hit "continue to cancel" at least three times. The process is annoying and it's a giant waste of time.
There's a much more convenient way to cancel Hulu—with . The app takes care of the tedious "legwork" for you, and we'll notify you as soon as we cancel your Hulu subscription.
If you want to unsubscribe from Hulu, follow these simple steps:
Open DoNotPay in your

Click on Find Hidden Money

Type in Hulu

Click unsubscribe
That's literally all it takes. On top of helping you cancel your Hulu account, DoNotPay can also provide you with a list of other active subscriptions connected to your email address. You can cancel other services you're not using in seconds and save hundreds of dollars each month!
Cancel the old-fashioned way
Cancel with DoNotPay

Hulu slows the process down by trying to convince you to stay.

There is no faster way to cancel your Hulu service.

You have to go through the cancellation tree until you can finally say goodbye to the service

DoNotPay can do all this for you and save you time

If you forgot your password, you have to go through the password reset process before you cancel

With DoNotPay, there are no passwords to remember or forget

You have to spend

your

time to cancel a service

DoNotPay AI chatbot will spend its time instead!
Can I Cancel a Hulu Free Trial?
Canceling a free trial of Hulu without canceling your subscription is not too hard. Just go to your account and 'manage add-ons.' Click the option you want and hit save. If you want to try a free trial without automatically getting billed when it ends, DoNotPay has got your back. We offer virtual credit cards that you can use to sign up for free trials like Hulu without ever getting billed.
If I
Cancel Hulu
, Will I Get a Refund of My Subscription Fee?
It's next to impossible to get a refund from Hulu. As with most streaming services, you pay a month in advance and the subscription is auto-renewed. If you want to stop using the service, you can cancel anytime, so it's difficult to make a strong case when asking for a refund.
This is why using DoNotPay's virtual credit cards to sign up for free trials is a much better option. Since DoNotPay's VCC isn't connected to your actual credit card, there's absolutely no chance you'll get charged after the free trial period. If you want to continue using the service after the free trial, you can always change your payment method on their website.
If you feel you've been wronged and the company refuses to issue a refund, you can sue them in small claims court with the help of DoNotPay. The app prepares the necessary documents for you and gives you a script of what to say during your court appearance.
Do I Need To
Cancel my Hulu Account
? What If I Change My Mind?
You can cancel a Hulu subscription without deleting your Hulu account. That way, if you change your mind down the line and want to start using the service again, you can re-subscribe without having to go through the process of opening a new account.
What's also worth noting is that there are a couple of alternatives to canceling Hulu. If you log in to Hulu, go to 'account,' and hit 'manage,' you will be offered a few options on how to customize your Hulu service.
You will immediately see options like 'limited commercials,' 'Hulu with Live TV,' and a combination of the two. If you have 'no commercials' activated, you can downgrade to 'limited commercials to save a few dollars a month. If you have 'no commercials' activated on live TV, you can deactivate this too.
Canceling Hulu's cloud DVR storage or multiple screen services can save you some money too. Do you like Hulu and have the included Cinemax, HBO, or Showtime services, but don't use them much? You can save some money on canceling these services as well.
One last option is to put your Hulu subscription on hold. It will give you the option of holding your subscription from one to twelve weeks. Once the period that you select is over, Hulu will automatically start charging you again.
DoNotPay Helps You To Manage and Cancel All of Your Subscriptions With a Click of a Button
Frustrated with paying for subscriptions you don't even use? You're not alone. DoNotPay allows you to manage and cancel all of your subscriptions and memberships, saving you time and money! Here are just a few more subscriptions we've helped our users cancel:
What Else Can DoNotPay Do?
DoNotPay is available in any and has a ton of great features to help you:
Appeal speeding tickets

Contest traffic tickets