Spot the Signs of a Pedophile and Keep Your Family Safe
Pedophiles are among the most dangerous of sex offenders because they prey on vulnerable individuals.
Although they may seem normal, there are ways to spot a pedophile and make sure your kids stay well protected.
DoNotPay is here to help you spot the signs of a pedophile and keep your family out of their clutches!
What Is the Definition of a Pedophile?
A pedophile is someone who is sexually attracted to children.
There is no hard-and-fast demographic for pedophiles—they can be any age or race and can be found in every community.
Pedophilia is considered a psychiatric disorder, but anyone convicted of sexual contact with a child is first and foremost guilty of a criminal act.
The law differentiates between pedophiles who:
Target pubescent minors (within the age range of 12–15)
Choose prepubescent victims
Those who are guilty of offenses with prepubescent children are automatically classified as level or tier III offenders, while pedophiles who commit acts with older minors are treated as being level or tier II.
Pedophiliac crimes carry heavy penalties and almost always involve long-term registration of the offender on the relevant state's sex offender registry.
How To Spot a Pedophile
Pedophiles can be spotted by a combination of
Characteristics
Suspicious behavior
Characteristics
Many pedophiles fall into the following categories:
Male
Aged 30 or over
Single or with few age-appropriate acquaintances
This does not mean that every 35-year-old single male with numerous younger friends is a pedophile.
These characteristics are generalizations, and pedophiles may fulfill all or none of them. Suspicious behavior is a stronger indicator of pedophile tendencies.
Suspicious Behavior
Pedophiles' behavior will revolve around their desire to be in close contact with their potential victims.
They may be observed:
Seeking the company of minors over people of their age
Treating minors as if they were adult
Engaging in "young" or age-inappropriate hobbies
Looking for employment or involvement with their chosen targets
According to analyses of convicted pedophiles, most victims knew the perpetrator before the crime took place:
| | |
| --- | --- |
| Perpetrators of Pedophile Crimes | Percentage of Cases |
| Distant family member | 2.5% |
| Unknown | 6% |
| Stranger | 19.5% |
| Current spouse or partner | 33% |
| Acquaintance | 39% |
How Does the Law Deal With Pedophiles?
The law in every state punishes pedophiles harshly, with custodial sentences of up to 30 years.
After serving their sentence and being released back into society, pedophiles are almost always required to place themselves on their state's sex offender registry.
Each state's registry aims to map the whereabouts of convicted sex offenders. The term for which they have to remain on the registry depends on the seriousness of their crime, as follows:
| | |
| --- | --- |
| Tier or Level | Time on Registry |
| Tier or level II | 25 years |
| Tier or level III | Until death |
Being on the sex offender registry carries with it many restrictions on a pedophile's life after their sentence has been completed, such as:
Limitations on employment
Residency Restrictions
Depending on the state, a registered pedophile may not live within a radius of between 500 and 3,000 feet of any area where children gather. These places include:
Schools
Childcare facilities
Playgrounds
School bus stops
Travel Bans
Pedophiles may not be allowed to enter certain child-populated areas in their town and may face restrictions on interstate travel, with a requirement to register within a few days in any state they visit.
International travel is also made difficult. Registered sex offenders have a mark in their passport that identifies them to border officials, who are obliged to inform the destination country of the offender's impending arrival. Some countries refuse entry to registered sex offenders.
Limitations on Employment
Pedophiles are not allowed to perform any job that involves contact with children.
Most employers perform routine background checks before hiring new employees, so a convicted pedophile may find it difficult to get any kind of employment.
How Can You Protect Yourself and Your Family From Pedophiles?
If you are worried about a particular person, you should observe their behavior and note their characteristics.
If they are acting suspiciously, you should:
Talk to your family about the person
Set contact and geographical rules for your kids
Make sure your kids feel comfortable telling you about any incidents
Alert your caregivers
Report suspicious behavior to law enforcement authorities
Your next step is to search your state registry for any details of registered sex offenders in your area. This is possible thanks to Megan's Law of 1996, which stipulates that your state registry is accessible to all members of the general public.
If the results of this search are negative and you can't find out the suspicious person's name, you can search the national registry. Sex offenders sometimes neglect to update their registration when they move to a new area. Even if the suspicious person is unregistered in your state, they may be registered somewhere else.
If you are worried about a potential pedophile in your area, DoNotPay can help you !
DoNotPay Helps Identify Registered Pedophiles

DoNotPay is here to keep you and your family safe!
Our Sex Offender Search product is designed to make your registry query easy and quick. We can even keep you in the loop by sending you weekly updates if you choose!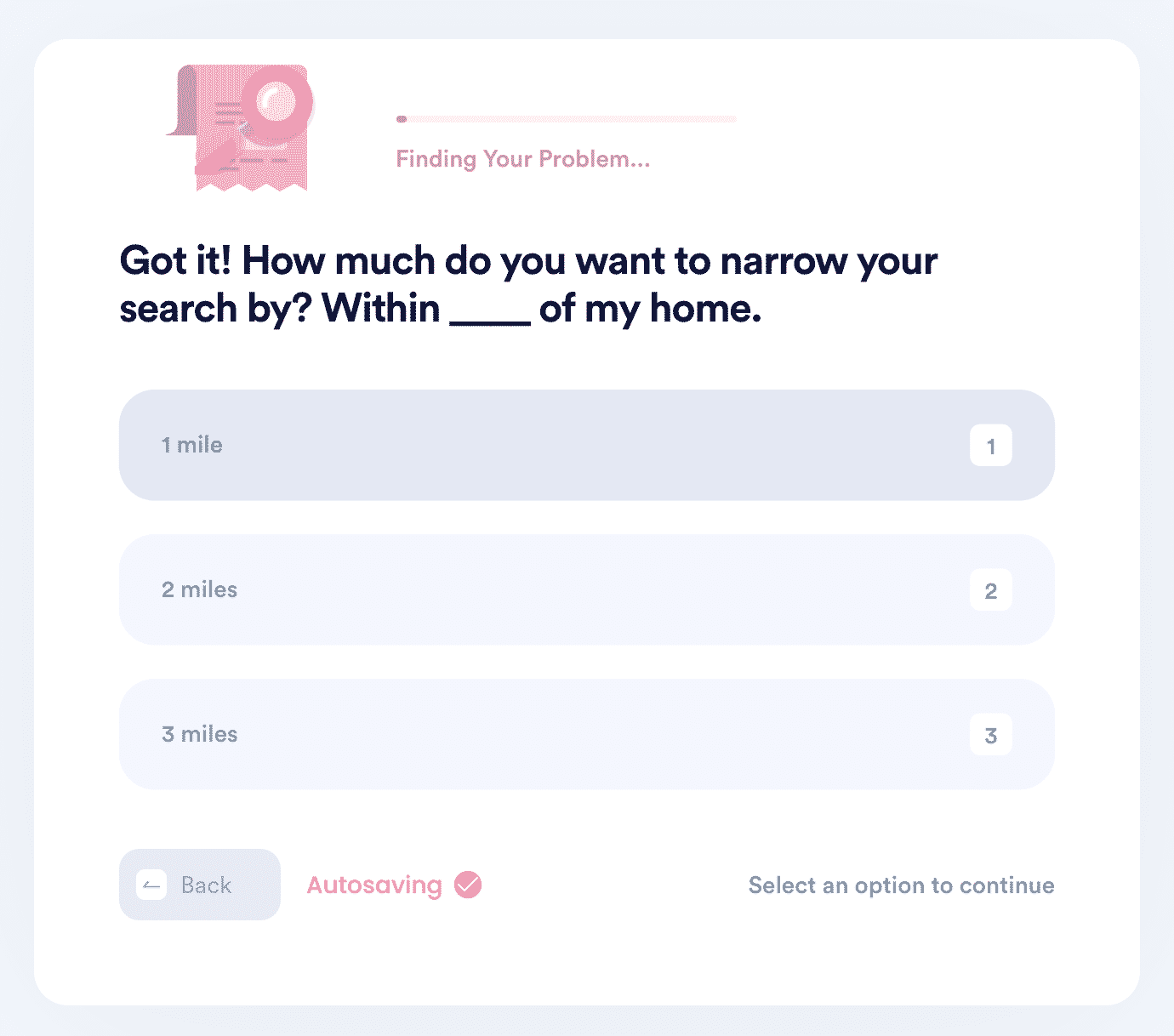 Here's how to use our feature:
in your web browser
Click on our Sex Offender Search feature
Choose whether you want to search for

A particular person
Sex offenders in your vicinity
Once we know what you are looking for, we will send you your report in an instant. If you choose, you can get weekly updates to make sure you don't miss any developments!
Can DoNotPay Help With State-Specific Information?
If you are looking for details on the sex offender registration laws in your state, we are your go-to resource.
Here are a few of the states we can help you with:
DoNotPay Makes Administrative Hurdles a Piece of Cake
If you ever needed to deal with an administrative task, such as drafting a valid legal document or paying property taxes, you know that it's a struggle. The good news is—it doesn't have to be!
With a bit of assistance, you can draft a POA document and learn how to reduce your property taxes in a jiffy!
DoNotPay will also show you how to tackle any of the following tasks like a pro:
We Offer More Helpful Tools!
Helping you deal with bureaucratic hurdles isn't everything we got in store for you! DoNotPay boasts various other nifty tools that you can use to deal with everyday tasks. You can: