DoNotPay's Guide to Scholarships for Eagle Scout Members
The highest rank you can earn as a member of Boy Scouts of America (BSA) is Eagle Scout. To obtain this prestigious rank, male and female candidates have to go through a rigorous evaluation procedure and complete an Eagle Scout project.
Scouting membership demonstrates your dedication to excellence and gives you an advantage when applying for all kinds of scholarships and grants. This award is viewed as deserving of recognition by many institutions and organizations.
In this comprehensive guide, we examine scholarships for Eagle Scout members. Learn how to find them and apply with the help of DoNotPay!
What You Should Know About Scholarships for Eagle Scouts
If you are an Eagle Scout, there are more scholarships opportunities than you might expect. They can be divided into six groups:
Regional and National Scout Scholarships—funding from Boy Scouts of America and other entities
Academic scholarships—your academic performance, scouting activity, and financial need are taken into consideration
Merit scholarships—strong academic performance and a record of community service is required
Civic scholarships—require a strong community involvement
Religious scholarships—applicants must be active in their religious communities. Subtypes of religious scholarships are:

Eastern Orthodox

College-specific scholarships—funding from school resources
The National Eagle Scout Association (NESA) is an organization that grants the most generous scholarships to Eagle Scouts. You can choose between more than 150 scholarships that range from $2,000 to $50,000. NESA scholarships are divided into three categories, shown in the table below:
| Type of Scholarship | Award Amount | Who Qualifies? |
| --- | --- | --- |
| Academic scholarships | $25,000 to $48,000 for four years. | Eagle Scouts who are high school seniors and have an SAT score of at least 1290 or ACT score of 28 |
| Merit scholarships | $2,000 to $5,000 | Eagle scouts who are high school seniors, college freshmen, sophomores, or juniors. You need to have strong academic performance and a record of community service |
| NESA World Explorer scholarships | Varies | Eagle Scouts between the ages of 18 and 35 |
To be able to apply for a NESA scholarship, you must be a registered member. International and graduate students can't qualify for Eagle Scout scholarships.
Where To Find Eagle Scout College Scholarships
Finding scholarships you qualify for is a tiresome and time-consuming process, but it pays off in the end. Here are some tips for finding Eagle Scout Scholarships:
Speak to your high school college counselor
Contact the financial aid office of the college you plan to attend and ask if they have any special scholarships for Eagle Scouts
Google Eagle Scout Scholarships
Conducting an online search is what most prospective college students resort to. If you are one of them, keep in mind that information on some websites may be incomplete or out of date.
If you want to get a list of the best scholarships you qualify for without breaking a sweat, . We will take care of the scholarship search for you.
What Are the Best College Scholarships for Eagle Scouts?
Some of the best college scholarships for Eagle Scouts along with award amounts are shown in the table below:
| Scholarship | Award Amount |
| --- | --- |
| Lawrence S. and Mabel Cooke Scholarship | $6,250–$12,000 per year (for up to four years) |
| Hall/McElwain Scholarship | $5,000 |
| Palmer Scholarship | $2,500 |
| Veterans of Foreign Wars Scout of the Year | $1,000–$5,000 |
| National Jewish Committee on Scouting scholarships | $500–$4,000 |
| Arthur M. & Berdena King Eagle Scout Scholarship | $4,000–$10,000 |
| VFW Scout Of The Year Scholarship | $3,000 |
| Emmett J. Doerr Memorial Scout Scholarship for Catholic Scouts | $2,000–$5,000 |
| American Legion Eagle Scout of the Year | $2,500–$10,000 |
| Mervyn Sluizer Jr. Scholarship for Philadelphia-area Scouts | $1,000 |
How To Apply for Eagle Scout Scholarships
Submit your application as soon as your final year of high school begins. The application process for most scholarships is pretty similar. In most cases, you'll have to submit the following documentation:
A resume
Evidence of volunteer work
GPA scores
DoNotPay Can Help You Find the Best Eagle Scout Scholarships
Opting for our service is the best decision if you don't want to waste your time on tedious research. Based on the answers you provide in our online form, we will match you with all scholarships you qualify for in minutes! You can even use our app to apply for no-essay scholarships.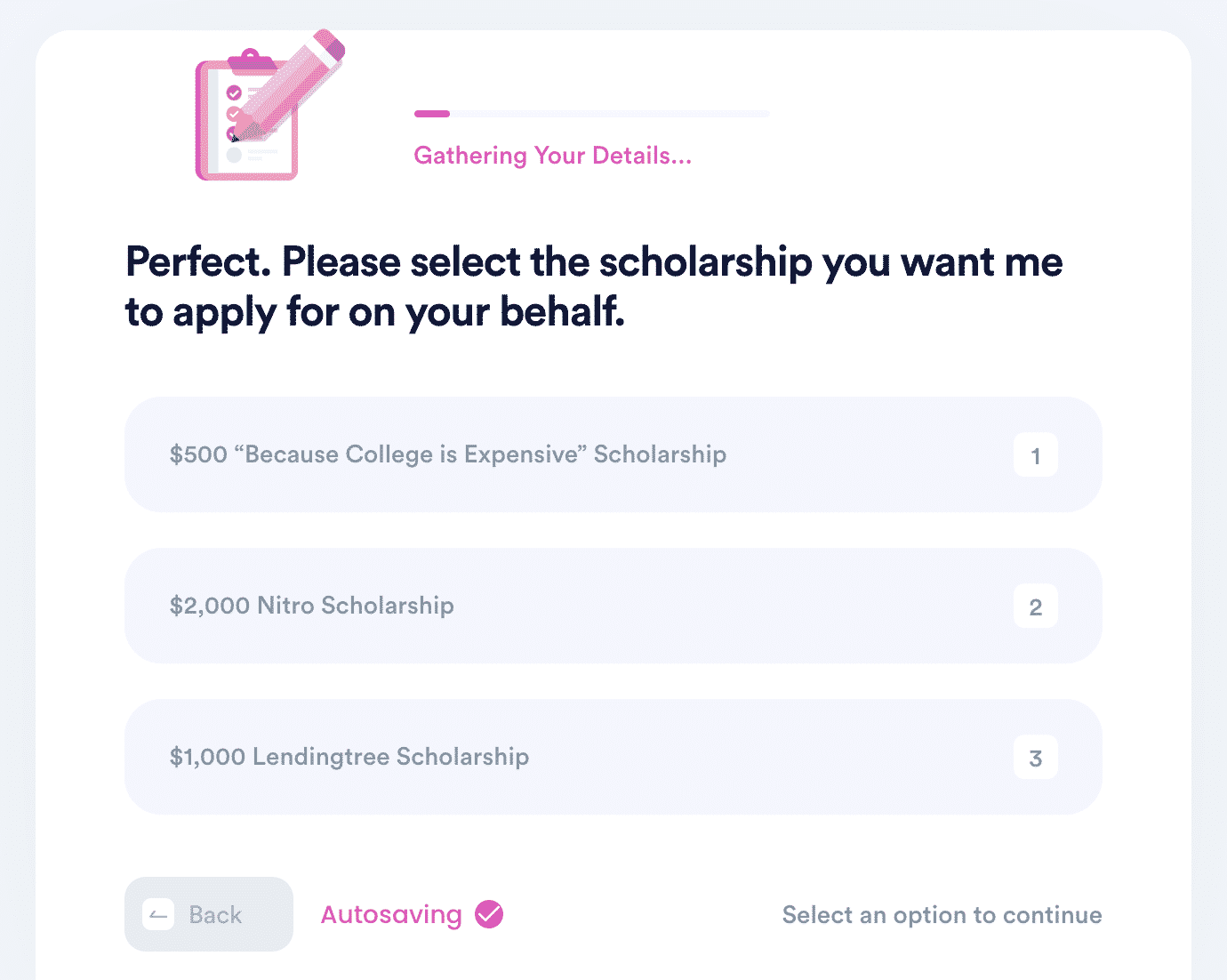 To initiate a scholarship search, you need to take four easy steps:
from any web browser
Look for the Apply for Scholarships feature
Answer a few questions from our chatbot to help us understand your education level, career goals, and so on
Submit the application
Once you've completed all four steps, we will examine your answers and match you with all the scholarships you qualify for. You will receive a customized list of scholarships to your email address in a matter of minutes!
Save Time With DoNotPay
DoNotPay is not done helping you! We offer you assistance in completing a variety of tasks quickly and efficiently, such as:
Canceling Subscriptions Has Never Been Easier!
If you keep getting charged a monthly subscription fee even though you no longer want to use a certain service, don't let your money go to waste! Some companies tend to renew your subscription automatically, but that doesn't mean you have to put up with it—use our app to terminate your membership or subscription in a few clicks!
Do you want to sign up for free trials and create a virtual credit card or a burner phone number to protect your sensitive info? Once you subscribe to DoNotPay, we will walk you through the process of doing all of the above in no time!
You can also count on our assistance if you need to get rid of spam or robocalls.