The Reformation Return Policy Interpreted
Has Reformation sent you the wrong jeans, or is the dress you bought badly torn? Are you worried the company will not accept the return? Our quick guide will show you everything you need to know about the Reformation return policy.
, and we'll help you initiate the return process in record time!
The Reformation Return Policy Decoded
Reformation allows you to return most items for a full refund or replacement. To start your return request, you must meet the company's 30-day return deadline. Bear in mind that if you're late, a representative can still accept the return at their own discretion.
Some items are non-returnable, such as:
All jewelry (including necklaces, piercing accessories, etc.)
Underwear
Eyewear
Apothecary items
Climate credits
Hosiery
Items marked as Final Sale
Items marked as Non-Returnable
Reformation will also deny a return if your item (or the box it came in) is damaged.
Submitting a Return Request to Reformation
To submit a return request, the Reformation return policy requires you to have the following:
Item you are returning
Item tags
Original packaging
If you meet these criteria, the following table will show you valid methods for initiating your return request:
| Return Request | Yes/No |
| --- | --- |
| Via phone | Yes |
| In person | Yes |
| Via email | No |
| Via DoNotPay | Yes |
Returning Your Item to Reformation in Person
When returning your item to a Reformation retail store, do the following:
Go to the Reformation website and find the nearest retail store
Bring the item you're returning along with item tags and your purchase receipt
Visit the retail store and find the store representative
State why you're returning your item and request a refund or replacement
Sending Your Item Back via Mail
If you want to return your item to Reformation via mail, follow these guidelines:
Log in to your account on the Reformation website
Go to the Returns and Exchanges page
Enter your item's ZIP code to find your order
Pick the Return option
Print the return label Reformation sends you
Put your item in its original packaging along with the receipt and item tags
Attach the prepaid return label and ship off your item
To get store credit instead of a full refund, select the Instant Refund tool after your press Return. Note that you can use the store credit for online purchases only.
When Will Reformation Issue a Refund for My Item?
Once you have returned your item, you'll wait 3–4 days for Reformation to process the return. After the company verifies it, you will be refunded to your original payment method in 5–10 business days. If you're looking for an exchange, either in person or online, Reformation cannot issue a replacement immediately. You'll have to wait for the company to verify your return request first—the same as when requesting a refund!
Initiate Your Return Request the Easy Way and Get On Board With DoNotPay!
Many retailers use the current COVID-19 crisis as an excuse to slack off and put your return request on hold. Sign up for DoNotPay, and we assure you that won't happen! DoNotPay is the way to go if you want your return request to be processed in a timely manner!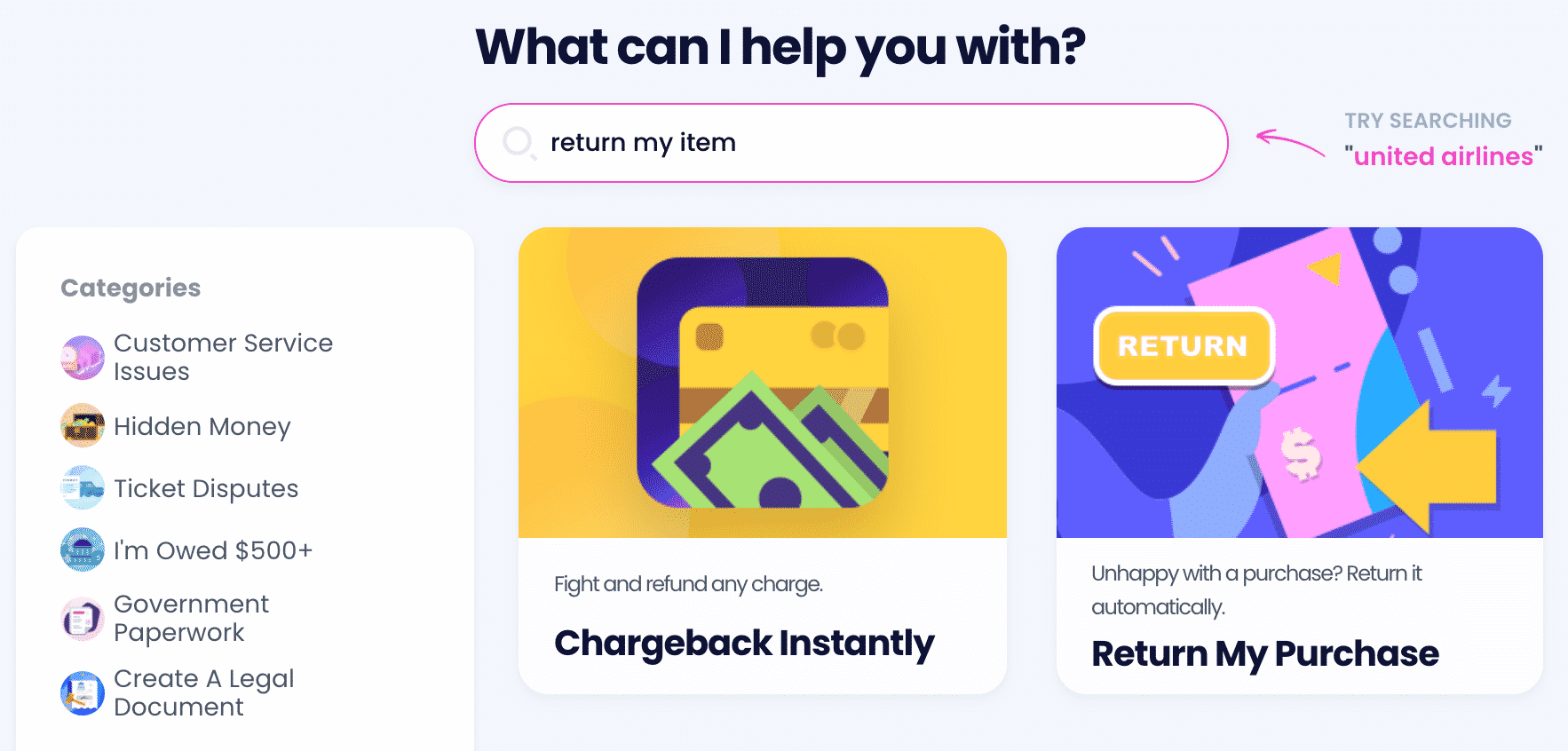 The easiest way to initiate your return request online is just a few clicks away:
Select the Return My Purchase tool
State why you wish to return the item
Our easy-to-use app requires only your input to draw up a personalized item return letter and forward it to Reformation without delay! DoNotPay will also set the company a deadline to ensure they process your request on time. We'll even provide a return shipping label so that you can return the unwanted item free of charge!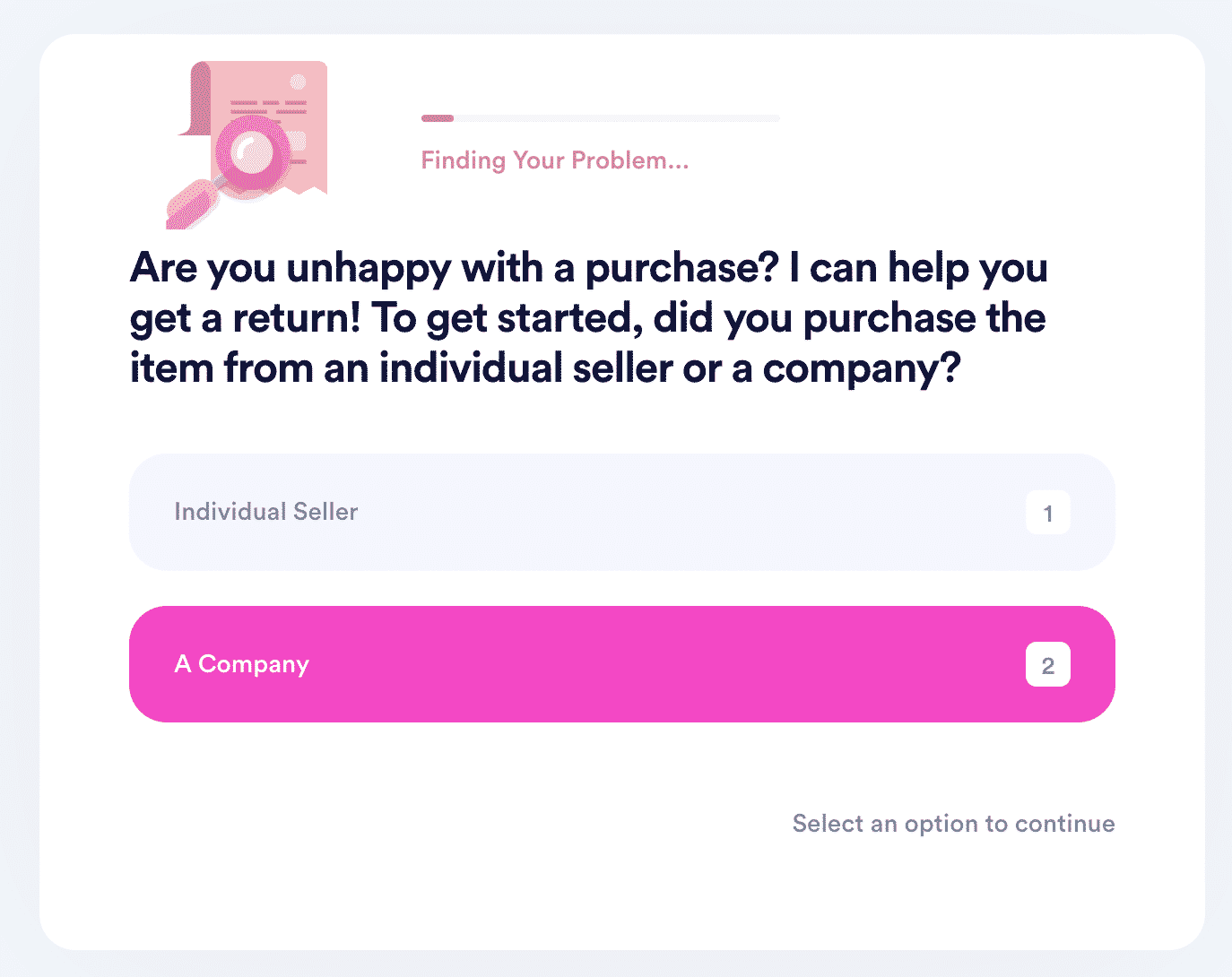 If you want to initiate a return request with another company, here's a table of some other big-shot retailers DoNotPay can also help with:
Don't Let Companies Trick You
Companies are known for tricking their customers into making bad purchases, and then they don't even deal with any repercussions. That will no longer be the case once you sign up for DoNotPay—we will protect you from corporations' malicious intents.
If you've ever taken up on a free trial offer that turned into a paid subscription automatically, you know what it feels like to be tricked. With our app, you don't need to worry about that happening ever again—we'll help you make the most of your trials without getting charged by providing you with a virtual credit card.
Too late for that? Use our nifty product to cancel the subscription in a split second and demand a refund. The company refuses to issue one? Sue it in small claims court! We'll help you generate any legal document you may need for the case, get it notarized online, and fax it quickly.
Curious To See What Else We Can Do?
As soon as you sign up for our robot lawyer app, you'll get access to a plethora of useful products that save you time and money and protect you from companies' and individuals' difficult attitudes. Check out how we can assist you in: