How To Pass Your PA CDL Permit Test on the First Try
If you're interested in driving a commercial motor vehicle (CMV) in Pennsylvania, you need to obtain a commercial driver's license. Since the CDL test in PA can be pricey if taken multiple times, acing it on the first try should be your goal.
DoNotPay can help you prepare for any DMV test so that you can pass it with flying colors.
A Guide to
PA CDL Testing
The Pennsylvania Department of Transportation—also known as PennDOT—is dedicated to testing prospective drivers and issuing CDLs. You need to be at least 21 to get the license. To obtain the CDL, you should cross the following items off your driving test checklist:
Apply for the written test in person—you'll need to provide one of these documents:

Birth certificate with a raised seal

Passport

Naturalization documents

Current immigration document

Take and pass the written CDL test

Pass the skill test
When you complete your application, indicate which class of vehicle you want to operate, and pay the required fees, you'll receive a Knowledge Test Authorization (KTA). You'll need to bring the KTA when taking the knowledge test. The authorization is valid for 180 days.
If you pass the written test, you'll get a CDL permit. You can schedule an appointment for your road test 15 days after obtaining the learner's permit.
PA CDL Endorsements
Besides taking the general knowledge CDL test, you should consider obtaining one of the six endorsements to get a better-paid job:
Each endorsement has a different written and skill tests that candidates need to pass.
PA CDL Restrictions
Every commercial driver's license comes with certain restrictions. PennDOT will remove the restrictions if you pass the required written and road exams. Most states have seven basic restriction codes:
E—Drivers can't operate a vehicle that has a manual transmission

L—Chauffeurs can't drive vehicles with

air brakes

M—CDL carriers can only operate Class B or C passenger vehicles or a school bus

N—Drivers with an N endorsement can only drive Class C passenger vehicles or a school bus

O—Chauffeurs can't operate a vehicle with a fifth-wheel connection

V—Drivers with a V restriction have received a

medical

variance

Z—CDL carriers can't drive a vehicle that has a full air brake system
PennDOT has added seven more restrictions to the list:
Additional Restriction Codes in PA
Description
A

Restricts the chauffeur to driving in compliance with

49 CFR § 391.62

, section C

G

Requires medical qualification under 49 CFR § 391.62, section E

K

Limits the driver to intrastate driving

P

Forbids operating a CMV bus with passengers

Q

Requires the chauffeur to wear contact lenses

X

Prohibits tank motor vehicle drivers from transporting cargo

Y

Demands from the chauffeur to wear a hearing aid
Preparation Methods for the
Pennsylvania CDL Test
Preparation is a crucial part of every exam, including the PA CDL test. Whether you're preparing for the general knowledge test or one of the endorsement exams, your first step should be reading the official PennDOT manual. The handbook includes all the info you'll need to pass the test.
After reading the manual, some people like to make flashcards to memorize certain topics better. If you're not a big fan of flashcards, consider taking a few prep tests.
Your last step should be getting a good night's sleep. Since CDL exams are challenging, being focused on the questions in front of you is super important.
What To Know About the
PA CDL Practice Test
Practice tests are the most efficient way to prepare for any test. Sample questions for the CDL exam cover the topics from the manual. Prep tests are also a great collection of the questions from the previous exams.
If you take numerous practice tests, you'll feel more confident in your knowledge, which will help you be less nervous. You can find practice tests on numerous online platforms, such as:
While most of them are free, they usually aren't user friendly. offers an easy-to-use service that can help you practice for the CDL test in any state, including:
Take the
Pennsylvania CDL Practice Test
With DoNotPay
If you'd like to prepare for your PennDOT CDL test easily and ace it on the first try, you should rely on DoNotPay. We offer a vast selection of prep questions. You can answer them by logging in to your DoNotPay account in any and following these steps:
Enter the

Pennsylvania CDL Test

keyword in the

Search

field

Pick the test you want to practice

Select the length of the exam—you can choose to answer 10, 20, or 30 questions
Besides being user-friendly, DoNotPay offers another perk—immediate feedback. You'll know whether your response is correct right away. You'll have the opportunity to correct it on the spot or continue with the test and retake it once you see the score.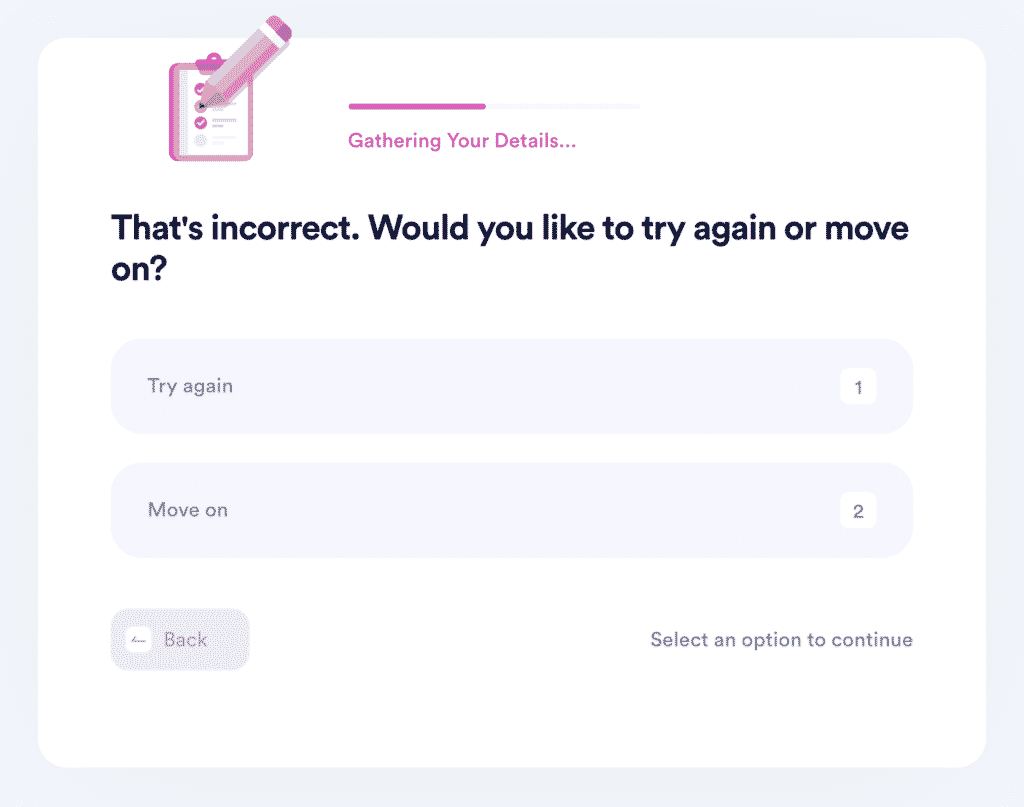 We can help you pass any government test—including Armed Services Vocational Aptitude Battery (ASVAB)—and get the best score. With DoNotPay, you can quickly prepare for the following exams:
DoNotPay Can Do Your Paperwork for You!
Feeling like you're in bureaucratic hell? Our robot lawyer will draft the paperwork you need and get you out of any hurdle before you know it!
We can compose most of the documents that you require for any administrative purpose in your jurisdiction, most notably:
More of What We Can Do for You
Our multifaceted app can call and record the conversation with the customer service of the company that just won't let you go! If you are having trouble canceling an unwanted service via the traditional channels, use DoNotPay to get it over and done with!
We can help you stop the persistent robocalls and robo texts from the nagging company and request a refund for unused services in a matter of minutes.
We'll also lend a helping hand in stopping spam mail—whether it's electronic or paper. Our Spam Collector product unsubscribes you from unwanted emails and cleans up your physical mailbox too!