A Guide To Passing Your CDL Passenger Test With Flying Colors
If you want to drive any large commercial vehicle in the U.S., you need to have a commercial driver's license (CDL). As a commercial license driver, you can opt for some of the six endorsements, including the passenger endorsement.
To get a commercial driver's license, you have to pass a CDL test. DoNotPay can help you with the written part of the exam by offering the most comprehensive CDL passenger practice tests.
Everything You Need To Know About the
CDL Passenger Test
There are three types of commercial driving licenses—classes A, B, and C. Which one you need to acquire depends on the type of vehicle you intend to drive and its purpose. Additionally, there are six endorsement types, and you can check them and their features out in the following table:
CDL Endorsement
What Does It Offer?

H

Required for driving vehicles that contain

hazardous materials

N

Mandatory for driving tank vehicles that transport liquids or gasses

P

Required for operating vehicles with 16 or more people, including the driver

S

Mandatory for drivers operating school buses (having the P endorsement is also required)

T

Necessary for CDL drivers towing double or triple trailers

X

Combined endorsement for tank vehicles and hazardous materials
These rules are general and can vary from state to state. Some states may have additional endorsements, which you can check at your local DMV.
Different rules also apply when it comes to fees, forms, and application processes. The requirements set by Federal Motor Carrier Safety Administration (FMCSA) are the same for every state.
The prerequisites for obtaining a commercial driver's license or commercial learner's permit (CLP) include:
Having a valid non-commercial driver's license

Passing all required background checks

Having one or two years of driving experience, depending on the state

Being at least 18 years old to drive within the state

Being at least 21 years old to drive out-of-state or transport hazardous materials

Obtaining the

Department of Transportation (DOT)

medical card

Speaking and reading English at a sufficient level

Having proof of citizenship or lawful permanent residency
What Does the
CDL Passenger Endorsement Test
Consist Of?
To operate a large commercial vehicle, you need exceptional driving skills and in-depth knowledge of rules, signs, and regulations on the road. That's why obtaining a CDL is not an easy task. To get a CDL with a passenger endorsement, you have to pass all parts of the exam, including:
Medical exam

—the doctor examines you and reports about your vision, hearing, diabetes, blood sugar, blood pressure, and anything else that can endanger you or the passengers

Written exam

—you get a test with 50 multiple-choice questions about rules, regulations, tasks, procedures, and safety features in vehicles

Vehicle inspection

—the mechanic checks your vehicle for any signs of damage on the horn, tires, lights, wheels, brakes, windshields, or emergency equipment

Driving skills test

—you are required to demonstrate skills and knowledge about driving on the road. The examiner checks your basic driving skills and grades with negative points
How To Prepare for Your
CDL P Endorsement Test
Driving a vehicle with at least 16 people is an enormous responsibility. That is why preparing for this CDL endorsement test can be even more challenging. You need to read your state's CDL manual cover to cover and learn all rules and regulations.
Here is how you can improve your chances of passing the CDL P endorsement test the first time:
Reading the CDL manual thoroughly and highlighting the important information

Hiring a tutor who can help you focus on the most important details

Making a

driving test checklist

Taking passenger endorsement CDL practice tests online
Where To Find
CDL Passenger Endorsement Practice Tests
You can find countless CDL passenger endorsement practice tests online. Be careful, though—not everything on the internet is trustworthy. Avoid false information by checking out the most reliable sources for CDL practice tests:
Take the Best
CDL Passenger Endorsement Test
With DoNotPay
Want to know how to pass your written DMV test or CDL passenger exam? By using one of the many fantastic services DoNotPay has to offer!
We developed a service called Government Test Prep that will help you get ready in no time.
We have the most comprehensive database of government tests, and our Government Test Prep feature allows you to test your knowledge for CDL passenger exams in any state! Besides that, we can help you schedule a DMV appointment in a flash!
To cut to the chase, here's how to take our CDL passenger endorsement practice test:
Open DoNotPay in a

Enter the type of government test you want to practice for

Select the test length—10, 20, or 30 questions

Start testing your knowledge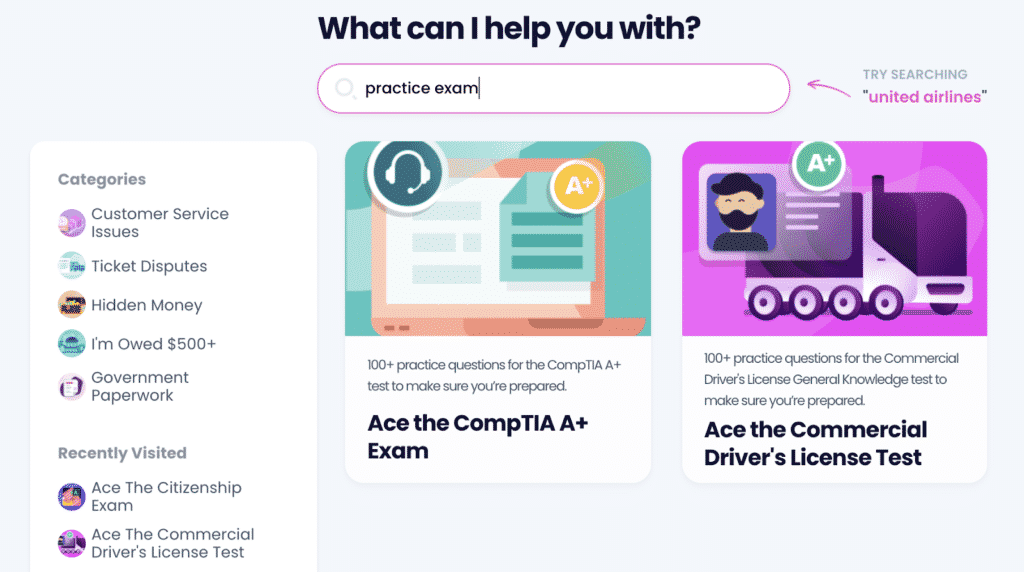 You can correct the wrong answers at once or retake the whole test after—the decision is yours!
Use DoNotPay To Prepare for Other Government Tests Without Hassle
While commercial driving license practice tests are easy to find, preparation materials for other government-issued tests might not be. With DoNotPay, you can find them fast and in one place. Our handy feature is at your service if you need to take practice tests for:
We can even help you decipher your ASVAB test scores.
DoNotPay Helps You Fight for Your Consumer Rights
Did you know that companies often reject first-time warranty claims?
You're probably familiar with how complicated the process of appealing parking tickets is. Trying to get a refund for an unsatisfactory purchase or a delayed flight has likely made you mad at least once.
Not anymore! DoNotPay makes all these issues go away in less than five minutes, and that is not all we can do for you!
You don't have to deal with customer service reps of any company on your own anymore—we do it all for you!
DoNotPay bypasses any bureaucratic obstacle for you—scheduling DMV appointments, delaying bill payments, getting in touch with your incarcerated loved ones, filing lawsuits in small claims courts, and claiming insurance policies.
Keep Your Data Safe With DoNotPay
Do you love free trials but are reluctant to disclose your credit card details, phone number, or email address?
Our app lets you try out different subscriptions in a risk-free way!
Use DoNotPay's Burner Phone feature to sign up for services without providing your phone number! We'll make sure robocall scammers and text spammers cannot harass you!
With our virtual credit card, you can sign up for any free trial and not worry about canceling it! Since the card is not linked to your bank account, no one will be able to charge you once the trial expires. An additional perk is that the card comes with a free email address, which means no spam emails from the company.