Keep Redoing This Oklahoma CDL Practice Test and Ace the Real One
A commercial driver's license (CDL) is required when you intend to operate any vehicle or a combination of vehicles that weigh 26,001 pounds or more. CDL enables drivers to transport up to 15 passengers and drive commercial vehicles. This article will focus on rules, regulations, and requirements regarding the Oklahoma CDL test.
If you want to do well on your CDL test, we have a solution for you—. Our platform has the best CDL practice tests for the state of Oklahoma.
What You Need To Know About the
Oklahoma CDL Test
The only way to get a CDL is to pass the CDL test that consists of two parts. The CDL exam will test your general knowledge and skills.
The laws, rules, and regulations will depend on the state where you'll take your test.
The Oklahoma CDL general knowledge test consists of 50 questions. To pass, you need to do 40 of the tasks correctly. The questions are multiple-choice, and each one has three possible answers. The Oklahoma CDL questions are based on the official Oklahoma CDL manual.
The test will cover the following topics:
Driving safely

Safe transport of cargo

Air brakes

Hazardous materials
If you want to transport hazardous materials, you'll have to pass the HazMat test first. You can't apply for a HazMat test until you reach the age of 21.
Oklahoma Requirements for Obtaining a CDL
Rules vary from state to state, and Oklahoma is no different. If you want to obtain a CDL in Oklahoma, you'll have to:
Get a passing grade on the written exam

Be at least 18 years old to operate commercial vehicles within the state lines

Be at least 21 years old to drive a comm

ercial motor vehicle and transport hazardous materials or passengers outside and across Oklahoma state lines

Fulfill medical requirements that the

Federal Motor Carrier Safety Regulations

set and pass the

CDL medical exam

Certify that you aren't subject to any of the CDL disqualifications for drivers

Make sure that you don't have more than one driver's license, and your driving privileges aren't revoked, canceled, suspended, or disqualified in Oklahoma

Prove citizenship in the state of Oklahoma or have permission to work within the U.S.—proved by Green Card, Birth Certificate, and a Social Security Card

Read and speak English
How To Prepare for Your
CDL Testing
in
Oklahoma
The only way you will be ready for any exam is by studying and practicing.
You can use the official CDL Oklahoma Manual to gain general knowledge. After you finish studying, you can visit one of the following websites to practice for your CDL Oklahoma test:
Website
Benefits

Includes practice tests for HazMat, tanker, pre-trip, air brake, school bus, combination vehicles, class A and B, etc

It is user-friendly

Contains facts about Oklahoma CDL test

Has positive reviews according to website

Covers topics from the Oklahoma CDL driver handbook

Provides cheat sheets

Has a user-friendly interface

Includes practice tests for CDL general knowledge, HazMat, passenger vehicles, school bus, air brakes, combination vehicles, double/triple trailers, etc

Provides CDL manuals

It is easy to use
Use DoNotPay To Find the Best
Oklahoma CDL Practice Test
The problem with the previously mentioned options is that they may not be up to date. A user-friendly interface is not a significant factor if you are practicing on a test from five years ago (or even one not suited to your state).
With our app, none of that is an issue. We have an extensive database of CDL tests specifically tailor to Oklahoma residents, and all of our questions are up to date.
If you want to prepare for your Oklahoma CDL perfectly, open DoNotPay in any and follow the steps below:
Enter the keyword in the search box—

Oklahoma CDL Test

Click on the test you want to do and select how many questions you want—10, 20, or 30

Retry every incorrect answer individually or do the whole test again in the end
Keep practicing to achieve the perfect results, and keep in mind that you have an unlimited amount of tries.
With our platform, you'll be able to prepare for your Oklahoma CDL test, but also a regular driver's license test. We can schedule an appointment with the DMV in a heartbeat, so you won't have to wait for your driving test for eternity.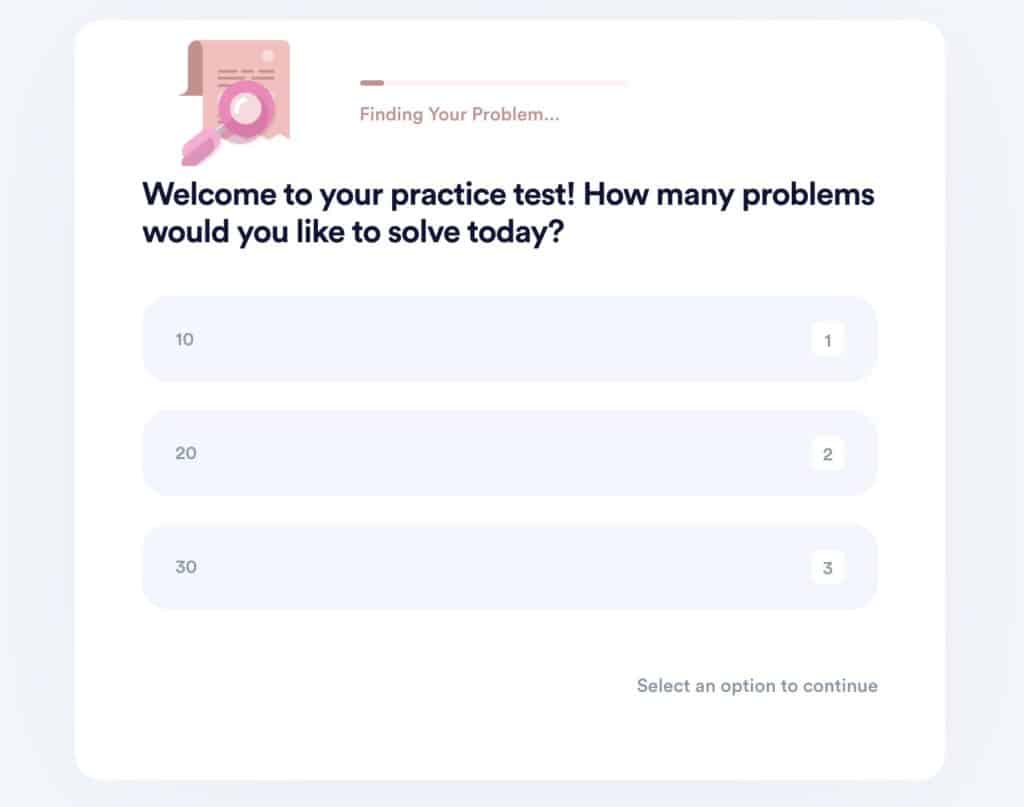 The best fact about DoNotPay is that we can help you practice for other government tests too! With us, you can get the best ASVAB test scores. We can also give advice on how to pass a written driving test.
Go through the following list to find out what other tests you can practice with us: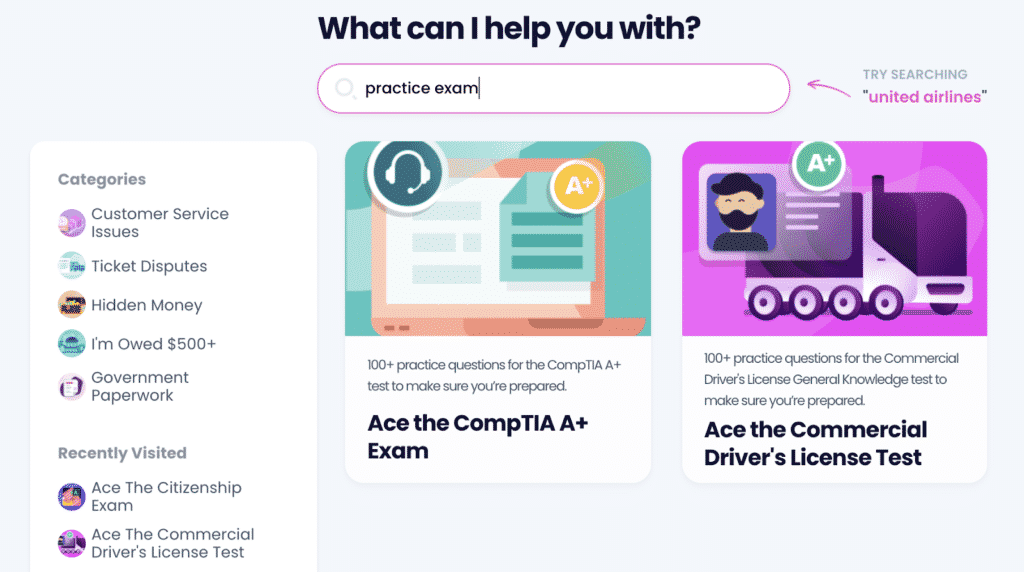 Use Our App To Get Rid of Unwanted Admin Hurdles
Do you want to say goodbye to spam text messages or protect yourself from stalking and harassment? Are you looking for a way to end robocalls and earn off them? DoNotPay can help!
As soon as you sign up for our app, you'll be able to do anything from avoiding phone number verification with our handy burner numbers to acing government tests stress-free!
Take Advantage of DoNotPay's Time-Saving Features!
DoNotPay comes with a wide array of useful features that will help you overcome any administrative issue in no time. As the world's first robot lawyer, DoNotPay can tackle just about any bureaucratic task that people dread.
You can do anything from reporting stalking and harassment, signing up for free trials, and scheduling a DMV appointment to jumping the customer service phone queue, dealing with high bills, and protecting your creative work from copyright infringement with our app's assistance.
If you want to connect with an inmate, sign up for a clinical trial, report spam emails, or sue any company or person in small claims court, you can count on DoNotPay to provide you with the necessary guidance.